After months of anticipation, LIBRARY officially opens Saint Luke's Kitchen. An experience like no other, it promises to redefine your notion of gastronomy and heighten your senses. Saint Luke's Kitchen is a literary and food concept, which offers high-end cuisine with a twist.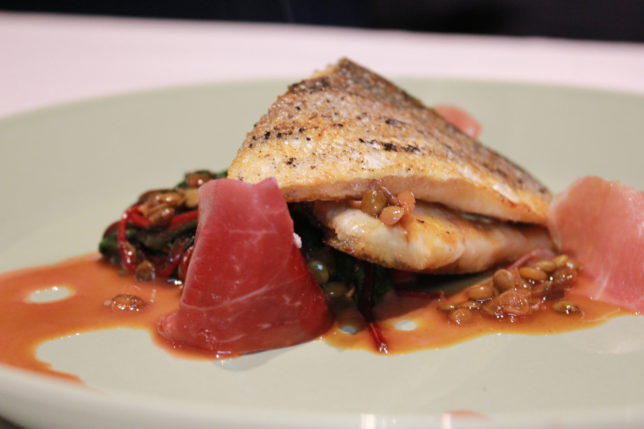 We enter through a series of doors to a romantically lit dining room. The LIBRARY deceptively houses a vast number of areas and had just hosted a filming crew upstairs and a large group booking but the calm created in St Luke's Kitchen clearly showed the efficiency of the management behind it all.
Shown to our table there were two books left for us each housing a menu. My book was about a delightful lady, her dog, a flock of sheep and an old farmhouse…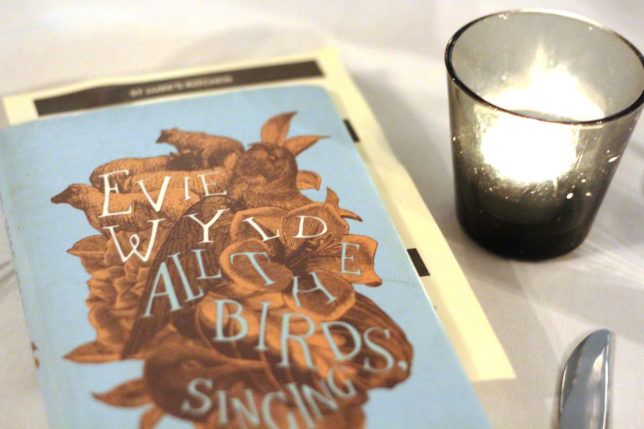 I neglected to take a photo of my dining companion's literary suggestion which was from the horror genre. I know he had a bad day at work but was it really enough to turn him homicidal towards his boss… not yet!
A nice touch to start the evening. Working with publishers and author chefs to create an edible story, every 6-8 weeks St Luke's Kitchen promises that foodies will be taken on a journey that will engage all five senses and stimulate all six taste buds (salt, sweet, bitter, sour, umami – a savouriness – and fat). As the menu will be transformed by a celebrated guest chef to coincide with the release of their new cook book.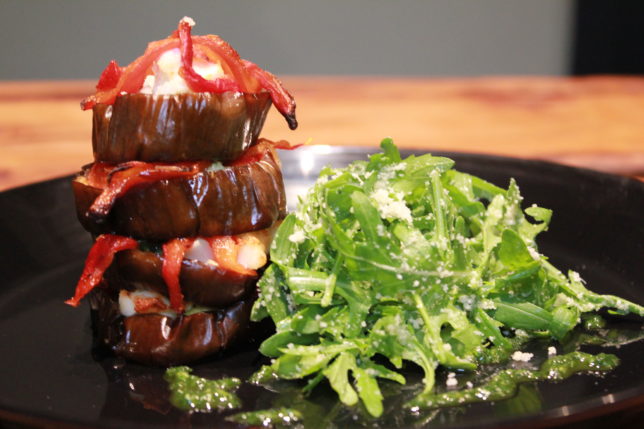 Adopting a cookbook format, Saint Luke's has a rotating food menu – with bookmarkers to denote starters, mains and desserts. At the helm is Head Chef Gavin Lambert (of ME Hotel and Elk In The Woods fame), who works with and alongside guest chefs to launch each cookbook on a seasonal basis.
Gavin is passionate about the final result and how best to achieve it. From sourcing suppliers that produce the best and freshest seasonal produce, to preparation and service. He ensures each food recipe is carefully curated and paired with a wine to match.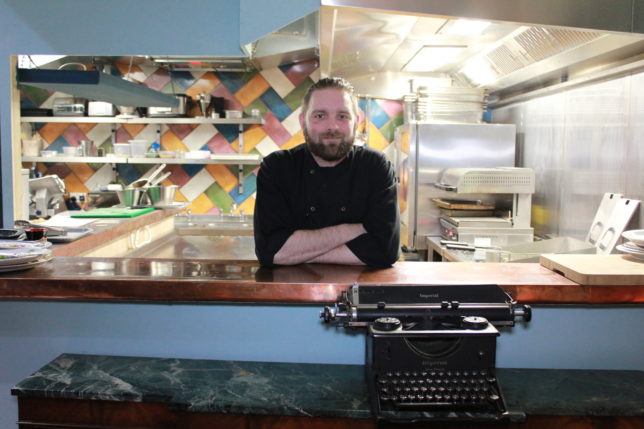 Gavin Lambert tolds us, "Born in Eastbourne, 1981. Primarily self taught, I have over 16 years professional kitchen experience. Based in the South East of England I have both worked in and managed a wide variety of hospitality business's, from large restaurants, bistro's, hotels to small personal spaces. Over the years I have been very lucky to work alongside some very talented colleagues, on amazing teams, both in the kitchen and front of house."
Gavin went on to say, "My passion for the job is all about the final result and how best to achieve it. From sourcing the suppliers that produce the best and freshest seasonal produce, to the preparation and service. I believe every guest should have the best experience possible every time they join us. I strive to inspire the whole team to help achieve this."
The menu is short but this is often a sign of a few dishes crafted expertly. We started with the Burrata…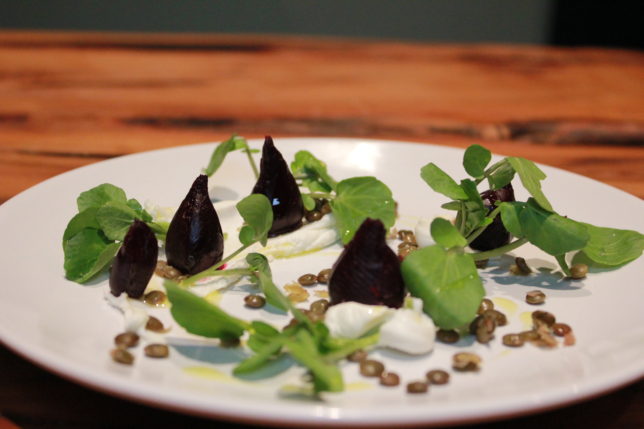 The new food menu at LIBRARY is based around modern British cuisine with a good combination of seasonable produce, fresh clear flavours and clean presentation. The main concept that Gavin wanted from the menu was to have dishes that would appeal to as many guests as possible and using recognisable flavour combinations. As a massive fan of quails eggs,  how could I resist the quail served three ways which jumped out at me as my recognisable flavour.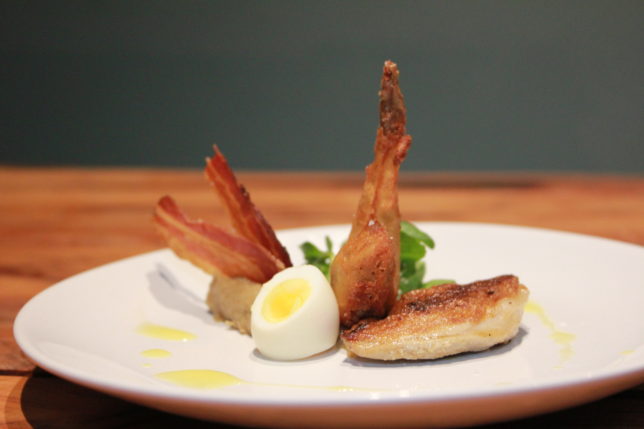 Gavin says his favourite dish on the new menu is the pan fried sea bass. He explained that all the ingredients taste great individually but are then all brought together by the lentil vinaigrette. With a description like that we were interested to experience the flavour combinations for ourselves. The sea bass flesh paired with the bitterness of the chard, the sweet yet sour taste of the lentil dressing and the saltiness of the parma ham was an inspired combo.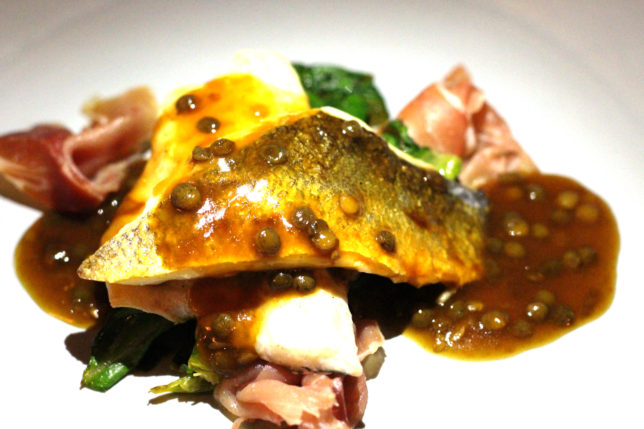 At the moment Gavin says he is obsessed with sardines. He says, "I'm eating loads of fresh sardines at home at the moment just kept really simple, grilled with a bit of chilli and lemon."
We didn't see any on the menu tonight… perhaps Gavin ate them! We do like the simplicity of his suggestion allowing the ingredients to speak for themselves and hope to see them on the menu soon. Instead we opted for the pork tenderloin with blue cheese croquettes. Many textures crossed the plate from crunch to crisp to succulent.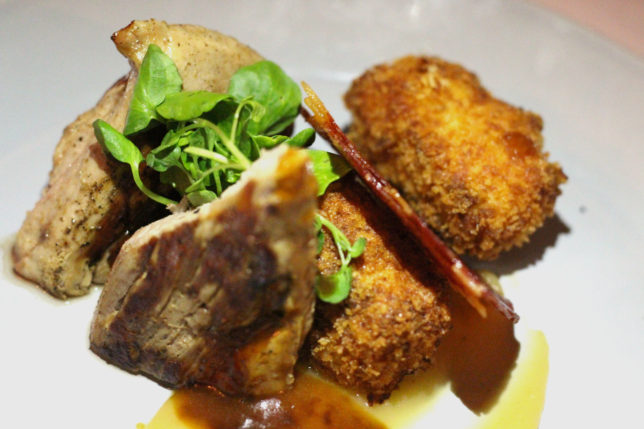 Talking about his culinary inspirations, Gavin says, "If there was one thing that inspires me to cook is to make it accessible for people to enjoy what they eat, gives them something to think about or talk about, an experience rather than just eating for the sake of eating." The choices also include vegetarian options and on the other end of the spectrum a classic rib eye steak.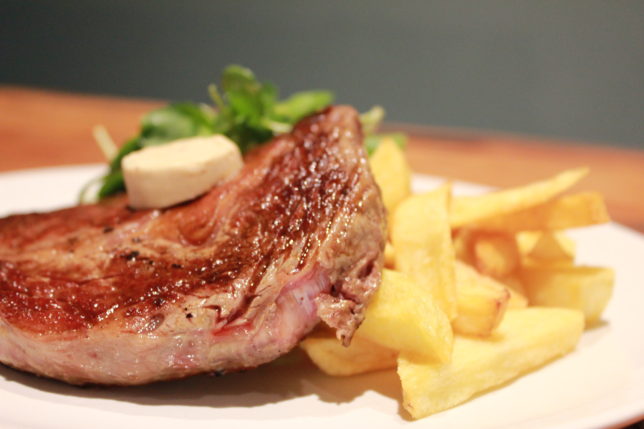 We highly recommend the polenta chips. Just divine.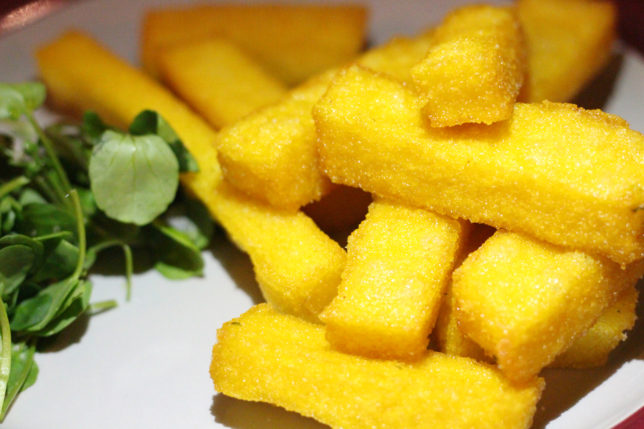 For dessert I was torn between the chocolate cake served warm with a chocolate mousse and a white chocolate and praline ice cream because I know St Luke's does chocolate well as can be seen in the press image below.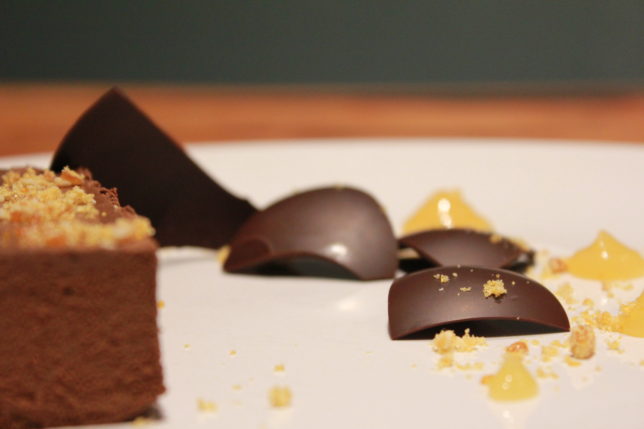 The chocolate options contrast well with the classic sticky toffee pudding also present on the menu that evening. I was able to have the best of both worlds… sticky toffee with white chocolate and pralines. Yummy combo worth every calorie!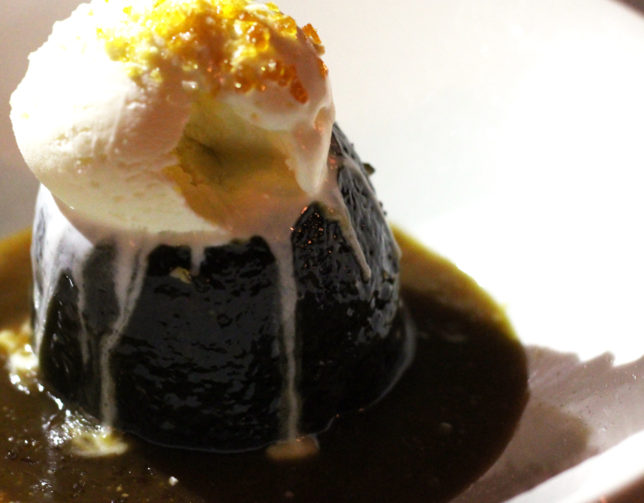 My dining companion chose the popcorn ice cream with honeycomb. Perhaps a little gimmicky with the feeling of being drawn from literature towards film but for popcorn lovers this is a delightful dessert.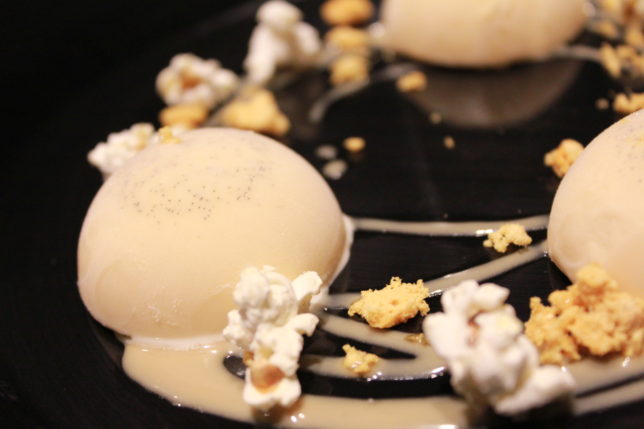 As your dining experience draws to a close, the bill also arrives encased in a book. Discreet and perfect for those treating someone to dinner.
On 29th April Saint Luke's will be welcoming Chetna Makan of BBC1's The Great British Bake Off
, as she launches her new cookbook The Cardamom Trail with a 3 day residency. Chetna Makan is known for her unique recipes, which introduce colourful spices, aromatic herbs and other Indian ingredients into traditional Western baked favourites.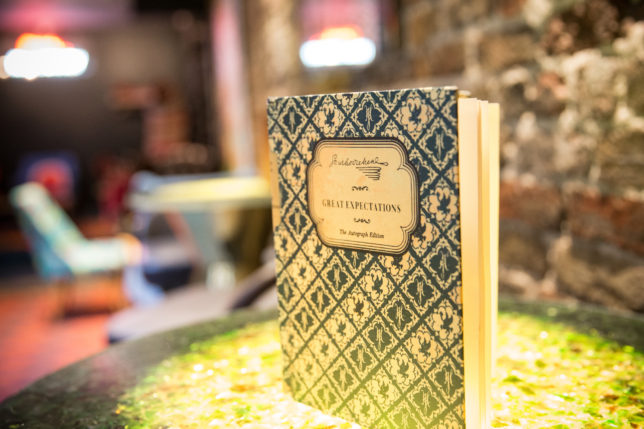 Whether it's a sponge cake with cardamom, pistachio and white chocolate; steamed strawberry pudding flavoured with cinnamon; coriander chicken parcels; or a swirly bread rolled with citrusy coriander, Chetna's Indian influences transform baking from the familiar to the exotic, from the ordinary to the extraordinary.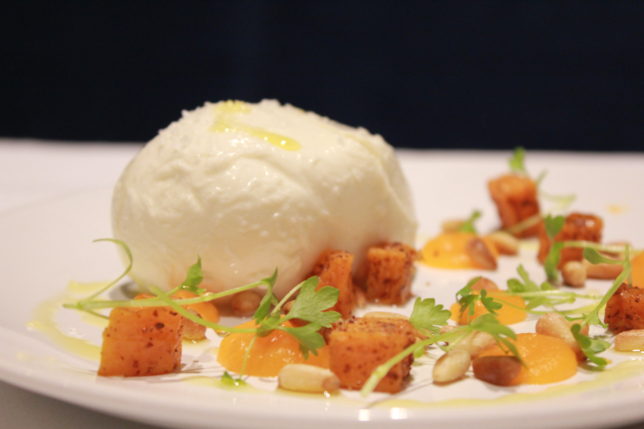 All LIBRARY's menus use the best of the season's produce and is locally sourced. Ensuring a combination of refined cooking and delicious flavours but most importantly for it to be healthy and balanced.
The restaurant seats 40 and serves lunch and dinner, Monday-Sunday. Non-members may reserve a table, however members are given preference and 10% off all meals in St Luke's Kitchen.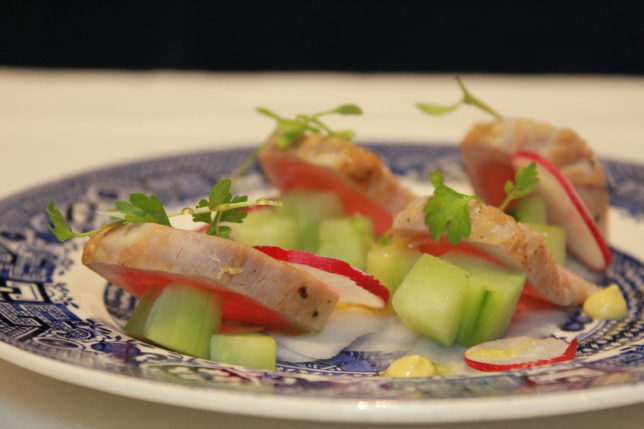 All details and tickets to the each cookbook (new menu) launch and guest author chef residencies are listed on LIBRARY's members calendar www.lib-rary.com/restaurant/
St Luke's Kitchen at LIBRARY
112 St Martin's Lane, London, WC2N 4BD
+44 (0)203 302 7912
www.lib-rary.com
@LibraryLondon

[mappress mapid="3″]