Multi-award winning author and entrepreneur, Bryony Thomas, gives you her six tips for standing out as a woman in business.
I've never really thought about how to stand out as a 'woman' specifically. But, it's interesting in writing this that a number of the things that came to mind run counter to the stereotype of a woman in business… so perhaps that's my point. I'd encourage you to break the mould. Be yourself.
For me this can be split into my attitude to work, and the behaviours that has manifested. Perhaps the best way to describe my attitude is how one of my colleagues described me: "disarmingly honest." How this shows up is in truly showing up, as me.
Honesty as a guiding principle
1. Inner confidence that means it's ok that you don't know
I'm a bit of a qualification junky. I have two degrees, including an MBA with distinction, and a marketing diploma. What's interesting is that, although they're on my CV, I don't put letters after my name or make much of them as part of my credentials. I'd say the best thing all this study has done for me, is the inner conviction that I'm smart enough not to have to know the answer. When I'm presented with something I don't understand, I don't take it to mean that I'm stupid, simply that it's something I've not yet put my mind to. This means that I am perfectly comfortable to be honest about what I do, and crucially what I don't know. I feel no compulsion to act as if I get jargon that's being flung around, or an acronym that's new to me.
2. Self-awareness and openness about what makes you tick
Taking the time to know what you need to perform at your best is critical. You really don't have to match the guys pint for pint if you don't want to. You don't even need to play by normal 9 to 5 rules if it's not what works for you.
I've been very open with my employers over the years about having suffered from depression and fatigue, and have in two workplaces agreed that I don't need to be at my desk before 10am in periods where I need a bit more time to get my head in gear. Providing you present workable options to accommodate your needs within what works for the business, I've found most employers are happy to work to keep a good member of the team in a good place. This has never held me back. In fact, I was promoted to Director of Marketing within Experian marketing services at age 28 after having taken three weeks off when adjusting to new depression medication. I think if I'd tried to hide it, it would have seriously undermined my ability to perform in my roles.
3. Honest hard graft goes a long way
Okay, so I may have had periods where I started at 10am… but don't let that fool you into thinking that I've not put the hours in when needed. When I'm at work, I'm at work. For me this is about honesty of exchange. I'm being paid to work, not chit chat.
I remember once having a conversation with a senior colleague when I was delivering a key project within a large retail bank. She commented that I had usually done by 11am what most of the rest of the team did in a whole day. And, that's because if I'm being paid to work, I work. I've never been one for office gossip, and I tend to feel a bit uncomfortable if a chat about what was on TV last night extends beyond a couple of minutes. I think this comes from hearing my Dad's voice in my head: "If a job's worth doing, it's worth doing properly."
Make a decision to show up
4. Questions are more important than answers
Having the inner confidence to ask the right question at the right time has always served me well. Perhaps its something in my slightly alternative upbringing, in which it was okay to question authority… but constructively and respectfully. I spent my teenage years setting up campaigning magazines, and even threatening to take my school to the European Court for not letting girls wear trousers. If I think something needs to be challenged, I will challenge it. I don't take consensus in the room to mean that I shouldn't apply an enquiring mind. This has earned me the reputation as the Elephant Spotter… if there's a metaphorical elephant in the room that no one is mentioning; I can be trusted to be the lone voice questioning it.
5. Find your voice and speak up
Running through a lot of what I've said here, is speaking up. About 30% of my income comes from working as a professional speaker, at business conferences and facilitating boardroom sessions. Being able to stand up and speak in front of a group in a compelling and persuasive way will always make you stand out, in a good way. If public speaking isn't your natural strength, work on it.
6. The way you present your work can set you apart
Spoken presentation is only one way you can make yourself stand out. The other is to pay really careful attention to how you present your ideas and information. I'm so lucky to have spent my early years working in a marketing agency, coming to understand core design principles and the power of visuals. Every document I've ever produced has looked good. I've taken time to learn how to use desktop publishing tools properly. In fact, presenting information visually changed my life. As a 28 year old director of marketing within a FTSE 100 business, I was called to a half-year review at which I knew a 50% budget cut was being mooted. I took the time to present my budget expenditure in a highly visual way that expressed my rationale for the distribution rather than simply as sums of money. This was the earliest version of what is now a chapter on marketing budgeting in my best-selling book. If I'd presented my budget as a series of six-figure expenditures… I know exactly what would have happened. I left that room with an increase in my budget, and a commercial director who told me later that it was the first time he'd truly understood the role of marketing in underpinning commercial success.
So, if you want to stand out, my advice is to be honest and show up!
About Bryony Thomas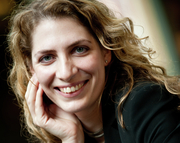 Bryony Thomas is the author and creator of the Watertight Marketing™ methodology, captured in her best-selling book of the same name. Bryony has taken thousands of organisation through the unique and structured process of turning their marketing inside out and upside down, for long-term success. She does this through her public Marketing Masterplan programme, facilitating internal workshops and through the growing Watertight Marketing Expert Community. Bryony was recently named amongst the We Are The City Top 100, which recognises exceptional women across the UK who are role models to build a future pipeline of female talent. For more information, go to: watertightmarketing.com and follow her on Twitter @bryonythomas