With the cost of travelling abroad rising sharply, more and more people are turning to holidaying in the UK, or 'staycations'. Although you may not be able to count on the weather, Staycations are a quick and easy escape without having to take a full week of holiday off work with less worry of getting out of the door bang on time because you have a plane to catch.
The car or train journey can be broken up to allow kids to stretch their legs and see some of the sights along the way and so it is no wonder more and more people are turning to this close-to-home holiday option. When planning the ideal staycation, there are a number of factors which should be considered to ensure you experience the best possible break.
1. Location, location, location
One of the main benefits of staying in the UK when choosing a holiday, is the lack of travel chaos with delayed flights, missing your transfer time or accidentally driving on the wrong side of the road! Choosing a location somewhere only a couple of hours from your home town reduces these stresses significantly, whilst feeling that you are still escaping your everyday life.
Somewhere like Leicestershire, in the centre of the country is the ideal location, with easy road and rail access meaning travelling is the least of your worries, with rolling countryside in every direction and historic buildings scattered throughout the city and surrounding market towns.
2. Disconnect from the world
One of the few downfalls people make when go on a staycation is not disconnecting from the outside world. When families travel abroad, they rarely speak to their friends and families, but instead enjoy some quality time together without their phones and tablets.
So often, when holidaying in the UK, people don't fully switch off and can't resist having a look at their emails, text messages and social media channels every so often via the local WiFi. However, if this is the case, they are most likely to go back to work feeling only half rested and not fully revitalised. A mental and emotional break from reality is so often as important, if not more important, than the physical break.
3. Indulge in activities
Whilst is it vital to take time out and relax with loved ones, a holiday should also mean taking part in activities which you wouldn't otherwise do, to try something new and create memories to treasure.
Whether this is going on a wine tasting course, trying your hand at some country pursuits such as clay pigeon shooting and horse riding, indulging in pamper treatments in the spa or exploring the local area, a staycation, unlike a holiday abroad in the ravishing sunshine, is not necessarily the time to sit back and catch a tan. The success of holiday abroad is commonly judged by your tan lines, but a staycation is all about the experiences you shared with your loved ones, the memories you make and the stories you create.
4. Enjoy tourist hotspots
Although we may not think it, we all overlook and almost take for granted the natural treasures that we have on our doorsteps. So many people travel from across the world to the UK capture some of the natural wonders from our stately homes and historic monuments like Stonehenge to the double decker buses in London and the endless beauty of the Lake District.
We go abroad to experience different cultures and scenery, however very few of us have actually taken to the time out to explore and appreciate what makes our country what it is. A staycation is the perfect opportunity to explore a part of the country you haven't yet visited.
5. Enjoy sumptuous food
A vital part of any holiday is the food, undoubtedly. When planning on where you are going to stay, look at some sample menus and ensure that they offer dishes that float your boat because a disappointing meal is sure to frustrate. Holidays are a time for over indulging in delicious food and tasteful drinks that you would never think of, or go to the effort of, cooking at home.
About Angelina Chua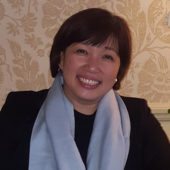 Angelina has been at the helm of Stapleford Park since 2012. Prior to this, she has spent over a decade with Marriott International. Angelina worked in the IT industry for a few years before embarking on a career in hotels, firstly at the JW Marriott Hotel in Kuala Lumpur. Her work has taken her to different parts of the world such as the Middle East where she worked at the Ritz-Carlton, Qatar and the Kauai Marriott Hotel and Beach Club in Hawaii before moving to the UK in 2007.
She is very passionate about Stapleford Park and works with her team to create an environment where guests and staff members alike feel a sense of belonging and being home. She also believes that learning and knowledge is a continuous journey, having recently completed her Masters in Employment Law.