My name is Carolyn Eddery and I was a former champion lady amateur rider. I have founded and designed Stormchase Outerwear wrist/hand warmers which are like no other product on the market. I came up with idea after years of riding racehorses during the harsh winters. I always found that my jacket rode up my arm; my wrists would get cold which then travelled to my hands. I wanted to bridge the gap from the bottom of the jacket and the top of the glove and so I created Stormchase. Although the warmers were originally designed for riders, it wasn't long after I launched the product in 2013 that there was interest from all other walks of outdoor activities. While I sold to the equine market, I am now selling to those who cycle, dog walk, fish, golf, run, shoot, ski, while also being popular with arthritis and raynard sufferers.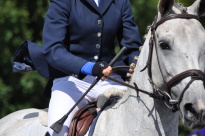 Made up of two fabrics, lycra/supplex and soft shell, Stormchase wrist/hand warmers are breathable, supporting and, most importantly, thermal. While they are wind and water resistant, they are incredibly comfortable and the fabric around the hand expands to the shape of the individual. The micro fleece lining and soft shell on the outside of the gauntlet part keeps the wrists wonderfully warm. They can be worn on their own, or with gloves. The fabric around the hand has been purposely chosen so when wearing gloves there is no bulk in the palm of the hand.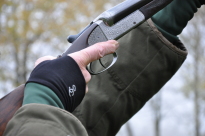 The warmers come in five colors, navy, black, forest green, red and royal blue. They also come in four sizes; extra small, small, medium, large. We can also create custom-made wrist warmer to suit any individual needs.
Let Stormchase become part of your everyday outdoor wear! Please visit the Stormchase website for more information and read some of the fabulous testimonials from the like of Jonjo O'Neil and others.