Relaxation? I'm getting stressed just thinking about it! We live in a time when virtually everything creates stress, even going to the spa.
As one year ends and the New Year begins, it sharpens your focus on what was accomplished in the previous year and what remains unfulfilled, giving rise to anxiety and despair.
Stress can be considered to be a function of a lack of alignment between the body, mind and spirit. To harmonise the three and bring about a health-enhancing, sustainable stress-busting technique, make it a priority to cultivate an enjoyable and manageable discipline this New Year. So what can you do to become effective at dealing with stress?
The answer… yoga.
As an avid yogi who also teaches yoga, here's one of my favourite explanations of the value of yoga, given by Yoga Master, the late Sri BKS Iyengar:
"Yoga allows you to achieve a sense of wholeness in your life, where you do not feel like you are constantly trying to fit the broken pieces together. Yoga allows you to find an inner peace that is not ruffled and riled by the endless stresses and struggles of life. Yoga allows you to find a new kind of freedom that you may not have known existed."
This New Year, make it your focus to align your mind, body and spirit and begin from wherever you are on your journey of self-development.
Stretch, detoxify and revitalise your body
1. Stop resisting and exercise. Deep-stretch your stress away
Find a system of yoga that suits you. Sample different classes – Hatha Yoga is great for complete beginners as a gentle introduction to yoga. For more vigorous yoga, attend a beginner level Vinyasa Flow class. Regular practitioners, elevate your practice to a more dynamic form of yoga, such as Ashtanga Vinyasa, Dharma Yoga or Rocket Yoga. For everyone, including someone who's never ever stepped onto a yoga mat, an absolutely delicious and ultra-relaxing type of yoga to melt away your week's stress, sign up for at least one Restorative Yoga class a week. Here you will use bolsters, blankets, sandbags, belts and maybe even chairs to assist you to let go and surrender into a profound relaxation.
2. Reduce caffeine and sugar and increase fresh, live juices
Transform your habits. Cut back on caffeine and sugar, some of the worst offenders that put strain on your adrenal glands, causing more stress and tiredness. Drink more fresh, live juices. Invest in a good juicer this New Year. Daily, juice at least five fresh vegetables, such as beetroot, celery, spinach, apple, lemon and ginger, blended with ground nuts, seeds, wheatgrass or pure cacao powder. See your energy and vitality shoot up!
3. Eat for your body type
The Internet is flooded with advice about "eating right", but what does that mean? In my years of trialling and erring with almost every diet going, I eventually made peace with my body through Ayurveda. From the ancient Indian language Sanskrit, Ayurveda means the "Knowledge of Life". Personalising its approach to health, it analyses your mind-body type so that you can make optimal choices about diet, exercise, supplements and lifestyle. Ayurveda says that the body and mind are inextricably linked and that the mind is the most powerful healer. Book a consultation with a qualified Ayurvedic practitioner and discover what "eating right" means for you, personally.
Calm your mind
4. Breathing techniques
Learn some simple but effective breathing techniques to melt away your stress within minutes.
5. Simplicity is the key to breathing correctly
Inhale slow and long, relaxing your belly, letting it expand, filling it up like a balloon with the inhalation.
Exhale smoothly, gently and completely.
6. Add a mantra
After three or so rounds of breath, synchronise your inhale while silently feeling the words "All is well."
Exhale "I am grateful that all is well."
Repeat the process twelve times or more, until you feel calm, your nerves soothed.
7. Focus on the positive
Don't let people suck you into their stories. This zaps your energy. Instead, focus on the positive and become so deeply peaceful that their mental and emotional "noise" fades in your presence. This will stimulate your wellbeing and 'feel good' instantly, setting you up for success at work and in your relationships.
Become one with your inner being
8. Do daily digital detox
Ditch watching TV or consuming social media after 9pm. While many of us do this to wind down after a hectic day at the office, followed by an even more busy home life often revolving around the partner's and children's needs, this type of digital stimulation leaves you feeling far from relaxed. In fact, it has you going to sleep tense and anxious.
9. Devote yourself to meditation
Much time and energy goes into "looking good" and yet, the essential inner being that powers you and is the source of all that we crave — being happy, joyful and fulfilled —gets ignored. Connect to your inner being by meditating. Start with just ten minutes a day and then build it up to thirty minutes. Meditation techniques that you can learn include Vipassana (Buddha became enlightened doing this), Transcendental Meditation, Kriya Yoga Meditation and Mindfulness. Or start simply by downloading a free app such as Insight Timer, which has over 3,000 mediations and over 1.3 million meditators.
10. The key to contentment is acceptance
Acceptance is not resignation. It is simply letting go of resistance. Allow things to be the way that they are and are not. Let go of insisting that things and people must be different and you will feel peaceful. Make it a practice to go to bed feeling at one with yourself. Daily yogic exercise, conscious breathing and meditation will, this New Year, set you feeling the flow of joy, enthusiasm, inspiration, inner freedom, lightness and contentment.
About Smita Joshi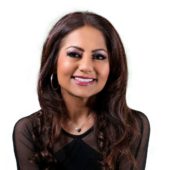 Smita Joshi is the author of the Karma and Diamonds trilogy, a gripping journey of Self-discovery across continents and lifetimes.
A British Indian, Smita Joshi was born in Gujarat, India, before moving to London at the age of ten. She has worked as a business executive selling multi-million dollar contracts to global, blue chip companies and was one of the first in bringing India's Information Technology services into the heart of British and European companies.
As a freelance TV presenter and for her YouTube channel, which has over 250,000 views, she has interviewed leading politicians, entrepreneurs and gurus. She's an experienced life coach and certified yoga teacher.
For more information, go to www.karma-and-diamonds.com