Ready and dripping with deliciousness the Dead Dolls House, Islington brings​ ​you​ ​a​ ​new​ ​Sunday​ Roast ​Menu​ ​to​ ​herald​ ​in​ ​the​ ​Autumn created by Gregory Barry, owner of Dead Dolls House and Executive Chef, whose unfussy ​classic flavour combinations and highest quality ingredients sing from page to plate.​ Hearty, satisfying and guaranteed to please, the dishes on the Sunday Roast Menu offer something for everyone whether you're a fan of pork, beef or chicken and there's even an inventive vegetarian option for those who chose not to eat meat.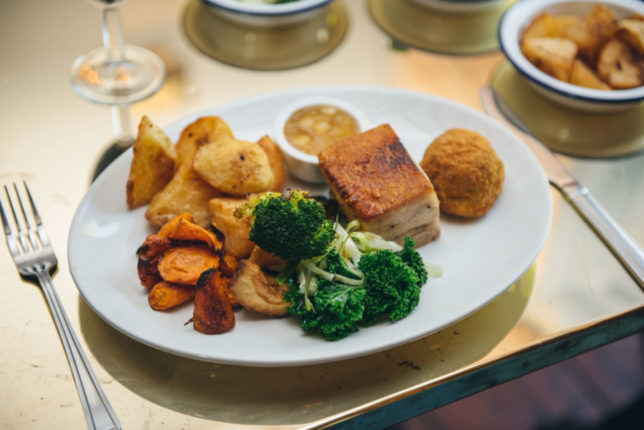 Sirloin of longhorn beef (£18) is a great choice for carnivores, as it's a tender thick cut, full of flavour and cooked to perfection. The signature serving is pink and swimming in gravy, but the chefs will of course cater to the diner's preference for those who prefer their meat medium to well done. We had the beef cooked medium and it was still perfectly tender and the gravy was just a bonus to the already juicy meat.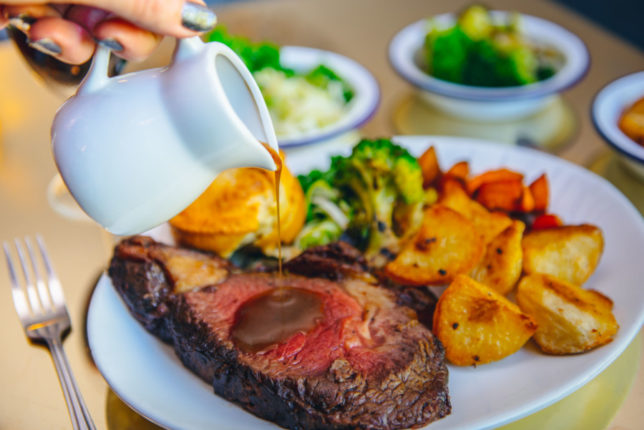 For those wanting punchy flavours with a slight twist Barry shows off his skill with ​pork belly, toffee apple sauce, piggy croquette (£16)​ – a dish designed to bring out the ​mmm in Autumn. The pork was cooked low and slow with perfect crsipy skin and hardly any fattiness to the high quality pork.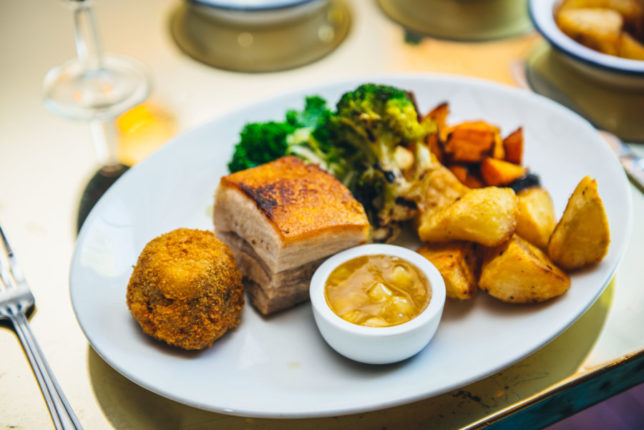 Coal roast chicken supreme (£16) delivers on succulence and fragrant simple flavours, while the ​butternut squash & goat's cheese wellington (£15) gives vegetarians creamy nourishing goodness wrapped​ ​in​ ​golden,​ ​flaky​ ​pastry.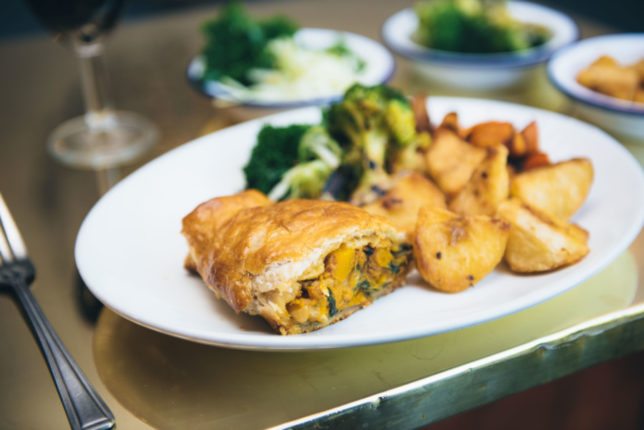 Every dish is served with Yorkshire Pudding and all the trimmings. Gregory Barry and the Dead Dolls House team bring a tasty and delicious roast into their weekend offering, alongside​ ​their​ ​ever-popular​ ​brunch,​ ​for​ ​guests​ ​to​ ​relish​ ​and​ ​devour. The bottomless Bloody Mary, Mimosa and Frizzante are the perfect pairing for those in need of liquid refreshment during their meal.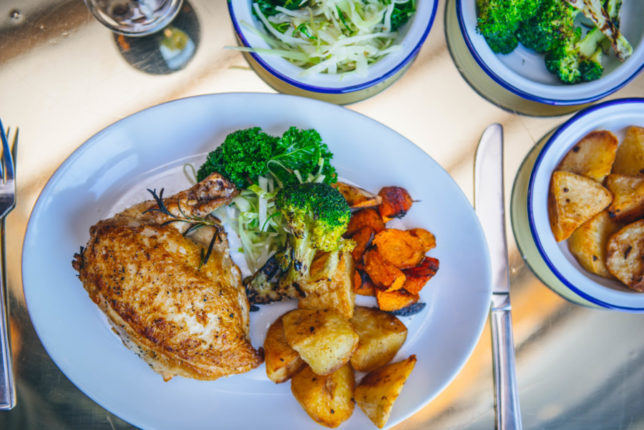 Dessert is not an after-thought either with classics like Chocolate Fondant and New York Cheesecake vying for attention. Vegans will be delighted by the inclusion of an Apple and Plum Tart that's guaranteed to be both vegan-friendly and very tasty. But we dare you to resist Barry's tasty piggy heaven of a croquette!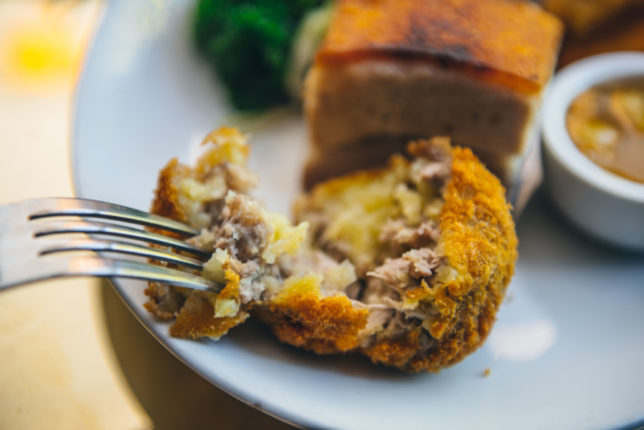 With Thanksgiving just aroud the corner, Gregory has designed a special feasting menu around the key ingredients of this North American tradition, but using the best of British and International​ ​produce.
Guests can look forward to Crab cakes with charred lemons and tarragon mayonnaise or ​Whipped yams with charred corn, creole butter and corn bread to start. For mains the carnivores can tuck right into ​Norfolk black roast turkey with stuffing, pigs in blanket and cranberry sauce​ while veggies can go nuts for ​Leek & potato galette with pistachio crust & all the trimmings. The desserts are no less full on, with a ​Whiskey Thief chocolate & bourbon tart as well as the classic​ ​​Pumpkin pie.
Dead​ ​Dolls​ ​House Thanksgiving Feast is ​supported​ by sponsors ​Whiskey​ ​Thief,​ ​Death's Door​ ​Gin​ ​and​ ​Aviation​ American ​Gin.​ ​With their​ ​help,​ ​the​ ​decadence​ ​and debauchery​ ​of​ ​this​ ​sharing-style​ ​feast​ ​has​ ​been​ ​supersized. Tickets​ ​are​ on sale now at ​£35​ ​per​ ​person​ ​and​ ​include​ ​three​ ​cocktails​ ​from​ ​the​ ​sponsors.
Dead​ ​Dolls​ ​House​ is perfectly positioned ​on​ ​Upper​ ​Street and ​the​ ​three​ ​storey​ building ​dates​ ​back​ ​to the​ ​1850's​ ​and was originally home to​ ​one​ ​of​ ​London's​ ​oldest​ ​music​ ​halls. The​ ​downstairs​ ​bar,​ ​The​ ​Parlour,​ ​has​ ​a​ ​capacity​ ​of​ ​150​ ​and​ ​is​ ​licensed​ ​until​ ​4am​ ​six​ ​nights​ ​a week.​ ​A​ ​welcoming​ ​bar​ ​for​ ​delicious​ ​cocktails​ ​in​ ​the​ ​afternoon​ ​and​ ​evenings​ ​with​ ​resident​ ​DJ Carlos​ ​St.​ ​Bean​ ​keeping​ ​the​ ​party​ ​going. Upstairs​ ​there​ ​are​ ​three​ ​dining​ ​spaces​ ​that​ ​are​ ​perfect​ ​for​ ​weddings​ ​and​ ​private​ ​functions which​ ​are​ ​split​ ​into​ ​three​ ​rooms,​ ​The​ ​Ballroom,​ ​The​ ​Drawing​ ​Room​ ​and​ ​The​ ​Library.​ ​They can​ ​be​ ​hired​ ​individually​ ​or​ ​together.
Dead​ ​Dolls​ ​House
181​ ​Upper​ ​Street,​ ​London,​ ​N1​ ​1RQ
thedeaddollshouse.co.uk
@deaddollshouse