If you're looking for something special to indulge your gastronomic passions this season but still want to keep things healthy with all the excesses of Christmas fast approaching, look no further than sushi… not just any sushi, but the new Limited Edition Maison Sarah Lavoine Box from Sushi Shop, the European leader when it comes to creating and delivering sushi.
Sarah Lavoine – France's Leading Interior Designer
A major name on the French interiors scene, Sarah Lavoine founded her interior design business in 2002. Over the years, her name has become a watchword for sophistication, contemporary aesthetics and unrivalled craftsmanship. Sarah Lavoine, with her passion and gift for colour, is at the forefront of a new French lifestyle movement. Her talent is obvious in every space she designs. Sarah Lavoine also uses her passion and talents in personal creative projects: The Compagnie Française de L'Orient et de La Chine, La Redoute, Monoprix and Sézane are just some of the brands that have worked with her.
In London, various creations from Maison Sarah Lavoine are available in Conran Shops. We are particularly excited to work with Maison Sarah Lavoine because of her warm contemporary style and playful use of colours and textures.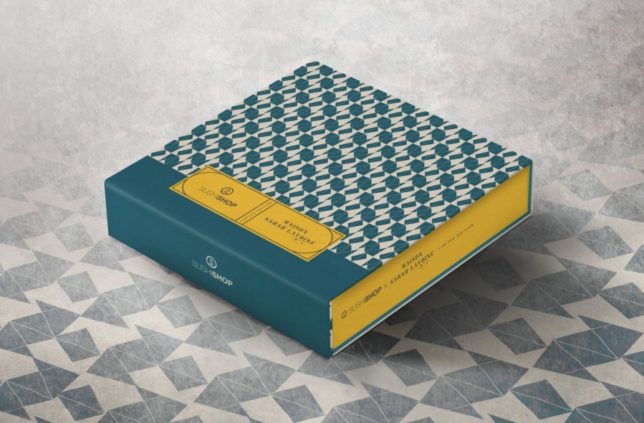 Sushi Shop – International Purveyors of Sushi Excellence
Founded in 1998 by two French entrepreneurs, Grégory Marciano and Hervé Louis, Sushi Shop became a franchise in 2006 with the arrival of its third director, Adrien de Schompré. As of 2017, the brand has 87 outlets in France and 32 international outlets. In addition to it's shops in France and the UK, Sushi Shop is present in 9 other countries including the United Arab Emirates (as our Dubai readers already know) and also Belgium, Luxembourg, Germany, Switzerland, Italy, Spain, the Netherlands and Saudi Arabia.
The Maison Sarah Lavoine Box
The Maison Sarah Lavoine Box contains 42 pieces of sushi, including 3 exclusive creations in autumn flavours presented in a contemporary stylish box that is bursting with Parisian chic. Sarah Lavoine's signature colour "Bleu Sarah" combined with one of her bold designs were a natural choice for the design of this new limited edition sushi box.
What's in the Box?
Priced at £39.90 the box contains 42 delicious sushi. The three exclusives are Beef Tartar Sushi, Citrus & Basil Yellow Tail Maki and Crusty Tuna Rolls. The other pieces are Salmon Sushi, Salmon Teriyaki Sushi, Chicken Katsu Rolls, Philadelphia Maki Rolls, Spicy Salmon Spring Rolls and finally Cucumber & Cheese Spring Rolls.

NEW and Exclusive – Crusty Tuna Roll
We loved the new Crusty Tuna Roll which wakes up your taste buds with its spicy sauce, crunchy croutons and tasty masago. It's a real taste explosion with perennial favourite of the highest quality tuna accented with spicy sauce, croutons, masago, baby lettuce, chives and coated in sesame seeds.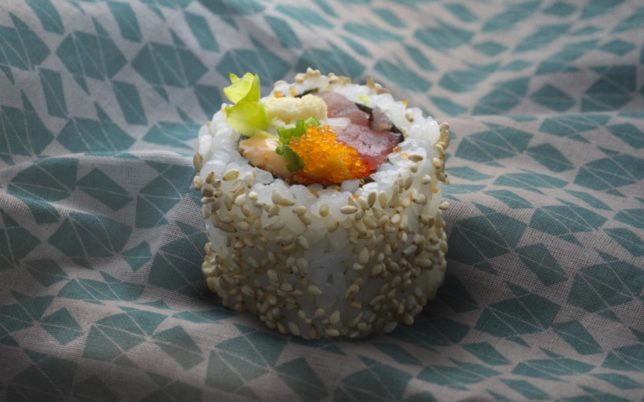 NEW and Exclusive – Beef Tartar Sushi
The Beef Tartar Sushi is a whole new type of sushi with an inventive American-style beef tartare that smooth and delicious. It's sure to be a hit with the sushi fans desperate for something new and meaty. The beef is complimented by gherkins, capers, red onions, American-style mustard for that Stateside twist on this Japanese cuisine.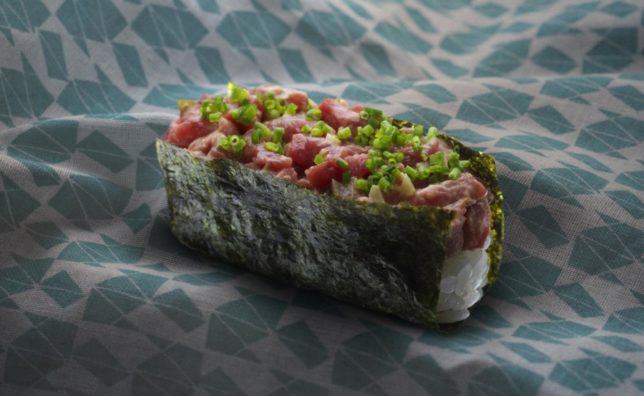 NEW and Exclusive – Citrus & Basil Yellow Tail Maki
The Citrus & Basil Yellow Tail Maki is our favourite of the three exclusive flavours. Fresh yet fruity, this maki combines the mild flavour of yellow tail with the citrus tang of ponzu sauce, grapefruit and orange, along with a powerful hit of basil and a hint of olive oil. Sushi yumminess!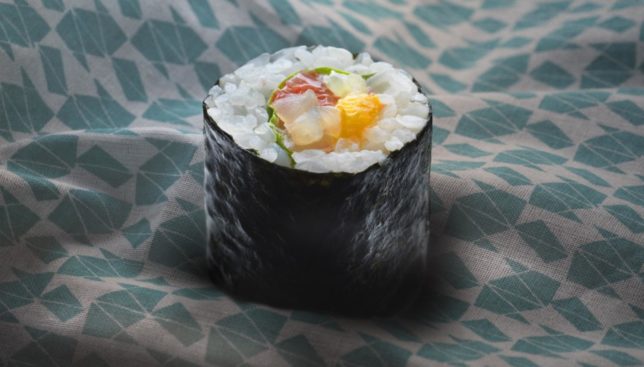 As displayed in the sushi photos above, the Maison Sarah Lavoine Box also comes with a beautiful little scarf in the same Sarah Lavoine print in her signature colour "Bleu Sarah" to keep and enjoy long after this delicious sushi has finished.
The new limited edition is available now in all Sushi Shops. Check out the video below to get closer look.
For more information and to find your nearest Sushi Shop, please visit www.mysushishop.co.uk