Suzi Quatro is an American musician, singer, songwriter, record producer, actress, poet, author and radio presenter. Having sold over 55 million records worldwide, she is a global rock legend. SLOAN! sat down with Suzi Quatro for an exclusive interview with one of the most prolific female rock and roll stars of the last half century who shows no signs of retiring any time soon. We chatted to Suzi ahead of the Legends Live Tour which sees Suzi performing up and down the country with the likes of David Essex and Hot Chocolate including at London's SSE Arena in Wembley Friday 20th October 2017.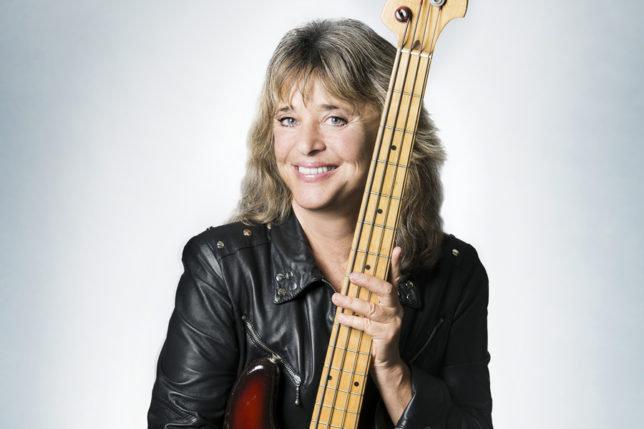 When did you first decide you wanted to be a musician?
I was raised in a musical family of 5 kids. My father played his entire life and was a child prodigy on violin. All of us play several instruments. First for me was bongos then classical piano lessons followed by the drums in school band then picked up bass at 14 and became self taught on bass. The rest I read and write.
What inspires your music? What's your creative process when writing a new song?
Something has to hit you… a situation, a comment, a heartache. Then you open the channels and begin. Usually with me I get a title first but that's not always the case. I love to write poetry, books, music, whatever. I am a very creative person.
What was the last thing that touched, moved or inspired you and how did it affect you?
I am moved and affected every day of my life. I'm always making notes of things I thought or said. I went to see an old friend recently who had gone through a real difficult depressed time and she told me all about it. This will make it's way into a song.
You were the first female musician to become a major rock star. Looking back at your career breaking barriers for women in rock music, what has been your greatest success and what has been the greatest challenge?
The greatest success is not easy to pinpoint. It is a series of achievements like my first hit, first big concert, first acting job, first award, first musical, first book (my autobiography), starting in radio and I'm still working with BBC Radio 2 to this day, first poetry book, first novel. Most importantly becoming Honorary Doctor of Music and getting my award at Anglia Ruskin University in Cambridge dressed in a cap and gown. My greatest challenge is to remain normal… which I have done. My feet remain firmly on the ground which is no easy task I can tell you.
You first started acting in your role as bass player Leather Tuscadero in Happy Days and went on to star in other shows on TV and also theatre roles. What did you enjoy about the actor's life and what has been your favourite acting role and why?
Acting is nearly as important as my music. I love it. I love being able to immerse myself in a role and become somebody else. Happy Days is close to my heart because it was my first role, but the best and most challenging one was Talullah Who? – the musical I wrote about Talullah Bankhead. Playing her was incredible… it took me ages to get 'rid' of her out of my psyche.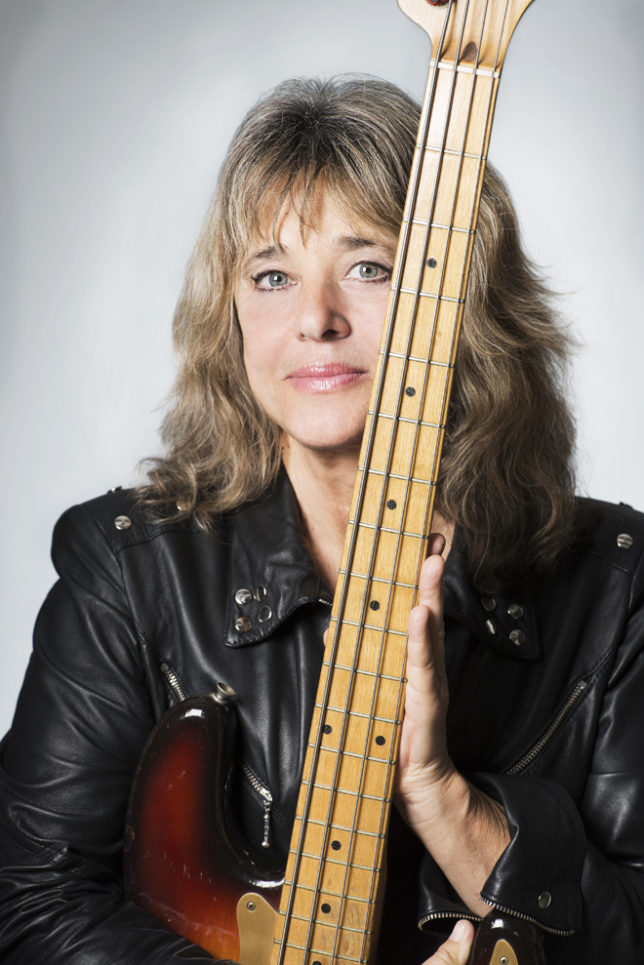 You've released dozens of albums and had a string of hit singles. How do you decide on a set list when performing to reflect that and how do you ensure you connect with an audience?
You must always do your hits then pick the 'best' of the album tracks and constantly update. Little bits and pieces, even in the hits, makes a difference and keeps it fresh. I always have an ear and eye on the audience.
In the Seventies you found greater success in Europe and Australia than back in the States. Why do you think that was and how has the reception of female rock singers changed over the years in America?
I was here in the UK, so therefore more effort was put into this side of the world and Mickie Most kept changing record companies in the USA for every release which was 'not' good for building a relationship. I sold lots of albums there though and toured a lot but didn't have as many hit singles. I still have a huge cult following and am always being asked to go back and do some shows which I would love to do… dearly love to do.
Different singles charted lower end and of course Stumblin' In was a million seller. After I broke the ground and performed as Leather Tuscadero in Happy Days – a bass playing singer in the most popular TV show in the States – it paved the way for my biggest ever fan, Joan Jett, to be able to have a hit. After Happy Days, it did not seem so odd anymore. It's all A… B… C. One thing leads to another.
What are some of your favourite anecdotes about the famous people you've had the pleasure of working with or meeting through your music career?
OMG! That is so hard to do off the cuff… okay, on the welcome to my Nightmare Tour in 75, Alice Cooper, myself and various musicians had a rubber dart gun fight which even went out into the corridors. Alice was hiding behind a mattress that he had dragged out off the bed. He peeked out… I saw him and bang! Hit him between the eyes. Went on stage, black and blue, with my t-shirt on out of respect.
How would you describe your legacy and what's your view of the influence that has had to other female rock musicians who have said you inspired them?
I gave women permission to be serious contenders in rock and roll. I invited all female musicians to walk through the door that I had opened. Funnily enough, not that many have!!! It's a hard job in many ways. You have to give up a lot.
Last year you were awarded an Honorary Doctorate of Music by Anglia Ruskin University in Cambridge. What does such recognition mean to you on a personal level? How has it changed the way you feel others perceive you?
I was so damn humbled… not even having a high school diploma to my name. For me it was a wonderful thank you for having given my entire life to my profession. I cried like a baby. And best thing is, I can call myself Doctor Quatro… which I do. When my passport comes up for renewal, I will put it on there.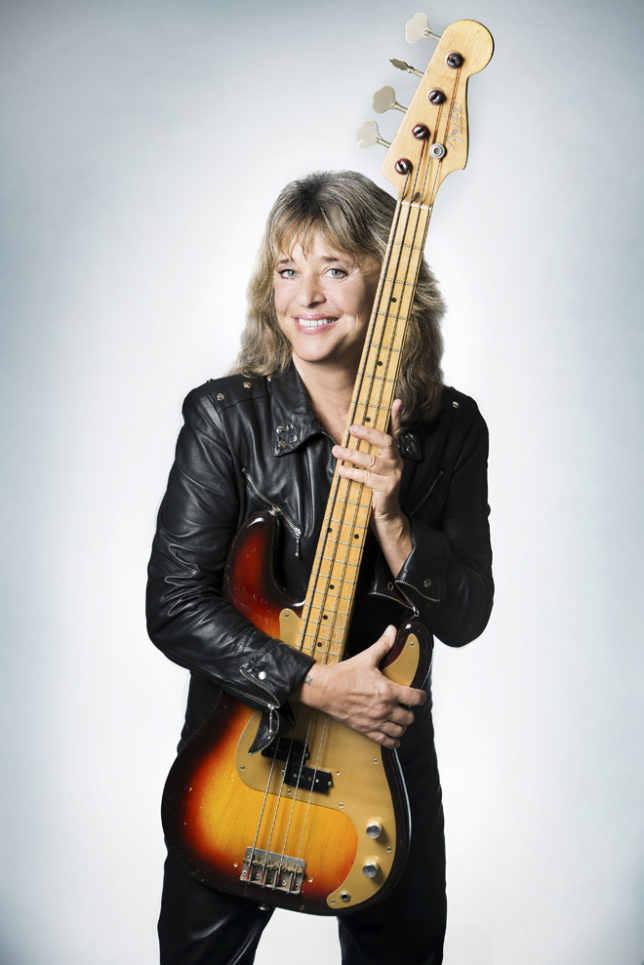 You've lived in Essex for many years. What do you like most about that part of England and the home you've created there? What inspires the style of your home and it's decor?
It was because of a series of situations that I ended up here. My ex was brought up in Romford. His mom and dad lived there. My family was too far away so when we bought our first home we came to this area. I liked it and I stayed. Then in 1980 I moved to my current home. This is a real love affair… an Elizabethan manor house finished in 1590!!! I don't think I will ever move. It's my sanctuary. It's private, it's beautiful, it's peaceful… and it's so me. A wonderful place to raise children. I am hoping to keep the house in the family for many generations after I am gone and my ashes will be spread on the grounds.
You've just published a new book. What was the creative writing process like and how did you keep focused during any periods of writer's block or the demands of work and family?
Yes, The Hurricane is my first novel. I was advised by my friend Jackie Collins that I should stick to what I know and then create, so I made Alison Heart (the heroine) a rock chick post Suzi Quatro. I love, love, love writing. In any sense as poetry and books are the same thing for me and I have done this my whole life. Through My Eyes is out worldwide and both books on New Haven Publishing. I'm very proud of both things and of course my autobiography UNZIPPED. I have been offered to do UNZIPPED 2 which I have agreed to. Regarding focus, I am probably one of the most focused people in the universe.
How do you stay fit and healthy? What's your fitness regime?
I jog, I bike ride, I do yoga, I go to the gym and I eat very healthy. I have a low metabolism so a little food goes a long way. I also drink tons of water. I do like my wine though. I jogged the other day around the fields and was hardly out of breath. You need to keep this level of fitness to be able to do the gigs.
You've performed in many shows for charity but what charities or worthy causes are close to your heart? How do you contribute and give back?
I will always do cancer charity fundraiser shows and also anything to do with children charities.
You'll be performing this October on the Legends Live tour up and down the country. What are you most looking forward to about the tour and is there a new city you're looking forward to experiencing?
There are no cities that I have not been too but I'm so looking forward to the Legends Live Tour because I haven't worked the UK in a long time… just the odd show here and there.
What can Suzi Quatro fans expect next?
People have kept in touch with me via my radio show Quatrophonic with the new Tuesday night series starting on 18th July on BBC Radio 2. I will make a new album soon. Just planning it now so watch this space. Also more radio work and more writing. And of course, any acting jobs that appeal.
Tony Denton Promotions are pleased to announce that tickets are still available for the Legends Live Tour 2017 featuring Suzi Quatro, David Essex, The Osmonds and Hot Chocolate taking in 8 arena dates starting on 13th October at Glasgow's SSE Hydro Arena, culminating on 22nd October at Cardiff's Motorpoint Arena. To buy tickets, please go to www.legendslive.org