A well-fitting suit is incredibly flattering, but there is a lot of ignorance among men about how to get one. Ready to wear is under used; made to measure is ignored; bespoke is misunderstood. It's not hard to become educated about tailoring however, all you need is a little passion. In his new book, Simon Crompton takes the reader through the essentials of choosing and caring for your suits and explains why we should all be a little obsessed with tailoring. Here's an extract from Tailoring Obsessions…
Benefits of bespoke
A well-made suit can change the way you feel about yourself – a suit tailored to your unique physique means the fit will be perfect and comfortable. A bespoke suit flatters all shapes. It can make you look thinner, fitter and stronger. Some tailors will give the jacket a sharply cut waist yet retain a little 'drape' in the chest, diminishing the former and exaggerating the latter. The V of the chest will accentuate your shoulders and suggest athletic shape, and can increase your confidence, just by looking in the mirror.
Bespoke also allows you to design your own clothes. It means you can put your personality into what you wear. Whether that's the subtle touches of brown horn buttons and turn-ups, or the loud flair of pink pinstripes and lime-green lining, it is personal and unique to you. There are a lot of options out there on the high street, but each is more a question of copying someone else's ideas than coming up with your own. And there's always the risk that you will see yourself' coming towards you down the street, wearing exactly the same suit.
Bespoke isn't just for suits. My tailor has made cycling jerseys, cropped jackets and capes, to name a few. It's limited only by what you can imagine. Of course, suits make up the majority of bespoke clothing but many of the principles, from cloth selection to tips on the fitting process, apply equally well to other types of dress.
A great suit is always worth investing in, whether bespoke or not. For the most important times of your life, it gives you and your attire a sense of occasion. It is smart, sleek and serious. If worn every day in the office, it will become a stamp of quiet authority that stays with you through the week, and with others. It can affect how they see you.
Choosing colour
For business or generally formal suits, colour is pretty simple, but there are a few ways to make sure you're getting it just right. The standard colours are blue and grey, and for  good reason: no other colours can both look smart and flatter a man's skin tone at the same time. Black is too harsh; brown isn't smart enough; tan is downright casual.
The colour needs to be dark to be businesslike, but that doesn't mean it should be almost black. Navy is the classic blue for business suits – while a dark shade, it is easily distinguishable from black, and is definitely blue. Too many men buy suits that are too dark (closer to midnight blue, a tone often used for eveningwear and which looks black until closely inspected), and make them look pale and pasty. Real blues and greys are much kinder.
Join the navy
A navy or mid-blue is also far more interesting in terms of colour combinations. Midnight blue looks very smart with a white shirt and black shoes, but that's about it. Navy, on the other hand, also looks good with those accessories, but brings out chocolate brown shoes as well. And a blue shirt provides a great background for experimentation with colour in the tie or handkerchief – strong colours against black just look cheap. Royal blue or cerulean are great for casual suits or blazers, but avoid them for business wear. In general, the paler and brighter a colour the more casual it is, so if you want to smarten up a linen suit commission, for instance, go for navy
rather than royal blue.
Get a paler grey
Most of this applies to greys as well. Too many men wear grey that is very dark, looking more like black with a little texture to it. In fact, there are really two clear categories of grey that can be worn for business: charcoal and mid-grey.
Charcoal is a great shade for business and works particularly well in flannel, but (like navy) it cannot be mistaken for black. Of all the suit colours, however, mid-grey is the kindest on the skin tones of most men – it compliments a good tan, but it doesn't wash out the pasty faced. It is for that reason that I would recommend men creating a business wardrobe (or commissioning their first bespoke suits) to start with in navy, charcoal and mid-grey.
Mid-grey is a touch lighter than the grey suit you would instinctively buy. Don't be afraid – it will look perfectly serious with a blue shirt, dark tie and deep-brown Oxfords. But then it will also work wonderfully in a casual summer setting, with a white shirt, tan shoes and perhaps a white linen handkerchief.
The pleasure of dressing well
For modern man, dressing well is a source of unexplored pleasure; clothes are the last area where he feels he cannot be seen to be making an effort. So he doesn't. That's his first mistake. The effort should never be seen, whether you're into clothes or not. The best style is casual, easy, nonchalant. It should just look like something you threw on in the morning. And such is the quality of your wardrobe and your accumulated taste that it may actually be what you just threw on that morning.
About Simon Crompton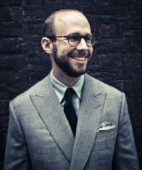 Simon Crompton is an author and tailoring journalist, and one of the world's leading experts on bespoke menswear. His  website, Permanent Style, was founded in 2006 and has been named by GQ, The Times and The New York Times as one of the best menswear sites in the world. He is a contributor to the Financial Times, The Rake and The Robb Report, and has written two previous books: Best of British and The Finest Menswear in the World. Tailoring Obessessions is published by Hardie Grant Books and is priced at £9.99