Keep on glowing all year round with TanOrganic's new certified organic Duo Bronzer which has recently launched in the UK. The bronzer helps you achieve a natural radiance that's suitable for day and night, winter and summer. The latest addition to TanOrganic's range of products, the dual bronzer can create summery looks no matter what the season. TanOrganic is the World's first and only Eco-Certified self-tanning brand.
The bronzer works to provide instant contouring, highlighting facial features and creating prominent cheekbones. Apply the velvety-smooth pressed powder across the face for sun-kissed cheeks, using the warm chocolate and caramel hued combinations for easily blended bronzer. These shades are suitable for every skin tone, enhancing the face and providing lasting radiance.
With a bronzer brush, blend the two colours together, using swirled motions across the face. In order to create a perfectly contoured face, use one brush to apply the lighter caramel shade as a highlighter, sweeping across the cheeks, on the brow bone and down the bridge of the nose. Then, using a different brush, use the darker chocolate tone in the hollow of the cheek, temples, jaw-line and nose. Thus, creating a perfectly sculpted look.
Both shades can also be used as eyeshadows for day and night, as well as enhancing cleavage and décolletage after tanning. A highly versatile addition to anyone's makeup bag, the Duo Bronzer is a bronzer with benefits. With 99.3% certified organic ingredients, including luxurious jojoba and coconut oils, the powder provides the perfect finishing touch for any summer glow.
Creating gorgeous looks for day and night looks in a matter of minutes, stay beautifully bronzed even in the middle of winter with the Duo Bronzer. Complete with a super-size mirror, it can be taken anywhere for an easy and quick application.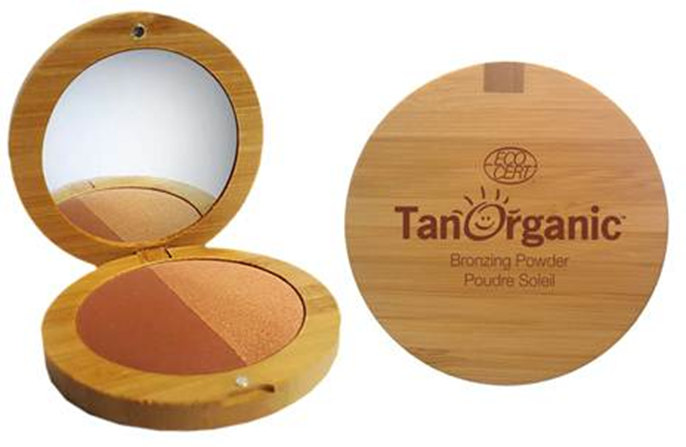 Noelle O'Connor, creator of the TanOrganic range, appeared on Dragons Den in Ireland and was successful in getting investment backing for the range, commented, "TanOrganic's Duo Bronzer is the perfect solution for those wishing to have a healthy, bronzed glow all year-round."
TanOrganic Duo Bronzer is available from Waitrose, Holland & Barrett, Superdrug.com, Ocado, lookfantastic.com, hqhair.com, beautyexpert.co.uk, www.feelunique.com, naturismo.com, apparu.com, amazon.co.uk and tanorganic.co.uk
TanOrganic Duo Bronzer costs £29.99.
TanOrganic products have qualified for Eco Certification because they are:
At least 95% natural ingredients in the finished product.
No GMOs, parabens, phenoxyethanol, ingredients derived from petrochemicals or synthetic chemistry.
No testing of the finished product on animals.
The whole manufacturing process is controlled, up to the packing stage, and the packaging and outer packaging must be biodegradable or recyclable.
The labelling must be transparent for the consumer.