Taylor's Eye Witness have been making knives for over 150 years in its Sheffield factory and continue to manufacture kitchen knives, scissors and pocket knives in Sheffield, the original City of Steel. The Brooklyn 4 Piece Copper Cheese Knife Set and Stand from Taylor's Eye Witness will cater for all your cheese cutting needs – whether it be soft, hard or crumbly cheese.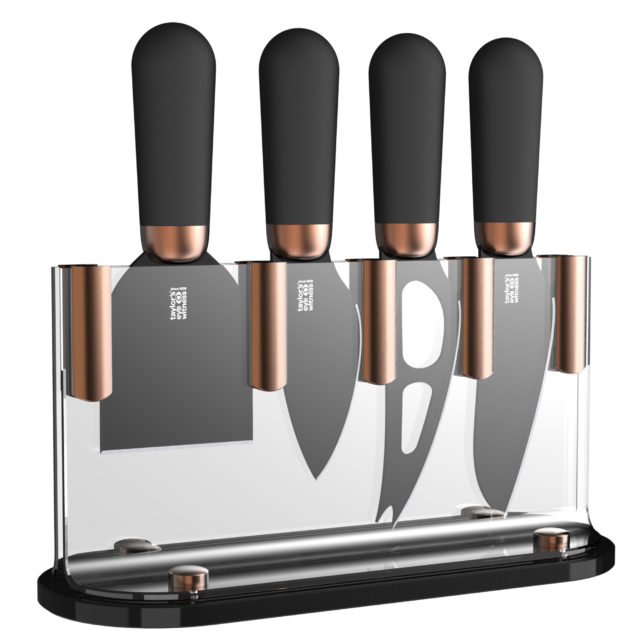 The set includes a soft flat cheese knife, a parmesan cheese knife, a soft cheese knife and a hard cheese knife. Each knife features an anti-bacterial hard ceramic coating. The ergonomic handle has a soft-grip finish offering extra control and comfort. Between the blade and handle is an attractive copper effect bolster.
The knives are housed in a stylish clear acylic stand which makes knife selection easy. The set is dishwasher safe (though hand washing is recommended) and comes with a Taylor's Eye Witness 2 year guarantee.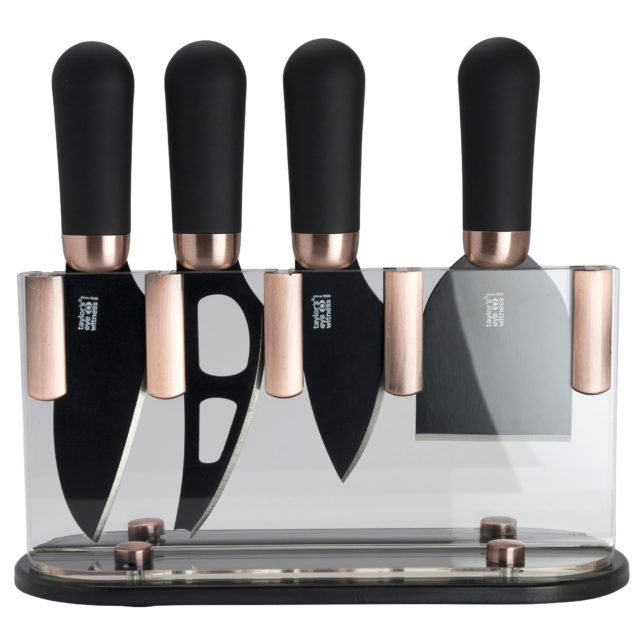 Taylors Eye Witness was founded by John Taylor in the early years of the 19th Century as designers and producers of kitchen knives, pocket knives, scissors and sharpeners. The "Eye Witness" Trademark was first registered in 1838 – the inspiration for the choice of "Eye Witness" is believed to be Shakespeare's line in Henry IV – "No eye hath seen better".
The Grade II listed building is now believed to be the only traditional works remaining in Sheffield which still manufactures its original products. Although the interior of the factory has changed with new working practices and modern machines, the exterior of the building has changed very little over the past 160 years.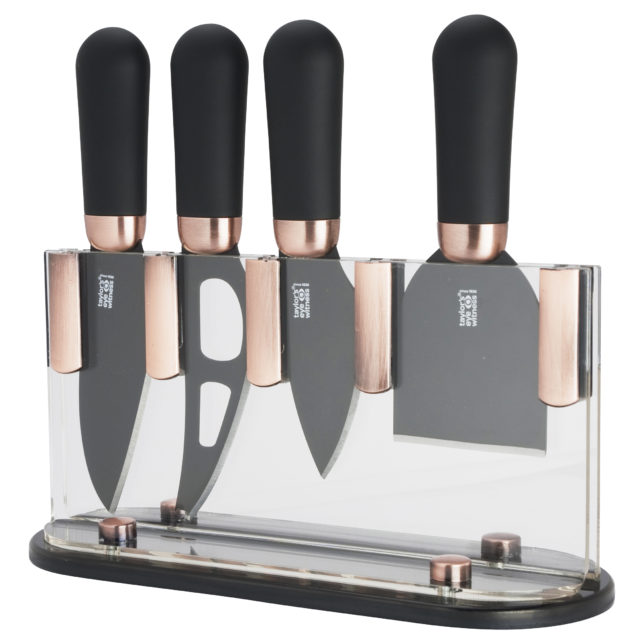 Employing highly skilled Sheffield craftsmen and with a knowledgebase which is unrivalled, Taylors Eye Witness have stood the test of time through an unrelenting dedication to quality, service and good old fashioned technical know-how.
The Brooklyn 4 Piece Copper Cheese Knife Set and Stand from Taylor's Eye Witness makes the ideal gift or indulgent purchase for any gourmet cheese lover. Its classic design complements any sophisticated cheese board at dinner parties or buffets.
Available nationwide and online, RRP £32