London dating can sometimes feel a little repetitive for single guys. Heading out to your local bar, buying countless drinks that are extortionately priced, and online Tinder swiping eventually stops feeling exciting and can make dating more of a chore than it should be. This needn't be the case! London is an incredibly exciting city; it's the perfect place to embrace your quirks and make the most of what this cosmopolitan hub has to offer. However, finding refreshing things to do and unique ways of meeting new people can seem a little daunting, especially if your hobbies are particularly niche or you really want to stand out from the crowd. It's time to embrace your inner quirkiness.
To help you stay in-the-know, Charlie Spokes, founder of date experience website 'My Friend Charlie', has outlined ten quirky London dating events for single guys to try out with the chance of finding that special someone!
1. Dangerous dates: axe-throwing
If you're looking for that special someone, it's important to embrace your quirks; this will help you to find someone with similar interests and increase long-term potential. If you're an adrenaline junkie and love to push the boundaries, finding a dating activity which reflects this could lead the way to relationship success; simply going to dinner or drinks won't show your love for all things wild and it's important that you don't hide what makes you unique. If you're entirely open with what you like, this will prevent disappointment further down the line if you eventually find you're not compatible. Similarly, if you plan an adrenaline-filled date and they seem open to this, you might find you click instantly. More risqué dates might also suit even if you're not typically a fan of danger; breaking free from your comfort zone and trying something with a little risk will help to many anyone feel a rush of thrill. With excitement adding essential spice to any date, this seems like a worthwhile consideration.
2. Embrace your inner Bond…
If you're more suave, you might find that your perfect date lies in a casino night; this will give you the opportunity to dress formally and impress with your very best poker-face. More interactive than a typical dinner date, casino nights will have you chatting, laughing and hedging your bets in more ways than one.
3. Stay active while the sun sets
Exercising on a date probably isn't something that has crossed your mind; we're usually more concerned with looking our best and brainstorming possible conversation topics… no one wants an awkward silence! However, London offers an array of stunning scenery that can be explored, and how better than by bike? From popular areas such as Covent Garden, to the historic views of Trafalgar Square, cycling allows you to relax and slowly absorb what the city has to offer. Also, cycling gives you the perfect opportunity to hop off and grab some food. You can take the date at your ideal pace, with no pressure. Cycling at sunset also adds a little romance, wooing your date with ease.
4. Release your inner Tiger Woods at Crazy Golf
Crazy golf is becoming a huge hit in London, and it is clear to see why! Exciting courses and cocktails offer a fun and competitive date full of laughter and jokes. With most crazy golf venues also having a restaurant, this sets you up with an all-inclusive date – sure to impress after you've let your date win!
5. Who knew beer could make for the perfect date?!
If you're a beer fan, it turns out this could be key to the perfect date… what could be better?! New London craft beer tours are exciting singletons across London; offering plenty of time to talk, a light-hearted atmosphere and the added bonus of at least three drinks included. Touring London on a date helps to make sure you don't get stuck for conversation; the excitement of new venues will make sure you have lots to talk about and look forward to.
6. You've got a golden ticket…
Who loves chocolate? Who doesn't! Chocolate tasting could be your perfect date; relax with a glass in wine in hand, chat over truffles and enjoy. With candles lit, this type of date is certainly filled with romance, yet seems to be more casual than the pressure of a formal, three-course dinner.
7. Beware of the ghosts
Being on a ghost bus tour isn't for everyone but if you suggest this to a date and they're equally excited, this could be a brilliant bonding experience… at least you can guarantee your date clearly has no fears! A date like this will ensure there's never a dull moment and will inevitably make for a funny story! If you're worried about sounding boring, the ghost bus scares will certainly fill the gaps.
8. Alternate bars
Used as an umbrella term, alternate bars are great for putting a twist on the standard "let's go for drinks". Ball pits, darts and ping pong are all examples of bars that incorporate games into their evenings.
9. Picnic with your furry friends
Live at home with your dog and can't afford to leave him there? Simply don't want to? Then guys, this is the event for you! Meeting and having a meal with a date who also has a pet immediately gives you something in common and sparks conversation. Exploring the parks of London with the comfort of man's best friend will certainly put a smile on your animal-loving date's face.
10. Chocolate making classes
If you love chocolate (and let's face it, who doesn't?), chocolate making classes may be the best choice for you. Indulging in delicious treats will help you to remain relaxed with an intimate atmosphere… you'll leave satisfied both with your date and the bonus of chocolate in abundance!"
About the expert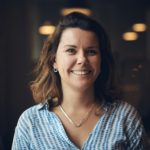 Charlie Spokes is the founder of My Friend Charlie, an events company helping people to connect in unique ways by offering great events for singles.