As the owner of a luxury travel PR agency, it may come as no surprise that in addition to the privilege of visiting some of the loveliest hotels in the world, I spend a good deal of time getting on and off planes, navigating airport security and coping with jet lag. At the same time, maintaining health and wellness is a part of my life that I'm committed to- something easier said than done when you're a frequent flier. Over the 20 years or so that I've been in this business, I have learned how to integrate healthful habits into an arena where it's typically rather tricky to do so. Thus, here are my top travel tips for wellness through travel:
1. After security, the first thing I do, is pick up some vegetable juices to sip throughout my plane journey. They keep me hydrated and I get a great vitamin hit for the journey.
2. Always take a bottle of water on the plane. I buy the 750ml; it is easier to carry and is less bulky by the seat. You can get the air stewards to refill it to top your goal of 8 glasses a day. Flying is dehydrating so be sure to drink as much water as you can and keep carbonated & caffeine drinks down to a minimum.
3. Choose your fruit snacks carefully. Pop an apple in your bag before you leave home rather than a banana as they will squash!
4. To prevent plane nibbles, grab some unsalted nuts to keep your energy levels up. I always get cashews or mixed nuts as I drink almond milk so like to have a variety.
5. If you can, get to the airport early and eat a proper meal before you board your flight and you won't have to endure the tasteless and nutrition exempt plane meal. However, if you know you won't have time before you fly, pre-order the vegetarian or gluten free option; they normally have some fresh items on the tray (and you get served first).
6. When they offer you champagne try – I know it's hard – to avoid and stick with soft drinks or better yet water. Alcohol and planes combined are very dehydrating and will leave you feeling sluggish when you arrive… and to be honest, they normally serve the cheap stuff!
7. So you've sorted the snacks, the fluids and now it is time to switch off and relax, it is one of the few times you are without emails and messages flying into your inbox, cherish it. Download a meditation app, such as Headspace, and grab a pair of head phones; sit and meditate no matter where you are and block out the chaos that can sometimes go hand in hand with travelling.
8. Pre-arrival, ask your hotel to deliver a lemon, knife and chopping board to your room – just because you're travelling doesn't mean you should lose your routine, start the day with warm lemon and water to cleanse and detoxify.
9. Pack your gym stuff instead of that extra day dress – that way you'll use the gym every time you look into your suitcase.
10. Exercise and see the city, running is the perfect way to discover the hidden treasures of a city … but do ask the concierge for the simplest route and take your phone in case you get lost being touristy!
About Lysbeth Fox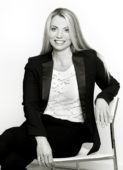 Lysbeth Fox is the Managing Director of luxury travel, wellness and gourmet agency Fox PR, whose portfolio of clients includes some of the most prestigious in the world. Prior to founding Fox PR, Lysbeth previously set up and ran PR companies and built specific travel & lifestyle divisions for some of the major players in the industry. During this time she provided high quality and strategic media campaigns to some of the best-known brands across the globe.
With over 20 years in the industry, Lysbeth is passionate about public relations –and not a day goes by that she doesn't find something she loves about her work. Whether it's meeting a new client, discovering a new destination or trend to finding a newsworthy angle that engages the press – she is tenacious, insightful, creative and an ardent proponent of the power of good PR.