North Indian fine dining restaurant Thali is a family affair right down to the recipes, passed on through the generations over a hundred years or more, using traditional methods to create flavours that continue to please modern-day palates.
Located on Old Brompton Road, in the heart of one of the Capital's most fashionable districts, Thali has already made a name for itself as a foodies' paradise, with a strong celebrity following.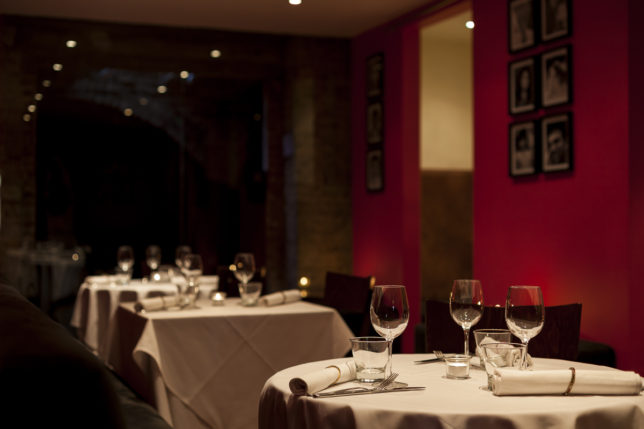 Focusing on the finest and freshest ingredients, head chef Dila Ram and his team expertly execute dishes, many of which are marinated for 24 hours prior to cooking, to maximise flavour and tenderness of meats.
Dishes from the grill, such as lamb chops, marinated for an entire day in masala spices, green cardamom, lime and yoghurt and delicious snack food staples or chaat as they are known in India. The thali at Thali is impressive but the menu has much more than this to tempt diners with something for all tastes.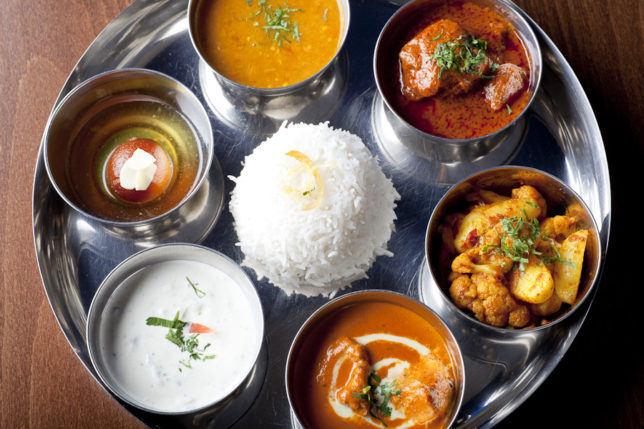 Chettinad Lamb curry is cooked on the bone for the ultimate in succulent meat, combined with fennel seeds, cashew nuts, black peppercorns, chilli and coconut. A firm favourite with customers remains Lamb Rogan Josh, spiced onions, Kashmiri chillies, masala and fenugreek leaves, and Chicken Hara – combining mint coriander, chilli and coconut milk.
Thali specialises is game dishes when in season, including Tandoori Rabbit – cooked with anise pepper – Whole Tandoori Partridge – marinated in masala and dill – and Venison Buna. The menu, while North Indian in essence, takes inspiration from other regions, showcasing dishes such as Prawn Balchao, tiger prawns seasoned with Goan masala.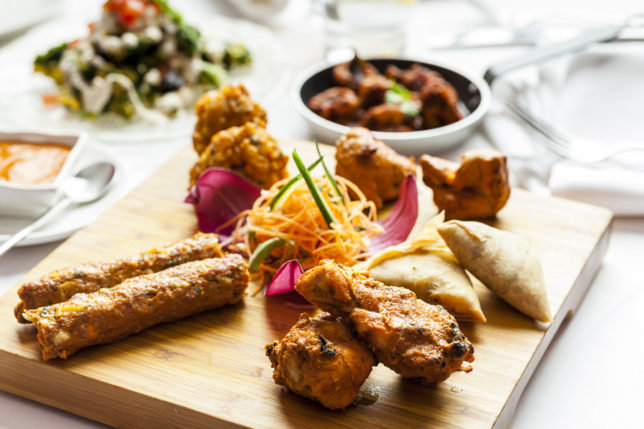 The new Hardens 2017 Guide says of Thali: "Bollywood classic posters add character to this contemporary Indian in South Kensington – a pleasant and reliable" option, whose "menu is made unique by following regional and family recipes of the owners". Hardens rates the food as "very good", with service and ambience also rated as "good" so we thought we'd visit the restaurant to see for ourselves just how good it is.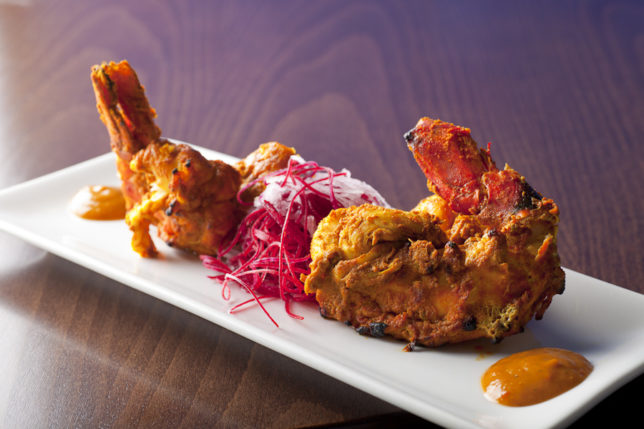 As we arrived not long after the restaurant opened its doors, we were one of only two other tables but as the night went on the restaurant swiftly filled up and it was obvious that many of the other diners were loyal fans and dedicated locals who visit this authentic Indian restaurant as their local curry house with added flair.
While we poured over the mouthwatering menu, we were brought papadums to start and some welcome drinks of a fine Rioja Crianza Muriel and a refreshing Ginger Mojito mocktail.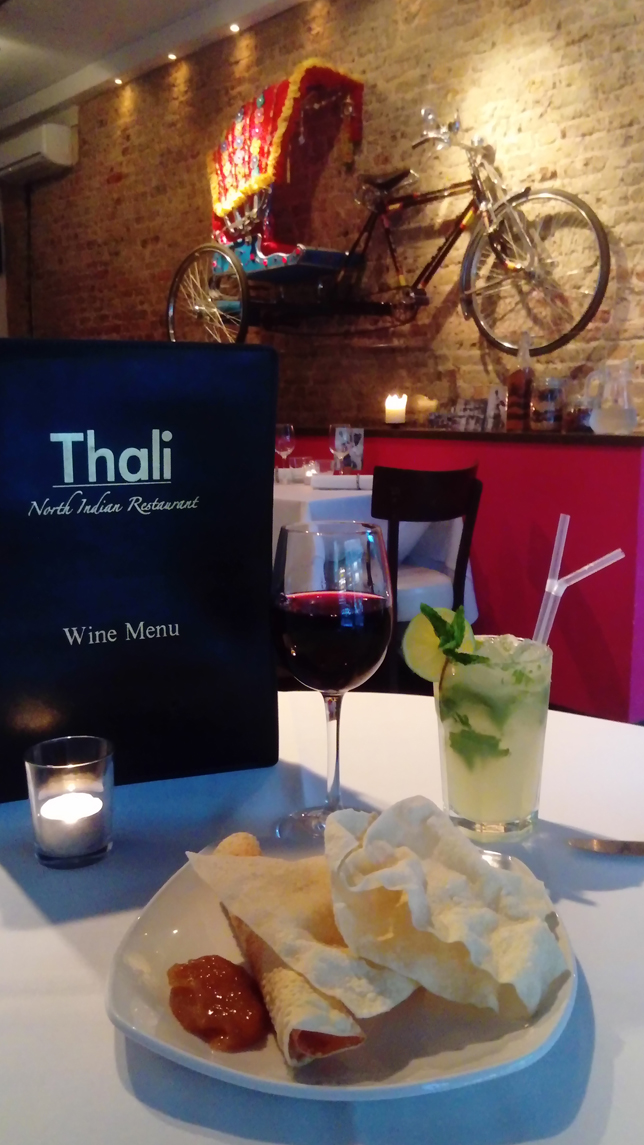 The mango chutney that came with the papadums was obviously house-made from its fresh bright flavour. We also ordered a selection of the restaurant's signature chutneys – all made on site and a refreshingly different flavour profile to the usual fare one finds at lesser Indian restaurants. We particularly like the Mango & Spicy Chilli but each one had something special to offer from the tangy Tamarind to the marvellous Mint & Coriander. Even the Mixed Indian Pickle tasted a step above the ubiquitous lime pickle elsewhere.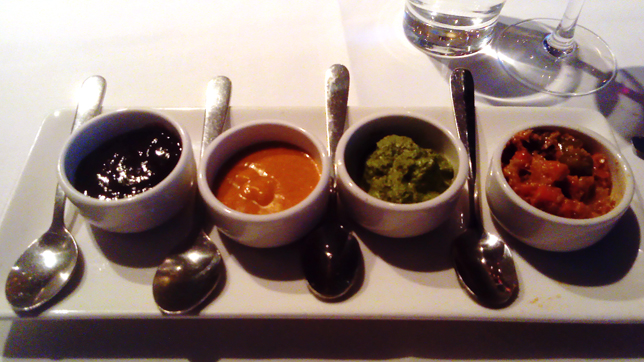 To experience several of the appetizer dishes in one go, we ordered the Fish Sharing Platter between the two of us. This was a interesting selection of seafood and fish that one wouldn't find just anywhere and we were most impressed by the perfect textures, delicious flavours and thoughtful presentation of the food.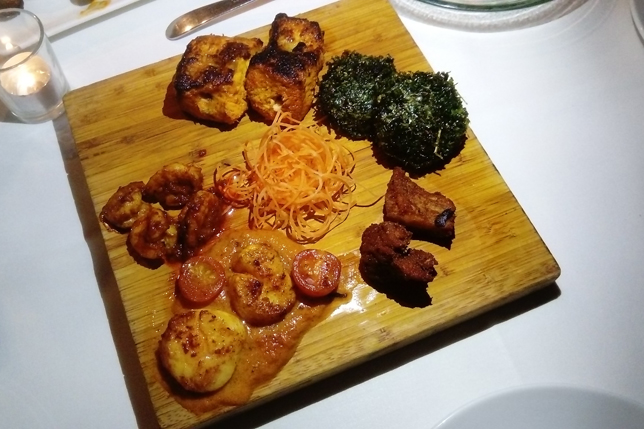 The platter includes Tandoori Salmon, Prawn Balchao, Grilled Scallops, Crab Patties and Amritsari Fish. The tiger prawns came in a spicy but delicious sauce made from special Goan masala and the crab patties used snow crab in the filling which had a light creamy consistency. The salmon and scallops were our favourites – both cooked just long enough to be what one might call medium rare. Overcooked fish is never going to be a problem here at Thali.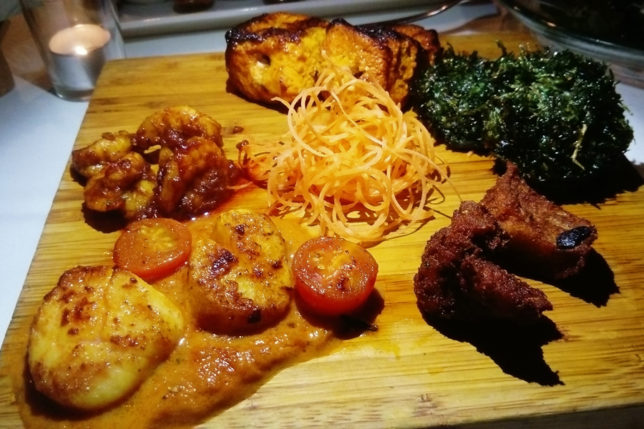 Our host explained that the chutneys would go perfectly with the fish selection and he certainly had a point. The Mint & Coriander went especially well with the salmon and cod fish of the Amritsari dish. We also were recommended to try the Palak Chaat – which is the sort of dish you won't find everywhere and a testament to the unique authenticity championed at Thali. This is a dish of crispy fried spinach, combined with sweetened yoghurt and home-made Tamarind chutney. Simply delicious and a welcome discovery to our repertoire of favourite Indian dishes.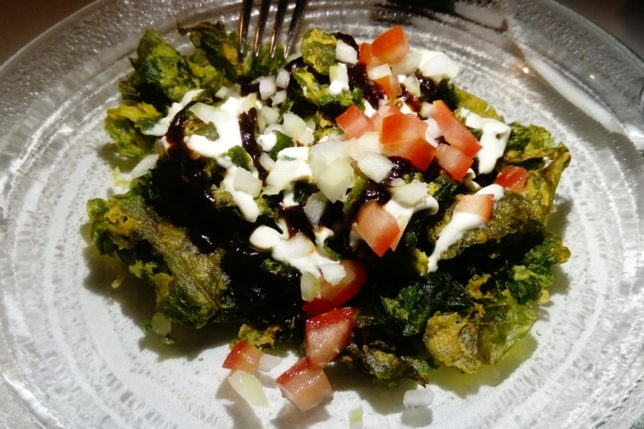 Moving on to the mains we both ordered a curry each with different rice dishes and bread to share. Both were too good to keep to ourselves and we ended up sharing forkfuls between us. I had the Baigani Chicken made with yummy aubergines served with Mushroom Rice.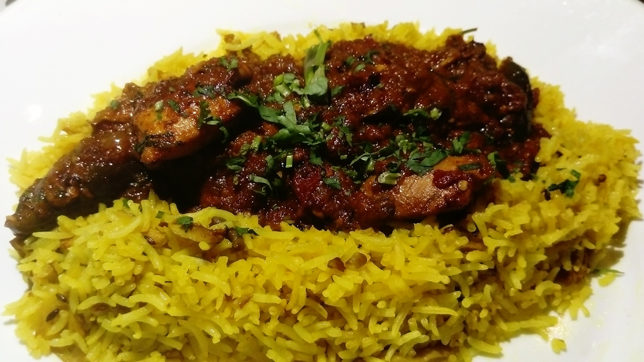 My dining companion sampled the Lamb Karahi – quite spicy in flavour with the meat meltingly soft in texture. This was accompanied by a generous serving of Pulao Rice and we shared a well-cooked Peshwari naan – again very generous in size and stuffed full of moist grated coconut.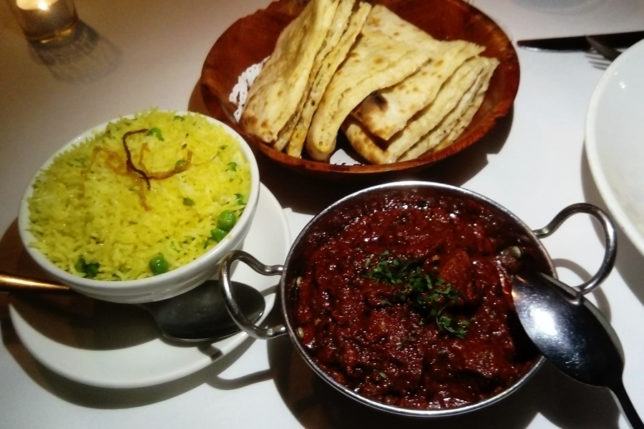 After such an incredible feast of Indian flavours, we just could not find room for dessert but we hear the Gajar Ka Halwa comes highly recommended but if you're not a fan of this carrot dessert, why not go more traditional than kulfi and try the Falooda – a personal favourite of our Editor and made with rose flavoured milk, vermicelli and sweet basil seeds topped with a scoop of ice cream.
As the nights draw in this autumn, Thali has become our new haven of North Indian yumminess and we will definitely be paying them a return visit very soon!
Thali
166 Old Brompton Road, London SW5 0BA
020 7373 2626
www.thali.uk.com
@ThaliLondon