In his new book Good Together: Drink & Feast with Mr Lyan and Friends (Frances Lincoln, £20.00) Ryan Chetiyawardana (aka Mr Lyan) has called on his many friends from the world's best restaurants to share dishes they love to make for friends and family served alongside his stellar cocktails for the perfect social gathering.
Don't miss the Thanksgiving Dinner recipes by Tien Ho here and see below for three festive serves created by Mr Lyan featured in the new book.
Lyan Mary
I've served this around the world and have never failed to get the response that it's the best Bloody Mary ever (no pressure!). It's a drink that can get pretentiously overcomplicated (with lobster, cheeseburger and every condiment under the sun thrown in…), and while this version isn't simplistic, it's easy enough. Make the two main elements ahead of time, so you can be ready to go!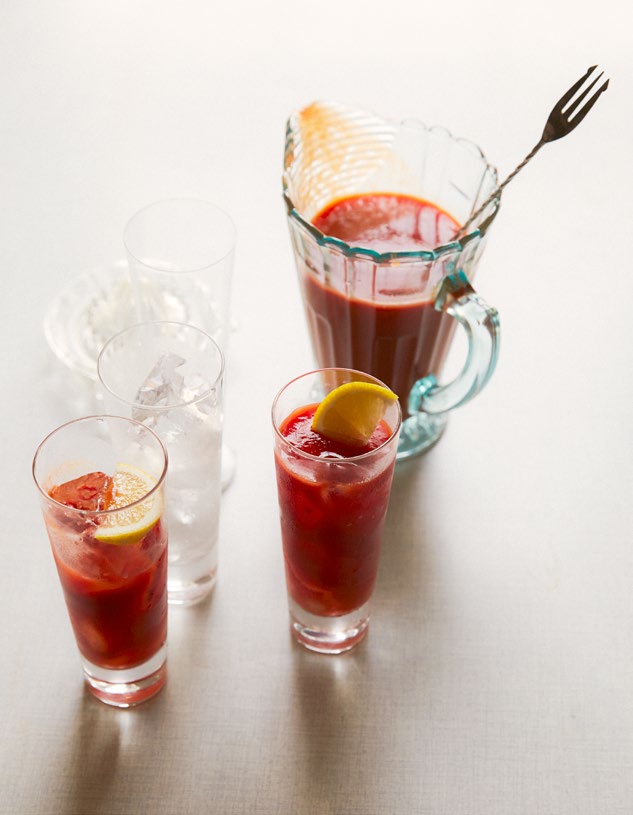 Ingredients
15g (½oz) sweet white miso
4 shots (100ml/4oz) Lea & Perrins
Worcestershire sauce (really!)
500ml (20oz) passata
500ml (20oz) tomato juice
½ tsp Tabasco
6 shots (150ml/6oz) Tio Pepe
1 strip lemon peel
1 sprig thyme
5 shakes (around half a gram) S&B
nanami togarashi pepper
1 tsp black peppercorns
3g (¼oz) sliced fresh ginger
10g (0.4oz) sliced celery
1 tbsp fresh lemon juice
Just under 2 shots (40ml/1.6oz) vodka (ideally something spicy like Belvedere Rye, or something creamy like Chase)
Lemon, to garnish
Method
Tomato mix (makes enough for about 6):
Dissolve the sweet white miso in 2 shots (50ml/2oz) hot water. Add the Worcestershire sauce, passata, tomato juice and Tabasco. Mix very well and keep covered.
Nuked sherry (makes enough for about 6):
Add the Tio Pepe to a microwave-safe container along with the lemon peel, thyme, nanami togarashi pepper, peppercorns, ginger and celery. Cover and blast in the microwave for 3 minutes. Allow to cool, then strain through a coffee filter.
To serve:
Fill a tall, straight-sided, narrow hi-ball with cubed ice, then add the lemon, just under 1 shot (20ml/0.8oz) nuked sherry, the vodka and 4 shots (100ml/4oz) tomato mix. Stir gently, top with more ice, and garnish with a slice of lemon.
Tom & Jerry
This cocktail is made from bourbon, dark rum, orange blossom, amaro, egg and hot vanilla milk.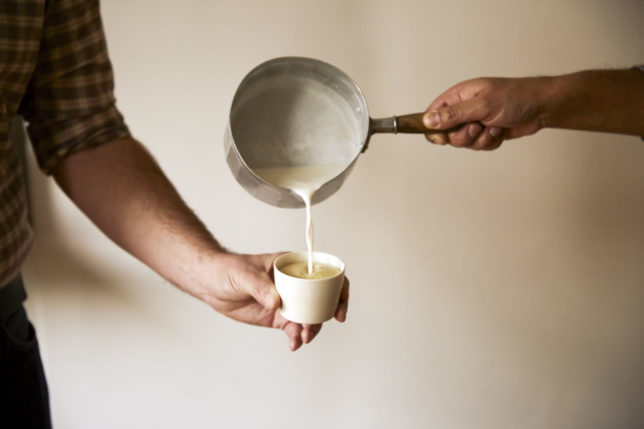 Ingredients – serves 6
6 eggs
8 dashes orange blossom water
90g (3.oz) demerara (light brown cane) sugar
6 shots (150ml/6oz) bourbon
2 shots (50ml/2oz) dark rum
2 shots (50ml/2oz) amaro
500ml (20oz) whole milk
1 vanilla pod
Salt
1 clove
Nutmeg, to garnish
Method
Separate the eggs. Whisk the whites with the orange blossom water. Whisk the yolks with the sugar, then whisk in the booze. Gently fold in the egg whites and keep the batter aside. Heat the milk with the vanilla pod, a pinch of salt and the clove until hot, but not boiling, then fish out the spices.  Add just over two shots (60ml/2.4oz) batter to ceramic cups, then top with hot milk. Grate fresh nutmeg on top.
Thanks'A Punch
With a lovely red colour and amazing acidity from the sumac, hibiscus tea, citrus and champagne, this punch is ideal alongside a hearty winter feast.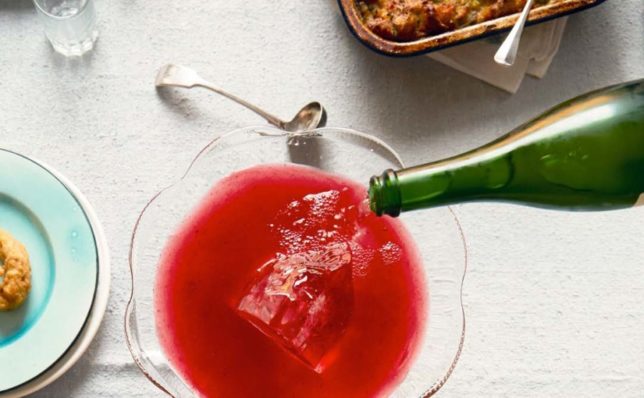 Ingredients
Makes 1 punch bowl
4 grapefruits
250g (9oz) white sugar
5g (1 tsp) sumac
15g (½oz) dried hibiscus
300ml (12oz) bonded applejack
1 bottle champagne
Method
Sumac and grapefruit sherbet:
Remove the zest of the grapefruits (ensuring no pith remains), and muddle with the sugar and sumac in a bowl. Allow to rest for at least 6 hours. Squeeze the juice from the grapefruits into the mix and stir well. When all  the sugar is dissolved, pass through a sieve (but save some of the zests for garnish). 
Hibiscus tea:
Add hibiscus flowers to a jug with 500ml (20oz) cold water. Allow to infuse for 6 hours in the fridge, then strain.
To serve:
Fill a punch bowl with a large block of ice, then add the sherbet and the tea, along with the bonded applejack, then top with the chilled bottle of champagne. Serve in chilled tea cups with ice.
Extracted from Good Together: Drink & Feast with Mr Lyan and Friends by Ryan Chetiyawardana (Frances Lincoln, £20.00)