In his new book Good Together: Drink & Feast with Mr Lyan and Friends (Frances Lincoln, £20.00) Ryan Chetiyawardana (aka Mr Lyan) has called on his many friends from the world's best restaurants to share dishes they love to make for friends and family served alongside his stellar cocktails for the perfect social gathering.
With Thanksgiving just around the corner, we thought we'd take a closer look at what the book has to say about the perfect Thanksgiving Dinner with recipes from Tien Ho of Whole Foods. Come back tomorrow to catch the fabulous festive Thanksgiving cocktails from Ryan Chetiyawardana.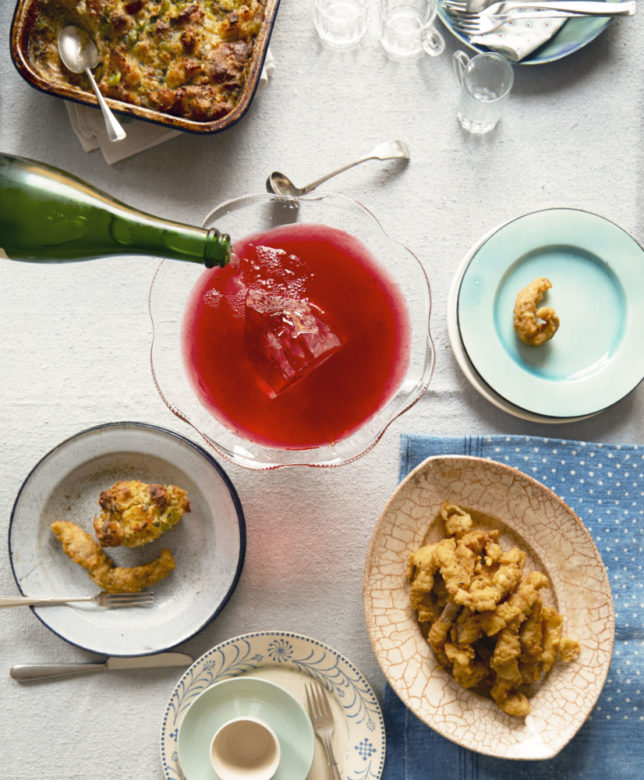 Tien Ho says, "I've worked in restaurants for much of my adult life, and holiday season tends to mean extra-long days – it makes having a day off to celebrate food with friends and family just that much sweeter. For the last ten-plus years, we have crammed into my little apartment in NYC for a potluck feast!"
"We called it Tiensgiving. Everyone brings a dish that is special to them. I always make turkey and cornbread. We stuff our faces, drink and talk shop all night. These are still some of my best memories."
"Since I don't have the space in my little kitchen to roast a whole turkey and all the sides, I break it down and fry the cutlets. It's a little extra work, but the result is really special. For the dressing, we make my wife Kate's grandmother's cornbread stuffing, and it's delicious!"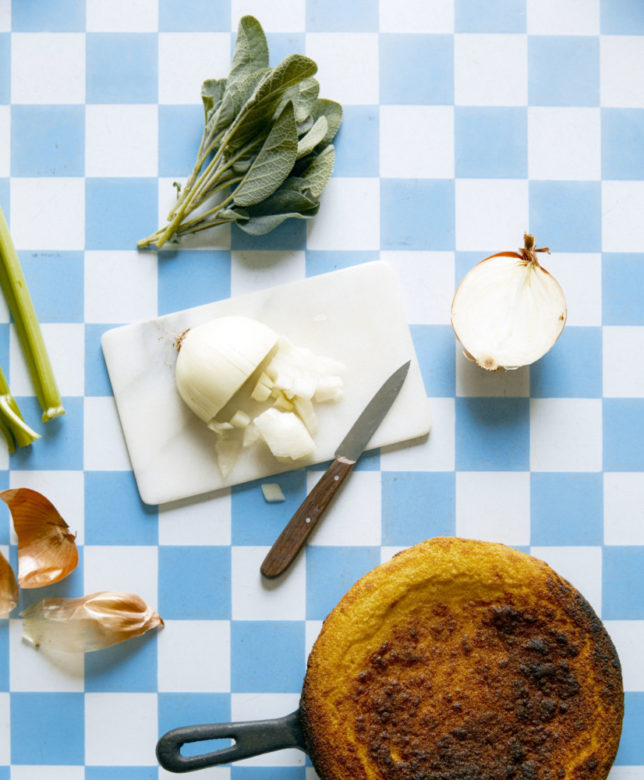 Tien Ho's Turkey
Ingredients
12–16 boneless, skinless turkey breasts (2 per person)
Canola or rapeseed oil, to deep-fry
For the fish sauce vinaigrette
750ml (1⅓ pints/3 cups) fish sauce
500ml (18fl oz/2 cups) water
375g (13oz/2 cups) sugar
5 garlic cloves, finely chopped
Juice of 4 limes
125ml (4fl oz/½ cup) white wine vinegar
3 fresh Thai chillies, finely chopped
For the flour mix
500g (1lb 2oz/4 cups) plain (allpurpose) flour
3 tbsp bicarbonate of soda (baking soda)
1 tbsp salt
1 tbsp pepper
For the egg wash
3 eggs
125ml (4fl oz/½ cup) water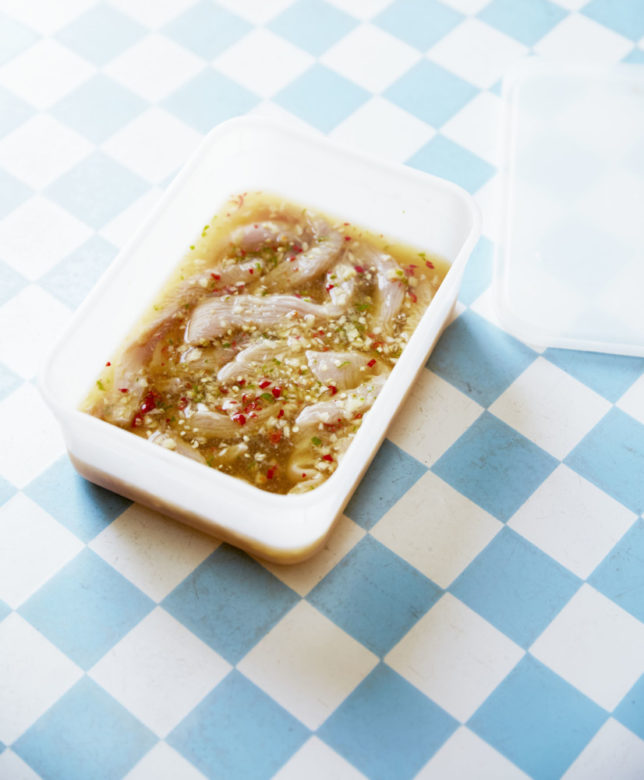 Method
Start preparing the turkey the day before you want to serve it. First, make the fish sauce vinaigrette by combining all the ingredients. Slice the turkey breasts into 1cm (. inch) strips and leave to marinate in the vinaigrette for 24 hours.
When you are ready to cook (after the cornbread stuffing is in the oven, see below), combine the ingredients for the flour mix and put in a shallow bowl.
Mix the ingredients for the egg wash together well in a separate bowl.
Put the oil in a large pan, making sure it comes no higher than halfway up the pot. Heat to about 175°C (350°F).
Remove the turkey from the marinade. Dredge the turkey first in flour, then egg wash and then flour again. Deepfry a few turkey strips at a time until they are dark golden brown. Let them rest on a rack or on kitchen towels.
Serve hot.
Grandma Murrell's Cornbread Stuffing
For Granny's cornbread
3 tbsp canola or rapeseed oil
250g (9oz/1 cup) white fine cornmeal
1 tsp salt
1 tsp bicarbonate of soda (baking soda)
1 tsp caster (superfine) sugar
1 egg
500ml (18fl oz/2 cups) buttermilk
For the stuffing
8 celery sticks, chopped
1 large onion, chopped
225g (8oz/1 cup) butter
4 hotdog buns
8 eggs
8 large sage leaves
1–1½ litres (2–2½ pints/5–6 cups) chicken or turkey stock
Salt and pepper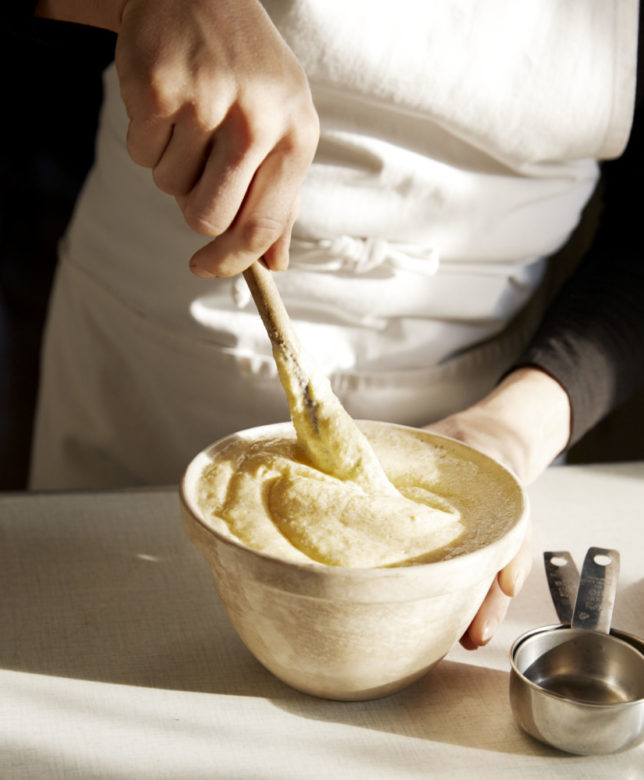 Method
For the cornbread, preheat the oven to 230°C (450°F/gas mark 8). Pour the oil into a 23cm (9 inch) ovenproof cast iron frying pan or similar heavy-based pan. Once the oven has heated up, put the pan in the oven to get piping hot.
Combine all the ingredients for the cornbread in a bowl and stir until well mixed. Pour the hot oil from the pan into the batter, then immediately pour the batter into the hot pan. Return to the oven and bake until brown on top and set – about 20 minutes. Remove from the oven and leave to cool.
When you are ready to make the stuffing, preheat the oven to 190°C (375°F/gas mark 5). Saute the celery and onion with the butter, until tender and translucent.
Coarsely crumble the cornbread into a large bowl. Roughly tear the hot dog buns and mix with the cornbread. Add the sauteed vegetables to the breads. Stir in the eggs and sage, and season with salt and pepper. Stir in a small amount of warm turkey or chicken stock. My mom's instructions were to use enough stock to make it 'kind of soupy' – this doesn't mean like soup, but just so that the stuffing is wet enough that you can see a bit of stock come to the surface when it stands – in combination with the eggs, it will bind in the oven.
Pour the mix into a well-buttered pan or other baking dish. Dot the top with butter. Bake in the oven until very brown, set and puffy, about 1 hour. I like it to have very brown edges.
Extracted from Good Together: Drink & Feast with Mr Lyan and Friends by Ryan Chetiyawardana (Frances Lincoln, £20.00)