The Brewers Inn in Wandsworth boasts a cellar bar, a rotisserie and delicious food menu that has proved popular with locals and visitors alike at this Young's hotel, pub and dining room in southwest London.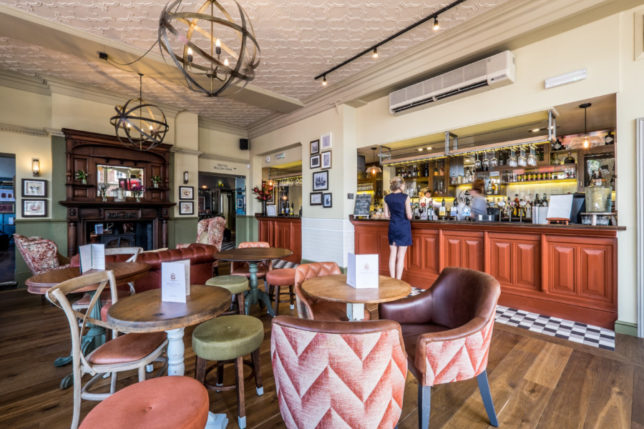 At the turn of the 19th century, the pub – then known as The Two Brewers – boasted an accompanying off-licence, 'Jones Wine Store', and the Jones name is celebrated with two spaces of The Brewers Inn, one of which comprises a stripped-back basement bar called Jones' Cellar Bar. All exposed piping, bare brick walls and vintage lab stools, this charming, rustic space is intimate and exclusive, stocked with locally brewed craft beers (Shoreditch Blond and Four Pure Pils from Bermondsey) speciality bins from across the globe and rotating gin specials.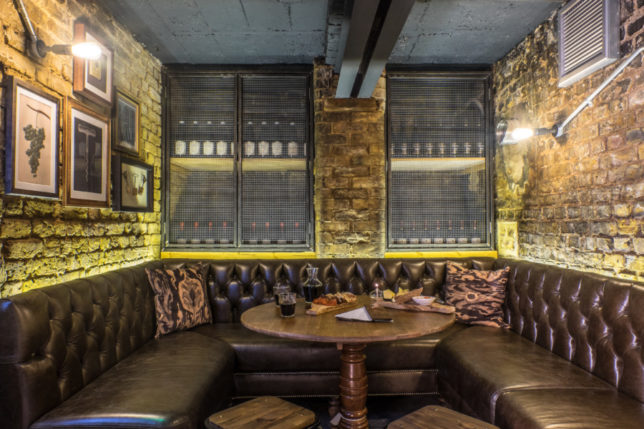 The bar area is decorated with deep, burnt orange and classic shades of brown in the décor, while a mismatched selection of seating includes upholstered stools, comfortable armchairs and leather Chesterfields. The double-sided fireplace splits the space between a front and back drinking area whilst the cosy yet sophisticated dining room is decked with polished oak timber panels and cool grey and blue tones with wooden tables and chairs to seat sixty. Reclaimed 1930's windows have been upcycled into decorative screens to create semi-private dining spaces.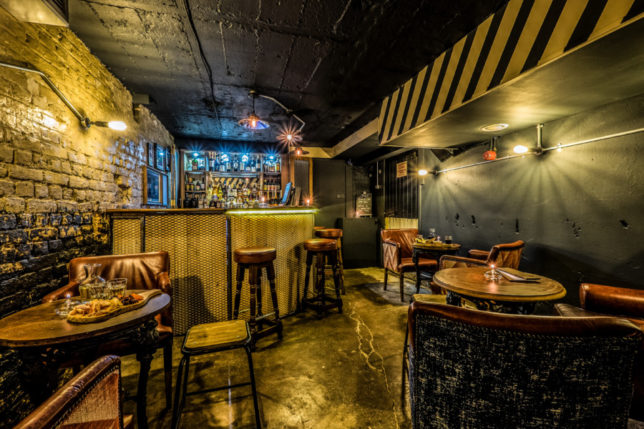 The former Jones's Wine Store, located to one side of the building, is home to an exclusive private function space under the original moniker. Reclaimed timber panelling, restored paved flooring and a feature wall of barrel tops decorate the industrial-style space, which is perfect for hosting family occasions, team meetings and private parties with its long, banquet-style wooden table in the centre of the room, HD TV, temperature control and a private bottle bar. Large French windows open out onto the beautifully revamped garden, allowing guests to spill out onto the covered and heated terrace decked out with soft seating for al fresco drinks.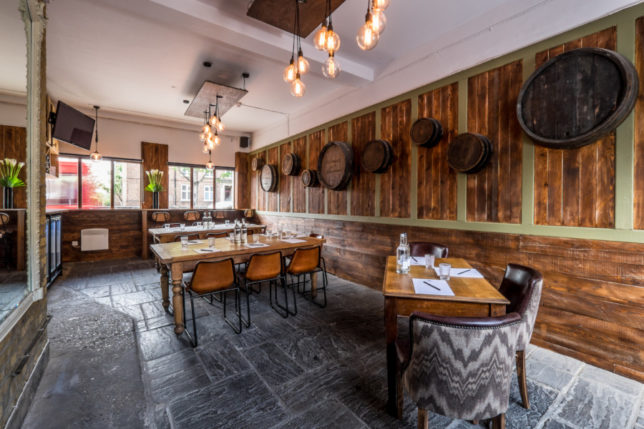 Following the refurbishment of the pub in 2015, the Brewers Inn hotel bedrooms upstairs were transformed into 16 boutique-style rooms. The rooms by Fusion by Design reflect the history and heritage of the pub.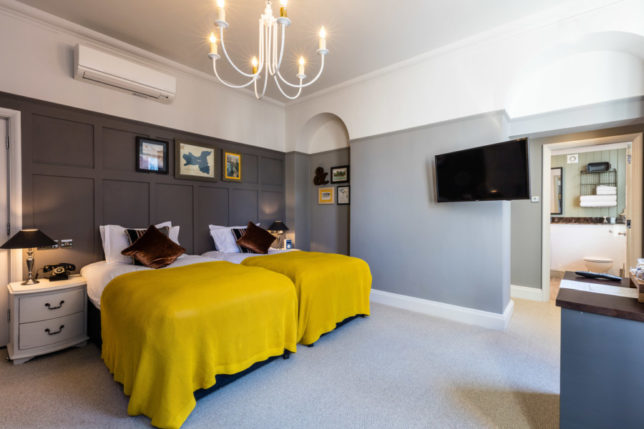 There are 11 boutique doubles, three boutique twins and two spacious feature rooms complete with their own sofa beds, one complete with curved, corner window overlooking Wandsworth Town Hall.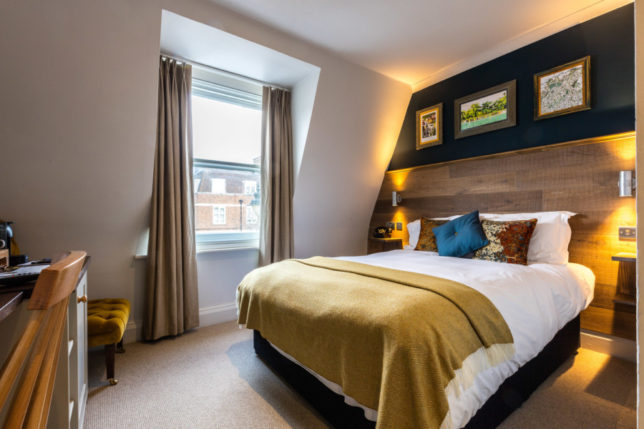 Each room has a relaxing colour palette of blues, greens and creams with natural wood and injections of colour are given with vibrant furniture and soft furnishings.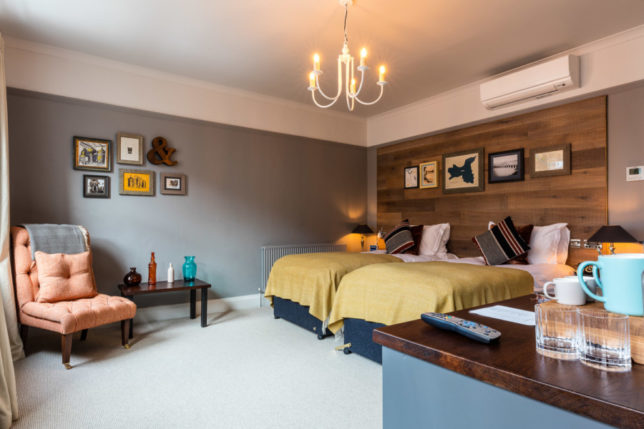 Amenities include Nespresso coffee machines, luxury toiletries from Cowshed, hairdryers, fully stocked minibars, flat screen TVs as well as Hypnos beds.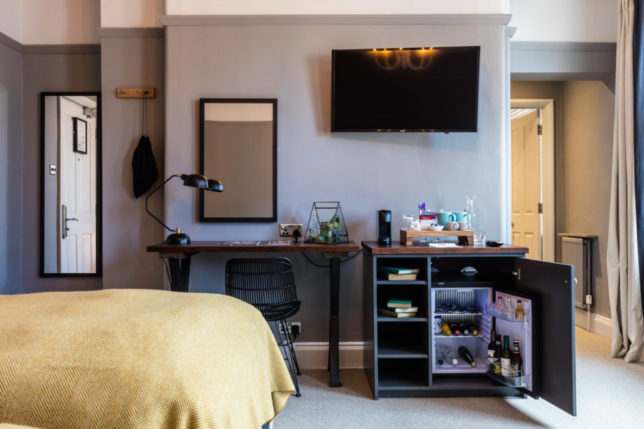 Extra touches come in the form of a welcoming glass of vintage port, hand-made treats and fresh milk in the fridge. The warm interiors, soft cotton linens and spacious en-suite bathrooms ensure you'll have a comfortable and stylish stay.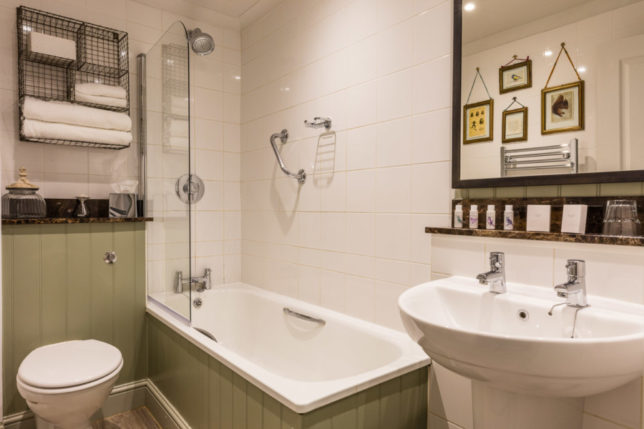 The restaurant also offers an impressive breakfast and brunch selection, as well as a popular Sunday lunch offering. Head Chef Piotr Michalski's seasonal menu serves British classics with a contemporary twist.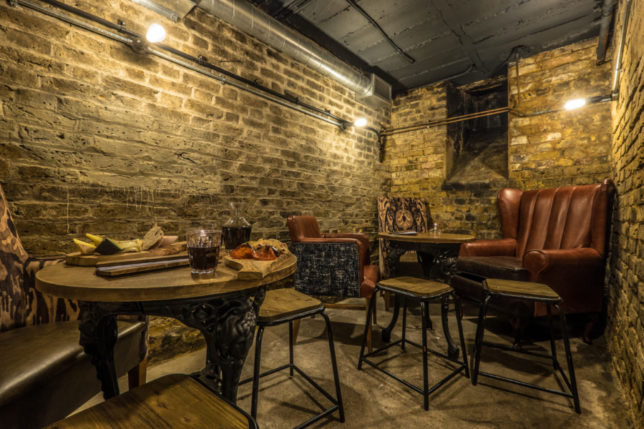 The rotisserie grill boasts juicy, slowly spit-roasted meats – seen and smelled by peering into the newly-open kitchen – including buttermilk, lemon and thyme chicken and Dingley Dell pork belly.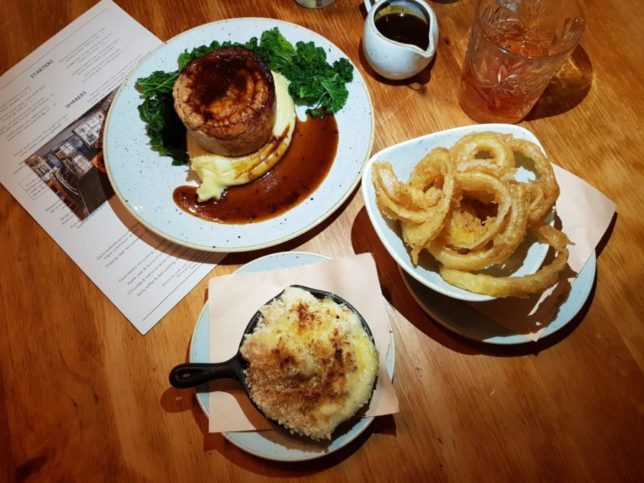 Signature starters include beetroot cured salmon; or grilled peach, radicchio and charred baby gem salad. For a modern twist to a Seventies classic, try the Crayfish Cocktail with sweet & juicy crayfish, sun blushed tomato, cucumber and Little Gem salad smothered in Thousand Island dressing.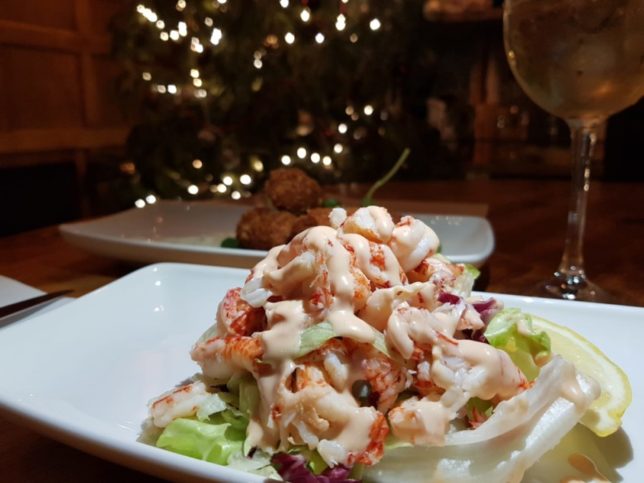 Another tasty dish to open your meal is the Smoked Ham Croquettes flavoured with orange and Sussex Charmer cheese.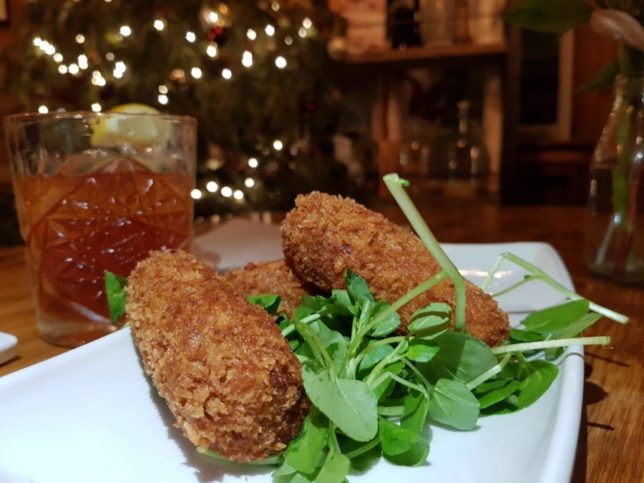 For a classic winter warmer, we recommend the Game Pie as a must-try with its delicious filling of venison, wild rabbit and pheasant. The pie is served with sautéed kale, mash and gravy.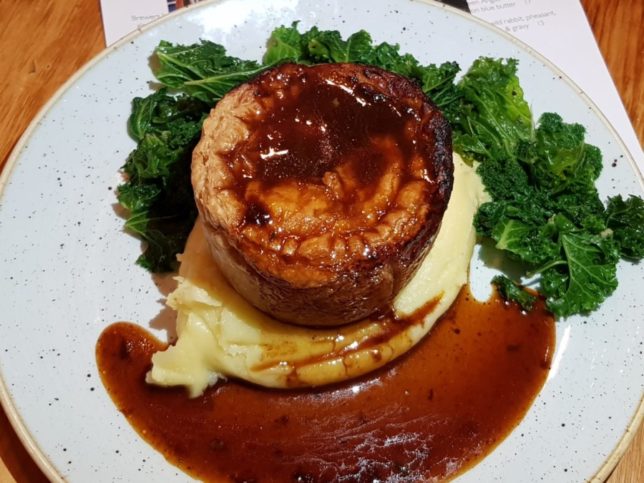 Another meaty main dish is the Rotisserie BBQ Glazed Beef Rib served with rotisserie roasted shallots and sweet potato fries (which can be swapped for regular fries if you fancy).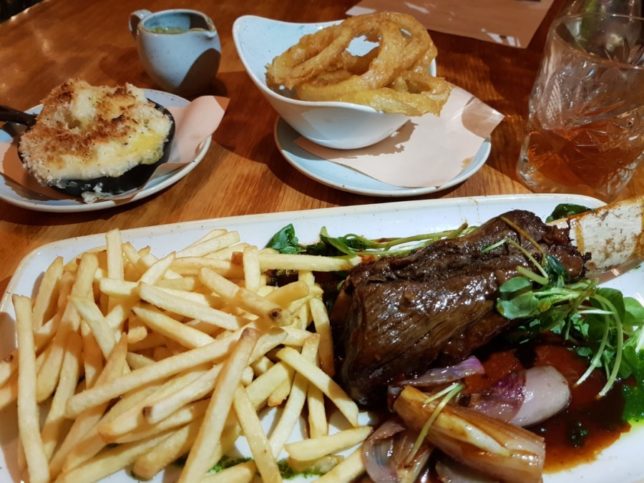 Looking for some tasty side dishes to accompany your mains? We recommend the Baked Cauliflower Cheese with a parmesan and black pepper crust or a hefty helping of Young's beer battered onion rings.
For those with a sweet tooth, must-try desserts include seasonal treats like caramelised rice pudding served with winter berry compote and the crowd-pleasing Sticky toffee and date pudding served with vanilla ice cream.
If you're looking for lighter fare for nibbles with drinks, why not tailor a cheese and charcuterie platter, served on handmade wooden boards, to your exact specification from a menu filled with the best of British cured meats and cheeses. Charcuterie comes supplied from Cannon and Cannon (Moons Green saucisson; Trealy Farm wine and chocolate blood salami; Lane Farm chorizo) whilst Harvey & Brockless cheeses hail from across the UK (Lancashire smooth blue; Thomas Hoe Red Leicester; Guernsey Goddess; Somerset Camembert). A bottle of wine or a glass or two of Port will pair with each platter perfectly. The Brewers Inn also offers re-fillable 2 pint vintage 'Growler' bottles of craft beers (£12 – £15) to take-away and enjoy at home.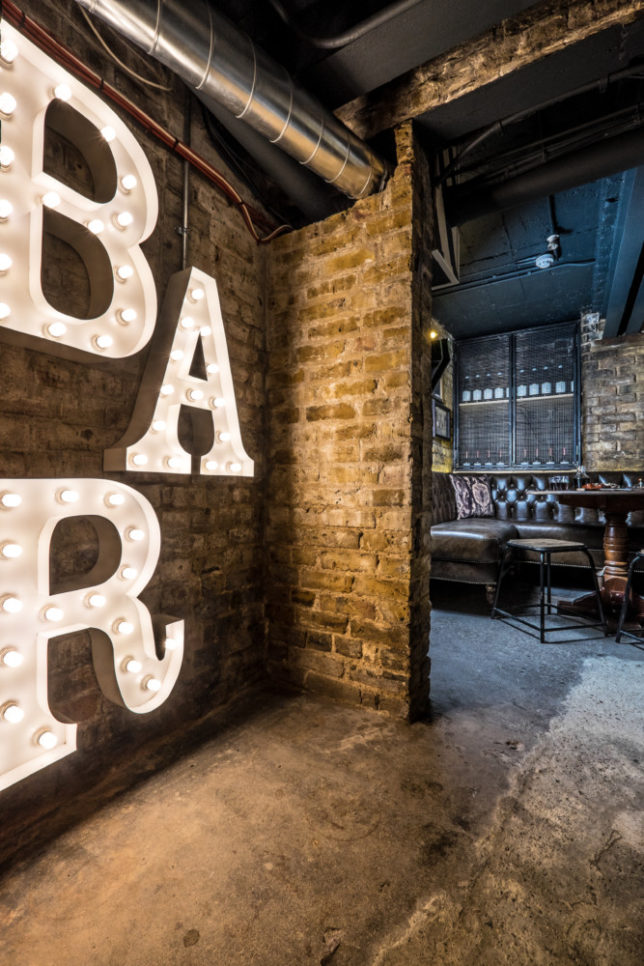 Young's #WinterTreat offer
Customers get a welcome drink, dinner and bed and breakfast for double occupancy at Young's Hotels for £139 (boutique hotels) or £119 (classic hotels) subject to availability from 17th December until 25th February. Young's have a hotel collection of 25 hotels. Head to youngs.co.uk/our-hotels to browse the collection. – – Just use the #WinterTreat at the time of booking.
The Brewers Inn
145-147 East Hill, Wandsworth, London SW18 2QB
020 8874 4128
www.brewersinn.co.uk
@Brewers_Inn @YoungsPubs