Hippo Inns have just opened The Eagle on iconic Labroke Grove this Spring. The newly refurbished pub is already making a name for itself in the Notting Hill neighbourhood for serving beer straight from the tank, evident from the moment I walked in to the busy bar downstairs.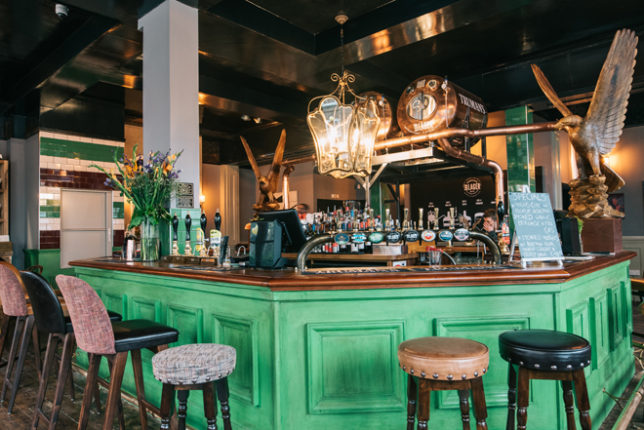 The light and spacious venue occupies two floors with a combination both contemporary and classic interiors. The modern light fittings and artwork are juxtaposed with traditional British pub furnishings including an open fire and original building features.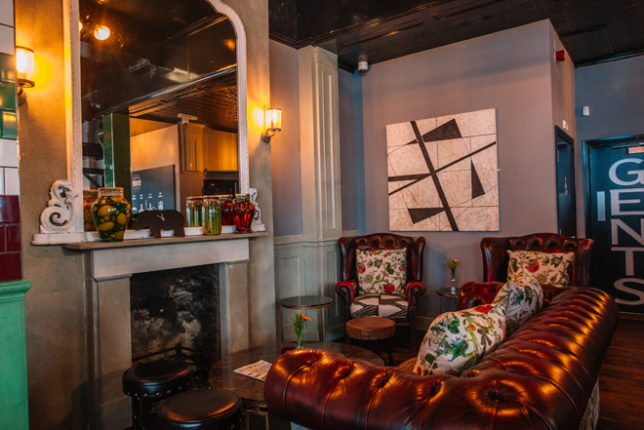 The bar provides the focal point downstairs where guests can choose from a good selection of traditional and interesting craft beers, ciders, cocktails and wines in addition to the exclusively created Truman's Raw Tank beer. Transported direct from the Truman's Brewery in Hackney Wick, Truman's Raw Tank beer is unpasteurised, unfiltered and completely untouched by light, added gas or any other process allowing it to retain its flavour. The Truman's tanks can be seen above the circular bar with blackboards featuring the dates of brewing.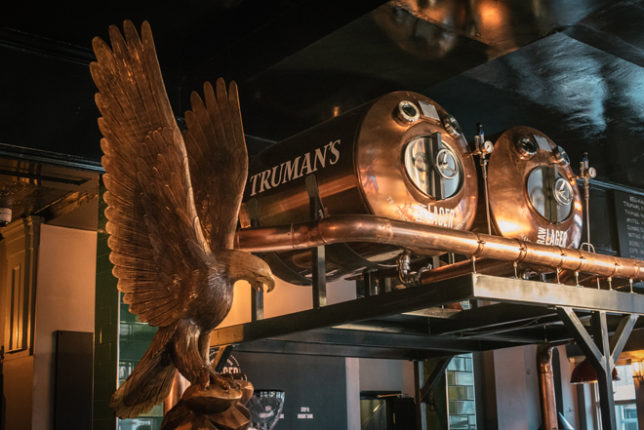 The beer is served directly from the tank creating a taste so fresh I'm told it feels like your drink has come straight from the brewery. The Eagle was one of Truman's first pubs to open so it is fitting this historic pub has been reborn as the first venture into tank fresh beer to help return Hackney based Truman Brewery back to its former glory since its heyday.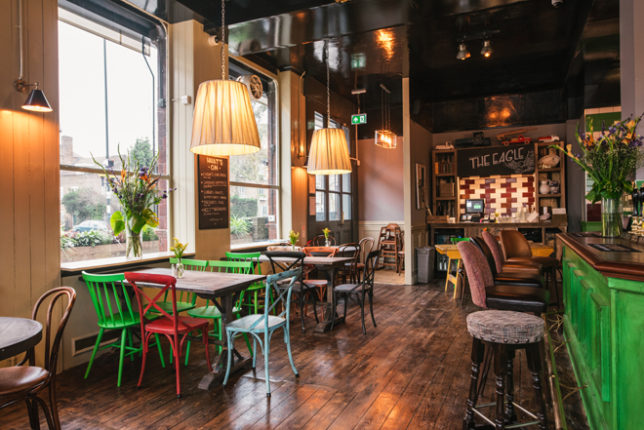 Upstairs the old landlord's lodgings have been transformed into beautiful rooms offering an intimate dining space and a buzzing cocktail lounge both decorated with plush furnishings, contemporary glass chandeliers, leather chairs, velvet couches and striking modern art displayed on the walls creating a cosy yet stylish setting.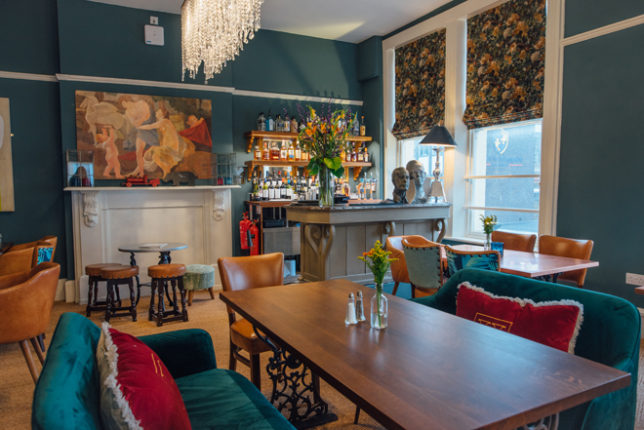 The mouth-watering all-day menu has been created by talented Head Chef Stan Perry (trained at Le Gavroche and ex Soho House) and features a mixture of British classics with a Bavarian twist; the hearty dishes carefully designed to compliment the tank beer.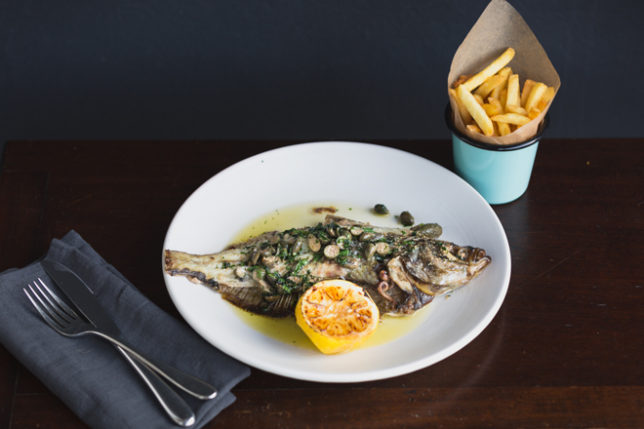 The seasonal menu offers something for everyone – from Twice Baked Gruyere Soufflé and Smoked Bacon & Split Pea Soup to Brixham Plaice with Capers, Crayfish & Smoked Butter and Chicken Schnitzel with Fried Duck Egg, Fine Bean, Shallots & Baby Gem Salad.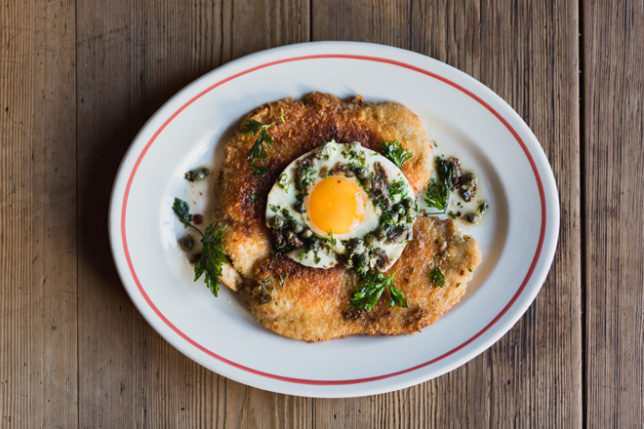 Upon entering the pub I'm directed upstairs by one of the friendly bar staff and pass along a short winding corridor with wallpaper covered with hundreds of fabulous framed butterflies. It's a beautifully decorated space for somewhere as ordinary as passing the loos… I can tell immediately that The Eagle prides itself on taking things to the next level.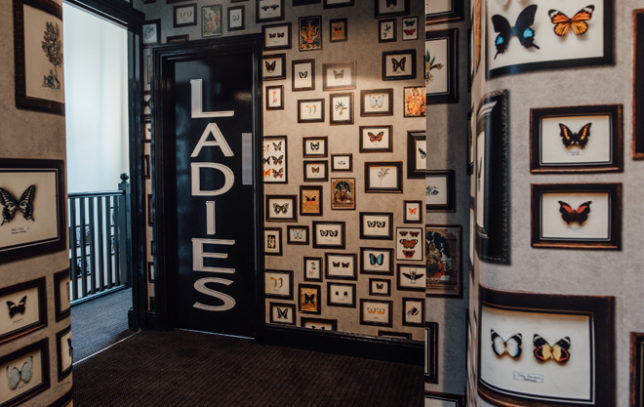 I'm greeted by the lovely Cara who shows me to my table by the window. A lovely reclaimed wooden table with cast iron legs set off by plush velvet sofas either side with plump cushions displayed a proud H… I wonder what this stands for… Happiness? I'm feel happy in this space and can't wait to savour Stan Perry's menu as I admire the juxtaposition of bold modern art with vintage furniture like the curious wardrobe in the corner.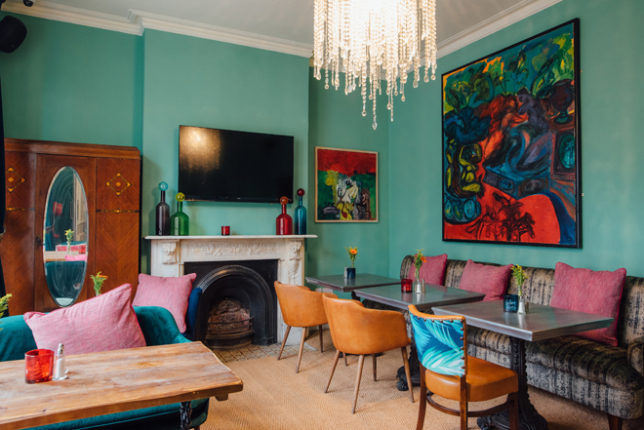 To begin, I start with a couple of dishes from the Small Plates menu – Courgette Fritters served with Pickled Chilli and a colourful crudites selection of Vegetables served with Anchovy & Garlic Mayonnaise.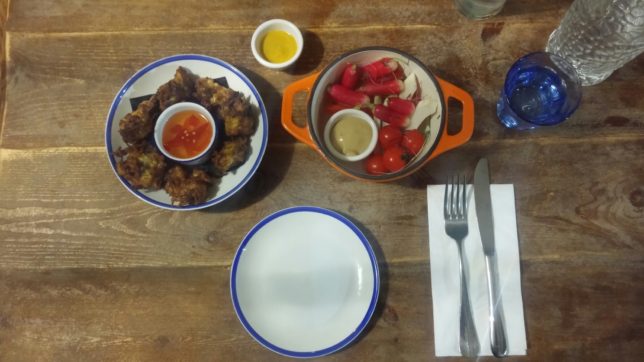 The fritters have a wonderful contrast of textures, a crispy rosti-style exterior yielding to a meltingly soft veggie interior.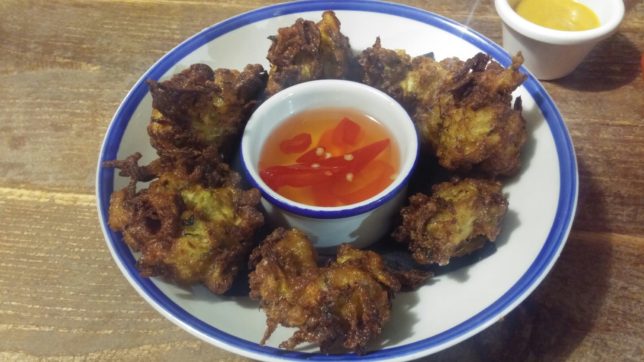 The accompanying pickled chilli dip is the perfectly foil cutting through the richness of the fried vegetable with a spicy sticky sweetness.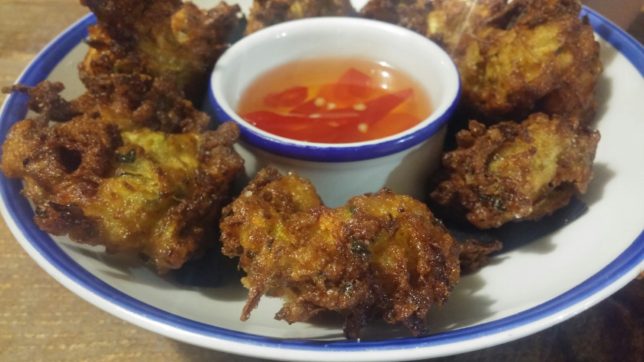 The vegetable crudites consist of radish, fennel, sweet red pepper, carrot and cherry tomatoes served with a sharp appetite-whetting anchovy and garlic mayonnaise.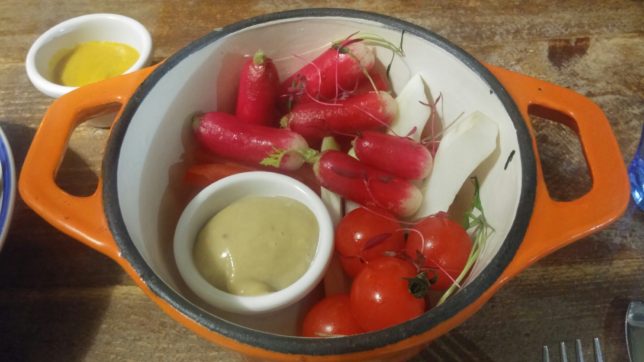 The mayonnaise dip is so good I am forced to break table etiquette and double dip… and even triple dip in occasion!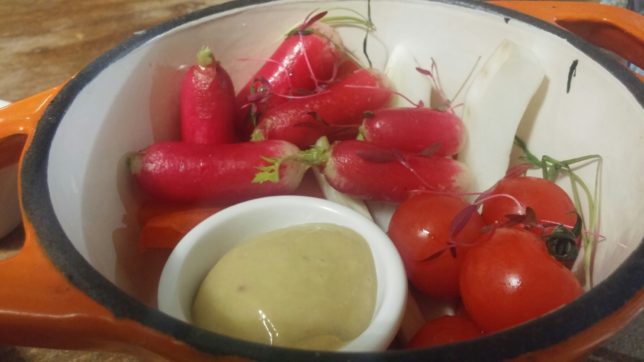 Time for the main course… and what a main! The Crispy Knuckle of Pork is not so much a main as a major. A gargantuan hunk of piggy served with warm sauerkraut and fried potato dumplings.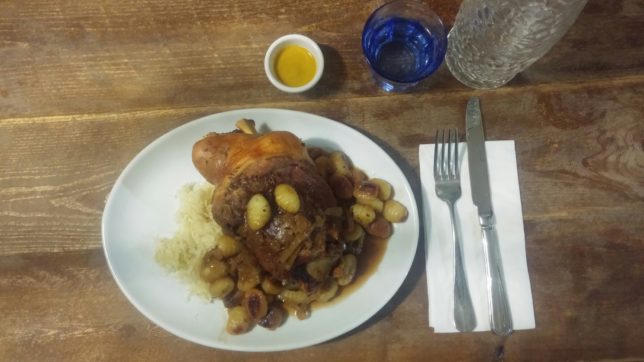 The soft tender pork  with meaty caramelized edges lies beneath crusty crackling with a layer of just the right amount of unctuous tasty fat beneath the crispy skin.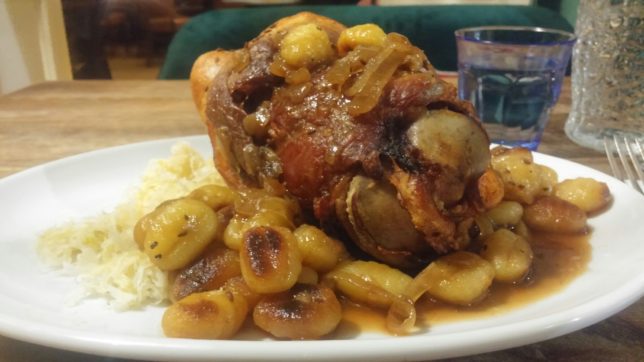 Take a closer look at the moist juicy tender pork flesh once the knuckle had been delved into. Piggy heaven on a plate!
To finish there was just enough room for dessert in the form of Dark Chocolate Fondant with Cherries and Vanilla Cream. The fondant had a perfect pool of liquid chocolate goo inside. The warm richness is mellowed by the cool Chantilly cream and the fruity boozy cherries.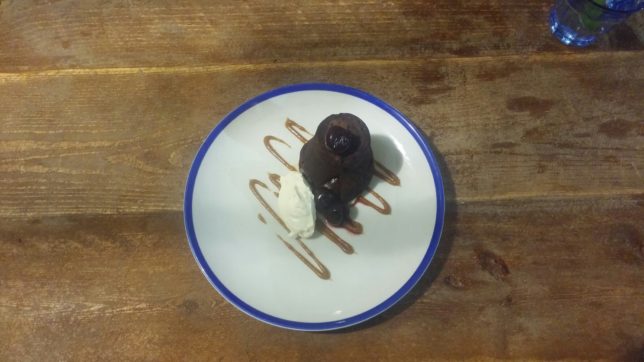 The Eagle is a contemporary gem of a gastropub bringing a welcome renaissance of great beer and great food back to this West London neighbourhood. The perfect place for both locals and visitors of Ladbroke Grove to enjoy the convivial connection offered in a warm welcoming home. Well worth a visit… you'll be guaranteed to want to return to this haven of yumminess!
The Eagle
250 Ladbroke Grove, London W10 5LP
0203 637 6366
www.theeagle.co.uk
T: @TheEagleLG
I: theeagleladbrokegrove