A revolutionary new invention, The EasyLock, is a gift that everyone of all ages and anywhere in the world would love to receive. This lock, the lightest of its kind in the world, will completely secure 95% of doors that opens inwards with a minimum 2mm visible gap between the door and frame, anywhere on the globe. The lock provides a brilliant security solution for all travellers, providing extra security in their accommodation whether it's a hotel, B&B, serviced apartment or beach hut! Priced at just £24.95 it's a perfect gift for a travel lover.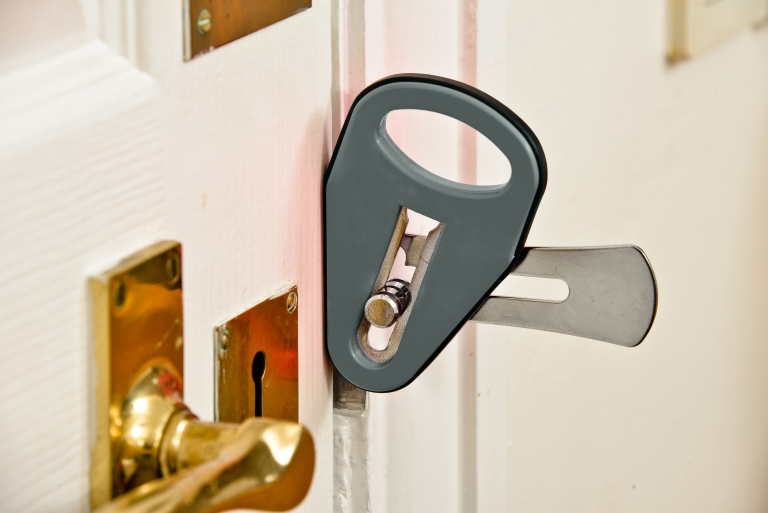 The lock is as light as plastic, as strong as stainless steel, and makes the user safe and secure in seconds. It is small enough to fit in a pocket, and also the only lock of its kind in the world to allow individuals to open the door slightly, to check a caller's identity, or to take a letter, whilst maintaining total security.
The EasyLock has a wonderful story behind it. It was created by 66 year old entrepreneur, Bob Fitzjohn:
"My thoughts were with my grandchildren when I designed The EasyLock. One day they'll be off travelling the world, and I wanted to create a solution that would keep them 100% safe & sound, no matter where they stayed. My thinking in creating the lock developed into wanting to provide all others that may find themselves in a vulnerable position with complete security… whether a student in cheap lodgings, an isolated elderly person who fears living alone, or simply you or I when we stay in a B&B or hotel…"
Bob Fitzjohn raised the capital to kick start the project through the crowdfunding website http://www.indiegogo.com/. Over £10,000 was donated by the public which enabled The EasyLock to come into fruition. Bob Fitzjohn is glad that he has persevered for over a year in developing the lock:
"It is a dream come true that The EasyLock is now available for the public to purchase. My hope is that The EasyLock will bring safety and peace of mind to many people, right across the globe."
The EasyLock costs £24.95, with free postage in Europe, £4 worldwide. It is available in a pink and silver and a coloured pouch. Available to purchase on http://www.the-easylock.com/.
SLOAN! Magazine thinks this is a fabulous piece of kit that offers users and their families peace of mind and excellent security all for under £25 which is really a small price to pay for the extra safety the Easylock provides.