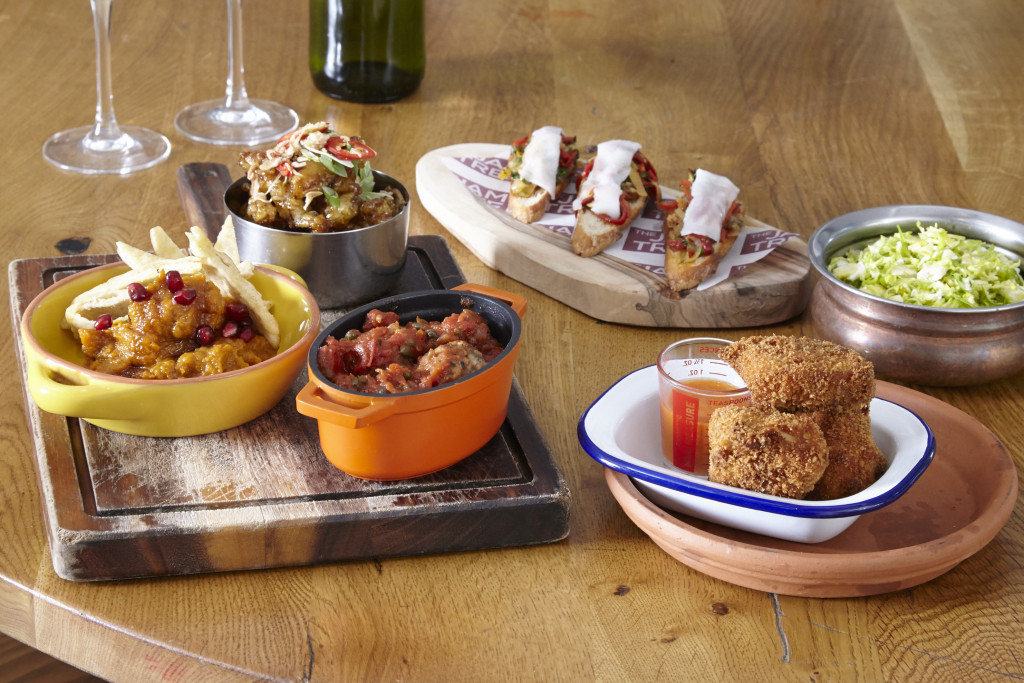 The Jam Tree Chelsea, one of the most popular casual dining spots on the King's Road, has recently introduced a delicious new menu. The menu, which has taken inspiration from far-flung countries, offers a range of fresh and flavoursome dishes, available in varying sizes to create a perfect and relaxed dining experience.
The diverse food menu uses simple and fresh ingredients to create globally inspired plates bursting with flavour. Designed with the relaxed dining experience of the Jam Tree in mind, the menu comprises an assortment of small and big plates that are available throughout the day, as well as hearty sharing dishes, perfect for enjoying with friends and tucking in, family style. This alternative style of the menu allows for guests to order to their preference, whether they opt for some tasty small plates whilst they enjoy a nice cold beverage at the bar, or a full blown feast with a variety of dishes to be shared between larger groups.
The New Brunch menu, available throughout the week, ranges from simple, fresh and modern options that have been given an interesting twist, such as avocado on toast & urfa chili and black pudding, apple & chutney on toast, all served with the Jam Tree's large selection of Bloody Marys and Brunch Cocktails.
Some examples from the menu include starter-sized Smalls such as beef meatballs and tomato sauce, sotong manis which is a dish of sticky battered squid and buttermilk friend rabbit & hot sauce. Bigs are main course dishes such as sea trout, braised with white beans, harissa & kale, pressed lamb shoulder bun, pulled chilli beef & cheese bun and lemongrass, ginger & coconut mussels. And for a sweet end to the meal, desserts include treats such as treacle tart served with caramel ice cream and white chocolate & apricot mousse.
Roast dinner options are also available on Sundays, offering family sized sharing portions including all the regular trimmings. The Jam Tree also boasts a large selection of wine and beer, as well as a dedicated cocktail list designed in-house by mixologists, which includes their signature Jam cocktails, and nine different types of Bloody Mary.
With flexible menus, private rooms and beautiful outdoor dining and drinking areas, both Jam Tree venues are ideal for all types of occasions, from relaxed brunches and business lunches, to after-work drinks and private parties.
The SLOAN! Review
Upon arrival at the Jam Tree Chelsea we walked into the bar area and couldn't resist making the most of the summer sun and making a bee line for the beer garden. The area outside is beautifully set out and the perfect place to enjoy a drink in the summer with friends or work colleagues. The outside area has its own bar and BBQ pit and is a perfect place to catch those long awaited sun rays! The Jam Tree utilises the outside area and even offers a free hog roast every second Thursday during June and August. It's a first come first served basis so book to avoid disappointment.
To whet our appetite we started with a cocktail. We chose a Jam themed cocktail and had a Luxury Mojito (which was beautifully made with Bacardi 8yr old rum, mint, lime, Prosecco and of course Jam) and a Wham Bam Thank You Jam (incorporating vanilla vodka, Chambord, Passoa, raspberry jam, sour mix and a special ingredient of popping candy that fizzes at your table) which looked stunning and tasted even better.
The idea to incorporate jam in their cocktails is genius. Get down to the Jam Tree to see the new menu, they have happy hour Monday to Friday from 5-7pm or sign up for a cocktail master class to be the envy of all your friends and hold the secret to making some of the best cocktails in town.
An interesting point to note is The Jam Tree has a bar upstairs that can be hired with a minimum spend. It has a projector to watch the sport and can host a variety of groups if needed
To start we had the sticky battered squid, n' duja on toast and the hot wings. These starters didn't disappoint. The hot wings were cooked in a franks style hot sauce, the wings where a good size and had a beautiful skin which tantalised the taste buds. If the fire from the wings wasn't enough the n'duja toast made a big impact on my palate. The spicy sausage was true to its Italian routes and spread evenly over crispy toast. The peppers and spices made the dish full of flavour but definitely not for the faint of heart. The battered squid was my favourite starter. The sticky batter was moreish and contrasted perfectly with the squid.
For our main course we chose the pressed lamb shoulder bun and the lemongrass, ginger and coconut mussels. The pressed lamb burger was accompanied by crispy slaw and salsa verdi, a refreshing take on classic pub grub that didn't disappoint. The chips where thick cut and were a nice addition to a well-made dish. The mussels came in a big pot with plenty of sauce for bread dipping. Although a nice dish it could have done with some more dipping bread.
Desserts include white chocolate and apricot mousse, treacle tart with caramel ice cream, cheese and a gin and elderflower jelly with raspberries and mint cream.
We enjoyed our experience that was made even better by the amazing bar staff and the friendly charismatic manager. Jam Tree is the perfect place to have an after work drink, an office party or a place to relax with friends.
The Jam Tree Chelsea, 541 King's Road, London, SW6 2EB
020 3397 3739
www.thejamtree.com
@The_Jam_Tree