The Kitty Hawk is the first venture from the Wright & Bell group and has introduced a brand new concept of 'Departments of Dining' to the capital since opening in November 2016. Set over two floors, The Kitty Hawk caters to all the needs of London's food lovers, day and night and all under one roof.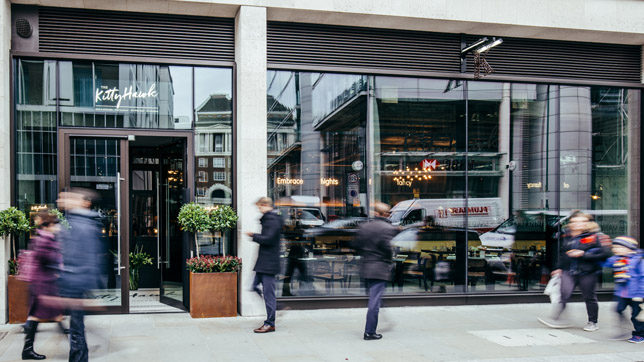 The Kitty Hawk has been curated with a meticulous attention to detail that spans every aspect and is a much needed all-day haven for the city. Designed by the critically-acclaimed Russell Sage (Dishoom, The Grain Store),  the striking interior takes inspiration from the City of London's vibrant heritage and New York City glamour.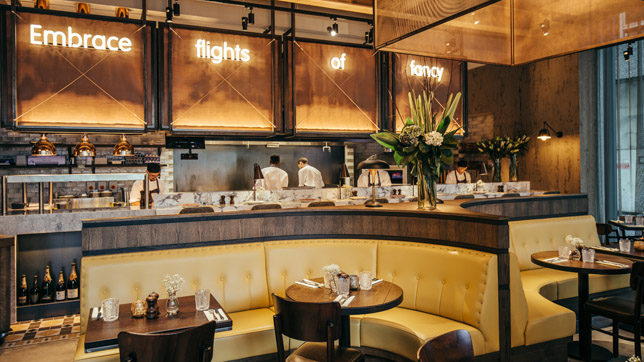 We headed downstairs to The Restaurant hidden beneath the city streets of South Place. This elegant grill restaurant has a striking decor and warm atmosphere which delivers a more refined dining experience to the bustling "departments" upstairs.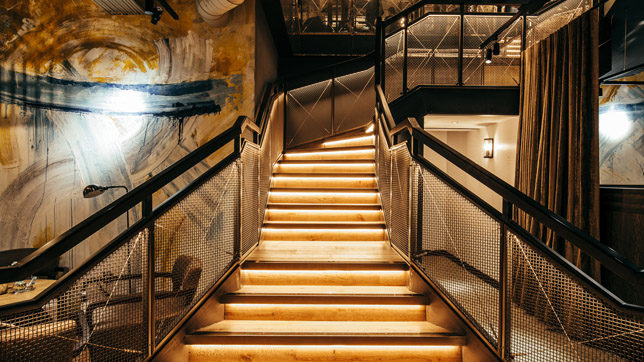 The Kitty Hawk is a wonderful mix of exposed timber and concrete, blackened steel, copper, marble and beautifully hand-stitched leather seating for a versatile yet stunning setting that captures the imagination of its guests.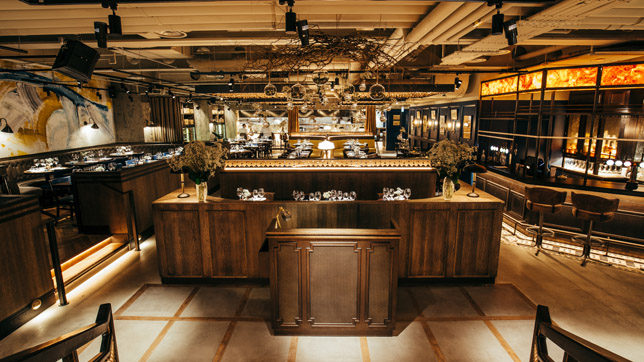 Our waiter Valentino was amiable and accommodating making us feel instantly relaxed and reassured that we could happily look forward to a very satisfying steak supper in sumptuous surroundings.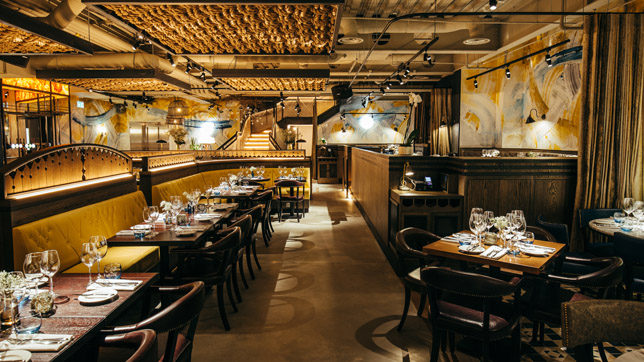 As we perused the menu, Valentino served refreshing cucumber water to quench the thirst and complimentary artisan bread with herb-infused olive oil to sharpen the appetite.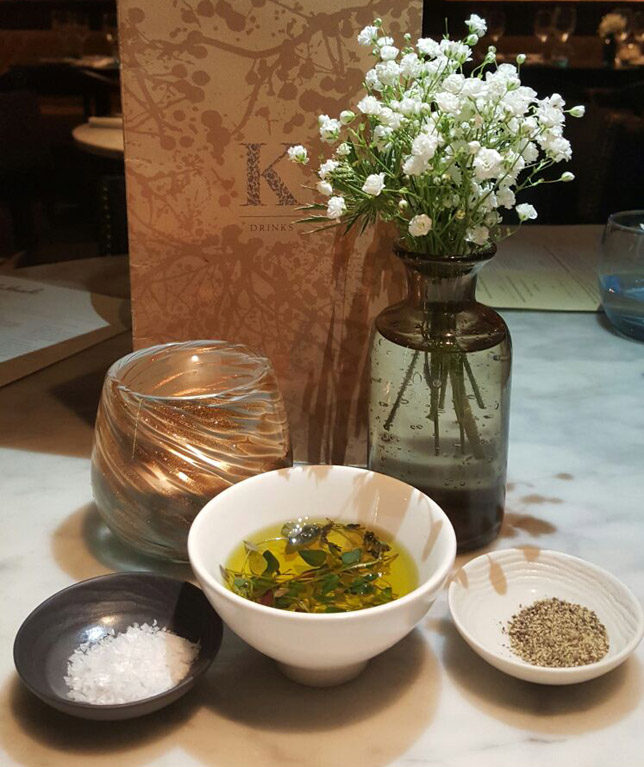 To start, my dining companion chose the seasonal soup which to his delight was French Onion – homemade and served with artisan sourdough. The seasonal soup changes daily so is always a delightful surprise even to regular diners at The Restaurant.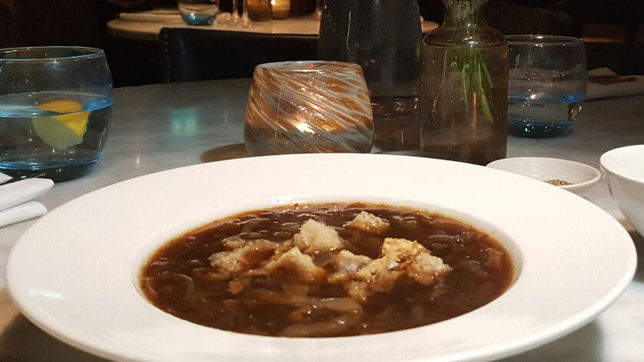 Clearly demonstrating the belief that you only get out what you put in, The Kitty Hawk is dedicated to supplying its chefs with only the finest produce sourced from a select range of producers. When it comes to steak, The Kitty Hawk exclusively sources their meat from Alec Jarrett, an award-winning, family-run business in the West Country. With a long-established heritage stretching back to the Twenties, Alec Jarrett's expertise shines through in the excellent quality of their steak which is aged for a minimum of 35 days to create an unrivalled depth of flavour.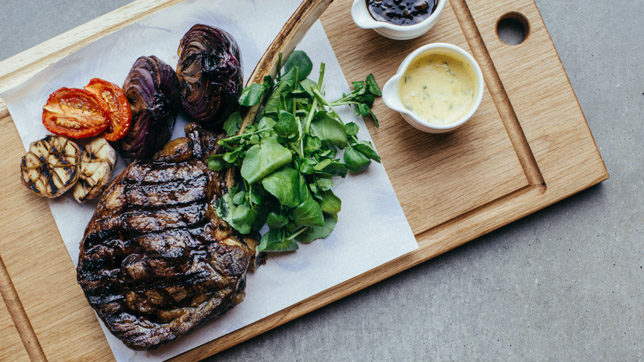 Having been told about the excellence of their meat, it will be no surprise that my dining companion and I both chose carnivorous options for our main course. I chose The Kitty Hawk Mixed Grill which have a veritable flesh feast of Ashdale 4oz minute steak, grilled West Country lamb chop, sweet cured gammon, Ramsay of Carluke award-winning black pudding and a Cumberland sausage ring, served with tempura onion rings, a home-smoked tomato and a duck egg.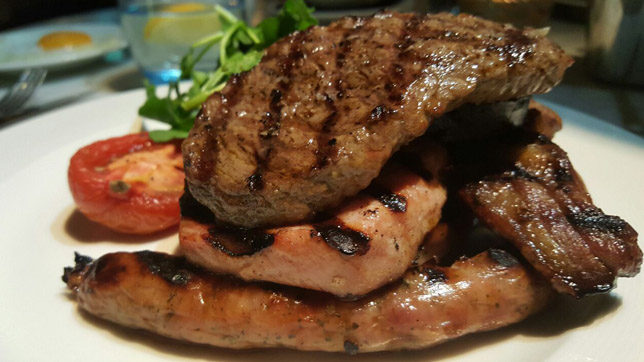 My dining companion went for the British Barnsley chop served with smashed chargrilled aubergine, pomegranate jam and shredded mint.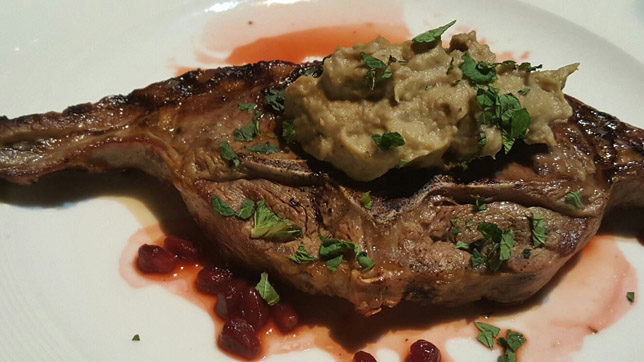 As accompaniments he chose vegetarian-friendly Chunky Chips (a beef allergy denying him the pleasure of trying The Kitty Hawk's chunky chips cooked in beef dripping) and a British Duck Egg – organic free-range of course and served to one's liking.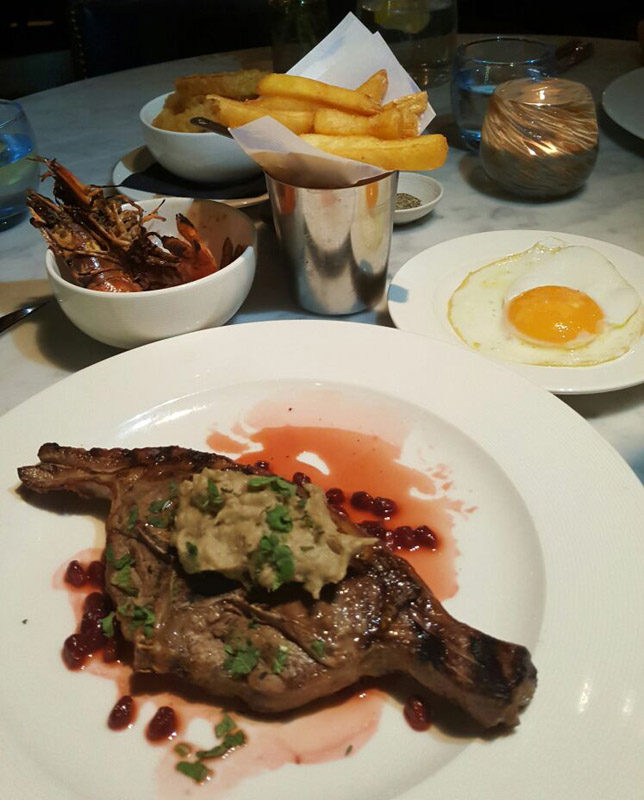 We also could not resist ordering a portion of herb-marinated shell-on grilled fresh prawns.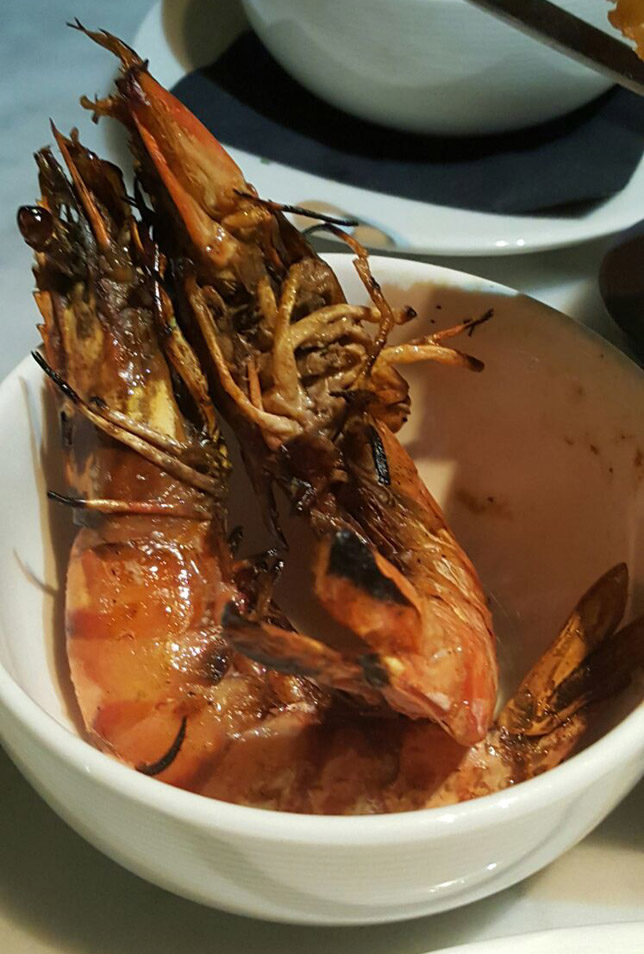 To finish, a range of decadent desserts are available for those wishing to indulge their appetites further. Although we decided not to partake in a sweet treat on this occasion, Valentino highly recommended we try Chef's tarte tatin on our next visit. A whole apple tarte tatin baked to the original Hotel Tatin recipe, served with Cornish clotted cream and made to order, to serve one, two, four or six guests – so you can enjoy this terrific tarte tatin whether as a party of one or as a more numerous group.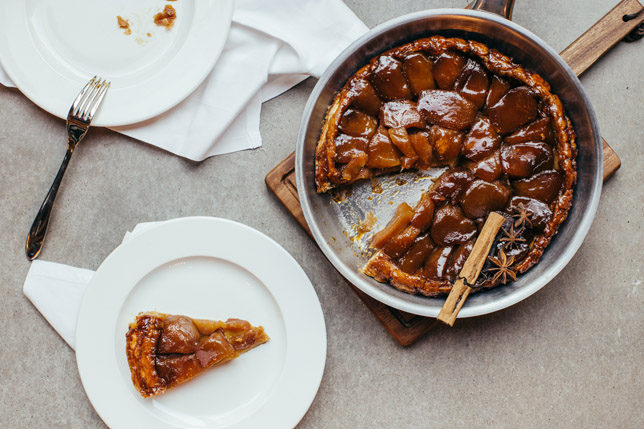 For those self-confessed chocoholics, we also spotted the Decadent Chocolate Cake on the dessert menu. Anything with "decadent" in the title is sure to please and this is a stunning dish of rich chocolate cake topped with dark chocolate shards, honeycomb and seasonal compote, served with a caramel sauce.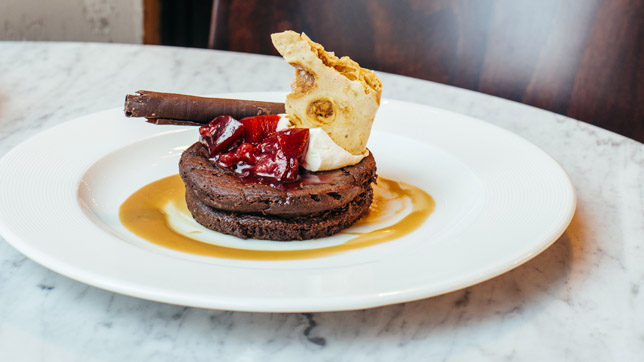 For those interested in the other departments of dining, they include The Coffee Bar & Patisserie which serves breakfasts and lunches to eat in or on the go with artisanal soups, salads, sandwiches and daily specials. Freshly-baked cakes and pastries made in house by the resident classically-trained pastry chef along with artisan coffees and sensational tea blends make this department the perfect spot for get-togethers. By night, the space transforms into a wine bar for private hire and more intimate drinking.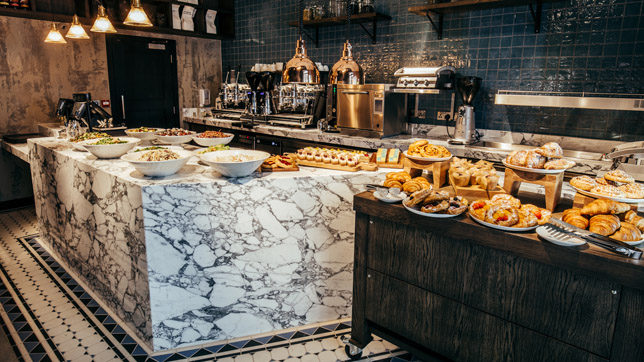 The Bar & Kitchen acts as an extension of the workplace perfect for mobile working and after work drinks with colleagues, whilst also providing the ideal spot for relaxed gatherings of friends and family with the option of champagne brunches, long lunches, evening light bites and hand-crafted flatbreads freshly made in the fire dome oven in front of diners overlooking the open-kitchen.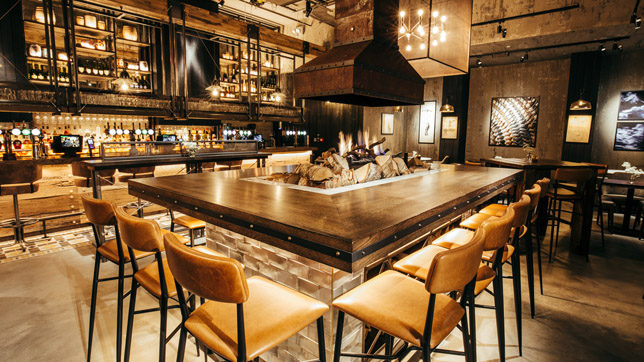 The wine menu has been curated especially for each of the areas by Rothschild and Milton Sandford. Sumptuous cocktails are all made from artisanal spirits behind the bar with mixologists on hand to pair dishes with the perfect drink.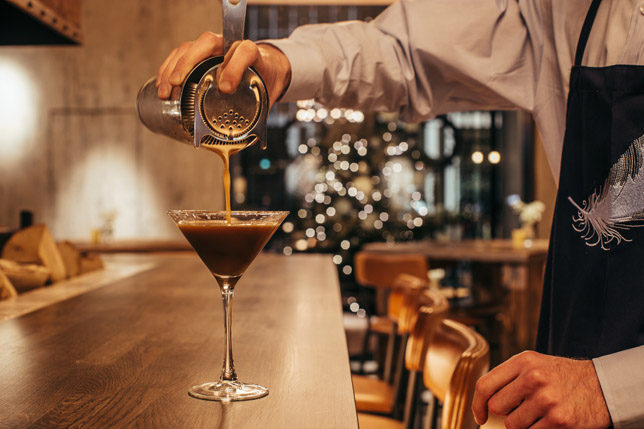 Jayne Baker, The Kitty Hawk's Managing Director comments, "Wright & Bell is influenced by the great inventors of our past, Sir Alexander Graham Bell and the Wright Brothers, who dared to dream, and taught the world to fly. We are the creators and architects of "The Department Stores of Dining", bringing together a dynamic mix of drinking, dining, working and retail experiences. Following The Kitty Hawk, we plan to develop six venues across the City of London and West End, to bring a new elegance to the London Market."
After our elegant supper at The Kitty Hawk – the place where invention dares to dream – we can't wait to visit the other department stores of dining that Wright & Bell will be launching across town in the future.
The Kitty Hawk
11, 13 & 14 South Place, London, EC2M 7EB
0203 319 9199
thekittyhawk.com
@KittyHawkLdn