Step out from the shadow of The Shard and slip away from The Thames to find the Marquis of Wellington which sits centre-stage on the famous Bermondsey Beer Mile, returning from a two-year hiatus with an urban-cool new look, pizzas made from authentic Sicilian ingredients and an great collection of beers. The venue has been transformed from its football pub past to a modern foodie destination.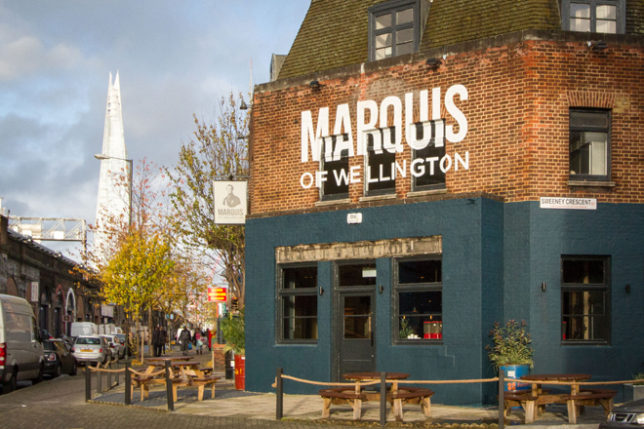 The Marquis of Wellington has also launched itself as London's first ever British Street Food pub takeover which champions the most exciting young British chefs cooking on the streets. Each week, new traders of the likes of Smokin' Lotus, The Chip Club, BearBQ and Harley Dogs will be popping up next to the Marquis of Wellington, serving up the very best of British street food to hungry Bermondsey locals and visitors to the heart of London's street food scene with the infamous Druid Street and Maltby Street weekend markets. As the sun goes down, you can't miss the pubs's statement lettering across its brick frontage illuminated by upturned spotlights.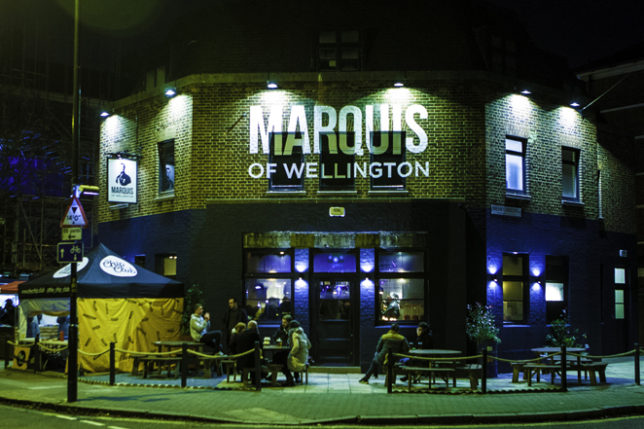 As you step inside, your eye is drawn to statement scrap metals revived and repurposed into wall art features, sitting alongside vintage school chairs, copper piping and exposed original brickwork. In the dining area, a large wooden door complete with wrought iron locks has been turned into a table top and positioned in front of the pub's open kitchen.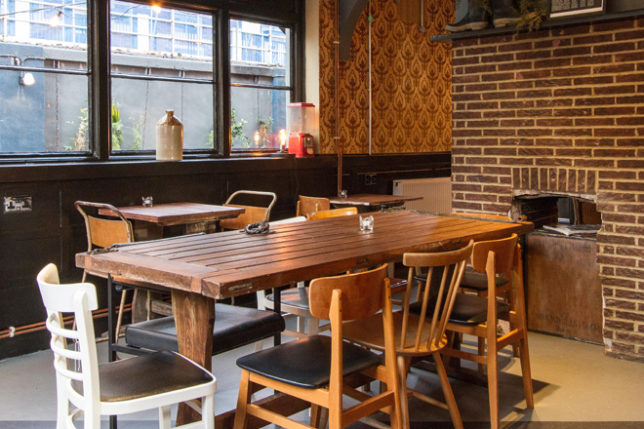 The Marquis of Wellington exclusively offers a selection of fresh garlic breads and pizzas, hand-rolled then fired in the huge oven. The oven may not be an authentic wood fired affair but this is compensated for by the fact that all the pizza ingredients from the Fior di Latte mozzarella and San Marzano tomatoes to the Prosciutto Crudo and Veronetto salami are sourced from Sicily – even the extra virgin olive oil used in the kitchen is Sicilian.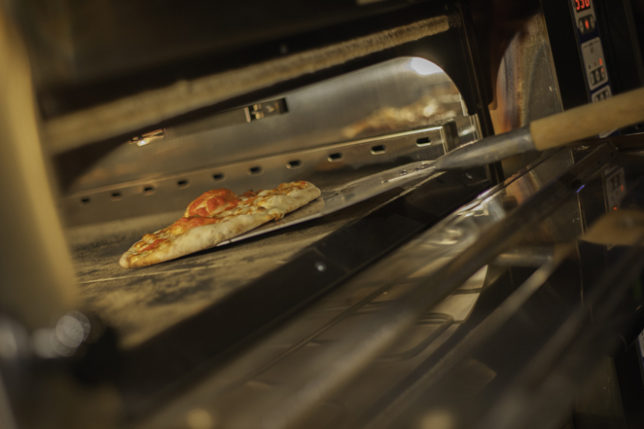 After a warm welcome from Alex and friendly chat about what he and his tight knit team were aiming for with the new look Marquis, it was time to order a little piece of Italian heaven but first I couldn't help but gaze in admiration at the technique Saffron and Maude used to hand stretch the dough. Getting over this intriguing distraction, I looked over the menu on its little wooden clipboard. There is a choice of five garlic breads which all sounded equally as tasty with topping such as Fior di Latte Mozzarella & Sweet Onion to San Marzano Tomato & Spicy Nduja. I could see why there was an option to order any three for £10.95 as these would make the perfect food to share between a group of friends over a drink or two. I eventually settled on the Fior di Latte Mozzarella, Basil Pesto & Sun Blushed Tomatoes.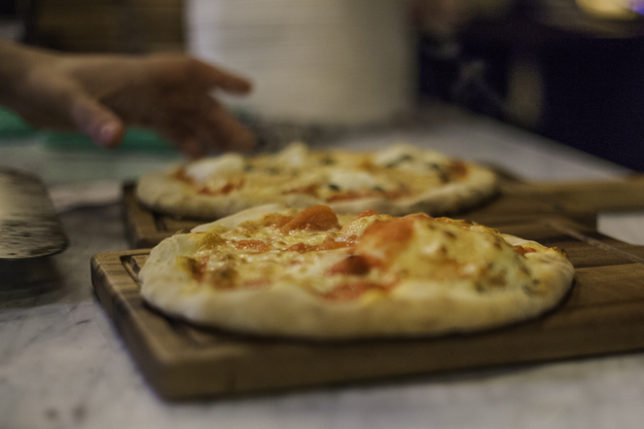 Made from the same dough as the pizza, the garlic bread had a light puffy crust with a hand rolled base that was neither too thin nor too thick. The house made garlic butter was subtle enough not to be overpowering and the generous topping of mozzarella dotted with pesto and juicy tomatoes was enough to take the edge of my hunger without ruining my appetite.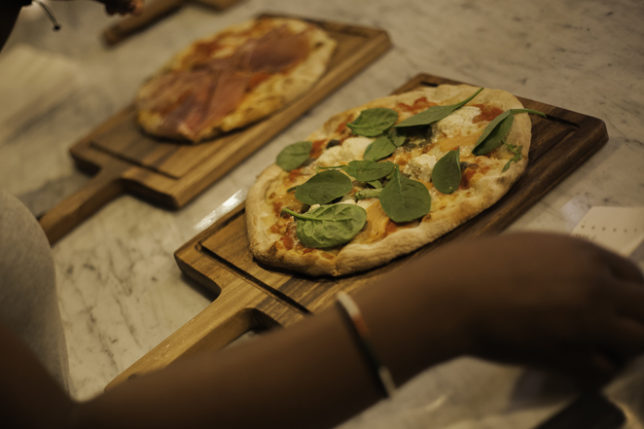 For my pizza choice, on Alex's recommendation I tried the Prosciutto Crudo with Sun Blushed Tomatoes & Wild Rocket. The pizza was first cooked in the oven with a base of pizza sauce, mozzarella and sun blushed tomatoes. Once it was out of the oven, Maude topped it with pieces of prosciutto crudo and fresh wild rocket. This was a great combination of flavours and textures with the soft tender Italian ham contrasting nicely with the warm crust and melted cheese of the pizza.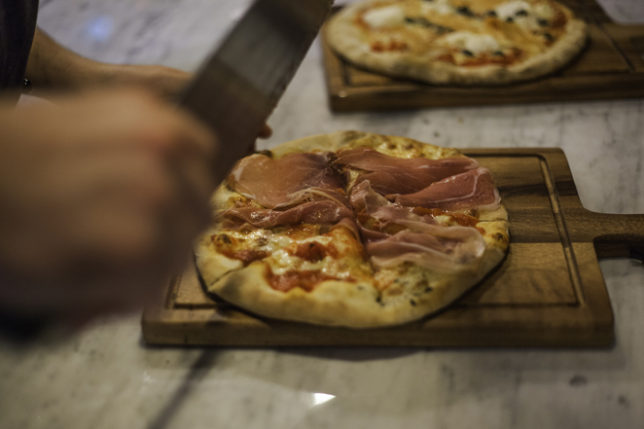 To drink, I enjoyed a refreshing Lemonade and Elderflower serve from premium soft drinks company Franklin & Sons. Keeping with the Italian theme, the lemonade is made with Sicilian Lemons with a hint of crushed juniper berries and the unmistakable summertime aroma of English elderflowers. However if you are a beer aficionado drawn to the Bermondsey Beer Mile, the Marquis of Wellington allows you to experience the best of the British craft beer revolution. On tap hop fans can try a variety of local craft brews in both keg and cask from the likes of Camden Town Brewery and Southwark LPA. Meantime's Yakima Red also makes an appearance as does bottled craft beer such as the honey beer Hiver.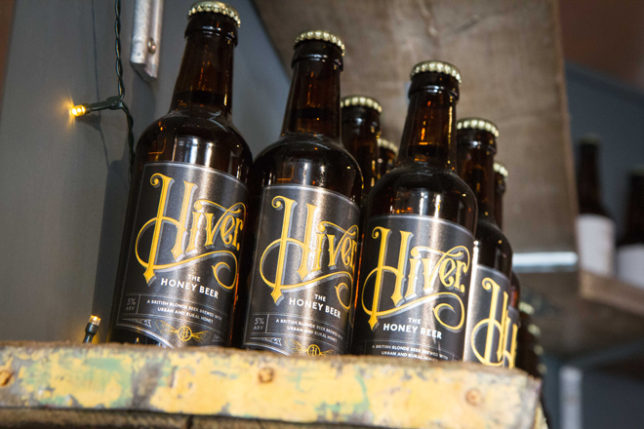 For those with room for dessert I would recommend the Vanilla Cheesecake with its spiced cinnamon crust making it the perfect dessert for the winter season. There is also talk of a dessert pizza that's currently in development which will introduce the Italian favourite Nutella to the dessert menu… so watch this urban-cool space!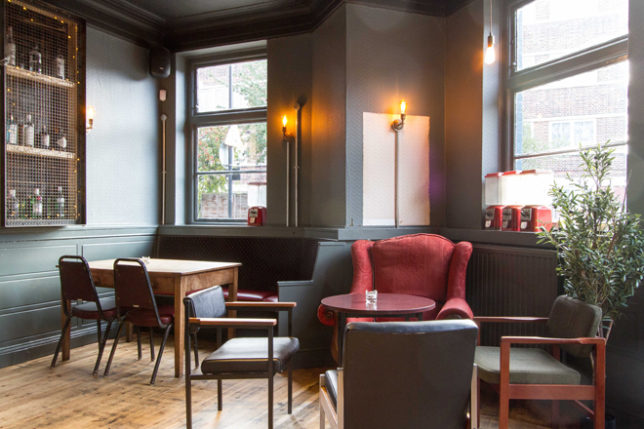 If you're looking for something different to the traditional Sunday pub roast, stop by the Marquis of Wellington to enjoy the ultimate British/Italian mash-up with their Sunday Special Pizzas featuring Roast Lamb or Roast Beef. The roast lamb pizza has medium rare lamb with fior di latte mozzarella and fresh rosemary lightly finished with mint sauce. The roast beef pizza has medium rare beef with fior di latte mozzarella and roast potatoes finished with Dijon mustard with a dipping side of gravy. Buon Appetito!
The Marquis of Wellington
21 Druid Street, Bermondsey London, SE1 2HH
0207 394 0246
www.marquisofwellington.co.uk
@MoWBermondsey