The Oberon is part of Therm-a-Rest's newest full line of fast and light sleeping bags, it is designed for mountaineers, skiers, adventurers and winter explorers expecting frigid temperatures. Using 'zoned insulation' and premium materials makes the bag one of the lightest and most compact bags in its class. With use of a 60/40 distribution of its 800 fill down insulation on this bag, placing more down on the top, while your mattress provides warmth there is less on the bottom where the down gets compressed. By pairing the bag with an insulated mattress, you get a warmer bag for less weight.
Our continued focus on the best products, means the SLOAN! Active Affluent series continues on from the great NeoAir Xtherm insulated mattress review. The use of the four season air mattress is the start of developing confidence with a full sleep system. We will get to this concept again later in the article… Keep reading!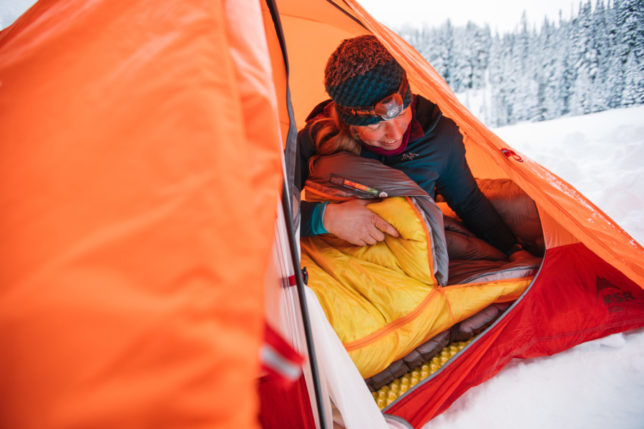 The bag is built with a 'ThermaCapture' lining, a proprietary fabric that reflects radiant body heat. This is a lining on the top of the bag, which maximizes heat retention without adding bulk or weight commonly seen with conventional insulation methods. The reflected heat keeps you sleeping through the night and allows you to wake up feeling rested and ready for the day's adventure.
While the Oberon is engineered for performance and pack-ability, they added the comfort features that help you rest better. They gave this bag a roomy fit and added signature Therm-a-Rest features like an oversized draft tube and Toe-Asis insulated footbox to help keep you comfortable through the night.
The pack-ability is from the down fill, which is 800 fill Nikwax hydrophobic down, which stays drier and maintains loft (keeping you warm in damp conditions) 60 times longer than untreated down, when exposed to water. Dries faster, absorbing 90 percent less water and dries 3 times faster than untreated down. This wonderful affect is created with a water-based (Zero Fluorocarbon [ PFC ] ) formula, which is seen to be safe for humans and the environment. Which can easily be re-applied, and fully re-treated, when washed with 'Nikwax Down Wash Direct'.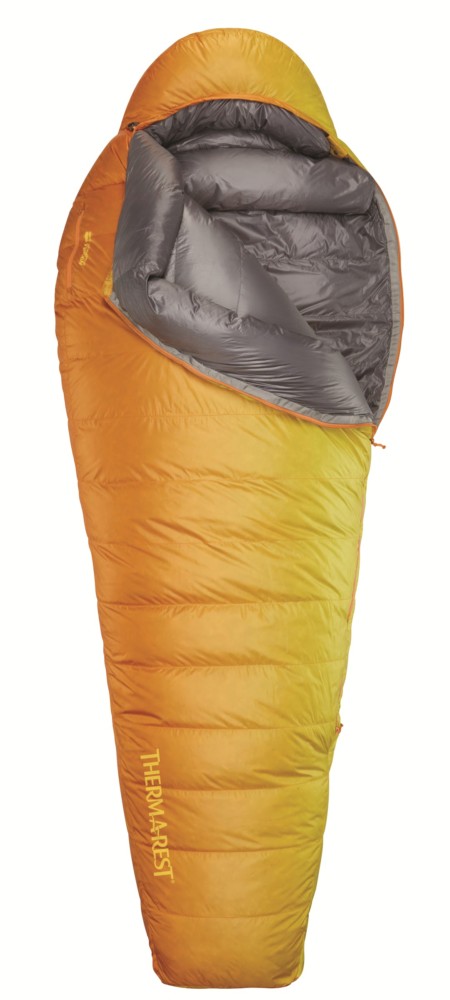 What is even more reassuring is that the Down fill used has been 'Responsible Down Standard Certified', meaning the down used, was obtained from an animal which was treated humanely. Safeguarding the welfare of the geese that provide down and feathers for the Therm-a-rest down products. We at SLOAN! feel this is such an important factor when selecting your down filled items.
The Oberon comes with a 'Toe-Asis' Foot Warmer Pocket, an Ergonomic toe box for cold feet, with extra insulation. This is a massive comfort, as so often sleeping bags foot space is too narrow and does not allow for normal hip position during sleep. Which can greatly impact your pelvic position and your lower back comfort. Leaving you feeling cramped and restricted. Which is the exact opposite to what you want when you have been active all day. This ergonomic foot space and additional insulation, allows for your feet to move, and your hips to be in an easy posture, without reduction in thermal control from more air space.
The bag easily integrates with your mattress using the included 'Synergy Link' Connectors. These removable straps join the two items together, and keep the Oberon sleeping bag on your air mattress or sleeping pad while allowing you to move freely inside your bag. Integrating the two, to minimize cold spots and keep you comfy through the night. This reduces heat loss, maximizes efficiency and utilizes the warmth of your insulated mattress. Which could help you sleep better when your sleeping bag and mattress work together. For optimal comfort and efficiency sleeping. Increasing the sleeping bags versatility further.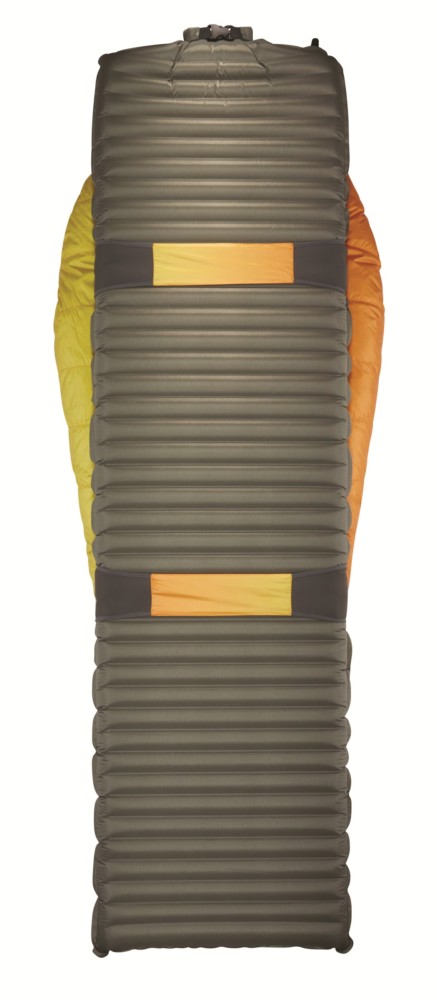 Fast and Light Cold Weather Sleeping Bag Range
The newest full line of Therm-a-rest's fast and light sleeping bags are a cold weather lightweight range, other than the 'Space Cowboy' which has synthetic fill, they are all filled with hydrophobic down (certified by the Responsible Down Standard) and using many exciting forms of thermal control. Each has its own intended use and temperature range. Many come with quilt and blanket loops (Space Cowboy, Parsec, Oberon and Polar Ranger) which allows for integration of an additional layer of a quilt or a technical blanket into your customized sleep system when the temperature really change.
The range includes:
Space Cowboy, 45F / 7C, 'Eraloft' synthetic insulation, hollow core polyester microfiber.
Ohm 32F / 0C, 900 fill down feather light construction and roomier semi-rectangular shape.
Hyperion 32F / 0C, 900 fill down, 454g (regular size) one of the lightest pieces in its class.
Hyperion 20F / -6C, 900 fill down, 567g (regular size) for super lightweight mountain use.
Parsec 20F / -6C, 800 fill down, if you can take only one bag, this may be one of the most versatile.
Oberon 0F / -18C, 800 fill down, for frigid backcountry winters, comfortable in the harshest of nights.
Polar Ranger -20F / -30C, 800 fill down, with a snorkel hood and overlapping side vents for extreme conditions.
Layering Systems
Sleep system customization allows you to have a versatile and efficient sleep system of layering, to be prepared to deal with unpredictable weather or other situations which may arise. With all these fast and light sleeping bag options provided, it's no surprize you can even customize your sleep system by layering!
The Therm-A-Rest sleep system, allows you to match items, piecing together gear for increased warmth, which can provide versatility and comfort.
Combining different sleeping bags, quilts, pads, and blankets, you can create a system that suits the needs of the adventure.
An example for use of sleeping systems would be: an insulated NeoAir Xtherm, Oberon sleeping bag (0F / -18C), and a Quilt or Blanket such as the Corus HD Quilt (independently 32F / 0C) or an alternative is the Proton Blanket (0.51kg), can provide you with options of what to take with you on each adventure, while allowing you methods for managing the balance of weight, space, and warmth needs.
The regular Oberon sleeping bag weighs 1.1kg, the Therm-a-Rest NeoAir Xtherm weighs 0.43kg, and a quilt or blanket such as for example the Therm-a-Rest Corus HD Quilt weighs 0.64kg. This means for roughly 2.17kg you can have a full sleep system and by using the items together or on their own can manage any temperature ranging from a cool autumn night at 7C into very cold winter backcountry. You can then additionally add in sleeping bag liner variances to additionally help find your temperature needs. The temperature versatility for such a lightweight sleep system is tremendous.
Our Testing Experience
Warmth: The bag is built for mountaineers, skiers, and adventurers in frigid backcountry winter. So that's exactly what we did! We visited Norway, and went exploring! Testing occurred during Skiing, husky dog sledding adventures, and general cold times in an unpredictable climate during winter.
The Oberon keeps you comfortable through the harshest nights at camp. Zoned insulation with 800 fill down, oversized draft tubes and ergonomic foot box make sure you have something to look forward to after a day in the cold.
The bags 'Comfort Range' (The Comfort Rating is the lowest temperature at which the bag will keep the average woman (or "cold sleeper") comfortable.) is to -10 C, and the 'Transition Range' (the temperature at which a standard man can sleep for eight hours in a curled position without waking, somewhere within this range is likely the performance limit of the bag) is -18Cm with a 'Risk Range' (A sleeping bag should only be used in this range in an emergency, this is where there is strong sensation of cold, and a risk to health) of -40C.
In the heart of winter or into colder climates, you need to keep things as warm as possible without loading up too much weight. The Oberon and its sleep system options is greater than the sum of its parts, we layered the Oberon sleeping bag, on the NeoAir Xtherm insulated mattress, using the provided Synergy link Connectors. Keeping the efficiency of only packing and taking the required sleep system items with us in our backpack for each adventure, based on the current temperatures and conditions, while leaving the other items at base. Bringing no unnecessary gear or clothing, however always having enough sleep system items for unpredictable weather or other situations.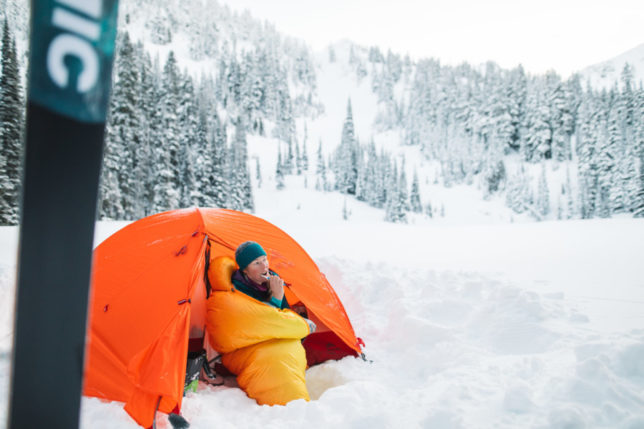 One reason the NeoAir Xtherm was a good companion with the Oberon is there is more loft on the top of the bag, this is a great weight saving concept, which allows for the insulated mat to assist with the lighter compressed down fill underneath the sleeping adventurer, while the main bulk or weight of the bag is from down placed on the top of the camper. This traps the warm air as it rises, and holds it in the bag for a toasty sleep. Retraining the warmth, not sacrificing this for weight.
The hood was so well filled. In the warmer environments our reviewer reported it was actually nice to rest your head out of the hood, and only put it in the very comfortable warm hood when time for deep sleep.
Our reviewer actually reported that on one of the warmer testing's, it was only minus 6 Celsius and he was actually sweating in the warm lofty sleeping bag.
Weight: The exceptional light weight of the Oberon, opened options of easier carriage and faster progression on pushing deeper into the frigid backcountry. With 0.79kg of the 1.1 kg allotted to the down fill insulation, the rest is materials of the sleeping bag and the reflective insulation methods. Seeing the weight focus means you know that the focus of this sleeping bag is to stay warm and stay light when doing it. Moving lightweight for fast and light human performance.
When travel without the assistance of a vehicle for the whole trip, weight and pack-ability should always be top priorities, alongside the capacity for the item to perform its planned role. Priorities met!
Comfort: The Oberon provided crucial protection. Designed for protecting athletes and adventurers from extreme conditions during extreme pursuits, and the normal person, who wants to be warm and cosy no matter what conditions arise during their adventures.
One of the lovely features of the Oberon is that is comes with a 'Toe-Asis' foot warmer pocket, that as we mentioned allows for your feet to remain warm, your body to hold sensible posture, and your toes to not feel like they will fall off!
Large loft develops when the sleeping bag is unpacked, allows great warmth which is a key for comfort, and the special polyester liner is very comfortable to the touch.
The wide shoulder space, and long length options offered in the size long, offered the taller reviewer to feel comfortable, and not feel compressed and claustrophobic as some bags can.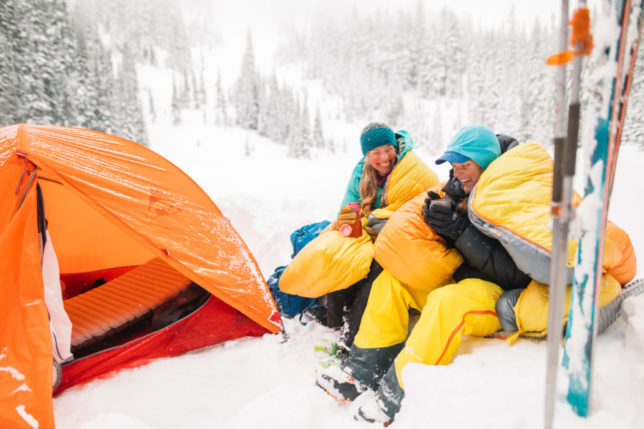 Packed Size: The bag also comes with a compressible stuff sack included, the included stuff sack, allows the Oberon sleeping bag to be compressed down to a very packable size, allowing the bag to pack easily into your mountaineering, ski or alpinist backpack when travelling fast and light.
It is actually very easy to slowly stuff the bag down into the stuff sack, then the compression straps reduce the size further, making it a wonderfully small bag, compressing to smaller than many bags that a far less warm, actually to the size most bags a season lighter normally manage. Leaving lots of room in your ski, hike, or mountaineering backpack for the other cold weather items. Such as the great companion NeoAir Xtherm.
When not in use the sleeping bag can be stored at home in the included storage bag to ensure that the bag is kept safe, kept together, without overly compressing the lofty down, which may suffer the effects of sustained compression if it was kept in its stuff sack for months of storage. This helps the retention of the down's loft allows for the sleeping bag to keep the reviewers warm, and will for many frigid adventures to come. Even with the larger storage bag, although takes some room, is still only the same size as the average synthetic fill sleeping bag options of equivalent temperature range.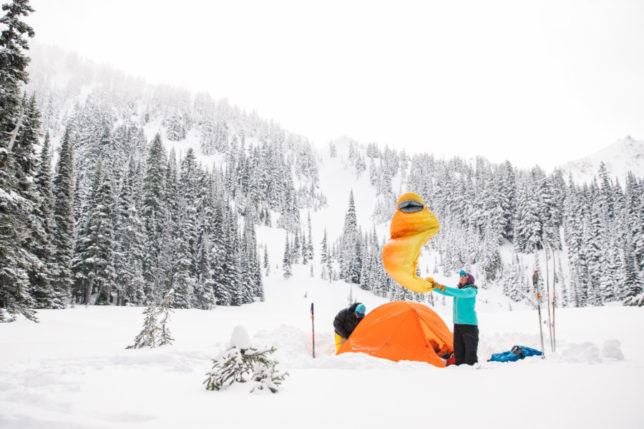 Features: This Oberon sleeping bag has a great weight to warmth ratio, with super lightweight features. It comes in as ones of the lightest bags around for the warmth.
The 800 Fill Nikwax Hydrophobic Down, focused into Zoned Insulation, maximizing warmth and saving keeps the bag light and the Therma-Capture Lining, is busy trapping radiant body heat.
Synergy-link Connectors assist to integrate the bag with a mattress, Synergy links attaching to the connectors, allowed for easy turning within the bag, without the bag coming off the thermal mat, reducing risk of losing heat or getting wet or cold form the surrounding ground.
It is not a full length zip, however, when has anyone actually zipped a bag open fully, to get in and out of their sleeping bag in the middle of the night?! In addition, it comes with a Snag Free Zipper system, with the larger reinforced tape design, and ability to open the zipper from inside or outside the bag without getting all caught up. Backed up with a full length zipper draft tube, preventing cold air to get through the zipper,
The small external zip pocket meant the reviewer could keep all 'must have at hand' items all in one secure place.
The Oberon's cinchable hood keeps your warmth trapped in, and performs a helpful role of reducing the energy loss.
Being able to obtain a long version, is a great addition allowing for accommodation of large framed bodies, tall people for a roomier warm bag. The regular version will make the average sized user just as happy.
Oh and did we mention ….. its weight is crazy light!
Weather Resistance: The rip-stop fabric seems to be a durable polyester outer, and a comfortable to touch inner lining. Very resistant to snow, the DWR assists with the weather protection. The bag remained dry throughout all our testing
Application and Uses: With the layering system, you can take this sleeping bag through many temperatures. For activities such as winter camping, backpacking, ski touring, shoulder season transitions, desert hikes and adventures, alpinism, mountaineering, adventurers and winter explorers expecting frigid temperatures.
The Oberon is perhaps one of the best minimalist options for the temperature range. A very efficient sleep and insulation system, able to manage temperatures down to the frigid minus temperature range.
A perfect balance of warmth, weight and comfort. As it steps up as one of the lightest in its class, keeping you warm, with the amazingly compressible, pack-able, roomy sleeping bag.
Therm-a-rest are a great company for generating new forward thinking designs, while calling on all the former models on the market. A new trend setter for the quality and warmth balance.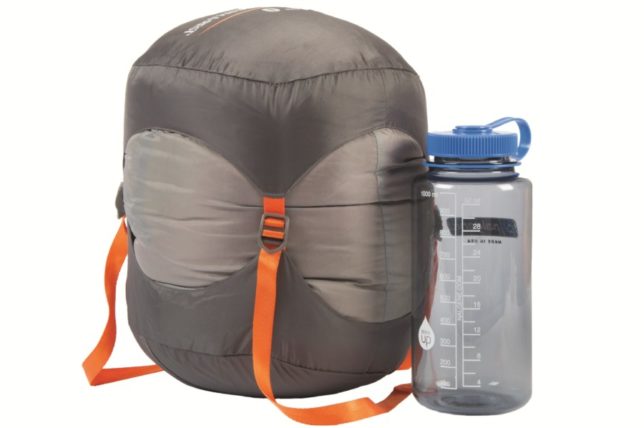 Features and Benefit
Comes in three size options Small, Regular, and Long
800 Fill Nikwax Hydrophobic Down
Synergylink Connectors: Integrating the Bag with a mattress
ThermaCapture Lining: Trapping radiant body heat
Zoned Insulation: Maximizing warmth and saving weight
Toe-asis Foot Warmer Pocket: Ergonomic toe box for cold feet
Quilt and Blanket Loops: to customize your sleep system by layering for warmth
Draft Collar for heat trapping
Full length zipper draft tube
Snag Free Zipper system
Cinchable Hood
External Zip Pocket
Compression sack and storage sack included
Transition Range -18 C (Comfort Range -10 C)
1.1 kilos (regular size)
You can get a large if you are taller and / or wider!
This is a true fast and light four season sleeping bag! With high quality, packable for frozen winter adventure. Next time we plan a stop in the mountains or take a winter pursuit, this sleeping bag is going to be an important part of the equipment!
Therm-a-Rest Oberon Sleeping Bag is £465 (regular size) more information can be found at www.thermarest.com