SLOAN! spoke to Jamie Stevens – 3 times winner of British Men's Hairdresser of the Year – about thinning hair, the reason behind hair loss, how to slow it down and how to help conceal it without having to have a hair transplant using the MR. Jamie Stevens new range of men's products for thinning hair.
Thinning hair is a subject that's close to my heart and researching it has helped me understand the reason behind hair loss, how to slow it down and most importantly, how to help conceal it without having to have a hair transplant.
I've seen first hand the effect hair loss has on men's confidence – our survey of 2000 men revealed many would rather have a small penis, be cheated on by their partner or have their whole internet history made public than lose their hair.  A fifth thought that thinning hair would make them less attractive, and a quarter are worried that it makes them look older than they are.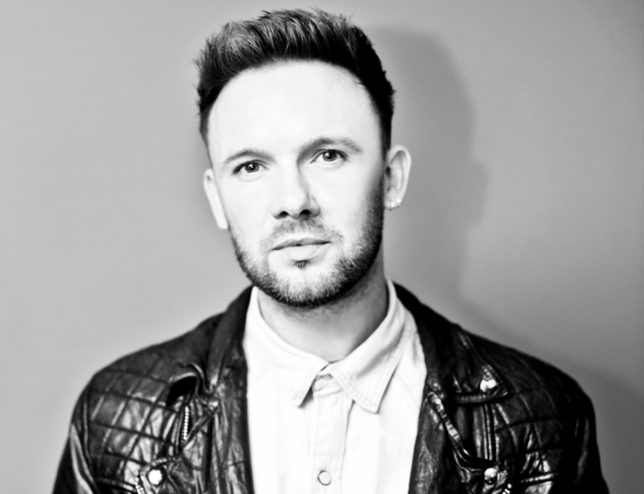 Hair loss is a big concern and causes real fear and anxiety for a lot of men. As someone who has thinning hair myself, I hope that getting men talking about the issue will stop them suffering in silence whilst also addressing how it can affect self-esteem and confidence.
There's no rule about when to shave your head and there's plenty of options for men with thinning hair. Clever cuts can make hair look thicker, and MR. range of men's products for thinning hair will cover a balding spot really effectively, so shaving the head isn't actually a necessity. Hair plugs are a more expensive but long term option for men who really don't want to be bald. There does come a point with hair loss when shaving is the best option but some men go too early – Prince William for example probably didn't need the buzz cut as soon as he did.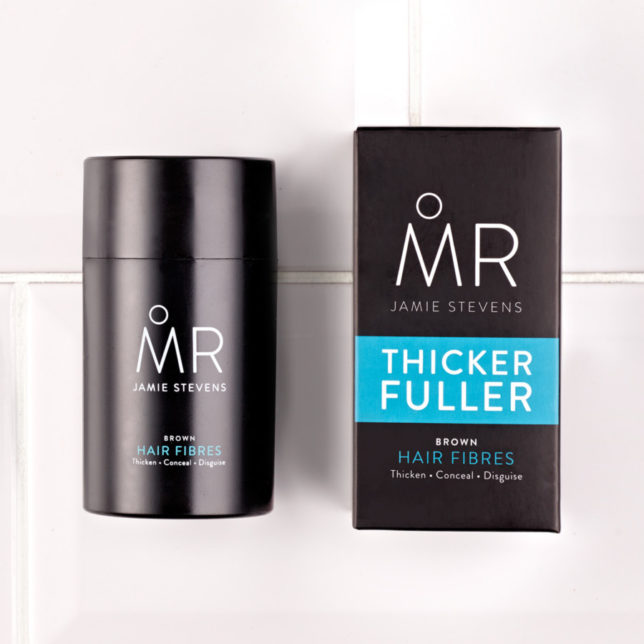 The Facts About Thinning Hair
Tackle it early and you can hang on to hair for longer. Think of this as the prevention step. Grooming staples are the foundation for any good haircare regime; Anti Hair-Loss Shampoo plus Conditioner plus a Treatment Spray help reduce the rate of hair loss by prolonging the hair growth phase.
About 70% of men will be affected by some sort of male pattern baldness, from completely losing the hair, to receding or thinning in certain areas.
Genetics affect different areas of the hair. The top area of the hair will thin and fall out, but the gene that affects the hair below the recession and occipital bone (what we call the "Friar Tuck" area) means this doesn't thin or fall out in tandem with the top.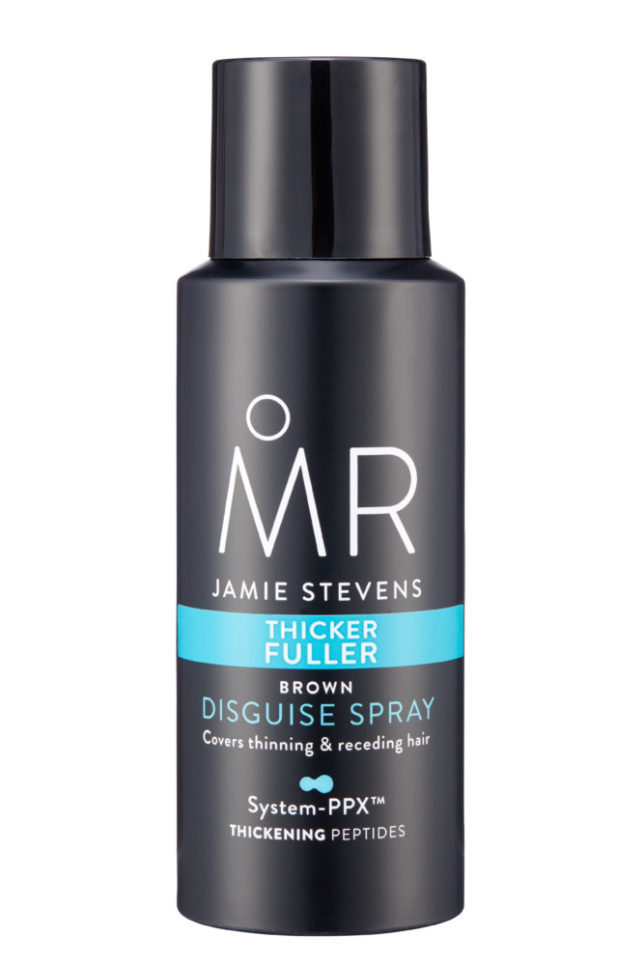 Top Tips For Tackling Hair Loss
1. The simple top tip for cutting thinning hair is that the back and sides of the hair should be cut shorter and thinner than the top, which makes the top area look thicker and fuller.
2. Another top tip is to try colouring. Darker hair looks thicker, and colour also swells the hair shaft to enhance thickness.
3. Volumising products for thinning hair offer a short-term improvement and can temporarily make your hair look thicker.
4. Find a style that suits fine hair. For example, adjust a parting to avoid bald patches and remember that longer hair weighs more and may leave more scalp exposed so keep things short.
5. Never rub wet hair with a towel as thin hair is fragile and can break, just pat dry.
6. Hair will always look thinner when it's wet compared to dry, so avoid wet gels or waxes. Pastes and clays are best as they are more matte.
7. A silk pillowcase causes less damage to the hair as you get less friction when you sleep.
8. MR. DISGUISE SPRAY will instantly make hair look thicker.  This concealer delivers colour pigments directly onto the scalp for instant coverage, blending seamlessly with your natural colour. The quick-fix spray gives the appearance of thicker hair and uses water resistant polymers to help prevent colour from running. MR. DISGUISE SPRAY is £18 from www.mrjamiestevenshair.com
9. MR. HAIR FIBRES matched to your hair colour are another instant solution to make the hair look thicker. Statically-charged plant hair fibres with added keratin fibres bond and attach to individual hairs, making each strand look and feel thicker. Available in three different shades, the hair fibres for thinning hair will help to build hair's density and instantly deliver natural-looking results. MR. HAIR FIBRES is £18 from www.mrjamiestevenshair.com
10. Practice makes perfect – if I asked you to spray a car it'd take more than one go to get that right. Look online for how to videos and check out my video showing hair going from thin to thick with cut and product alone:
About Jamie Stevens
Jamie Stevens is a multi-award winning hairdresser who learnt his trade working with some of the biggest names in the industry before launching his own London flagship salon in 2012. A renowned stylist, Jamie is three-time winner of Men's British Hairdresser of the Year earning him a place in the British Hairdressing Awards Hall of Fame. He is the youngest ever nominee for Hairdresser of the Year, an award he has been nominated for six times.
Jamie Stevens has worked with Leonardo di Caprio, Hugh Grant, Colin Farrell and Olly Murs among others and has developed MR., a range of men's products for thinning hair. To learn more about Jamie Stevens, check out his interview with SLOAN! here.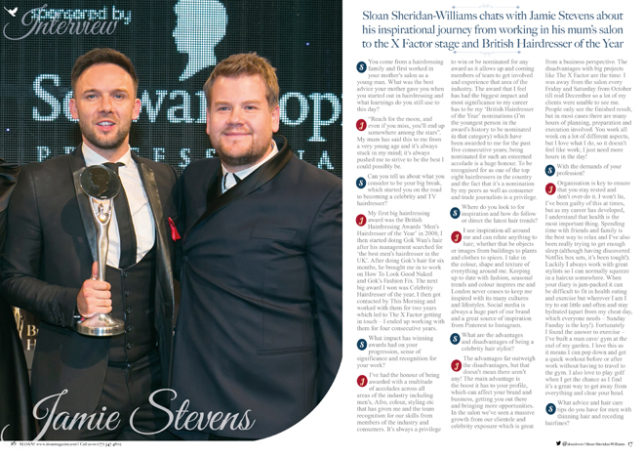 Born out of a need for results driven products that don't sacrifice style, MR. is the ultimate men's haircare system designed to help combat the challenges of thinning hair and provide everyday grooming staples to keep hair strong and healthy. MR. is the brain child of award winning hair stylist Jamie Stevens who with the help of Swallowfield PLC, the global experts in Research and Formulation Development, has created the innovative dual-action system.
Find out more at www.mrjamiestevens.com and www.jamiestevenshair.com and follow @jamiestevenshair for more hair inspiration.