Lack of hydration, its the biggest beauty problem for frequent flyers. Cabin AC, and repeated circulation of the air literally sucks the moisture out of your skin – superficially dehydrating it. Dehydration is the cause of tired, dull looking skin, and it can literally cause the skin to 'freak-out', rebounding with increased oil production that inevitably leads to clogged pores and breakouts. We all know the rules: drink plenty of water and slather on the moisturiser in-flight. But now, Timeless Truth have brought to the UK the only beauty product you need in your carry-on case: The Sheet Mask Travel Pack.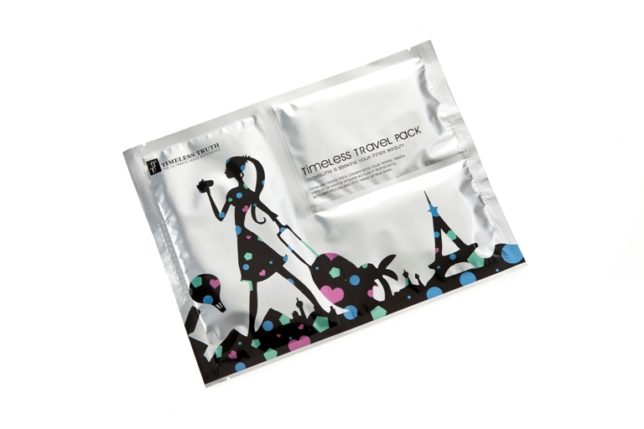 If you're yet to try one, consider them as 'individually wrapped facials'. The sheet mask cloth itself, acts as a barrier to the skin, penetrating and sealing the moisturising, nourishing ingredients deep into the skin, whilst adding that layer of protection from the dry air.
Made of hydra-fibre cloth, soaked in active-ingredient rich serum, that's light in texture and immediately absorbed, effectively increases moisture levels to leave skin supple, hydrated and glowing.
'We've seen the creepy celebrity sheet masks selfies on Instagram' I hear you say. True, they look hilarious, Adele's selfie being my personal favourite. But, Timeless Truth – who is 'sheets ahead' in both biotechnology materials and active-rich-ingredients – already had this mind, their hydra-moisture mask goes on clear and matt. It's barely detectable. So you can relax with your skin protected in ease.
Timeless Truth's luxury travel-pack sheet mask consists of three parts: an oil-based wipe to remove make-up, followed by a water-based wipe to ensure your face is clean prior to application, and finally a barely detectable clear & matt sheet mask, soaked in a cocktail of hyaluronic acid and hydrating molecules, adding that essential layer of protection from dry air in flight.
The perfectly contoured mask is discreet and inconspicuous unlike other sheet masks on the market, allowing you to sit back and relax during your flight. When you land, simply whip it off, rub in any excess serum, and step off the plane glowing and radiant like an A-lister.
Available from ttmasks.co.uk at £8.90 each.