Tom's Kitchen Canary Wharf in the heart of London's financial district offers a relaxed and comfortable environment managed by charming General Manager Godefroy Herissay with an ever-changing seasonal menu delivered by innovative Head Chef Jon Snodgrass and his talented team. Following a recent refurbishment, the décor at Tom's Kitchen Canary Wharf has been refreshed to create a more versatile space regarding the bar and deli. The two have now been combined so that through the day it's a deli area serving sandwiches, juices and more before a quick transformation in the evening into a chilled out bar area.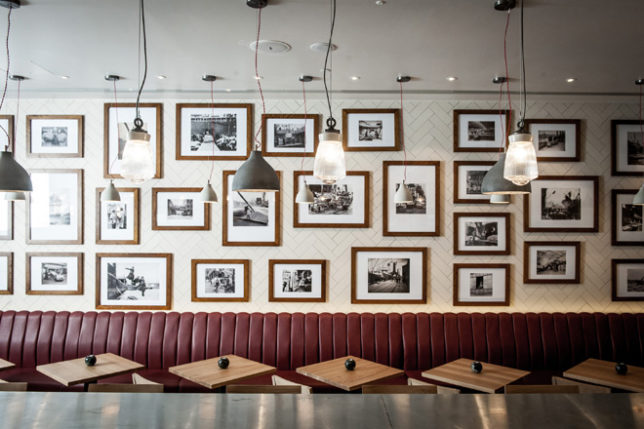 Founded by highly-acclaimed chef, Tom Aikens, the Tom's Kitchen restaurants are renowned for serving contemporary British dishes and comfort food classics, using the finest seasonal ingredients, with an emphasis on where food comes from and how it is grown.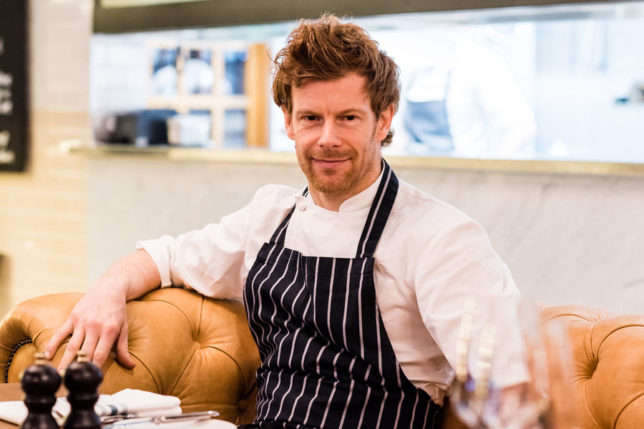 The new summer menu has the perfect balance of signature dishes and new additions for a delicious dining experience regardless of personal taste. For The Table small plates are the ideal choice for nibbles with pre-dinner cocktails. We loved the Duck Arancini served with spiced mango purée.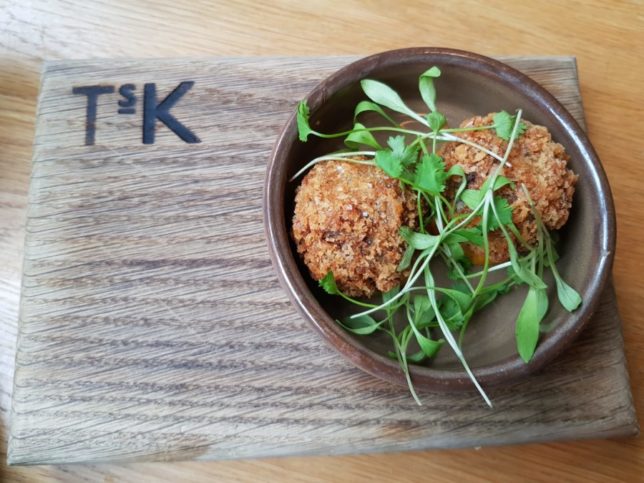 Comforting full-bodied flavours and moreish to the extreme, these delectable duck arancini are the perfect accompaniment to fruity cocktails such as the non-alcoholic Berry Mojito – strawberry, raspberry, fresh mint, fresh lime juice & cranberry juice. For rum lovers, there is the colourful Canary Sunset – Appleton VX, Wrey & Nephew, passion fruit, orange, pineapple, and grenadine.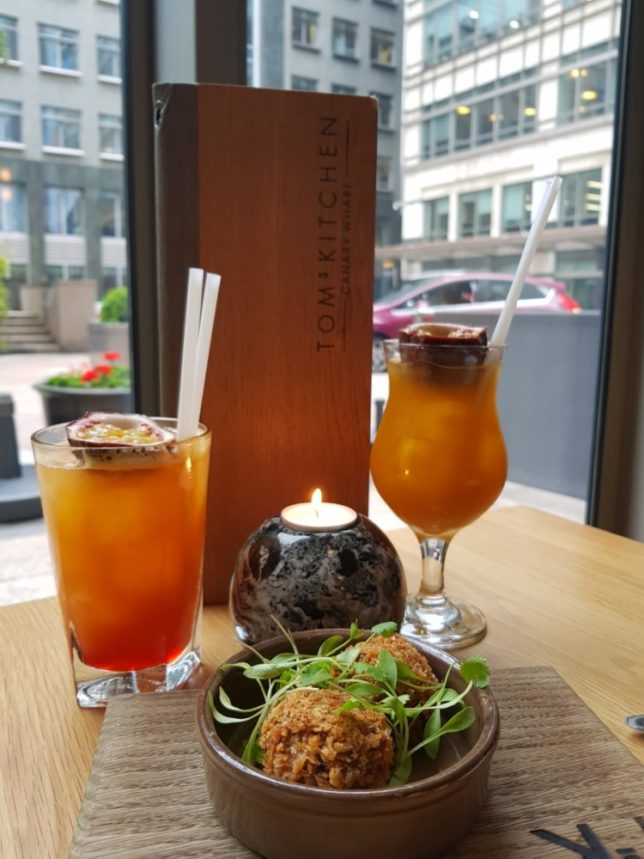 Other notable choices on the For The Table nibbles menu include Spiced Whitebait served with curry mayonnaise. This was one of the tastiest whitebait dishes we have had – Chef Snodgrass has raised this British classic to new heights with his spiced batter and spicy mayo.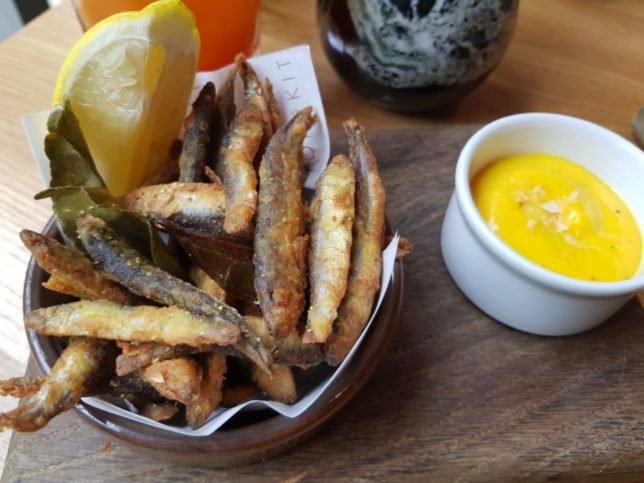 Chickpea fans will love the equally spicy Red Pepper Hummus topped with caramelised super sweet red peppers and served with super crispy melba toast made from sourdough bread.
What a wonderful way to start a meal! Just look at this feast of flavours laid out ready to be shared and savoured over pre-dinner cocktails.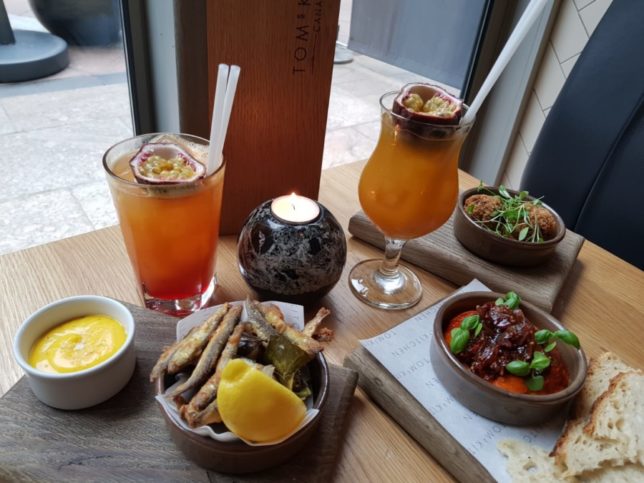 Moving on to the first course, we chose the Meat & Fish Sharing Board which showcases the chef's favourite dishes on the Starters menu including cod brandade, mini crab cakes and chicken liver served with foie gras parfait, cured duck, salami, cornichons and two types of toast.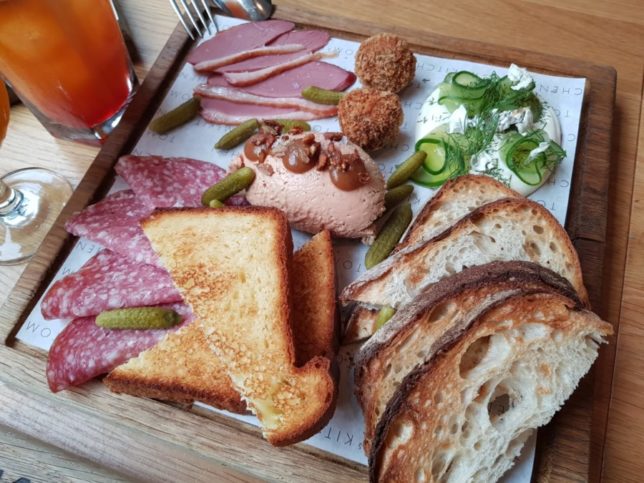 The Foie Gras Parfait was smooth rich and highly seasoned pairing well with the brioche and sourdough toast. The acidity from the cornichons cut through the fatty salami nicely and the crab cakes had lovely texture and flavour. The brandade was quite thin in texture and not the soft sloppy consistency of my favourite recipe for this creamy dip by Nigel Slater. However the pickled cucumber and sprinkling of fresh dill were a nice touch.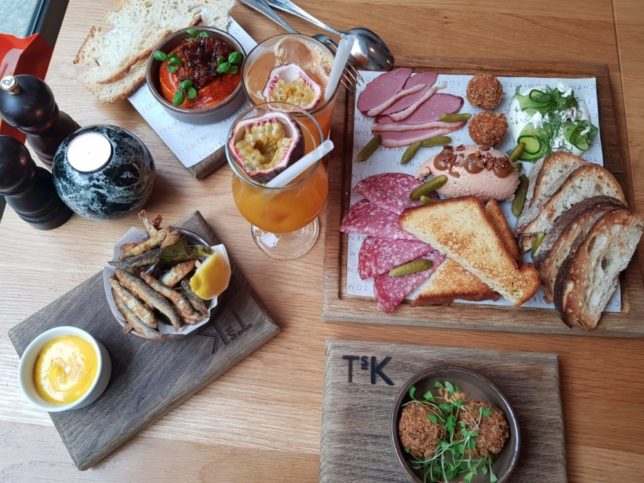 We also order the Steak Tartare served with black garlic mayo, thinly sliced pickled turnips, puffed rice and mustard seeds. Quite unlike the traditional steak tartare served in French restaurants, this was delicious in its own way but purists may find it a little too avant garde.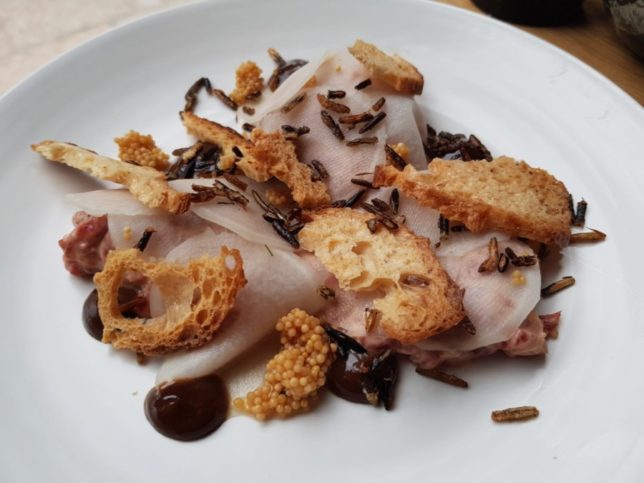 Moving on to Mains, we ordered Shorthorn Rib Eye Steak and Steamed Mussels. The steak was perfectly cooked medium rare served topped with a béarnaise butter and watercress salad. Again purist may prefer the more traditional béarnaise sauce or peppercorn sauce wih this but the meat itself was deliciously flavoursome and tender.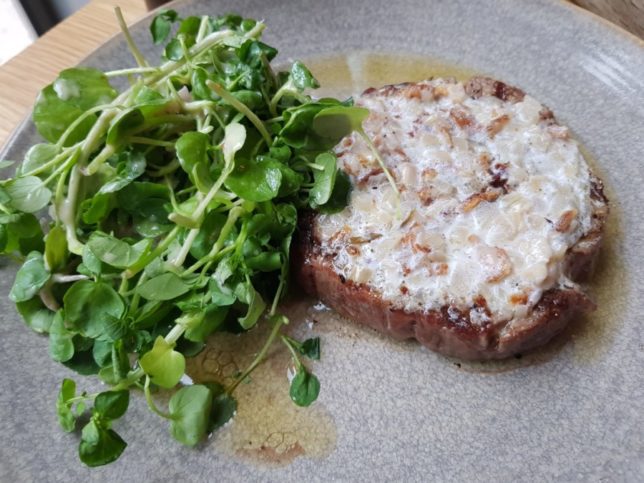 The Steamed Mussels were a generous kilo portion served in a cast iron skillet which was an unusual but thoughtful presentation with a sauce made from garlic, shallots, white wine and cream. Plump and tender with a sweet briny flavour these came served with french fries. Seafood lovers and traditionalists will love this classic dish.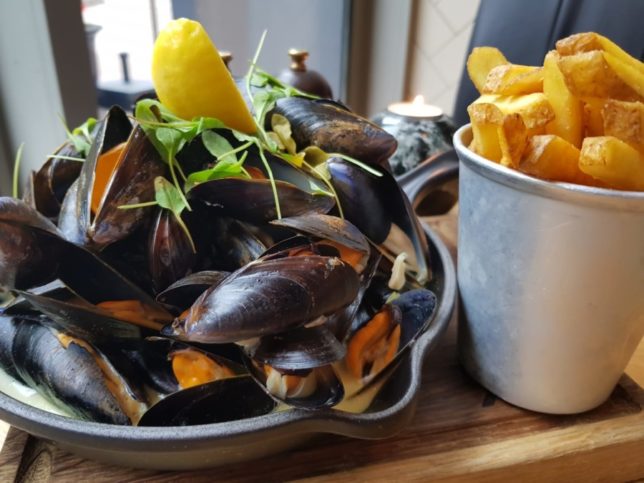 To accompany our main dishes, we ordered a couple of sides – seasonal asparagus and another portion of french fries but this time flavoured with truffle oil but easy on the parmesan.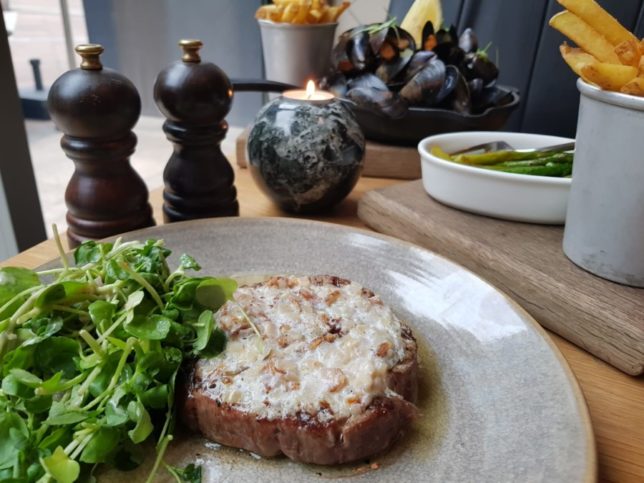 We resisted the temptation of the Desserts Menu, however those with a sweeth tooth will be surprised and delighted with such decadent dishes as Milk Chocolate & Peanut Butter Mousse, Lemon & Yoghurt Parfait, Baked Rhubarb Pie and the deliciously looking Mango Mousse with coconut sorbet that's the perfect sweet treat for summer.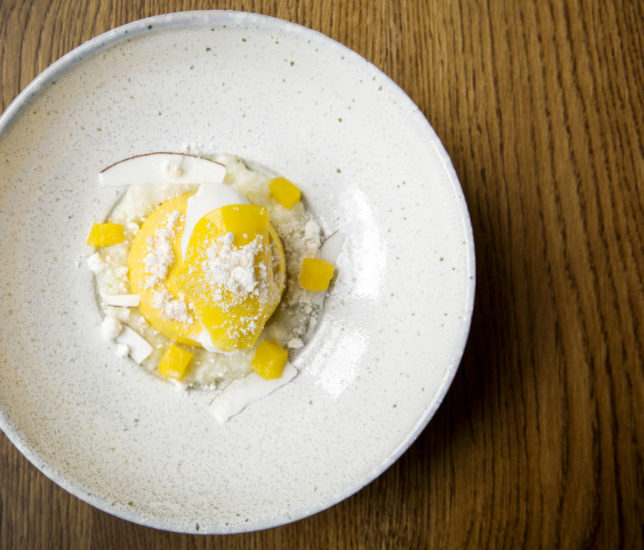 Cheese lovers will love the Selection of British Cheeses with a choice from cheddar, blue, soft and goats served with seasonal chutney and biscuits. There is also a wonderful selection of homemade ice creams and sorbets to choose from. Pair your dessert with a sweet wine or port for the perfect end to a perfect meal.
Tom's Kitchen Canary Wharf
11 Westferry Circus, Canary Wharf, London E14 4HD
www.tomskitchen.co.uk
@TomsKitchens
@TomsKitchenDeli