The TomTom Spark GPS Fitness Watch comes with an integrated music player, making it easier for fitness enthusiasts to boost their training. Now you no longer have to strap a phone to your arm or worry about wires getting in the way during your workout as the fitness watch streams music to a wide range of Bluetooth® headphones. TomTom Spark gives fitness fans everything they need in one easy-to-use device on their wrist.
Keep your phone safely locked away instead of carrying it around with you just to listen to your music. The 3GB of music storage on the TomTom Spark means you can leave your bulky smartphone in your locker or even at home while listening to typically over 500 songs directly from your watch. This avoids the risk of ever damaging your phone by dropping it on your running trail or walking off without it when swapping machines at the gym.
We also love that the TomTom Spark comes preloaded with Running Trax, a bespoke thirty minute mix of motivating, high energy, upbeat dance anthems from some of the world's best DJs, curated by Ministry of Sound. Playlists can also be easily downloaded to TomTom Spark from iTunes or Windows Media® Player.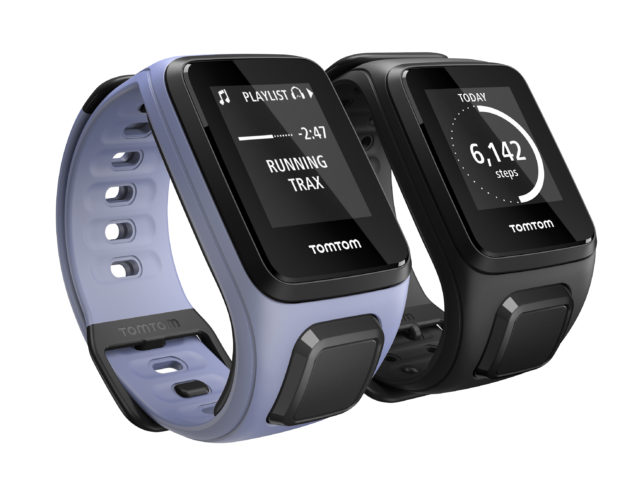 As you would expect, there's is a 24/7 activity tracking feature in the TomTom Spark to keep track of your daily steps, active minutes, distance, calories burned and sleep duration. The one-button control on the wristband enables you to easily navigate through menus. We found it easy to set daily and weekly goals on the fitness watch and track our progress on the watch itself and via the user-friendly TomTom MySports app.
We love that you can now do away with the need to wear a chest strap that gets sweaty and risks chafing because TomTom Spark uses a built-in heart rate monitor to accurately track heart rate making it simple and easy to check you're pushing yourself hard enough during cardiovascular exercise without overdoing it.
There is also a versatile Multi-Sport Mode which can track lots of different indoor and outdoor sporting activities including running, treadmill, indoor and outdoor cycling, gym and freestyle. Gym and freestyle modes are to track other indoors and outdoors sports activities like spinning or skiing. Everything is covered which means you can get the most out of all your fitness activities and mix things up in training to keep achieving fitness goals interesting. You can even wear the TomTom Spark in the rain or to go swimming as it is water resistant up to 40m/5ATM.
TomTom Spark also has a long battery life with up to 10 hours of battery lifetime when tracking yourself with GPS. Meaning you can wear it all day with confidence that all your activities can be tracked and monitored without worrying about low battery alerts or the watch dying on you in the middle of your 5k run.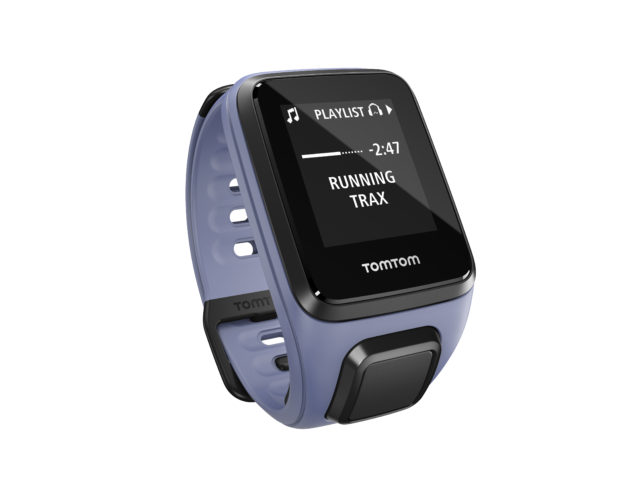 For runners who like to go the distance, TomTom Spark also includes highly accurate GPS tracking to provide real-time information including time, distance, speed and pace. We were told that as the GPS satellites move all the time, it is important to update your watch regularly to ensure a fast GPS fix. The best results are obtained when standing still, outside, with a clear line of sight to the sky. Be prepared that it may take a little longer to obtain a GPS fix the very first time you use TomTom Spark in any given location, but it will eventually pick up your location – just be patient!
We love the Route Exploration feature which not only shows you where the path has taken you so you can find your way back to your starting point but also allows you to upload routes from any website to your watch with the TomTom MySports app to follow them when your run, cycle or walk meaning you never run the same route twice in a row. Keeping things varied and interesting is the key to staying motivated to achieve your fitness goals.
Monitoring progess is also key to staying on track to achieve your goals so TomTom make it easy to upload your fitness activity stats via the MySports app and review them wirelessly on multiple platforms including TomTom MySports, RunKeeper, MapMyFitness, Jawbone, Endomondo, TrainingPeaks, Strava and Nike+.
Even with all these amazing features, we all know that you are only going to use something if it is comfortable to wear all the time. So TomTom Spark uses the Perfect Fit system with Customisable Straps allowing you to select large or small watch straps to ensure the perfect fit for your wrist. The ultra slim design is unobtrusive so it is comfortable to wear and doesn't stick out like a sore thumb. The device could easily be mistaken for a funky cool watch so you'll only notice it when you want to.
Corinne Vigreux, Managing Director, TomTom, told us, "We know that music plays an important role when it comes to motivating and improving sports performance, but relying on a smartphone is all too often an uncomfortable experience. The unique combination of an integrated music player, built-in heart rate monitor, 24/7 activity tracking, multi-sport modes and GPS in TomTom Spark makes it easier than ever to track progress, improve overall fitness levels and ultimately get more from your workout."
The TomTom Spark Fitness GPS Watch range is available from Argos, Curry's, John Lewis and Amazon. The range includes the following models:
TomTom Spark GPS Fitness Watch (£109.99)
TomTom Spark Cardio GPS Fitness Watch (£149.99)
TomTom Spark Music GPS Fitness Watch (£149.99)
TomTom Spark Cardio + Music GPS Fitness Watch (£189.99)
TomTom Spark Music GPS Fitness Watch + Bluetooth® Headphones (£189.99)
TomTom Spark Cardio + Music GPS Fitness Watch + Bluetooth® Headphones (£229.99)