The newly opened Toomai Square in Greenwich brings bold pan-Asian cooking to the heart of the borough. The family-run restaurant – which also offers takeaway – combines much-loved Thai, Chinese, Malaysian and Indonesian classics on one menu, with healthy options and bespoke cocktails to boot.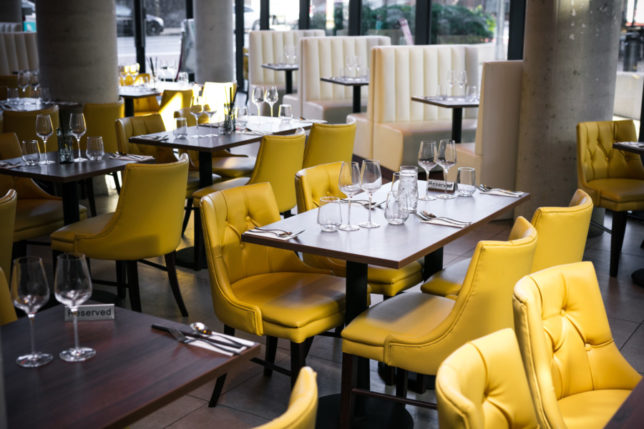 The restaurant was set up by Executive Chef Bhola Prasad & his brother Kumar Sunil who come from a small village in Northeast India.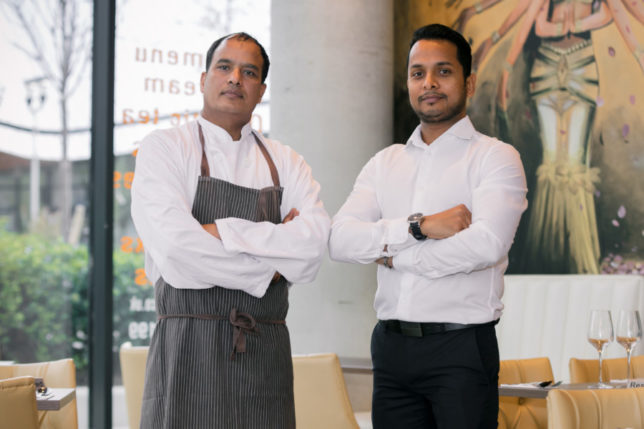 Toomai Square is fast becoming a go-to destination for families with its vibrant and varied menu and options to please everyone. It's also a great destination for city workers looking for after-work dinner and drinks.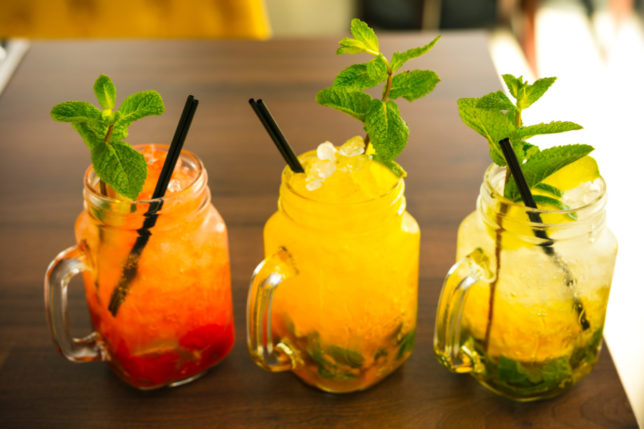 Toomai Square is not just a dining destination for top-notch Asian food. Guests can enjoy Toomai twists on favourites thanks to their creative cocktail menu and the wine lists boasts labels for all budgets and a large selection of Japanese whiskies and well-known spirits makes the restaurant yet more appealing as a destination for pre-dinner drinks.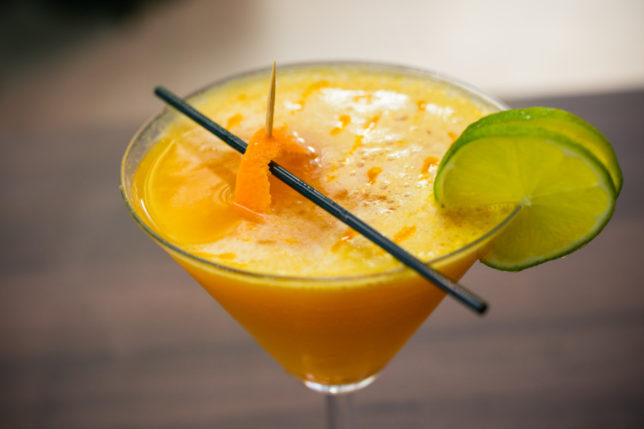 We started our evening at Toomai Square with a cocktail and a snack before being brought a selection of dishes especially chosen by the chef. For those who like juicy chicken wings to whet their appetite, you can't go wrong with these.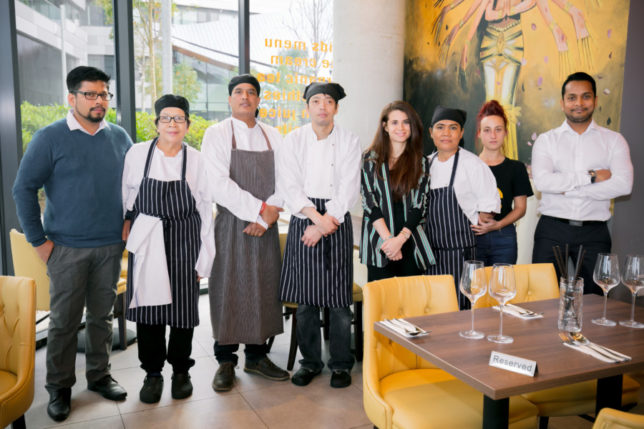 It was also nice to try the non alcoholic mocktail Bee Good which is a delightful combination of fresh blueberries, pomegranate juice and ginger accompanied by a very much alcoholic Pornstar Martini. This signature cocktail certainly started the evening with a bang!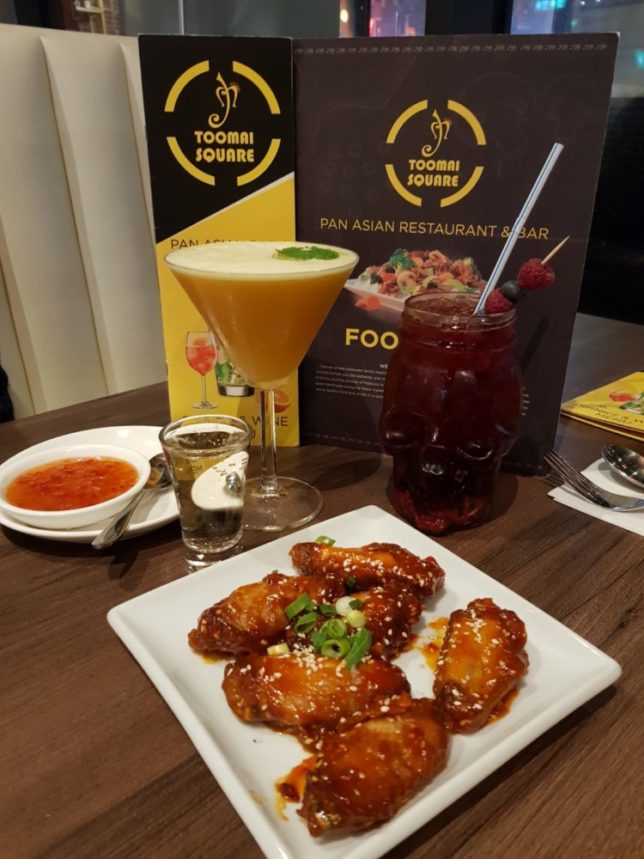 Ingredients are of the highest quality, with dishes that even Asian cuisine connoisseurs would be impressed by. The flavour-packed menu includes lollipop chicken to fire up your meal. These pieces of chicken are fried in batter served with hot garlic sauce. We also highly recommend the calamari – it's traditional and a far cry from the battered calamari you see on most menus. The standard of the food at Toomai Square tantalises your taste buds from the very first bite.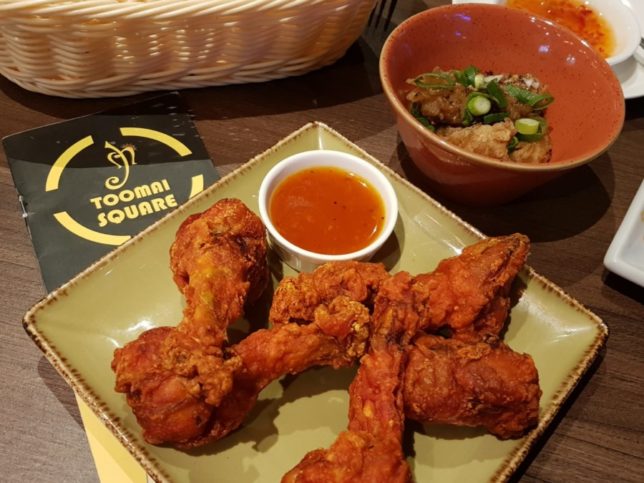 Unexpectedly the star of the show was the honey chilli vegetable patties with honey and sesame chilli sauce. It would be criminal not to order these… even carnivores love them.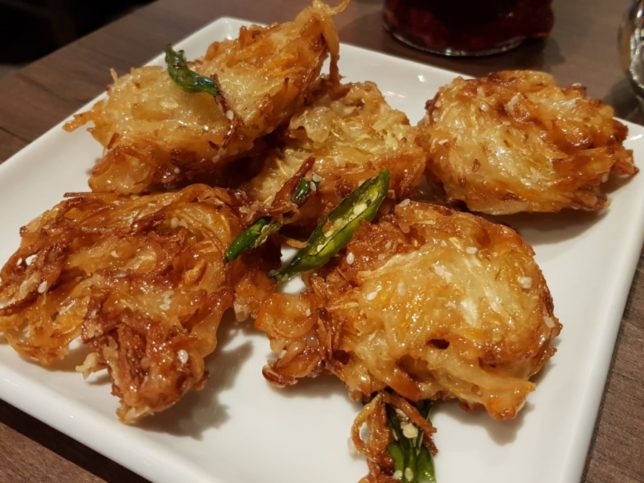 For mains, chef's specials like Lobster Yellow Curry, Vegetarian or Chicken Laksa and Lamb Shank Massaman are sure to impress, while a full Thai curry and noodle menu adds even more choice.
Sticking with a chilli theme, our next dish was this chilli chicken which is generous enough to order as a main course as a good alternative for vegetarian diners would be the chilli paneer.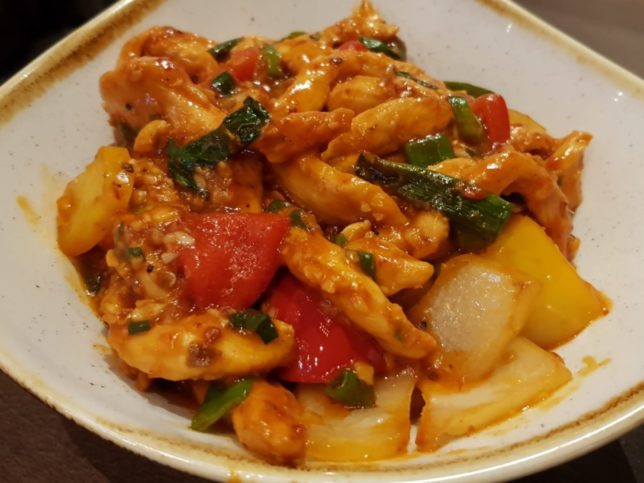 Any fitness enthusiasts will be pleased to see dedicated 'healthy choice' options, including Thai-style soups and an enticing salad menu. Those who like a lighter option should try the dim sum dishes served with a sweet soy sauce. We had the delicious handmade steamed dumpling with a succulent prawn filling.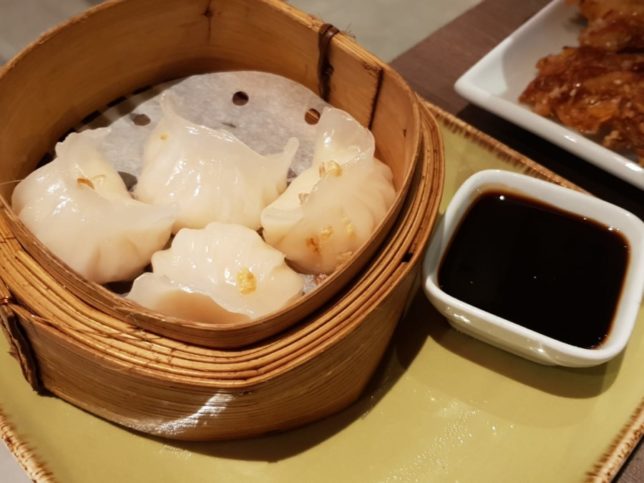 Those who want meatier options should go for the chilli lamb. Compared to the previous chilli dishes, this dish had a peppery heat which added variety to the feast of flavours during our meal at Toomai Square.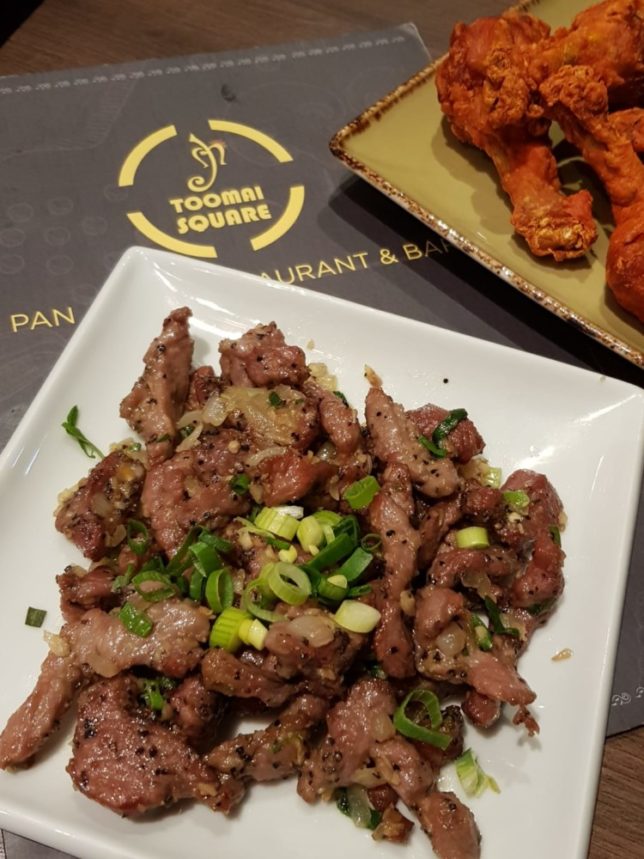 The SLOAN! team love curries so we ordered a chicken green curry… a prawn panang curry…. and a lamb shank massaman curry. And the winner was… the lamb massaman curry.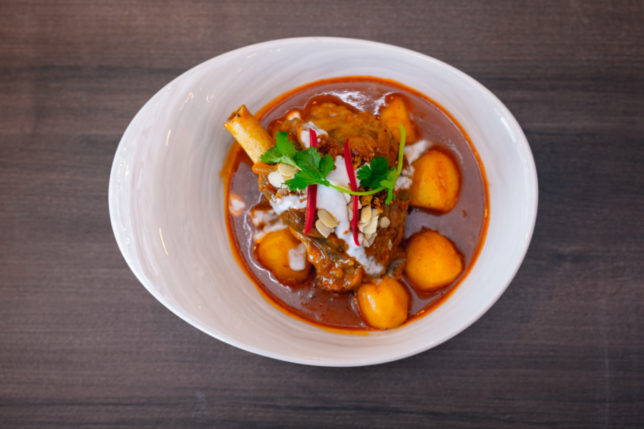 This was arguably one of the best massaman curries we have ever reviewed. It even converted a massaman curry hater into a massaman curry fan. The massaman curry is made with lamb, potatoes & nuts, garnished with flaked almond & pickled onions.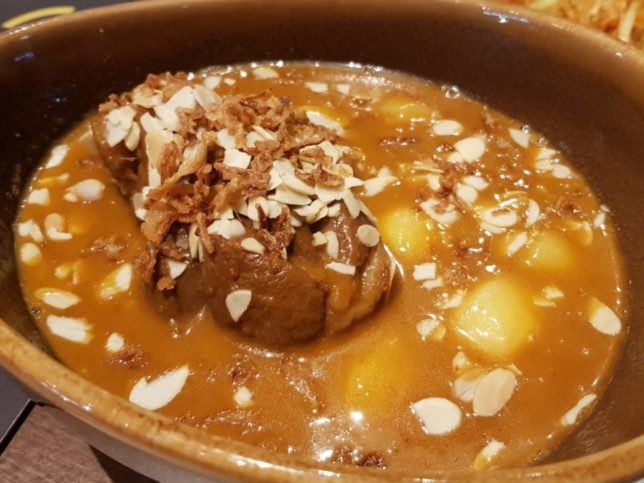 Guests won't want to miss out on the brothers' signature Pad Thai – a traditionally made dish showcasing their experience and travels around Asia. Another noodle dish we recommend is the top quality Singapore noodles.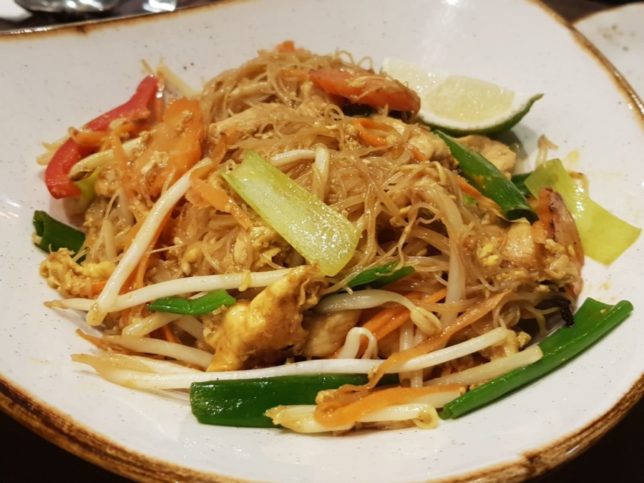 For lovers of Thai food, the Panang curry will not disappoint with its fresh green vegetables and succulent prawns. It delighted the senses.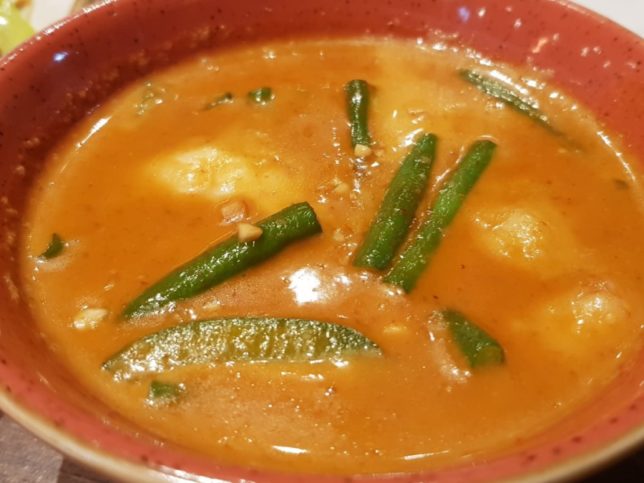 Making the most of the breadth of the Pan Asian menu at Toomai Sqaure, we couldn't resist the Chicken Green Curry with fresh green vegetables.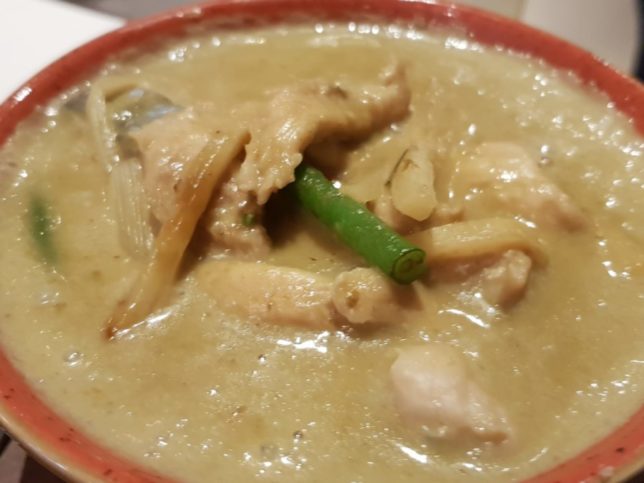 What a lovely selection of dishes from the talented chefs at Toomai Square restaurant in Greenwich.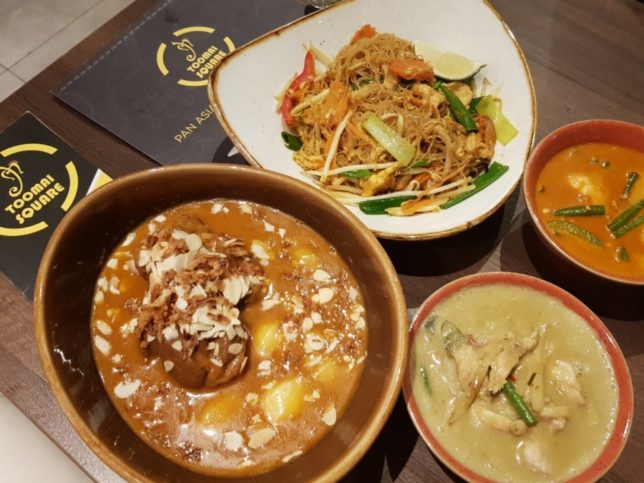 The black cod was nice but the curries definitely stole the show.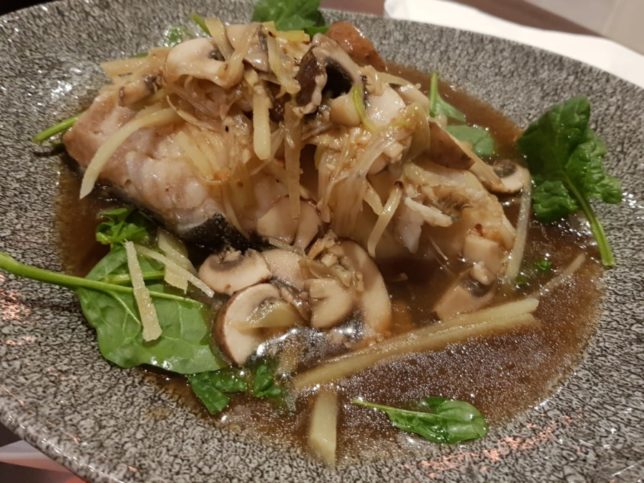 The SLOAN! team didn't partake in dessert and those who are thinking of lunching here there are some delicious lighter options and salads on offer. There really is something for everyone.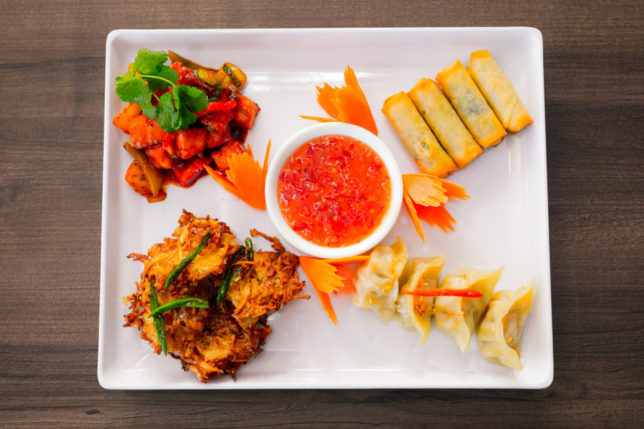 But Toomai's unrivalled offering doesn't end in the restaurant. The menu is available for takeaway too – perfect for busy Londoners who want refined Asian food but don't feel like eating in.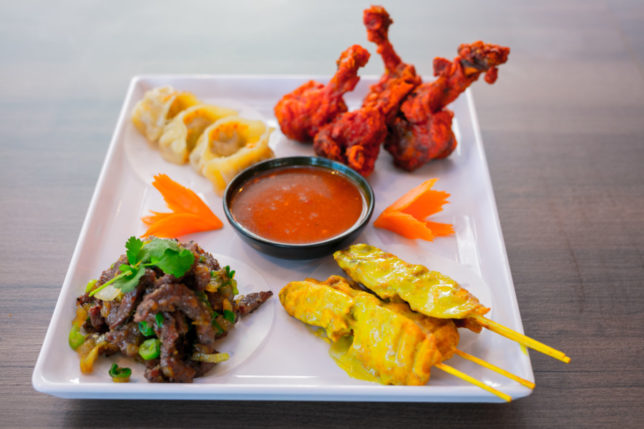 Restaurant owner, Kumar Sunil, says: "Our restaurant's cuisine is created by the marriage between Chinese cooking methods (stir-frying small cuts of meat and veggies on high heat), Indian flavours (hot, spicy, sweet and sour) and Thai freshness/exoticness, creating the perfect symphony of flavours."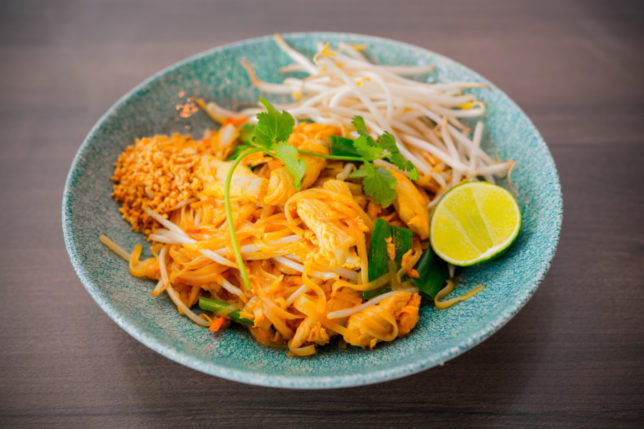 Kumar added, "Our cuisine is a simple yet clever combination of Eastern and Western influences harmoniously combined into that je ne sais quoi."
Toomai Square
5-6 Lambarde Square, London SE10 9GB
0208 066 1199
www.toomaisquare.co.uk
@toomaisquareuk