Summer can take its toll on our skin – with chlorine, sea water, alcohol and overexposure to the sun all having a negative effect on that summer glow. SLOAN! asked Dr Ifeoma Ejikeme – Medical Director at Adonia Medical Clinic and one of our favourite Dermatologists – to share her twelve top tips for keeping skin clear and radiant this summer.
1. EXFOLIATE
The body sheds skin cells at a rapid rate – if you don't exfoliate, these dead cells will sit on the skin and leave it looking dull and dry. Exfoliate 2-3 times a week and use products with 10% glycolic acid – this not only removes dull surface skin cells to reveal smoother, brighter skin below, but also helps to stimulate collagen and elastin production for a firmer, younger appearance.
2. TONE
Toning removes the dirt and build from make-up and pollution left behind by the cleanser/exfoliator, which can clog posed and lead comedones. It also helps soothe, nourish and hydrate the skin while restoring its delicate pH balance.
3. PROTECT (SPF)
Sunscreen is the number one ingredient for the summer. Opt for a moisturising SPF rather than a moisturiser that has some SPF in it. One of my favourite moisturising sunscreens is sun armour factor 50 by dermaquest. This feels light and won't interfere with your make-up and has peptides as a boosting ingredient. If you have acne prone skin my patients love obagi sunscreen matte factor 50 – this is non comedogenic so will not break you out.
4. KEEP HYDRATED
We lose a lot of water during these hot summer days so it is important to top it up. The skin is an organ and is made up of cells. Cells are made up of water and without water the organ will certainly not function properly or at its best. Lack of hydration will present itself by turning your skin dry, tight and flaky. Dry skin has less resilience and is more prone to wrinkling. Drinking at least 8 classes of water a day will help but the unfortunate truth about drinking water and skin is that water will reach all the other organs before it reaches the skin. So, it's important to apply water to our skin and keep it there – using a hydrating moisturiser and hyaluronic acid.
5. MOISTURISE
Moisturising is important for hydration. Hydrate with topical hyaluronic acid. This acts as a sponge pulling water into the and onto the skin.
6. EAT OILY FISH
On warm days, fish makes for a perfect, light lunch or dinner. Fish rich in Omega 3 – such as mackerel, herring, trout and salmon – help combat inflammation in the skin, which causes the redness and irritation you see in skin issues like acne, eczema, and psoriasis.
7. AVOID THICK MAKE-UP AND CREAMS
Thick, heavy foundations and moisturisers teamed with sweat will clog up pores and create a happy home for bacteria in the skin. Instead opt for breathable, mineral based make-up and tinted moisturisers.
8. GET YOUR ANTIOXIDANTS IN
Antioxidants give your skin a glow when used daily and boost the effect of your sunscreen by up to 8 times. My favourite anti-oxidants are skinceuticals: for mature skin resveratrol, for oily skin phloretin and for dry skin CE ferulic acid.
9. HAVE REGULAR FACIALS
The sun can leave the skin feeling dull and lifeless. When this happens, the skin can be given a boost by a hydrofacial and microdermabrasion, as well oxygen infusing treatments. The ADONIA Ultimate Facial (as featured in the July 2017 edition of SLOAN!) is excellent at giving you a quick boost. I also love Cane and Austin's 10% glycolic pads to lift away dead skin to reveal glowing skin underneath. Pigmentation can also be reduced with in-clinic treatments over the summer using a mixture of gentle skin resurfacers, microdermabrasion and gentle brightening products to brighten the skin.
10. EAT LEMONS
Lemon juice has been proven to diminish scars and age spots. The discoloration caused by scars, certain skin disorders and age spots can be diminished by applying lemon juice to the discoloured area. Try applying at bedtime and leaving the lemon juice on the skin over night for greatest effect – but be sure to wash off in the morning! Lemons' natural antibacterial properties also make it a good choice to help cure acne and prevent further breakouts. Using lemon juice on blackheads has been shown to reduce the frequency and severity of blackheads. Lemon juice also helps with tip #1 – exfoliation. It is a natural exfoliant since the citric acid acts as a gentle "skin peel" that removes the top layer of dead skin cells. This will result in a smooth complexion when used regularly. But be careful – the acids in lemon juice may be irritating to some people so be sure to dilute lemon juice with water before applying it to your skin
11. SHRINK PORES WITH TOMATO JUICE
Tomatoes are an astringent that also contain blackhead-reducing and oil-controlling properties, which is why they are great for reducing acne, large pores and oiliness. Big pores provide easy access to dirt and grime, which increases the chances of infecting the pore, leading to breakouts. Applying tomato juice to the skin regularly will act to shrink pores gently.
12. AVOID SUGAR
Hot weather calls for ice-creams, ice-cold fizzy drinks and cocktails – but avoid over indulging this summer. Not only will the sugary treats have an adverse effect on your summer waistline, they can have a detrimental effect on your skin. Sugary or high-glycemic foods raise insulin levels and put unnatural demands on your body to deal with the food you just ate. Simple carbohydrates and refined sugar cause your insulin levels to spike, which activates inflammation. Inflammation produces enzymes that break down collagen and elastin, resulting in sagging skin and wrinkles. Digested sugar also permanently attaches to the collagen in your skin through a process known as glycation, increasing the effects of aging and exacerbating skin conditions like acne and rosacea.
About Dr Ifeoma Ejikeme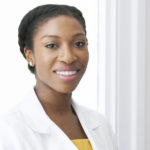 ADONIA's Medical Director, Dr Ifeoma Ejikeme, is an NHS Medical Consultant and highly experienced Aesthetic Medical Doctor who has extensive global training in Medicine and Surgery. Dr Ejikeme is currently an honorary lecturer on the aesthetic medicine masters degree programme at Queen Mary's University and holds a substantive NHS post at University College London Hospital. She is a keen artist and believes to be a great doctor you must have the skill of a great surgeon but the eye of an artist to bring balance to the face. She is affiliated with many charitable international organisations with a focus on empowering women of all nations. For more information about the Adonia Medical Clinic, please visit www.adoniamedicalclinic.co.uk