Kat Burrington, an award-winning travel blogger & photographer, shares her top tips for getting the most out of your travels.
While I have always loved travelling, I was well into my forties before I started travelling as much as I do now, and I was nearly fifty when I first ventured overseas alone. If there is one thing I've learned, it's that you are never too old to take on new challenges.  I believe travel is good for you on many levels; positively impacting your health, stress levels, creativity and perspective on life.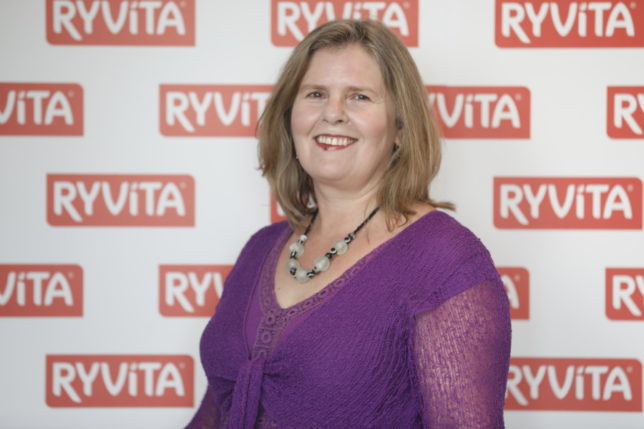 Immerse yourself in the local culture
Travel is a great opportunity to discover another culture, taste a new cuisine, watch a dance display, listen to a traditional band and chat to the locals. You'll get so much more out of a holiday if you get to know the local culture.
One of my favourite ways to do this is to time my visit to coincide with a local festival, especially something traditional, be it music in Corsica, wine in Italy or an initiation ceremony in West Africa.
Learn something new
Don't just taste a new cuisine – learn how to cook it! Learn a new language, take a drumming lesson in Africa or simply learn how to navigate the Paris metro. Your brain thrives on processing information and travelling is a fantastic way to provide it with lots of new, engaging input. Give your brain a workout and keep it in tip-top condition.
After a few lessons playing the djembe (hand drum) in The Gambia, I continued learning once back in England and even joined a drumming troupe. Learning the rhythms and developing the coordination to play them was challenging but very rewarding.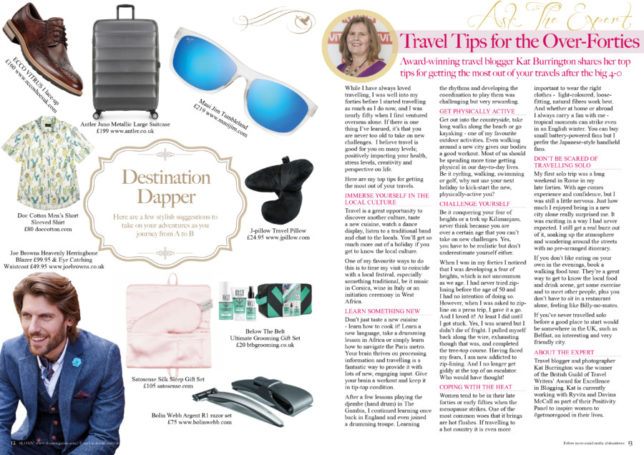 Get physically active
Get out into the countryside, take long walks along the beach or go kayaking – one of my favourite outdoor activities. Even walking around a new city gives our bodies a good workout. Most of us should be spending more time getting physical in our day-to-day lives. Be it cycling, walking, swimming or golf, why not use your next holiday to kick-start the new, physically-active you?
Challenge yourself
Be it conquering your fear of heights or a trek up Kilimanjaro, never think because you are over a certain age that you can't take on new challenges. Yes, you have to be realistic but don't underestimate yourself either.
When I was in my forties I noticed that I was developing a fear of heights, which is not uncommon as we age. I had never tried zip-lining before the age of 50 and I had no intention of doing so. However, when I was asked to zip-line on a press trip, I gave it a go. And I loved it! At least I did until I got stuck. Yes, I was scared but I didn't die of fright. I pulled myself back along the wire, exhausting though that was, and completed the tree-top course. Having faced my fears, I am now addicted to zip-lining. And I no longer get giddy at the top of an escalator. Who would have thought!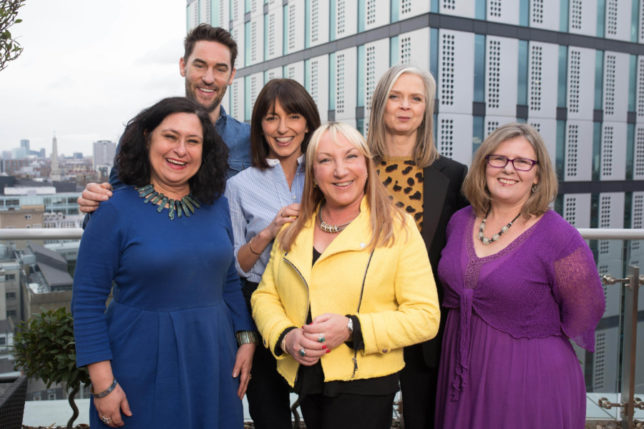 Coping with the heat
Women tend to be in their late forties or early fifties when the menopause strikes. One of the most common woes that it brings are hot flushes. If travelling to a hot country it is even more important to wear the right clothes –  light-coloured, loose-fitting, natural fibres work best. And whether at home or abroad I always carry a fan with me – tropical moments can strike even in an English winter. You can buy small battery-powered fans but I prefer the Japanese-style handheld fans.
Don't be scared of travelling solo
My first solo trip was a long weekend in Rome in my late forties. With age comes experience and confidence, but I was still a little nervous. Just how much I enjoyed being in a new city alone really surprised me. It was exciting in a way I had never expected. I still get a real buzz out of it, soaking up the atmosphere and wandering around the streets with no pre-arranged itinerary.
If you don't like eating on your own in the evenings, book a walking food tour. They're a great way to get to know the local food and drink scene, get some exercise and to meet other people, plus you don't have to sit in a restaurant alone, feeling like Billy-no-mates.
If you've never travelled solo before a good place to start would be somewhere in the UK, such as Belfast, an interesting and very friendly city.
About the expert
Travel blogger and photographer Kat Burrington was the winner of the British Guild of Travel Writers' Award for Excellence in Blogging, presented at the Guild's annual gala dinner at The Savoy Hotel in London. Kat is currently working with Ryvita and Davina McCall as part of their Positivity Panel to inspire women to #getmoregood in their lives.