ClaireaBella Designs was launched by Claire Barratt, a former detention officer in Hull who came up with the idea during a trip to Paris.  On paying for a caricature to be drawn in the Place du Tertre (the artists square) and disappointed with the poor quality, she took inspiration and drew her aspirational self, painting the drawing onto her own bag. On seeing the design, a friend requested one, and the rest is history. Today, ClaireaBella boasts a wide range of products and gifts within its collection, from jute and canvas bags of various sizes to mugs, phone covers, make up bags, hoodies and more. One of the most popular items from the range has to be the ClaireaBella personalised suitcase which is the luggage of choice for Sloan Sheridan-Williams, the celebrity life coach and founding editor of SLOAN! Magazine.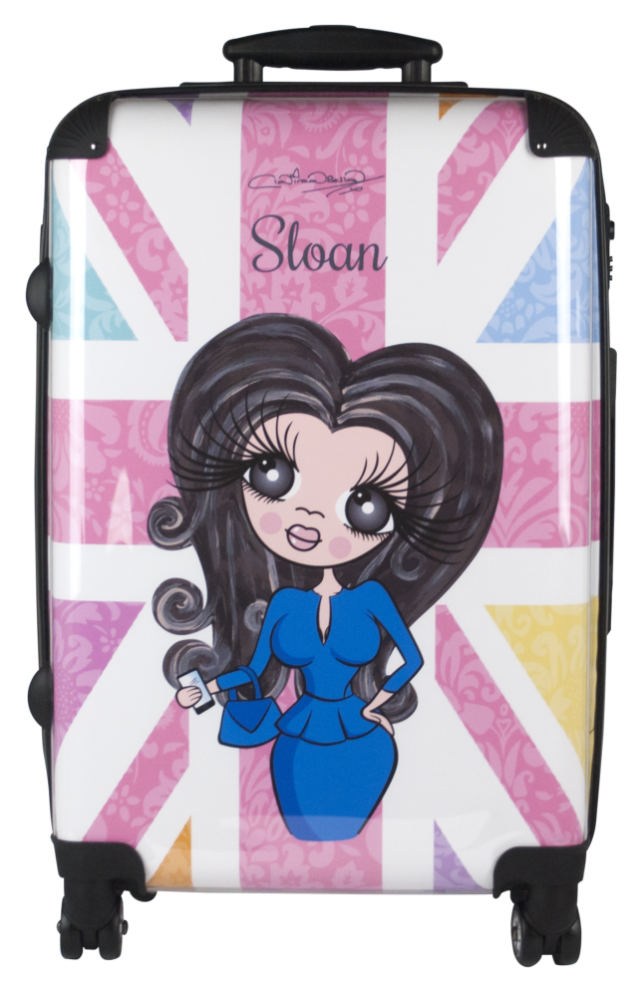 The range continues to grow and evolve, with a strong celebrity fan base and a large social media following. ClaireaBella personalised bags, suitcases and travel accessories are already a favourite with TV stars like actress Michelle Keagan, TOWIE's Billie Faiers and Made In Chelsea's Binky Felstead.
It's not hard to see why with the cute designs that express your inner diva, full of glamour and confidence. Binky Felstead loves the designs so much she's got not one but two personalised items from ClaireaBella.
But it's not just TV celebrities who are leading the ClaireaBella phenomenon… our very own celebrity life coach Sloan Sheridan-Williams is a fan too… here are some of the gorgeous personalised items ClaireaBella have designed for her…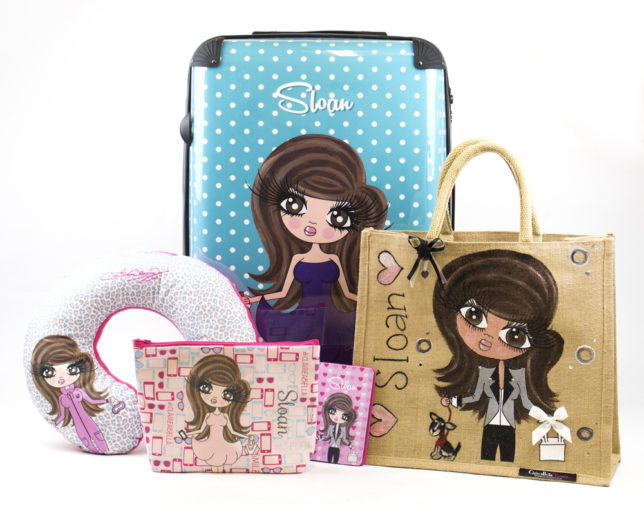 If you're a glamorous jet setter the ClaireaBella suitcases (from £134.99) are a must have for you. Guaranteed to turn heads and best of all it can be completely personalised to suit you. What better way to showcase yourself than strutting around with one of these stylish, personalised suitcases. As seen on many celebrities, the ClaireaBella suitcases are all made in the UK and unique to its owner.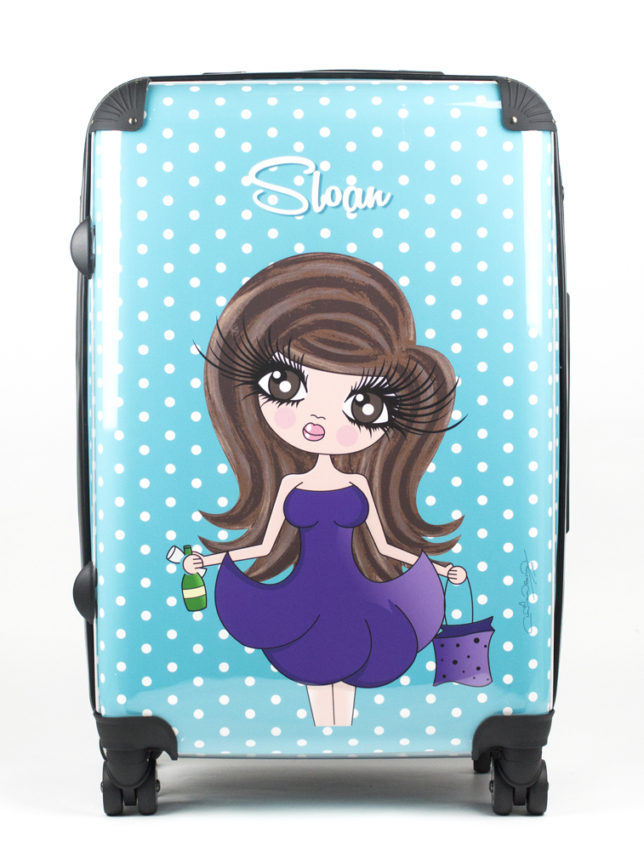 The ClaireaBella Bikini bag (from £34.99) is your ultimate summer essential. Stay stylish and look fabulous on the beach this summer. There are 6 beautiful designs to choose from. There's something to suit everyone. And if your in need of a bag to carry with you as a Girl About Town, how about the ClaireaBella Jute Bag that again comes in a range of designs… here's Sloan's jute bag were she's looking fabulous in a stylish tuxedo outfit…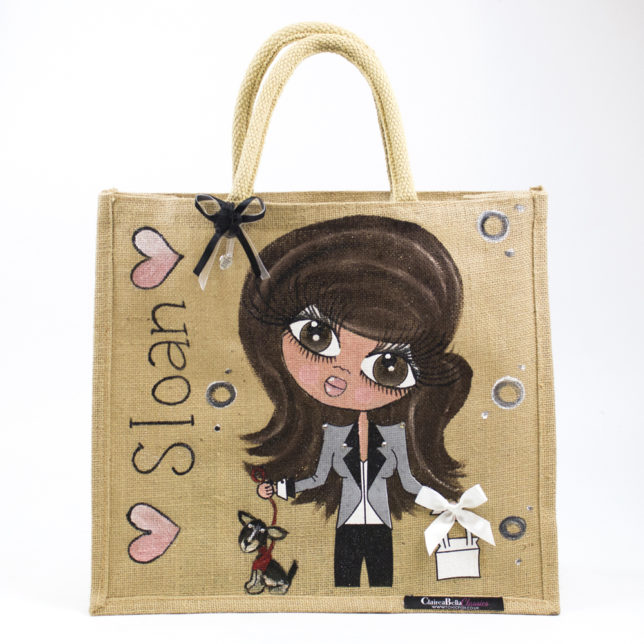 Did you spot Sloan's adorable Puppy Gizmo sporting his favourite Purplebone red jumper on the front of the hand painted ClaireBella jute bag?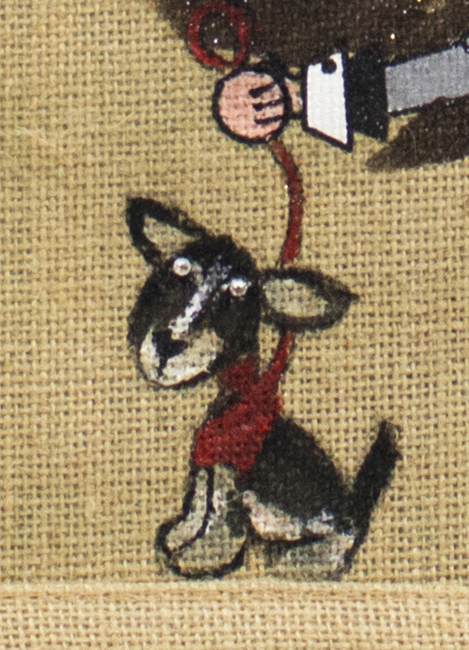 Here are some other fabulous personalised accessories available from ClaireaBella… follow your dreams while you travel in style with this super comfy ClaireaBella travel pillow (from £19.99) which can be personalised with a ClaireaBella character, name and quote. Each travel pillow features a comfy fleece backing and fits around your neck. Sloan looks ready for the Sandman in her pink onesie!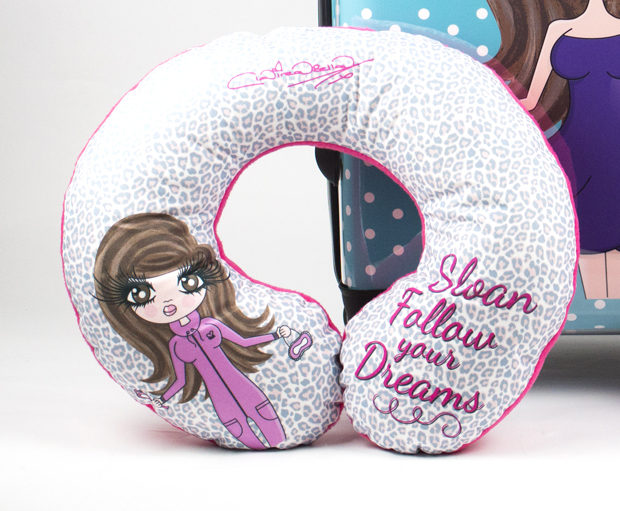 Other accessories in the ClaireaBella range include a cute wash bag and girly passport cover. The ClaireaBella wash bag (£25.99) is perfect for packing up your must have beauty items. The fabulous design has a choice of colourful backgrounds and features a beautiful pink lining featuring illustrations of your must have items and name you have chosen for your wash bag.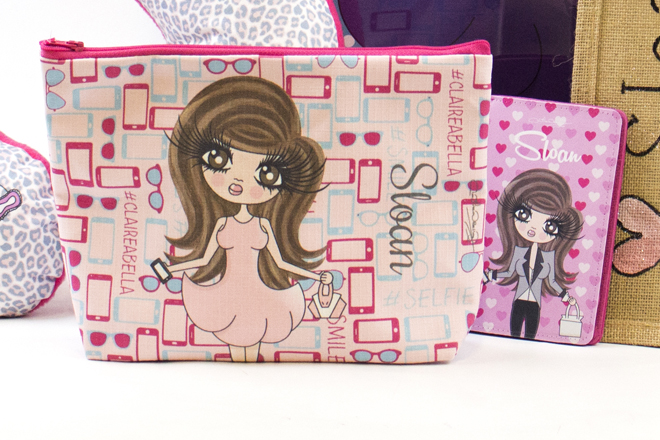 The ClaireaBella passport cover (£14.99) is a must have travel accessory and perfect for all glamorous jet setters. This is guaranteed to make you stand out from the crowd.
Look out for Sloan's personalised ClaireaBella suitcase and travel accessories on Instagram @sloanloves over the coming months as she travels in style around the UK and beyond thanks to our friends at ClaireaBella. Joining her on her voyages is the personalised Mr Sloan suitcase – doesn't he look dapper in his suit which is probably a Ted Baker suit knowing Mr Sloan!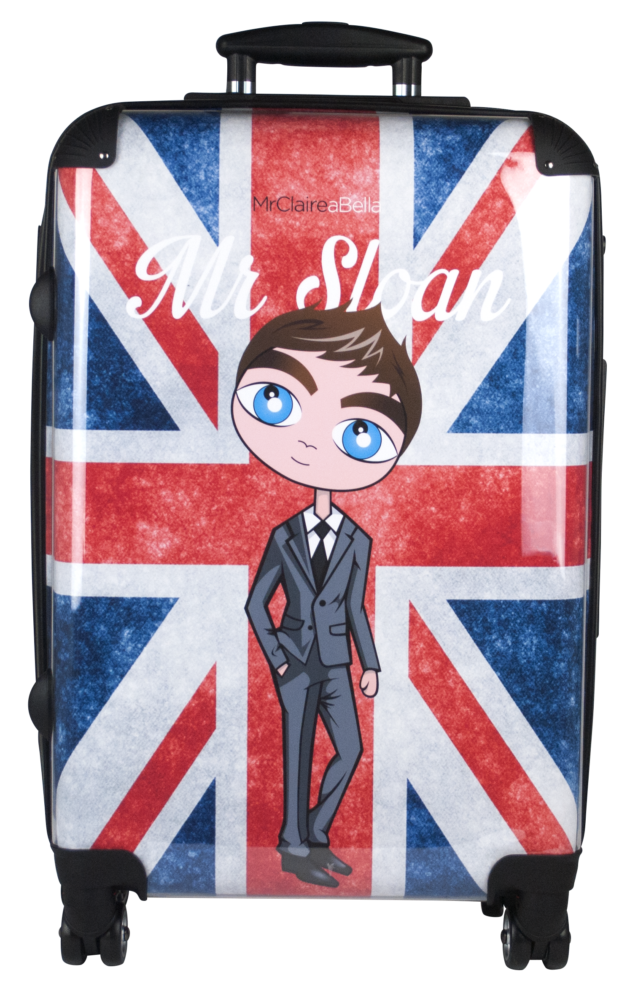 To find out more about ClaireaBella and the gorgeous products available, please visit www.claireabella.co.uk and the online shop at www.toxicfox.co.uk/claireabella