We love Tyrrells Poshcorn and know you do too as SLOAN! Magazine's original Poshcorn review remains proudly on page 1 of Google. So we were excited to hear of a new limited edition flavour launched for the summer – Tyrrells Strawberries & Cream Poshcorn.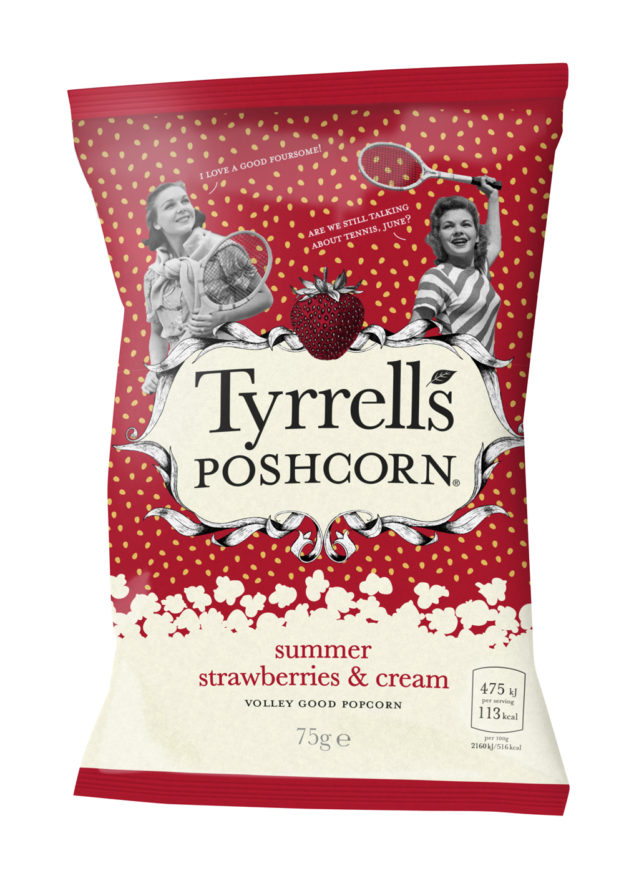 Carefully popped in small batches at Tyrrells Court Farm using gold standard corn kernels, Tyrrells all-natural Strawberries & Cream seasoning is applied to a base of delicious golden caster sugar-coated popcorn to give you the perfect bowl-full whilst watching Wimbledon and – we hope – another Murray triumph!
We love the quirky British sense of humour on the packaging of Tyrrells Strawberries & Cream Poshcorn and quintessentially English play on words of "volley good popcorn". What better way to celebrate the British tennis season in the summer sunshine than by enjoying this most British of flavour combinations. Strawberries & Cream Poshcorn is out now and available throughout the summer in supermarkets nationwide, £1.59 for 75g sharing bag and 79p for 22g packs.
Joining the new Poshcorn flavour is Tyrrells revival of an iconic British flavour – Coronation Chicken – in honour of Her Majesty The Queen's 90th birthday.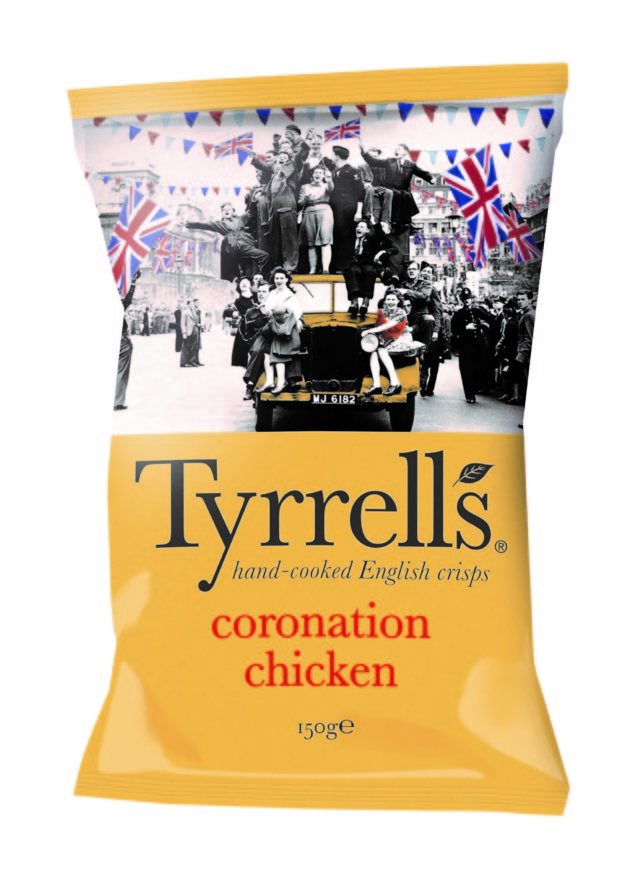 The new Tyrrells Coronation Chicken hand-cooked crisps are based on the delicious pairing of roast chicken and mild curry. The dish was originally created especially for the Queen's coronation in 1953, and now Tyrrells is bringing it back for a limited time only, using real chicken and curry flavours for a fruity, fresh and fragrant combination. The perfect addition to summer picnics and parties, Coronation Chicken crisps will be available from April through to October.
Jocelyn McNulty, Tyrrells Marketing Director, commented: "Tyrrells is an inherently British brand and an important part of what we do here is creating witty and most importantly delicious products that mark national occasions. It gives our consumers a tasty reason to get involved in the festivities!"
Hand-cooked in small batches, using locally-grown Herefordshire potatoes, Coronation Chicken is available from Waitrose and Ocado with at £2.00 for 150g sharing bag and 75p for 40g on the go pack.