Ukai is the Japanese inspired gastro pub in the heart of the exciting and eclectic Portobello market 'village' which is renowned for its high standard of food and service together with a warm, welcoming atmosphere. Décor is quietly elegant with dark wood panelling and stylish soft furnishings.  The effect is both charming, welcoming and quirky.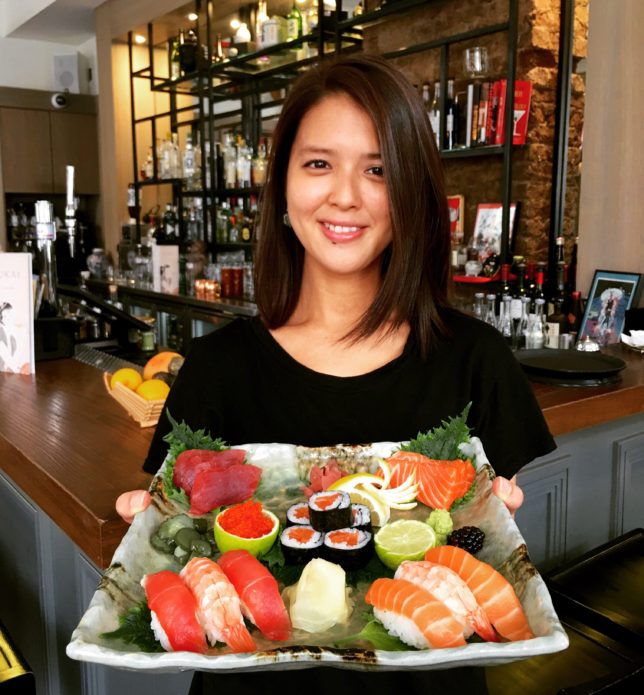 Chef Alex is proud to offer the finest sushi, dim sum, tempura and house specialities including tropical fish, Hamachi from the grill. Trained at Roka, Alex really knows Japanese cuisine and is passionate about creating delicious and beautiful food.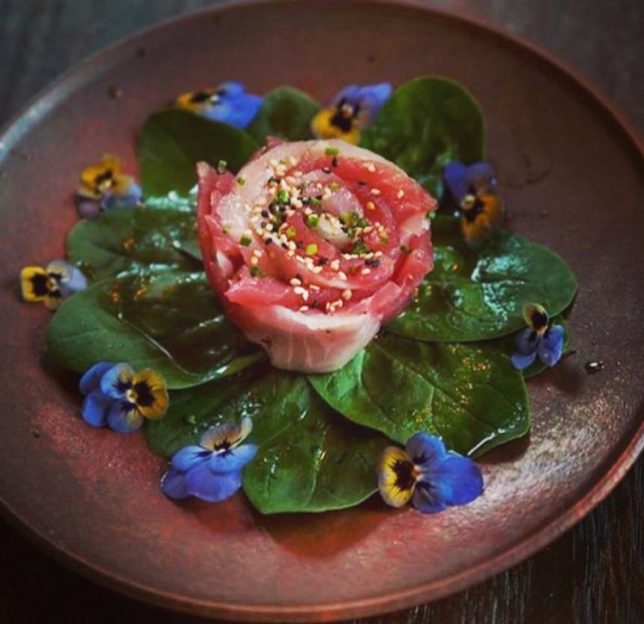 Restaurant Manager Ian is practically a celebrity in the Portobello Road himself having worked there for over two decades, he is the master of discrete but helpful service and a huge character who knows his food and drink like no other.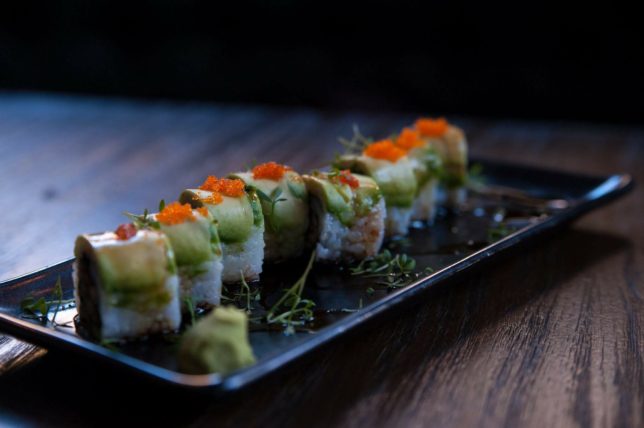 Ukai play an inspired music set which is uplifting and totally diverse and unexpected.  They are joined every week by musicians on Friday evenings and Saturday afternoons when the entire restaurant buzzes. Bar Manager Panos has developed exquisite cocktails including the Lady Macha which includes Velvet Macha tea, Ciroc Vodka, elderflower liqueur, homemade cardamom bitters and soya syrup.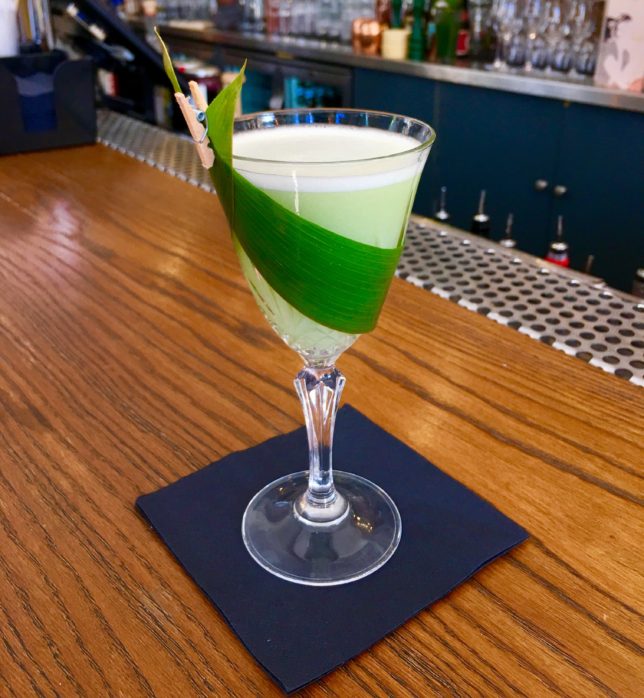 Ukai is a firm favourite with Portobello residents, tourists and celebrities alike whether for lunchtime sushi, dim sum and buns or specialities from the grill. They also serve a delightful selection of cocktails which just have to be sampled.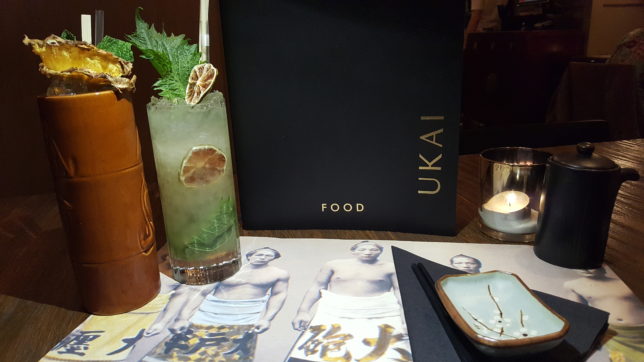 We were delighted to receive a tasting menu designed specifically for my palate. I must be the only person who walks into a Japanese restaurant and says that I don't eat avocado and cucumber but that I love Japanese. Chef Alex is not phased he knows exactly what to put together to tantalise the senses.
We started with a pan fried scallop with orange tobiko and yuzu ponzu. Seared to perfection it was a perfect start to the meal.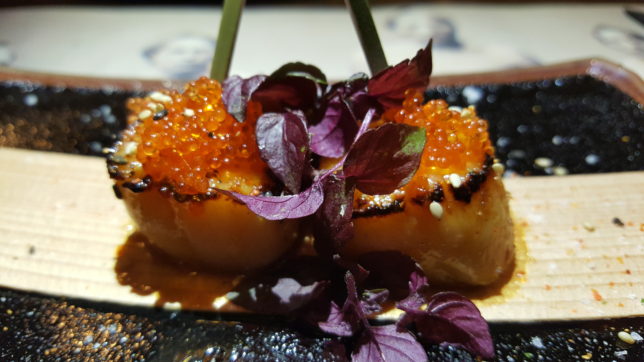 Next served was seabass ceviche Ukai style with a spicy citrus sauce which lightly cured the fish allowing the natural flavours to also shine through.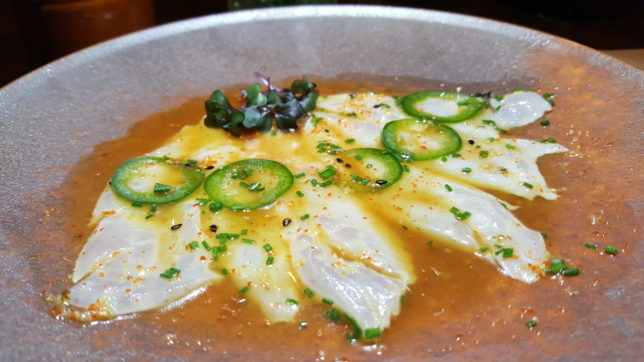 I spied on the menu that the fish served in Ukai are caught by birds! According to a quick google and a check on  wiki, cormotant is a traditional fishing method in which fishermen use trained cormorant birds to fish in rivers. Historically, cormorant fishing has taken place in both Japan and China since about 960 AD and has been described as a method used by the ancient Japanese in the Book of Sui, the official history of the Sui Dynasty of China, completed in 636 AD. 
I am not sure if it is Chef Alex or the fabulous bird caught fish but whatever Ukai is doing they are spot on as the fish is fresh, flavourful and fabulously delicious.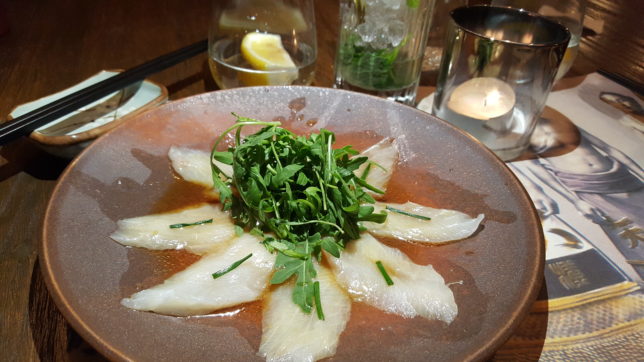 For those interested in how these fish are caught, to control the birds, the fishermen tie a snare near the base of the bird's throat. This prevents the birds from swallowing larger fish, which are held in their throat, but the birds can swallow smaller fish. When a cormorant has caught a fish in its throat, the fisherman brings the bird back to the boat and has the bird spit the fish up. Which sounds a little weird but actually watching a youtube video shows a bond between fisherman and bird almost like a dog playing fetch. Sticking with a fish theme we then tasted the yellowtail as shown above served with caviar and yuzu soy with a new found respect for the sourcing and catching of the fish we were tasting.
Moving on to a selection of nigiri…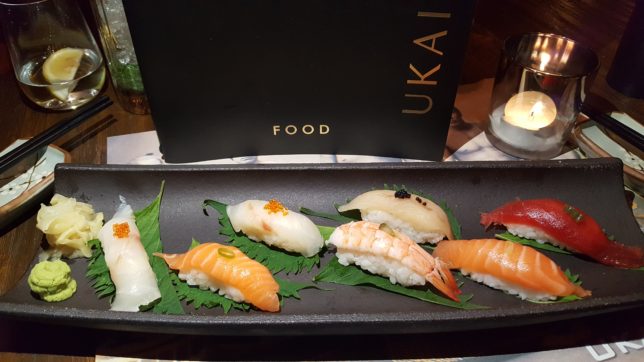 And a special roll filled with soft shell crab…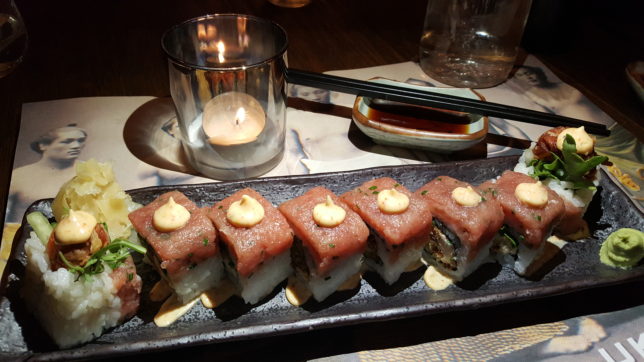 Come in for a closer look…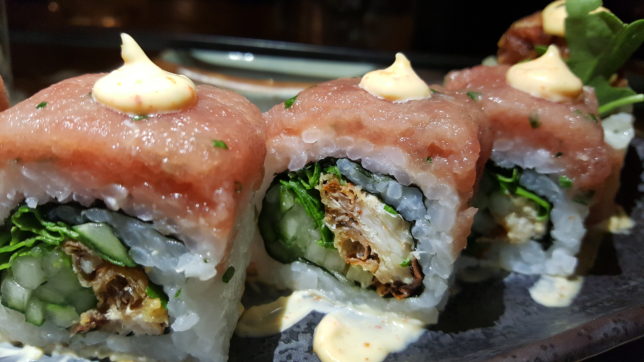 I then moved on to taste a few more cocktails…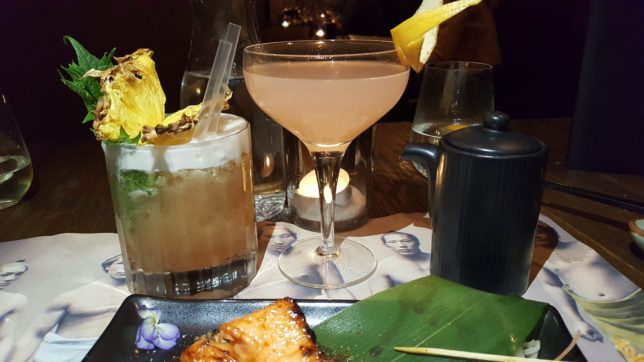 and sample the beef tenderloin toban yaki…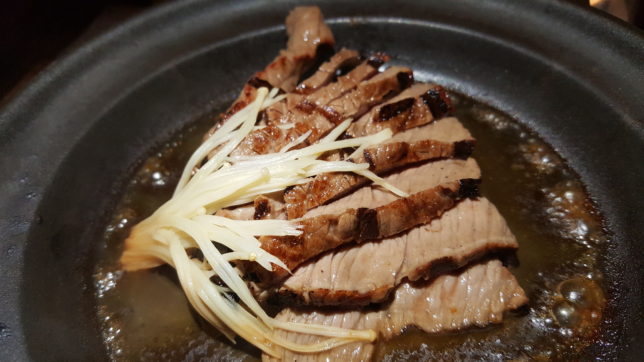 While my dining companion tasted the salmon fillet served teriyaki style…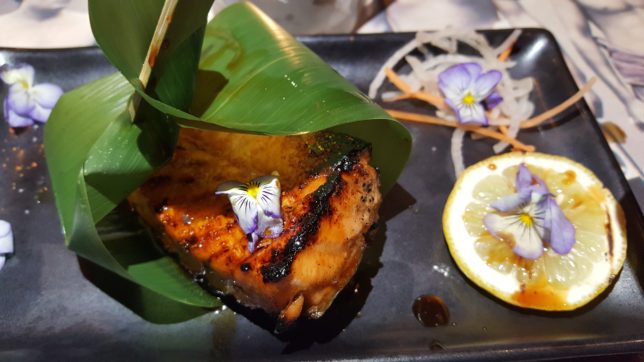 Not normally a fan of desserts in Japanese restaurants as I like to end with the taste of my savoury course, I was pleasantly surprised with this sweet treat of fruit flavoured mochi…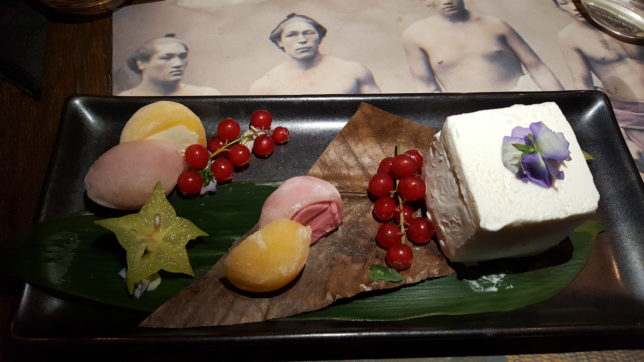 The pictures speak for themselves and the food tastes as delicious as it looks. We highly recommend popping down to Ukai be it for a date, a catch up with friends or just to delight your taste buds with flavours from the far east without the price of plane fare!
Ukai
240 Portobello Road, London W11 1LL
020 7792 2444
www.ukai.co.uk