Fish oils have long been recognised as a valuable everyday supplement, brimming with multiple health benefits. However, the quality of your chosen supplement may offer little improvement to your health as the natural properties of the all-important omega oil component can be lost during production in a quest to keep the price low.
A new, independent study published in January 2015 named UnoCardio 1000 from WHC as the "must-have" fish oil to incorporate into your daily health routine. Omega-3 supplements have been proven to make a positive difference to heart and brain health, as well as improving the skeletal system and general wellbeing. When tested against 50 other fish oil supplements, UnoCardio 1000 was found to be of the highest quality, and was the only product tested to be awarded a top 'A' grade rating.
All the fish oil supplements included in the study were analysed to assess their total Omega 3 content and quantities of EPA and DHA; the fatty acids which contribute to optimal heart function, blood pressure, normal brain function, joint health, immunity and quality of vision. Levels of toxins including mercury were also measured, as well as the freshness and purity of the supplement. All of these components together are known to contribute either positively or negatively to the efficacy of the supplement and the quality of its performance.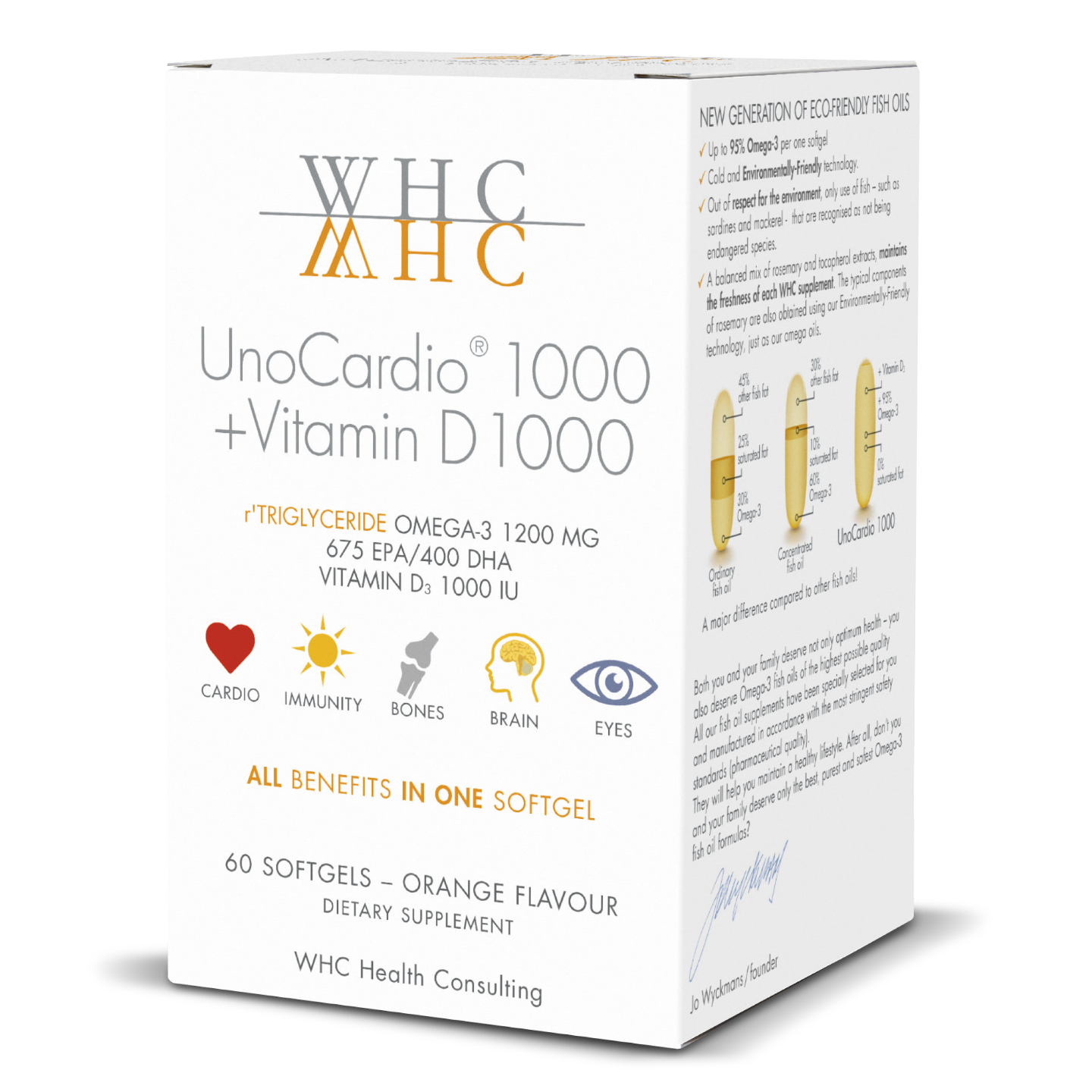 The levels of vital components can be distorted by other chemicals that may have been added to some fish oil supplements on the market, creating consumer confusion and little awareness of how damaging this can be to our health. Whilst inadequate levels of EPA and DHA mean that we take little benefit from these important fatty acids, higher levels of toxins such as mercury and ingredients added to extend the shelf life of cheaper products further negate the positive effects of Omega 3 oil, as well as being potentially harmful to our health.
Taking the top spot as the highest quality fish oil supplement available, UnoCardio 1000 offers the highest concentration of EPA and DHA to support heart and brain health. The Omega 3 oils in UnoCardio 1000 are also in the most bioavailable rTG form for maximum utilisation by the body. For additional health benefits, vitamin D3 has also been added to the high purity fish oil to alleviate deficiencies in the body, help maintain a healthy bone structure and ensure correct functioning of the immune system.
Unlike other supplements tested in the study some of which were found to be oxidised and unstable, UnoCardio 1000 rated highly in purity levels. The majority of competitors were shown to have higher levels of mercury and some used 'filler' ingredients which are often pro-inflammatory, reducing the anti-inflammatory effects of EPA and DHA. UnoCardio 1000 also uses natural preservatives such as Vitamin E and rosemary to keep the fish oil fresh and active, whilst being much safer for consumption.
Produced to environmentally-friendly standards, UnoCardio 1000 is manufactured from sustainable fish species including anchovies, sardines, mackerel and herring and purified using a cold and eco-friendly production process.
So, don't devalue your health. Opt for Uno Cardio 1000, the highest quality fish oil supplement on the market to ensure you achieve optimum health and wellbeing.
The range include
If you do not eat sufficient quantities of oily fish then a great way to supplement your diet is to add at least 2 UniCardio® softgels to your diet per week. This high potency dietary supplement gives you exceptionally high levels of EPA/ DHA to support heart and brain health. The additional Vitamin D3 is added to help to alleviate deficiencies in our bodies and help to maintain a healthy bone structure and correct functioning of the immune system.
This is a premier quality formulation for both men and women over 35. The single pack gives you high levels of fish oils (EPA and DHA), Vitamin K2, Vitamin D3 and Coenzyme Q10 as Ubiquinol. All are in meaningful quantities giving support to your cardio-vascular, neurological, immune and skeletal systems. Taking QuattroCardio® is a great convenient way to fortify your diet every day.
This fish oil complex, which is a natural source of Omega 3 fatty acids, has no fishy taste or smell. QuattrO4™ is the ideal Omega 3 food supplement for small children, who don't like to swallow capsules. In addition to the fish oils it has GLa from Evening Primrose Oil. Vitamin D3 and phospholipids. An excellent choice to support your child's health and maturation.
B – Hada is a very concentrated blend of borage oil and fish oil giving you a dietary supplement that has got the benefits of both GLA and EPA/ DHA from the fish oils. The GLA content is much higher than most other borage oil products, meaning that you can take a lesser number of capsules to get the same benefit. This is a particularly good supplement for women's diets.