Here's a few of our favourite things for the one you love, be they man, woman or four-legged friend. For more Valentine's Day gift ideas including food & drink suggestions, click here to check out the February digital edition of SLOAN!
Valentine's Gifts For The Woman You Love
Fantasie Lingerie
Forward-looking yet timeless, this Charlotte bra and briefs set by Fantasie has a subtle ivory base beautifully complemented by an elegant leafy floral print. Your lady will look and feel lovely in it on Valentine's Day.
Charlie Austin, Head of Fantasie Design, told us: "For SS18 some of Fantasie's collections were inspired by modern purity – a graphic and geometric trend featuring clean, structured and refined silhouettes. Soft muted colours and pastel shades have been blended with brighter accents of colour. We wanted the pieces to look completely effortless." The Charlotte Side Support Bra (30D- 38J) is £35 and the High Waist Brief (XS-XXL) is £27. Fantasie is available in hundreds of stores nationwide. To find your nearest store, go to www.fantasie.com
Pierre Hermé Paris
For Valentine's Day 2018, Pierre Hermé Paris presents the Love Unfolding collection – surprise your loved one with a delicate red heart that unfolds to reveal a selection of macarons or chocolates. This is the perfect occasion to rediscover one of the most iconic flavour combinations of the Maison Pierre Hermé Paris perfectly suited to Valentine's.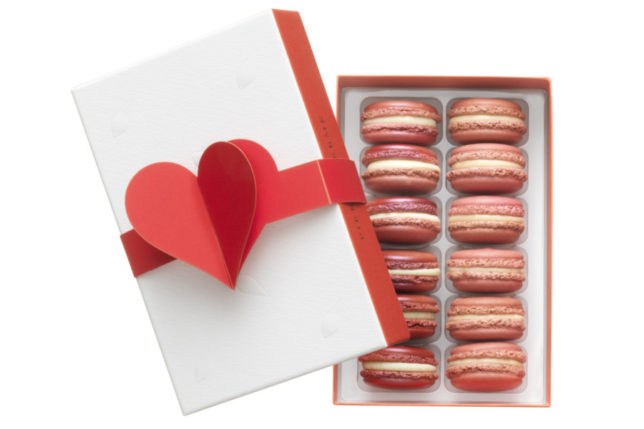 Ispahan macarons are flavoured with rose, raspberry and litchi. These truly romantic macaron treats are dressed up in a limited edition gift box delicately clad with heart shaped motifs. The perfect instance of love unfolding. Gift boxes start from £16.50 and are available in all 3 London boutiques from 22nd January to 14th February. For more information, please visit http://www.pierreherme.com
Touch London
The Burlington scarf by luxury fashion accessories brand Touch London is suitable for all complexions, packs well, and is an essential for travelling. The Burlington scarf uses fine metallic silver threads woven into the middle stormy grey layer, surrounded by sky blue and midnight black layers.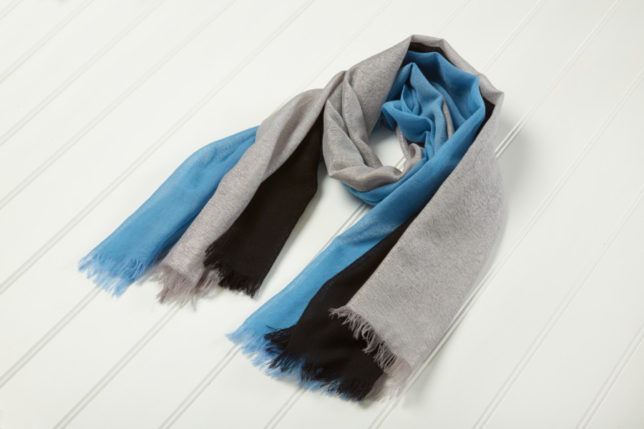 Your loved one can wear this highly versatile three colourway scarf displaying one of the three colour combinations, or all three together. This gives her a creative way to enhance any outfit with one look, therefore making it the perfect gift this Valentine's Day. £69 from www.touch-london.com
Havaianas
Taking your lady away to warmer climes this Valentine's Day? Havaianas – Brazil's original and authentic flip-flops – brings the Tropical trend to your feet thanks to their Slim Tropical which comes in three different colours. The flip-flops show a sophisticated and exotic print portraying the "tropical green" Brazilian moods of the native fauna and flora, with a glamorous metallic logo. We love the yellow model.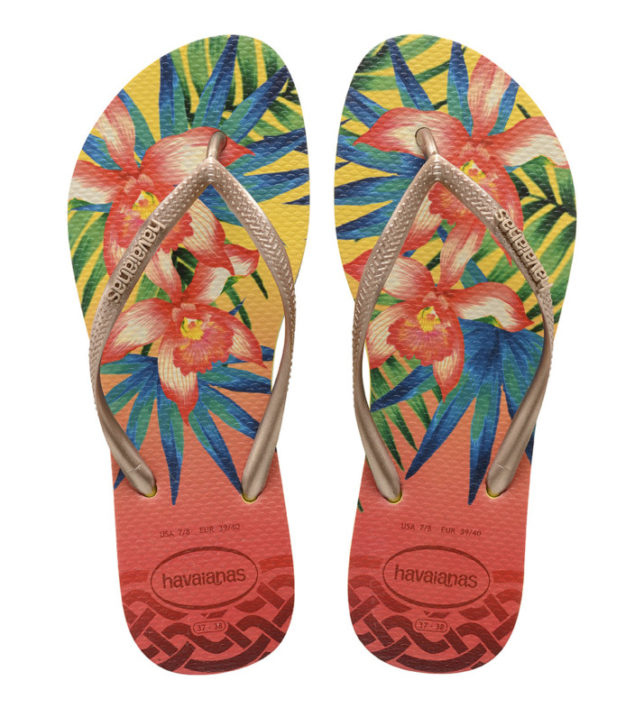 Made in Brazil, the Slim Tropical flip-flops have a high quality rubber sole and are not just comfortable and durable but also lightweight, heat-resistant, non-slip and water-resistant – making them the perfect choice for winter sun holidays. £14 from www.havaianas.com
For more gift ideas for the lovely lady in your life, click here to check out the new edition of SLOAN! out now.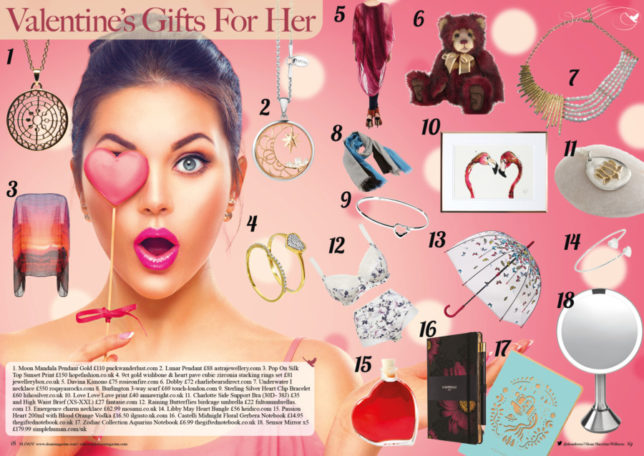 Valentine's Day Gifts for The Man You Love
Joseph Turner
Boxer shorts may seem a boring gift but when you give him the quintessentially classic boxers from Joseph Turner, he will know just by slipping on the soft cotton fabric just how soft you are on him! With no irritating side seams or scratchy labels these men's cotton boxer shorts are made from the same quality fabric as Joesph Turner's men's formal shirts for 100% cotton comfort.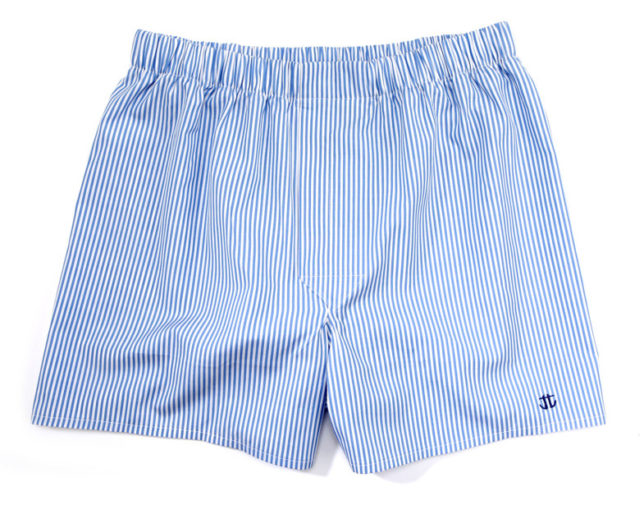 Joesph Turner boxer shorts are available in a range of designs including this Blue Bengal Stripe £32.00 from www.josephturner.co.uk
Dunhill
Dunhill Icon opens with the ultimate blend of rare and expensive ingredients. Sleek top notes of Italian bergamot and neroli absolute intertwine with a racy black pepper, fusing the mid notes of cardamond lavender de Provence to add a unique twist of masculinity and originality. It's the perfect iconic gift for your Valentine.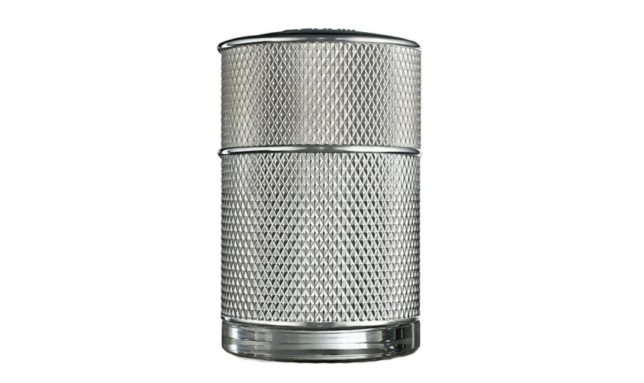 Dunhill Icon is £55 available from www.pritchards.co.uk
olloclip
The olloclip Active Lens Set is the perfect gift for any gadget loving man with an adventurous side. Their premium multi-element Telephoto 2x and Ultra-wide lenses are designed to make it easier to shoot farther and wider than possible with iPhone's built-in camera alone. He can take it with him when on the move to capture those special moments of the two of you.
The olloclip Active Lens Set is £119.99 availabel from www.olloclip.com and www.apple.com/uk
Paxton & Whitfield
If your man loves cheese almost as much as he loves you then Paxton & Whitfield have the perfect gift for him! The Cheese Board for Two is a romantic gift that's not too cheesy (!) containing a heart shaped beech wood cheeseboard, Brie de Meaux PDO* (250g), Finest English Stilton PDO* (250g) and a packet of Multiseed & Cracked Black Pepper Cracker Bakes (100g).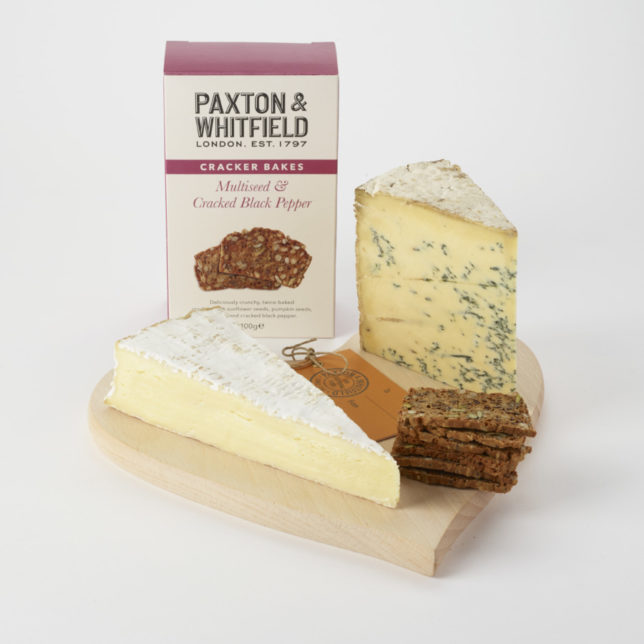 Paxton & Whitfield, the UK's oldest cheesemonger, has a great range of other cheese gifts to help cheese lovers celebrate Valentine's Day this year including a delicious heart-shaped Coeur de Neufchâtel or a a luxuriously enhanced version of this cheese, a Coeur de Neufchâtel aux Truffes.  They are all available from Paxton & Whitfield's four shops in Jermyn Street, Piccadilly; Cale Street, Chelsea Green; Bath; and Stratford upon Avon, as well as online at www.paxtonandwhitfield.co.uk
For more gift ideas for the man you love, click here to check out the new edition of SLOAN! out now.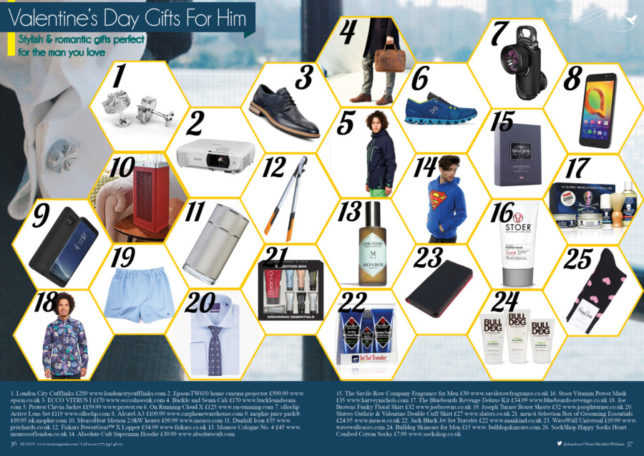 Valentine's Day Gifts for The Pampered Pooch
Nineteen 87
A favourite in the SLOAN! household since the brand first launched in 2017, Nineteen 87 Welsh Chicken with turmeric and sweet potato dry dog food provides Puppy Gizmo with a highly nutritious succulent source of protein and flavour. We're sure your pampered pooch will love it too! Puppy Gizmo's girlfriend loves Nineteen 87's Scottish Salmon variety… doesn't she look pretty in pink!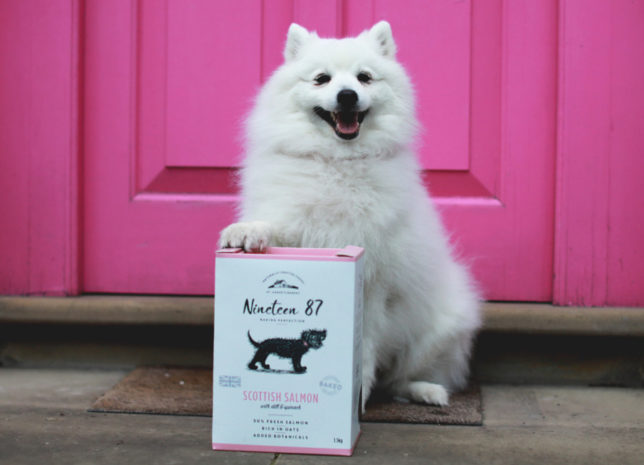 The Taster Pack is the perfect treat for Valentine's Day as it contains a 750g pack of this flavoured food along with delicious baked duck bites with raspberry and rosemary and Nineteen 87's goat bars with banana and sweet potato. Nineteen 87 Taster Pack is now half price until end of the summer. All Nineteen 87 products are available from www.nineteen87.co.uk and www.petshop.co.uk
Barbour
Channelling the signature Barbour look to match his loved up mummy and daddy on Valentine's Day, this rugged wax dog coat features a Berber fleece lining and cord collar, which will keep any dog warm and cosy on chilly walks. The covered chest area provides extra weather protection, while the Velcro strap makes for easy fastening.
The coat also features an embossed leather Barbour logo  and is available in various sizes starting from XS which is perfect for small toy breeds. £46.95  available from Millbry Hill and online at www.millbryhill.co.uk
Petsafe 
What dog doesn't like chasing after a ball? Give him the ultimate doggy gift with the Petsafe Automatic Ball Launcher. This fun toy is suitable for all breeds and keeps dogs entertained while encouraging mental and physical activity. The innovative launcher has nine distance settings up to nine metres and six ball angle settings up to 45 degrees, plus it has a built-in delay after ball placement, helping instil valuable waiting skills. As it is battery or mains operated the launcher can be used inside or outside, come rain or shine.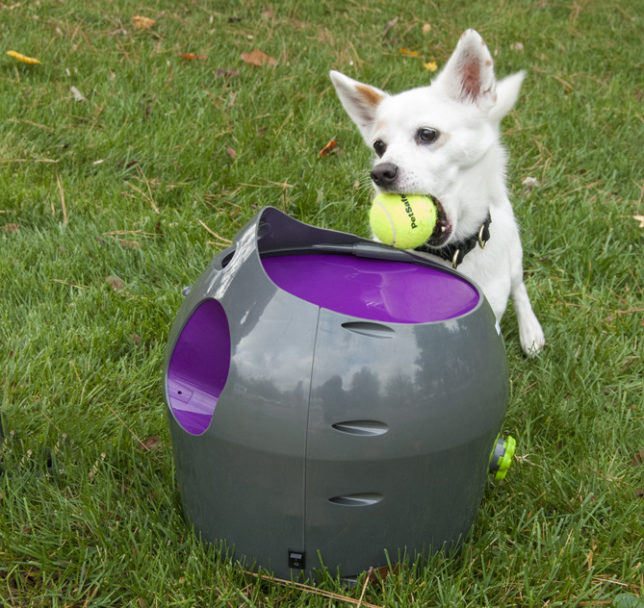 PetSafe Automatic Ball Launcher is £129.99 available from www.petsafe.com/uk or other pet retailers including Pets at Home and Amazon.co.uk
Meaco
Don't let your chihuahua get chilly this Valentine's Day by keeping him (and yourself) warm with the MeacoHeat Motion. A thermal cut out and tilt safety switch ensure that if they are accidentally knocked over that they switch off. Safety-conscious, economical and stylish, MeacoHeat Motion heaters are perfect for filling in with some extra heat where it's needed, or warming up a cold space fast.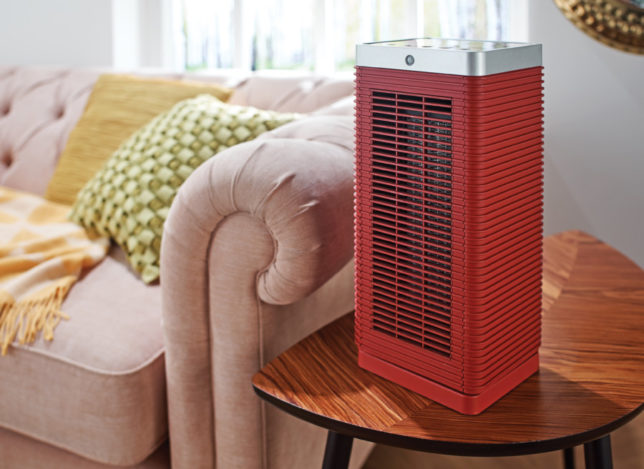 The MeacoHeat Motion 1.8kW Heater is £79.99 and the MeacoHeat Motion 2.0kW Heater is £99.99. Both available from www.meaco.com
For more gift ideas for your furry four-legged friend, click here to check out the new edition of SLOAN! out now.