Your feet contain 52 bones, 66 joints, 40 muscles, and hundreds of sensory receptors, tendons, and ligaments—collectively forming two of the body's most beautifully efficient mechanisms. Yet most people assume that there is something inherently "wrong" with their feet: too wide, too narrow, arches too high or flat, etc. Traditional shoes have become a way of "fixing" these assumed abnormalities. And, as a result, the powerful architecture of our feet has become hidden, disliked, and incredibly sensitive – even weakened. Feet have taken the brunt of a cultural notion that your foot is "wrong;" that corrective shoes will make it "right."
Vibram launched FiveFingers® in 2006.  The company states it believes that moving and running in their revolutionary FiveFingers® footwear can make you healthier, happier, and more connected to your body. According to Vibram, wearing FiveFingers® for running, fitness training, water sports or just for fun can make your feet stronger and healthier – naturally.
Widely recognized and revered for encouraging consumers to explore the joys of natural movement outdoors, Vibram FiveFingers® , the unique glove-styled footwear is a true "second skin" which revolutionized the concept of walking "barefoot".
On our recent sailing experience with BMW Sail Racing Academy, one of the SLOAN! crew wore the Vibram FiveFingers® Signa.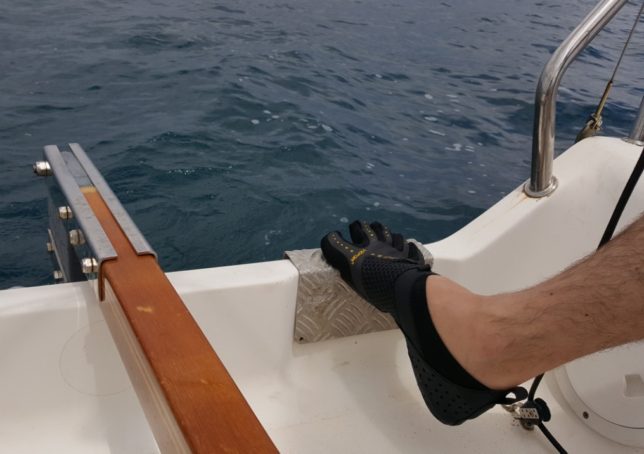 The signature FiveFingers® water sport shoe, the Signa is ultra-thin, flexible and lightweight. An ideal shoe for rowers, surfers, kayakers and SUP fanatics, the Signa provides grip and comfort out on the water and packs easily into a dry bag at the end of the day.
Vibram FiveFingers® has developed quite a celebrity following including Prince Henry, Shailene Woodley, Kristen Stuart, Tom Cruise, Scarlett Johansson, Matthew McConaughey, Kate Hudson, Danny Glover, Josh Duhamel and Thomas Jane. The footwear has also been featured on episodes of CSI, Up All Night, 30 Rock, Alphas and was worn by Katie Perry's dancers on an American Idol appearance.
Vibram FiveFingers® Signa are available from www.primallifestyle.com priced at £74