Now that the days are getting longer, and the sun is shining, we asked our friends at Vintage Roots – the UK's leading organic wine wholesaler and mail order company – to select a couple of their favourite organic rosé wines which they recommend we will enjoy drinking this summer. Whether it is a sparking refresher for a special occasion or a fruity rosé after a long day at work, you wont be disappointed with their choice!
Wild Thing Rosé
Take a step on the wild side this summer and try this organic Spanish rosé. Transport yourself to sunny Spain and match this luscious dry wine with some tapas, perhaps with some fresh seafood to balance those refreshing, red fruit flavours.

Not only is the range 100% organic but also a donation from every bottle sold is made to wildlife charity, The Born Free Foundation. Vintage Roots specifically developed the Wild Thing wine range for Born Free. The name "Wild Thing" and the wine label with its claw marks were specially chosen to reflect how the wine is not only there to be enjoyed, but also to raise funds for wildlife.
Virginia McKenna OBE, Founder of Born Free, said, "The name Wild Thing so perfectly reflects the wines organic origins and the company's concern for the environment and wildlife. We are thrilled that Wild Thing is to be sold in aid of Born Free to directly benefit conservation and animal welfare. I believe it fully deserves to be one of the most sought after and popular new organic wines of the year."

RRP £7.99
Meinklang Pinot Noir Frizzante Prosa
Refresh your palate with this delightfully, organic, light bubbly. We love how the unusual looking bottle with its unique cork gives personality to any occasion. The delicious combination of red cherry and cranberry fruit makes this wine a great thirst-quencher, perfect for those warmer days.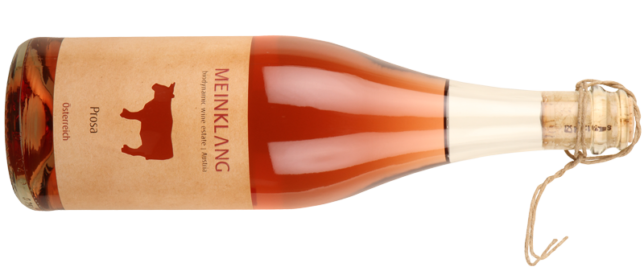 Match this light rose with a goats cheese and walnut salad, or perhaps a schnitzel to match its Austrian heritage. What makes Austrian Pinot Noir one of the best in the World? Vineyards planted close to the lakes have high atmospheric humidity combined with warm air, the ideal conditions for Austria world-famous sweet wines.
RRP £11.99
Both are available from www.vintageroots.co.uk