Equally at home in über modern apartments and country cottages, the Kobold VR200 Robot Vacuum Cleaner from Vorwerk uses 360-degree laser navigation to scan the room 1,800 times per second, create a precise map and memorise it.
The Kobold VR200 precisely detects its environment: the unique laser scanner with ultrasound technology detects 98% of all obstacles, even reflective or glass surfaces in the home. The robot vacuum cleaner stores the location of every individual obstacle. Whether it manoeuvres around the obstacle or climbs over it depends on its height. The robot can climb up to 2 cm thanks to its climb assist. Its all-wheel-drive gives it the right stability.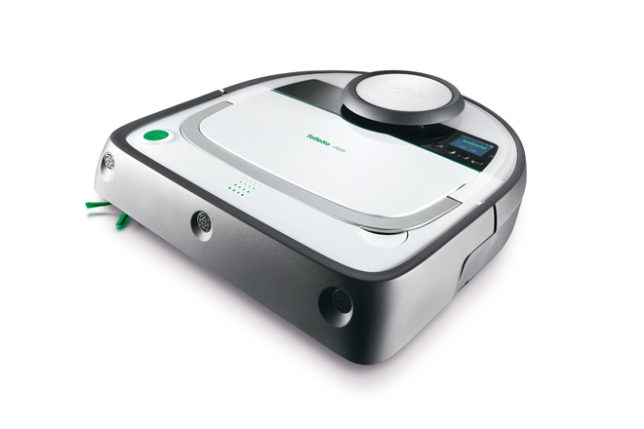 The Kobold VR200 has more than 12 built in sensors allowing it to move easily around every obstacle. Ultrasonic sensors pick up clear or reflective obstacles, a wall sensor allows for close proximity cleaning to walls and edges, contact sensors help to avoid collisions and optical floor sensors detect stairs and drops so it can easily travel around them by calculating an alternative route thus avoiding potential falls.
The sensors allow the VR200 to travel precisely along skirting boards, walls and edges. Its unique D-shape means it can easily reach all corners and thanks to a height of just 9cm, the VR200 is able to get right underneath your furniture, meaning no dirt is missed.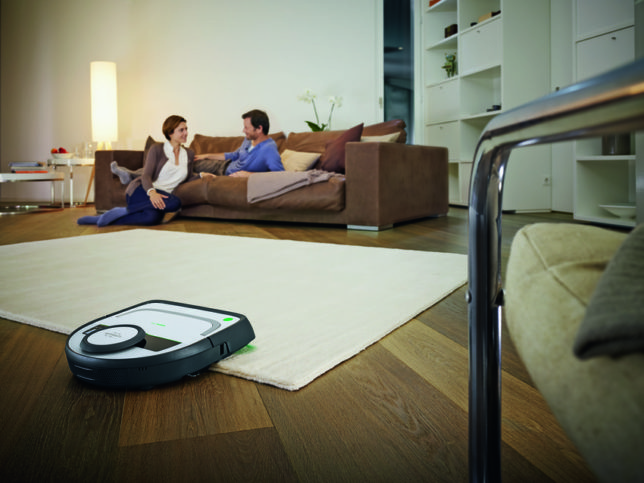 The VR200 uses innovative, circular brushes that rotate 30 times per second to remove dirt particles, ensuring optimum cleaning on all floors, along edges and in corners. When the dust container is full, you can simply use your full-size vacuum cleaner to empty out the dust via the suction port.
The Kobold VR200 vacuums every room lane by lane, thanks to its unique room navigation. If its battery needs to be charged, it independently navigates back to the base station. It then continues vacuuming from the point where stopped.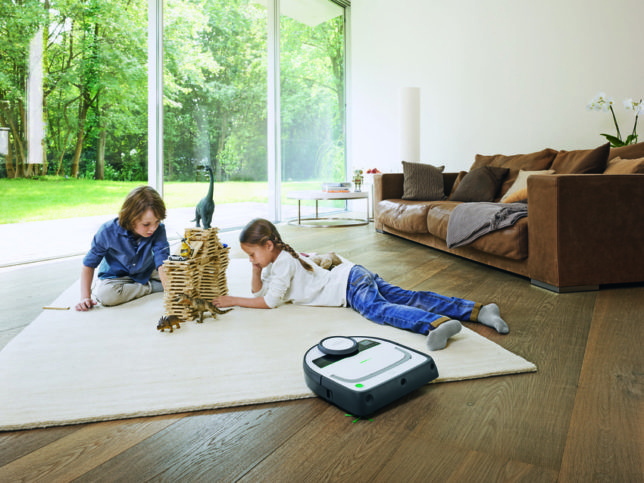 Besides room cleaning, you can also use the VR200 to vacuum in specific areas as it spot cleans reliably and thoroughly vacuums an area of about 1.5 x 1.2 m – based on the same principle as room cleaning. The powerful suction ensures a deep and thorough clean on every surface from parquet and tiles to carpets and rugs. Its effective suction power is up to three times more effective than comparable products.
The schedule function lets you easily define start and finish times for your Kobold VR200 so that it can vacuum when you are not home. It can even be individually pre-programmed for every day of the week. Although it is relatively quiet emitting a maximum of 67dBA, there is also an Eco-Option which allows the Kobold VR200 to vacuum even more quietly and it achieves an even longer operating time of up to 90 minutes with one battery charge which means it can clean up to 120sqm on a single charge.
The Kobold VR200 Robot Vacuum Cleaner is priced at £749 and is available exclusively from kobold.vorwerk.co.uk