Following a mini refurbishment at the end of January, VQ Chelsea has now reopened its doors to a revamped interior boasting warm wood paneling and comfortable leather banquettes and booths in addition to an updated menu. Joe Mercer Nairne (Head Chef and Co-owner at Medlar) has come on board to act as a Consultant Chef at VQ resulting in an updated menu using fresh, seasonal ingredients. One of West London's most iconic venues, VQ Chelsea has been feeding and watering customers around the clock for 20 years. If you're not one of the thousands who already call themselves regulars, you might be interested to know that VQ stands for vingt-quatre (French for 24) underlining the fact this place is open 24 hours a day.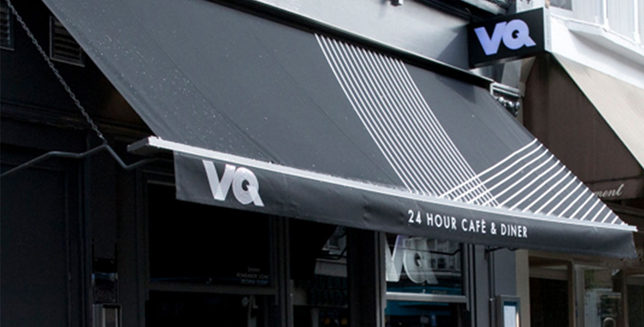 Busby Webb, the team behind recently reviewed Samarkand's stunning interiors, have created yet another vibrant space at VQ Chelsea staying true to the clean lines and angled look of VQ style with the addition of a feature light wall helping to enhance the ambience of the space placing an emphasis on the movement of light and changing colour spectrum throughout the day.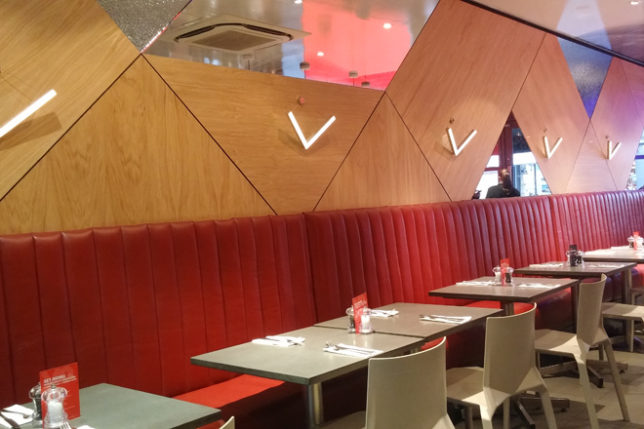 VQ Chelsea is one of the few places you can enjoy an exceptionally high quality all-day breakfast. No greasy fry ups here! With everything from Buttermilk Pankcakes to Eggs Benedict, it's easy to see why the VQ all-day breakfast is legendary. Looking for a fresh and fruity start to my VQ dining experience, I ordered the Tropical Kick Smoothie which is a juicy blend of pineapple, mango and passion fruit served in a quirky glass jar.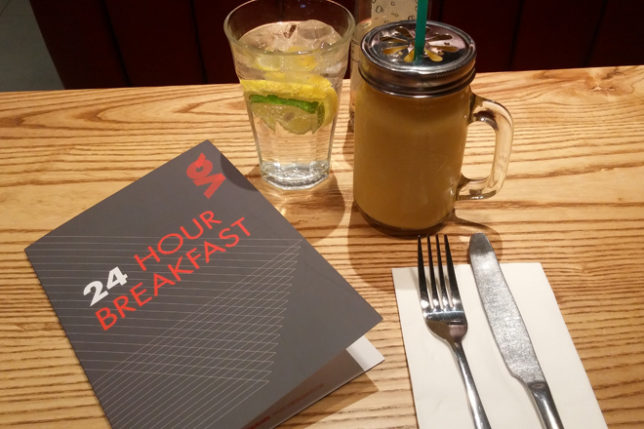 If you're not tempted by the all-day breakfast options, the standard all-day menu now boasts enticing dishes such as Halloumi Fries with Tzatziki; Burrata with Piquillo Peppers, Caponata, Rocket, Toasted Hazelnuts & Balsamic and Devon Crab Salad with Baby Artichokes & Endive. I tried the new starter of Parma Ham with Celeriac & Mustard Slaw.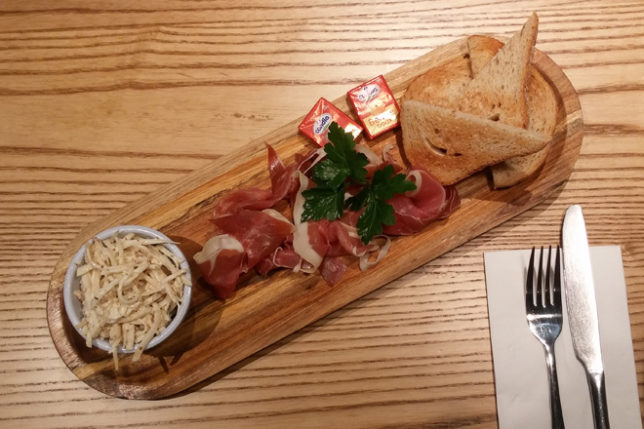 This dish contrasted the soft chewy texture of the Parma Ham with satisfying crunchiness from the shredded celeraic and the balanced flavours of rich charcuterie with piquant wholegrain mustard in the slaw ensured this starter didn't succumb to the cloying sensation one often gets when eating a plate of prosciutto.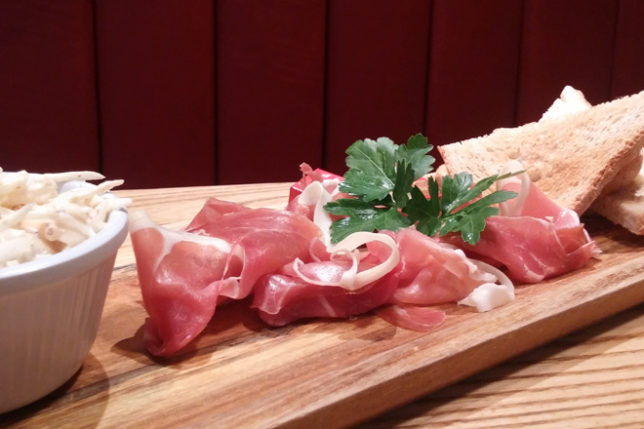 VQ still prides itself on serving classic comfort food in a relaxed, friendly and professional environment. Diners can choose from an irresistible selection of burgers, salads, pasta and old favourites such as the Fish & Chips and signature Club Sandwich. Although the new Tuna Tagliata looked very appealing, I was in a meat mood, so I stuck with the classics and ordered the 8oz Rib-eye Steak with green salad instead of chunky chips.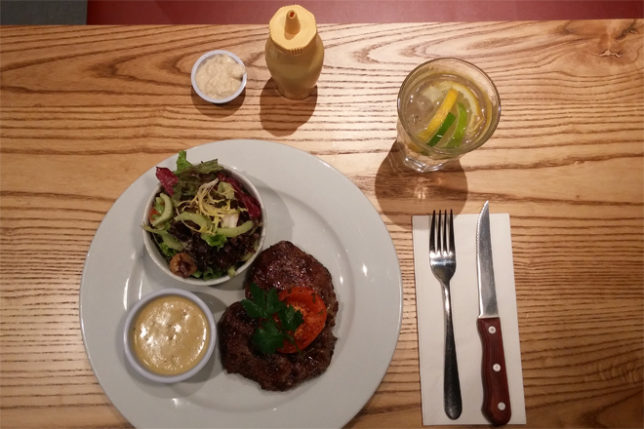 Joining the rib-eye steak was a creamy green peppercorn sauce and a perfectly grilled tomato. Always on the look-out for added heat with my meat, I also asked for some English mustard and horseradish sauce on the side. Just look at this beautifully tender steak in all its juicy glory… I dare you not to salivate!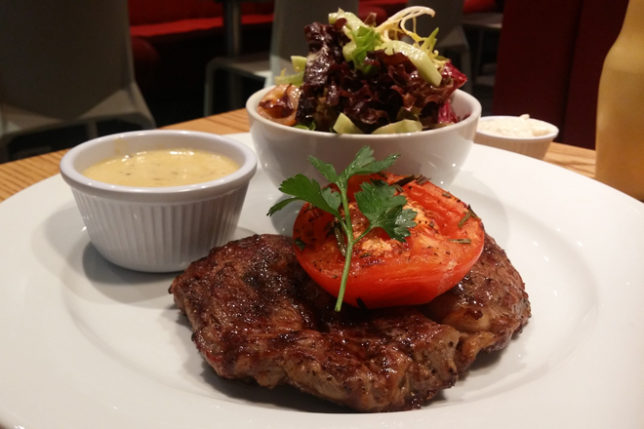 New dishes on the dessert menu include a delicious sounding Buttermilk & Vanilla Panna Cotta. To finish I indulged in one of their most popular desserts, the Sticky Toffee Pudding with toffee sauce (and vanilla ice cream which I declined). For those of you who have suffered heavy stodgy versions of this dessert in lesser establishments, I highly recommend VQ's sticky toffee pudding which is surprisingly light in texture but still packed with rich toffee flavour. All the taste with none of the heaviness which made for a perfect end to a perfect meal.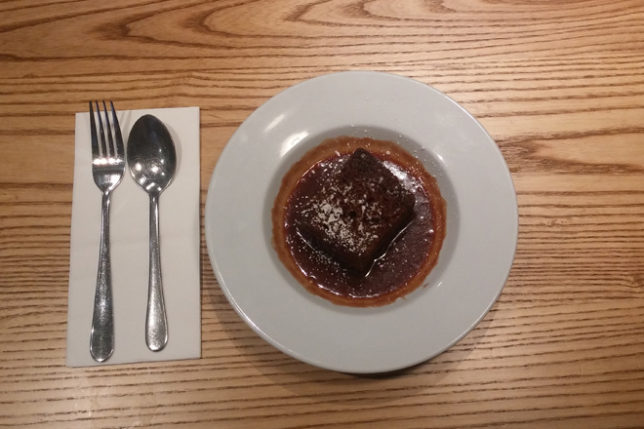 VQ Chelsea is a Fulham Road institution serving 10,000 customers every month and it's not hard to see why based on the high quality food and friendly staff. The new contemporary and functional design ensures diners feel at home from the moment they enter the restaurant and the eclectic affordable menu satisfies all tastes throughout the day. Following like-for-like sales growth, the core focus of VQ Restaurants is now on the expansion of the 24 hour dining concept to becoming a leading brand across the wider restaurant scene.
VQ Chelsea
325 Fulham Road, London, SW10 9QL
020 7376 7224
www.vqrestaurants.com
@VQRESTAURANTS