Spring has been brought to life with a bold and interactive floral masterpiece to welcome the arrival of a new refreshing cocktail menu at W London – Leicester Square's hotel bar and lounge, The Perception at W London. The first floral display one encounters covers the larger than life W sign at the hotel's entrance with a mixture of red, orange and blue British summer flowers and foliage and a hint of punchy East African flora and fauna.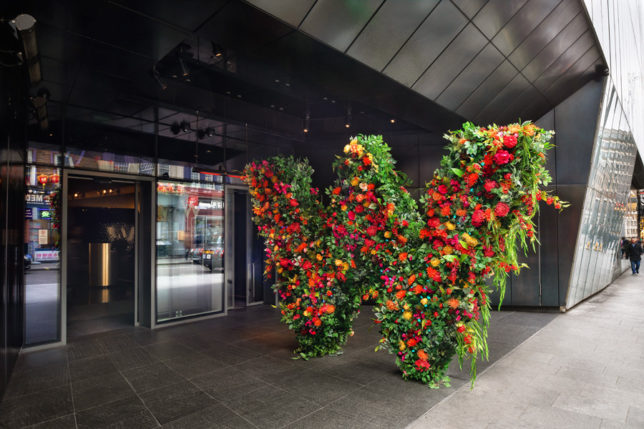 The new cocktail menu will serve vibrant and visual combinations designed to surprise and delight even the most experienced cocktail lover. Inspired by Ravinder Bhogal's hit vegan menu, guests looking for an entirely vegan night out, can look no further than Puss in Boots.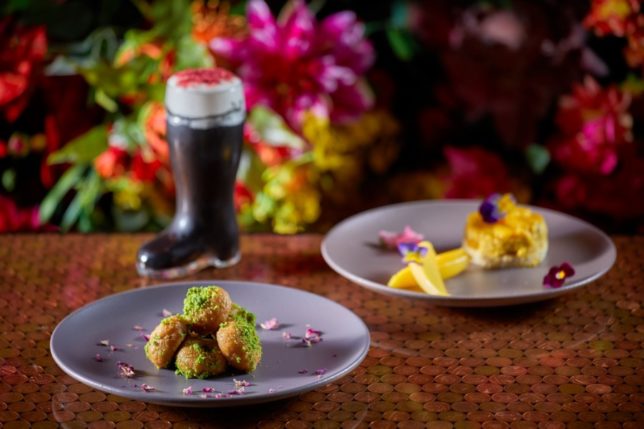 Created to be paired with Ravinder's signature Cauliflower Popcorn, Puss in Boots contains Bacardi 8, Crème de Mure, activated charcoal, blueberry, pineapple, ginger and pomegranate foam. True to its name, this quirky cocktail is served in a boot shaped glass for added effect!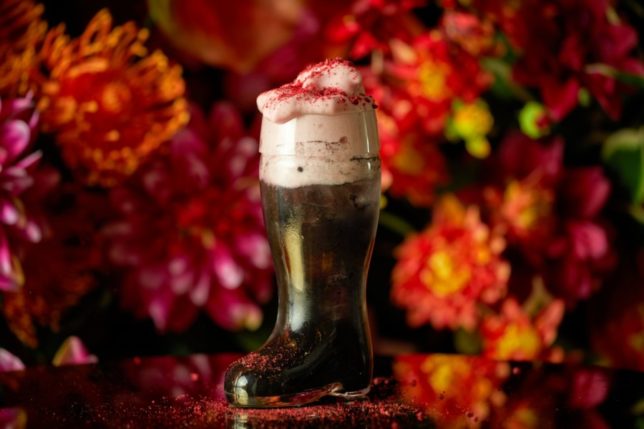 For those feeling patriotic this season and in need of the perfect tipple after the Royal Wedding celebrations, enter the Prince Harry aptly containing Jagermeister, ginger paste, lime and ginger beer. For the spring/summer purists, Purple Rain with Bombay Sapphire, lychee and violette liqueur, violette pearls, elderflower, cranberry and lemon will entertain and slot seamlessly into the most curated social media feeds.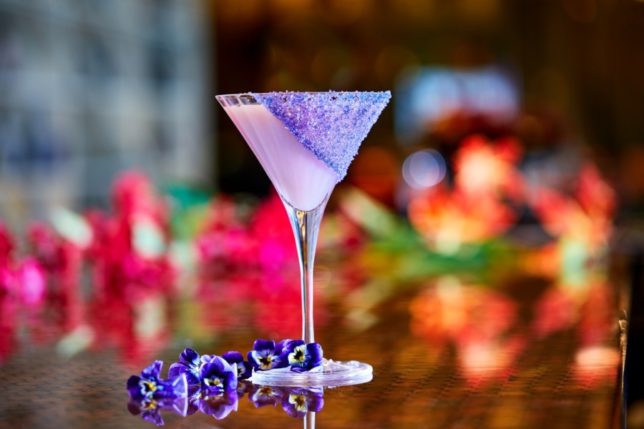 With the floral installations inspired by Ravinder Bhogal's East-African Indian heritage, the Living Wall located in the W Lounge is home to a pick-your-own herb and spice garden with potted coriander, tamarind, basil, chilli and rosemary ready for guests to pick a herb to stir, finish, garnish and enhance the innovative cocktail creations.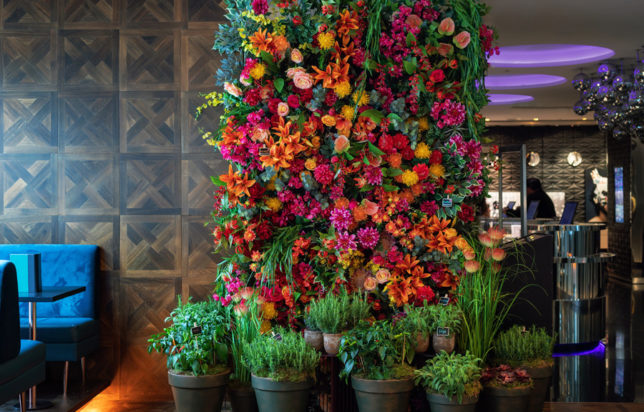 The sophisticated cocktail counter at the heart of action is where guests can mix, mingle and sip whilst under a canopy of luscious foliage creating an oasis of greenery in the epicentre of London's bustling Soho district.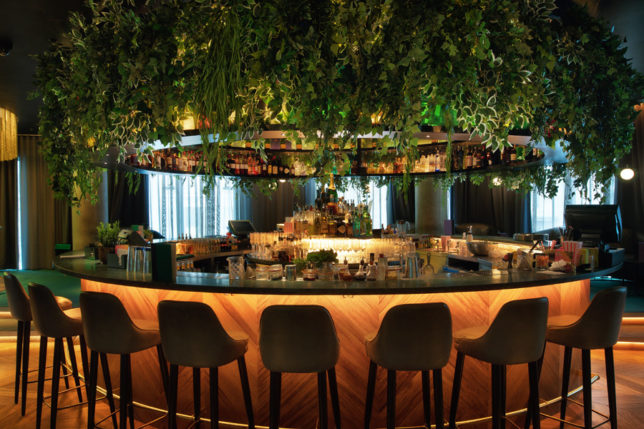 Benjamin Cowtan, Beverage & Food Director at W London – Leicester Square said: "We are incredibly excited to have transformed The Perception at W London into the perfect springtime spot to launch our new killer cocktail menu. Our talented team of bartenders have proved that yet again, there are no limits to cocktail creation ensuring that The Perception continues to lead the way in the capital's cocktail culture."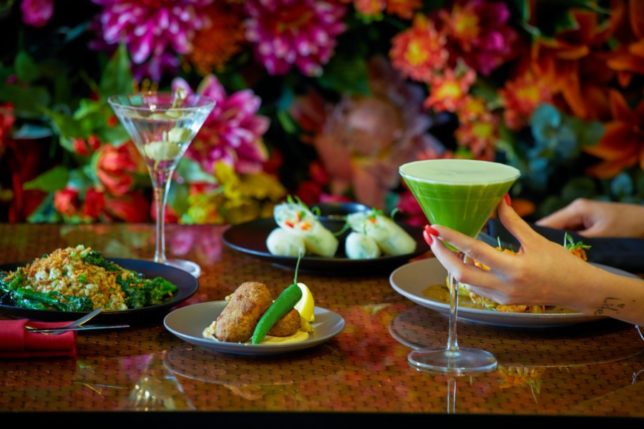 We entered into the hotel's colourful floral world from Wardour Street entrance and passed the innovative living wall with its pick-your-own herb and spice garden ready for cocktail aficionados to finish and garnish their drinks of choice.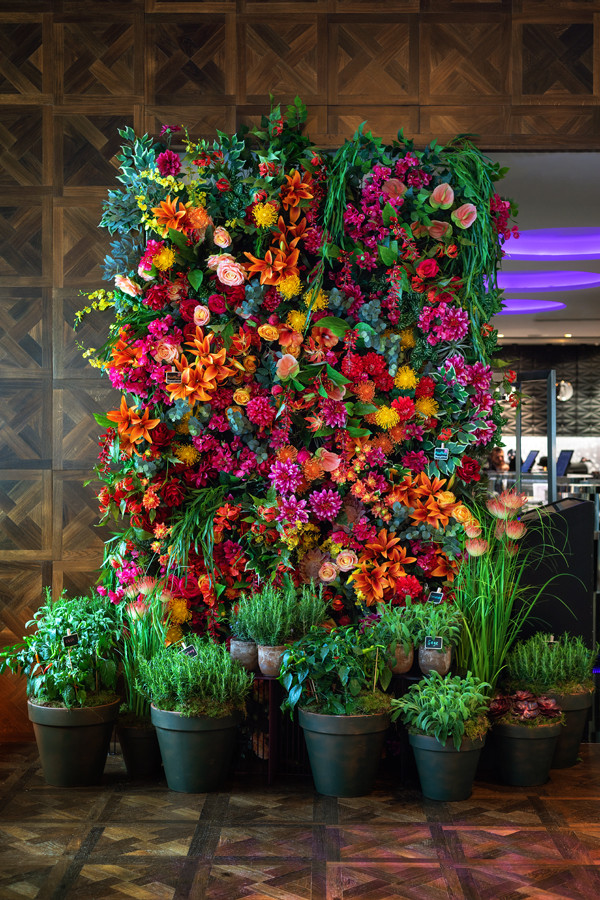 We settled in and prepared ourselves for an extraordinary evening of killer cocktails – we have to agree with The Perception's funky neon sign that normal most certainly gets you nowhere!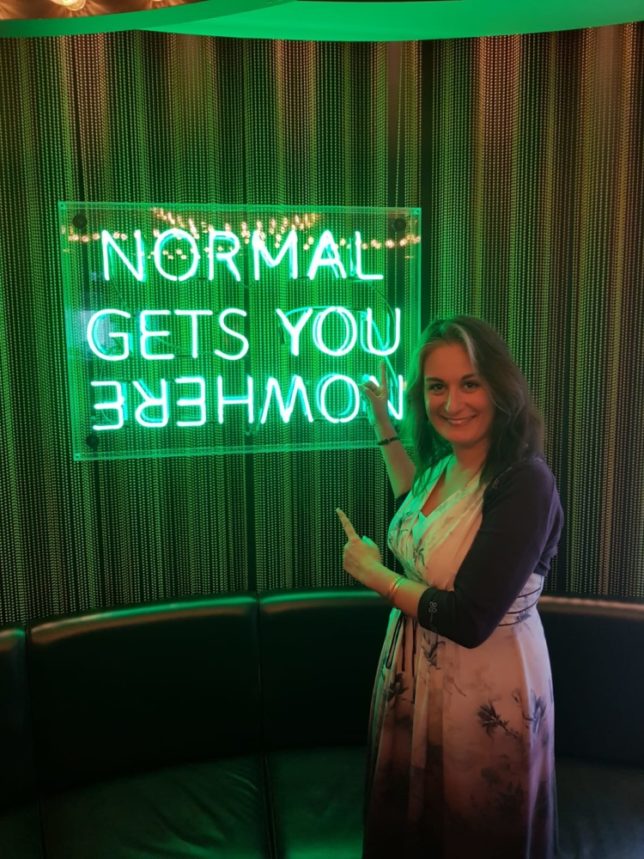 Attracting bold Londoners and discerning, international travellers alike, The Perception at W London ignites the neighbourhood with electric energy, transforming from a laid-back hangout by day to a place to be seen at by night.
We began our evening with Enjoy The Show – Popcorn infused Woodford Reserve Whisky is mixed with Brown Sugar, Chocolate Bitters & Homemade Coca Cola Foam to create an interesting combination of flavours bringing the idea of movie night to another level. This American inspired cocktail is certainly a new take on cinema staples of popcorn and coke.
We also tried the Eagle Eyed Sherry made with Star of Bombay Gin, Tio Pepe, Sake, St Germain, Yuzu, Apple, Chamomile Honey. The drink comes on its own bed of ice to stay chilled and is a must for yuzu lovers. It was the perfect way to relax and enjoy the open fire.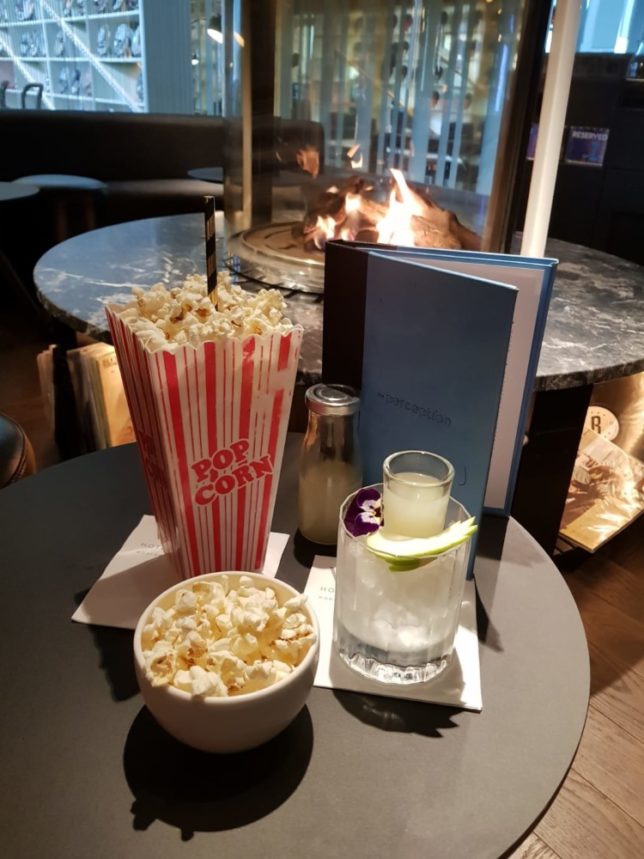 Overlooking the hustle and bustle of the streets of Soho from the first floor of W London – Leicester Square, we continued our evening at The Perception with a tasty tapas selection to enjoy alongside the drinks. For our choice of three dishes we chose Scallops with pea puree and crispy nori; Secreto Iberico and the Octopus Lollipops. This was the perfect accompaniment to our killer cocktails.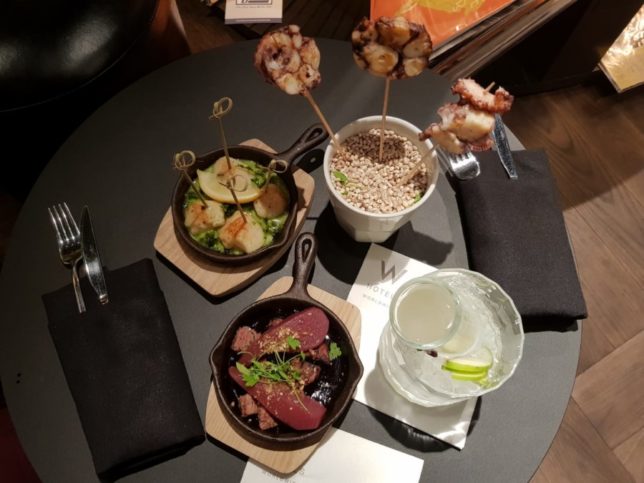 The scallops were generous in size and paired well with the pea puree while the Secreto Iberico pork was soft, tender and full of flavour. However the winner for us were the Octopus lollipops. A big enough portion to share, the tender octopus is so moreish that you'd be tempted to order a second serving as the mouthwatering flavours keep you coming back for more. It's guilt-free too as octopus is one of the healthiest proteins with next to no cholesterol. All that yummy taste without ruining the waistline!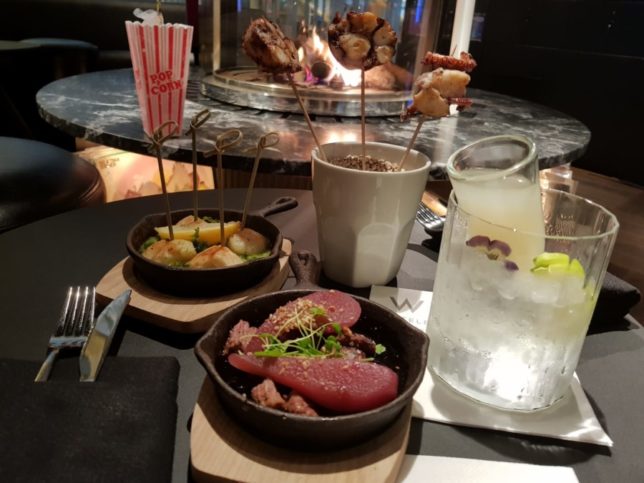 In addition to its diverse cultural programming, The Perception at W London also runs a dining series featuring some of London's most renowned culinary talents such as Ravinder Bhogal. The new cocktails on the drinks menu include Solero which blends Belvedere Vodka, Passionfruit Liqueur, Passionfruit, Cream, Vanilla and the quirky Puss in Boots as described above. The Solero is the sweetest drink on the menu but for ice cream lovers is a must. For those wanting to be more adventurous, Puss in Boots is definitely a winner.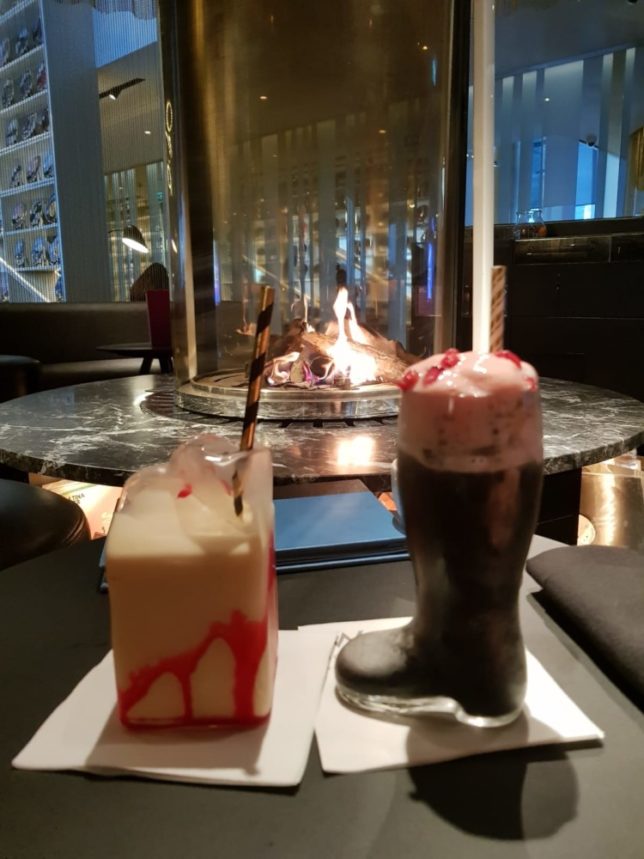 In addition to the new cocktails, The Perception at W London also offers Retox Brunch – the city's most punchy brunch, Tea Total – a tipsy twist on the traditional afternoon tea, a vibrant breakfast offering and a Work from W package perfect for those always on the go.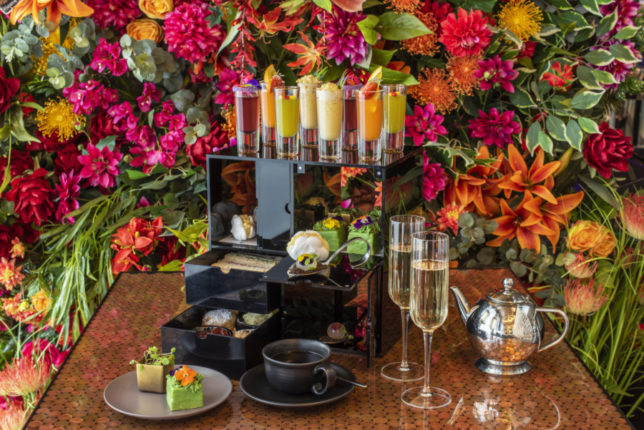 The Perception at W London
10 Wardour Street, London W1D 6QF
www.theperceptionbar.com
@ThePerceptionBar
#TeaTotal