Bryn Williams at Somerset House, already well-loved on the London restaurant scene thanks to its modern British dining experience championing the very best seasonal produce with fruit and vegetables taking centre stage, has now launched an all-new weekend brunch menu to offer even more opportunities to enjoy the acclaimed Welsh chef's veg-centric dishes in the iconic surroundings of London's majestic Somerset House.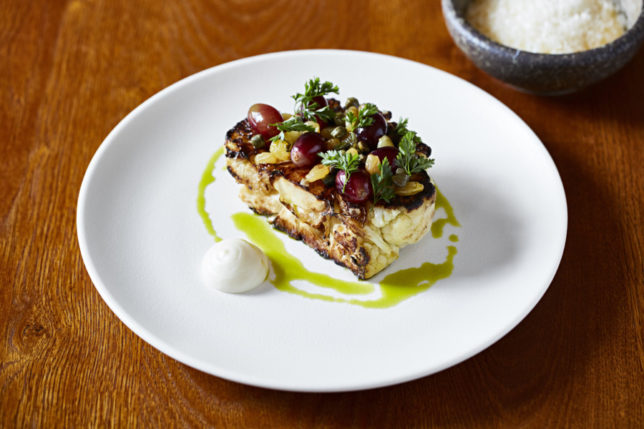 Bryn says that he is a firm believer that a piece of fruit or veg should be treated with the same amount of care and respect as a cut of meat or fillet of fish – if not more. This philosophy is clear throughout his menus including the new weekend brunch menu where highlights include Poached Burford Brown Eggs with semolina muffins, smoked rosemary hollandaise and a choice of smoked salmon, pancetta and nduja, or avocado and chilli.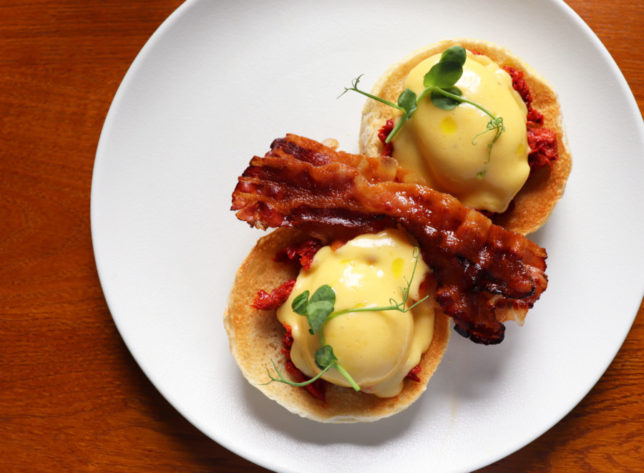 There is also a selection of pancakes and waffles on offer, all of which still incorporate the essential fruit and veg star ingredients which the restaurant has become known for like Banana Pancake with maple cured bacon and caramelised banana in addition to Pumpkin Pancake with candied walnuts and summer berries.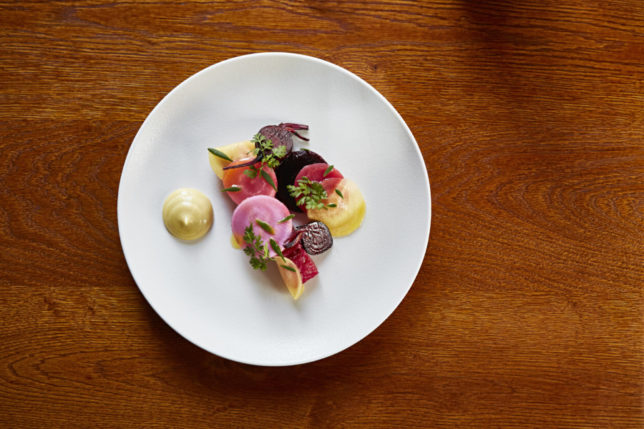 Located in the South Wing of Somerset House, the restaurant sits opposite Peroni Ambra's popular takeover of the River Terrace and is therefore easiest to get to from the Waterloo Bridge entrance to Somerset House rather than taking the longer wallk from The Strand. The interior design draws on the history and architecture of the historic building paired with Bryn's Welsh heritage to create a contemporary setting with subtle sage green walls and comfortable leather banquettes for a laid-back ambience that allows the food to be centre stage rather than the decor.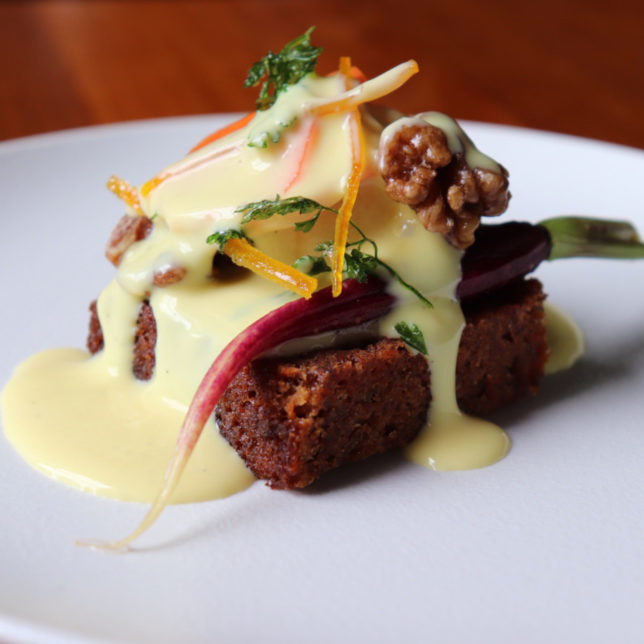 Looking forward to sampling some of Bryn's signature veg-centric starters and mains will also feature on the new weekend brunch menu, I took my seat by one of the windows overlooking the River Terrace and perused the menu while sipping a refreshing Seedlip Spice and Ginger Beer. Having ordered some crisp fleshy Gordol Olives to nibble on, the Restaurant Manager also presented me with a bowl of moreish Sea Salt and Pepper Almonds which paired perfectly with my spicy non-alcoholic aperitif.
To start I ordered Wye Valley Asparagus with Brown Butter and Smoked Rosemary. Delighted to see asparagus still on the menu thanks to the later harvest of Welsh produce into July and September, I was further surprised at how well thought out this simple dish was. The distinct savoury flavour of the asparagus is highlighted by the earthy taste of slices of raw mushroom. The brown butter sauce was light yet creamy and a welcome change to traditional hollandaise.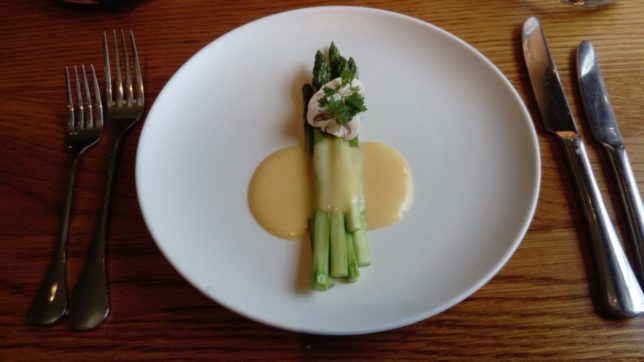 Bryn's very popular signature dish of Roast cauliflower with golden raisins, capers, soft polenta and salted grapes is conspicuous as one of the three mains on the menu. I moved swiftly on as never one to follow the crowd and decided upon the Grilled Salmon instead with Roast Young Broccoli taking first billing in the veg-centric description on the menu. The salmon is cooked with technical brilliance – a super crispy skin gives way to moist pink flakes of fish that is just cooked through thus retaining the fullest flavour of the salmon.
The deep fried sage with olive tapenade adds an interesting texture to the dish reminiscent of a posh Fish & Chips. The broccoli has been barely cooked without seeing any water – just some steam and then roasted briefly. Perhaps not universally appreciated, I personally enjoyed the firm texture and fresh taste of the broccoli and can see why Bryn chooses to cook vegetables in this way, especially young slim stems like the broccoli and asparagus.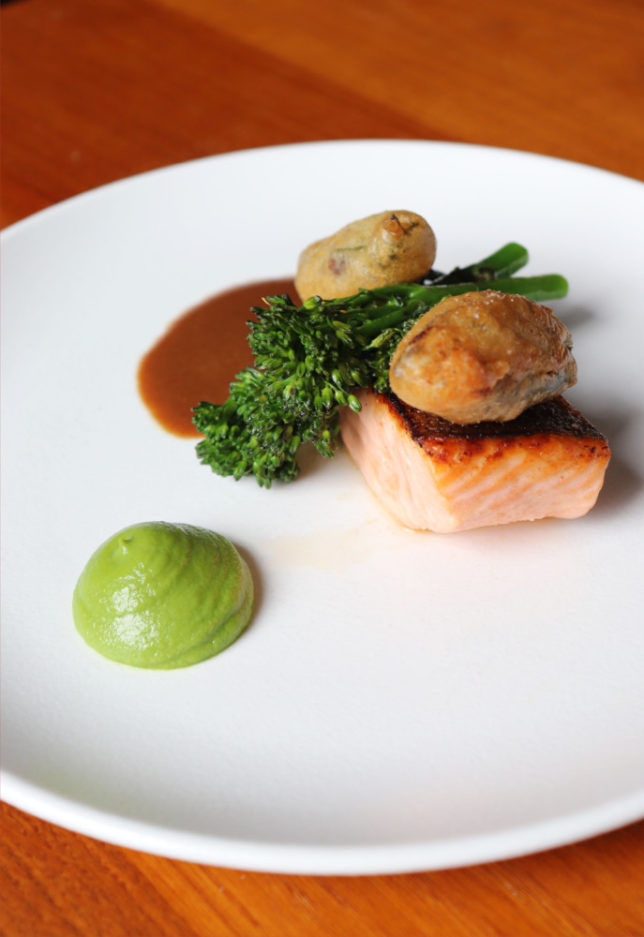 Desserts all look very tempting but I follow the recommendation of my host and go for the Lavender meringue with lemon posset and lavender & blueberry ice-cream. I quickly see why this is a signature dessert. The crumbly delicate scented meringue is the perfect foil to the cool richness of the ice cream and smooth creaminess of the posset. A wonderful marriage of complementary flavours and textures highlighted by a scattering of fresh chopped blueberries.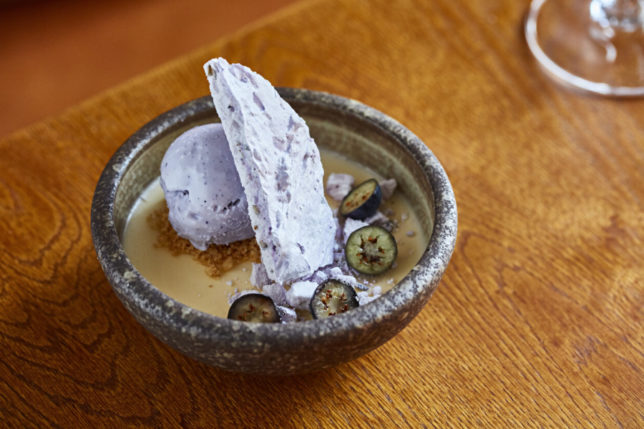 Bryn Williams at Somerset House is the perfect weekend destination for brunch-goers exploring London and looking for a delicious and seasonal meal to set them on their way. The new weekend brunch menu is served Saturday to Sunday from 10am – 4pm, along with a Sunday Roast available Sunday 12 – 4pm.
Bryn Williams at Somerset House
Somerset House, Strand, London, WC2R 1LA
0207 845 4646
bryn-somersethouse.co.uk
@bwsomersethouse