Whatley Manor Hotel and Spa is tucked away in the Wiltshire market town of Malmesbury. Once we found the gate (it is easy to whizz by it like we did!) we proceeded up the long drive. Driving up to Whatley Manor you can take a left turning to the car park or go straight to reception where you drive yourself to the beginning of what will be a truly luxurious stay.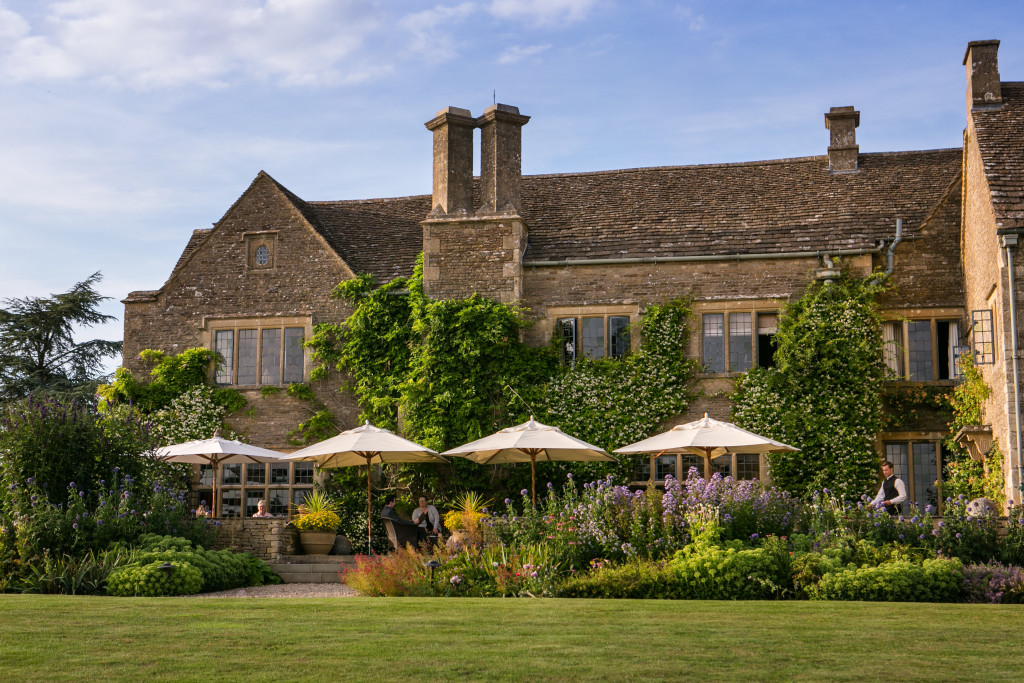 As you arrive, the valet and concierge anticipate your every need effortlessly, seeing that your luggage is delivered safely to your room and taking care of your car, with no awkward gratuity exchange expected.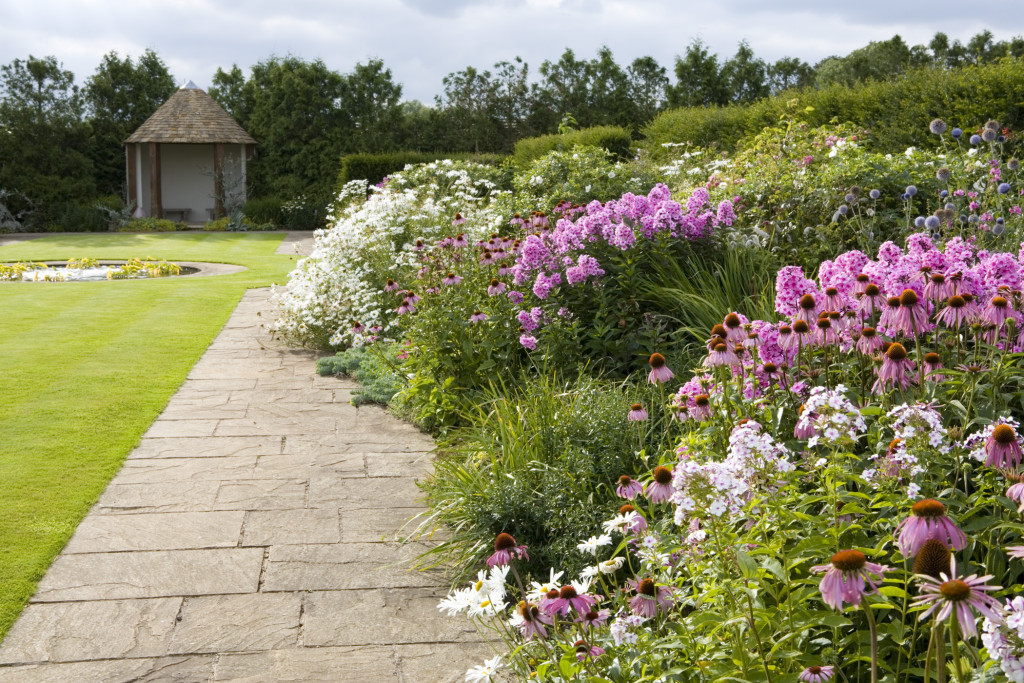 This luxurious hotel, nestled in the heart of the Cotswolds is one for special occasions, romantic breaks away, weddings or an opulent getaway from the pressures of daily life.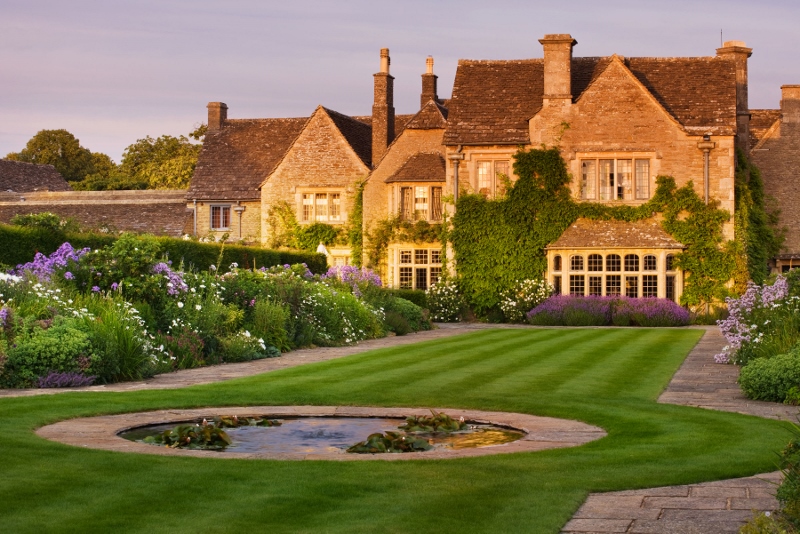 Whatley Manor Hotel and Spa boasts 12 acres of gardens created by Garden designer, Elizabeth Richardson, who used the original 1920's plans and realised a design that recreates an English Country house garden, complete with beautifully manicured lawns.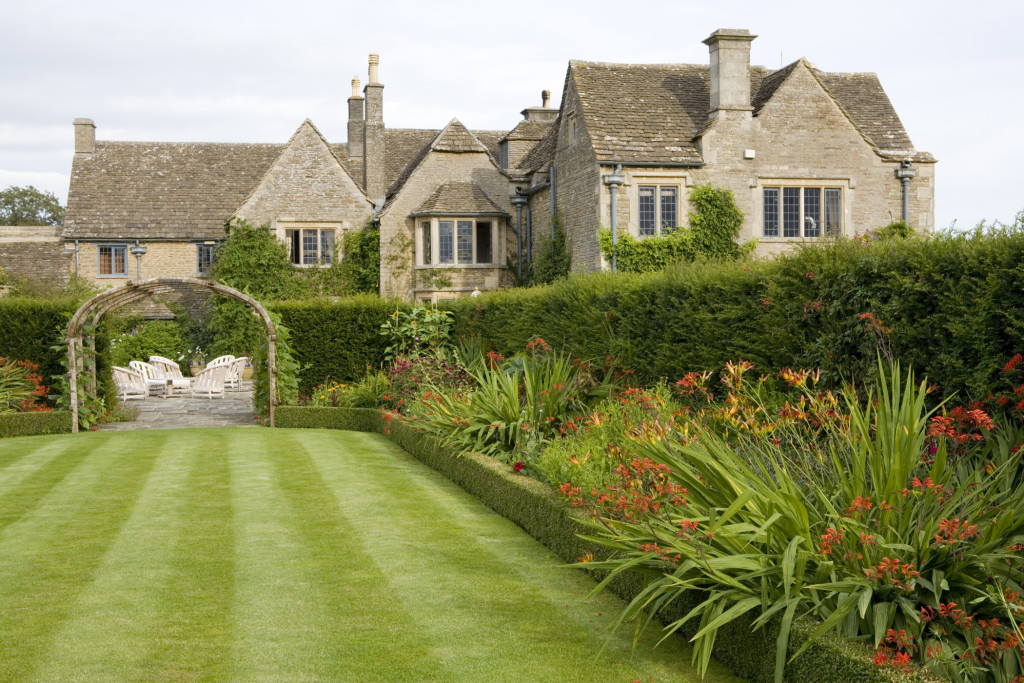 After a pleasant drive through the Wiltshire countryside, we arrived at the impressive family run business Whatley Manor.
The manor house is Grade II listed and has been painstakingly restored by the Landolt family making it the magical place it is today.
We poked ours heads into the court yard and were greeted by some donkeys. The history behind them is that they pay homage to Christian Landolt's grandfather who loved animals including donkeys and horses. Like his grandfather, Christian is a keen Hippophile and this is shown by Whatley Manors proud sponsorship of the Gatcombe International Horse Trails held at the home of HRH The Princess Royal.
The door to the far left of the above picture leads to a very special surprise – a cinema! Yes, Whatley Manor has its own private cinema, whether you want to catch a new film release or just want to watch an old classic Whatley Manor has it all. You can catch a Thursday cinema screening which for £23 includes a glass of wine or soft drink, 125ml tub of ice-cream, popcorn and the film. Sunday cinema screenings are also available or you can get an anytime private screening for as little as £40 if you are staying as a guest in the hotel.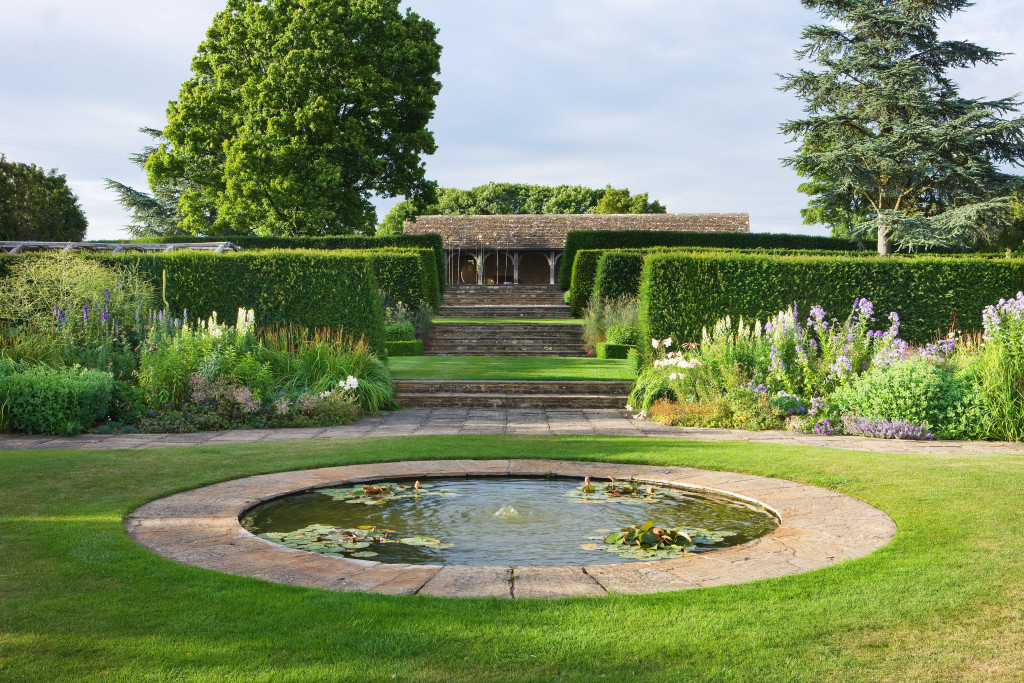 After checking in we had a quick peak at the facilities before checking in to our room and we were delighted to find a little bit of Swiss heaven in the form of Le Mazot Brasserie.
The influence here is from the fact that Whatley Manor has Swiss owners. Because of this, many of the rooms have a Swiss theme or quirky architecture. The Swiss themed restaurant Le Mazot Brasserie has a menu composed by the same team as the Michelin starred 'The Dining Room' so is a real treat. Although we did not stay long enough to try, we noted that Le Mazot Brasserie holds authentic Swiss cheese fondue evenings which at £29 per person including dessert and a glass of wine are a treat not to be missed and one we will be returning for.
With so much to distract us we had a lovely wander before heading to our room where our luggage was already waiting for us. I had a quick peak outside at the glorious view…
The rooms are opulent many with four poster beds like the one below.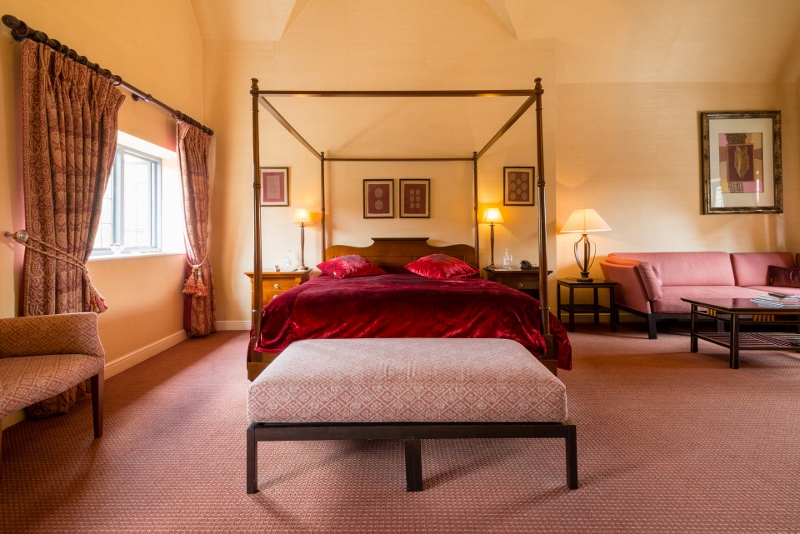 Our room was spacious, clean and luxurious with enough opulence to feel pampered but also at home. It was fitted with all mod cons including a Bang and Olfsen sound system.
The only thing missing for us ladies was a dressing table in the main reception although there was a beautiful lit make-up mirror present in the bathroom and an exquisite writing desk.
Whatley Manor Hotel & Spa has unveiled three new tasting menus, for its Michelin two-starred restaurant, The Dining Room to replace the former à la carte menu and we had a menu left for us in our room as we had requested a sneaky peak. The three different menus, including a vegetarian option, take guests on a culinary journey showcasing the very best of seasonal ingredients combined with a series of highly accomplished cooking techniques. We had a quick look at the menus to whet our appetites before heading to the Spa area. Examples of the food included scrumptious desserts.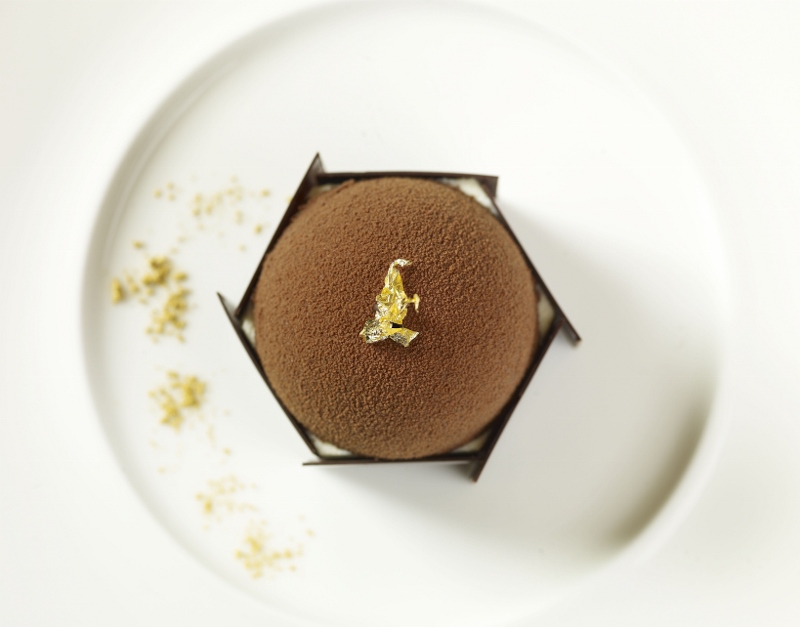 Commenting on the new menus, Martin Burge said: "During my career I have worked with some of the country's finest chefs including Raymond Blanc, John-Burton Race and Richard Neat. These talented chefs played a key role in my development and passed many of their skills on to me. Drawing upon my classical French training while taking a modern approach with food, my aim is to produce dishes that burst with flavour and give you a dining experience that is both entertaining and creative. I hope our guests will enjoy my latest innovations."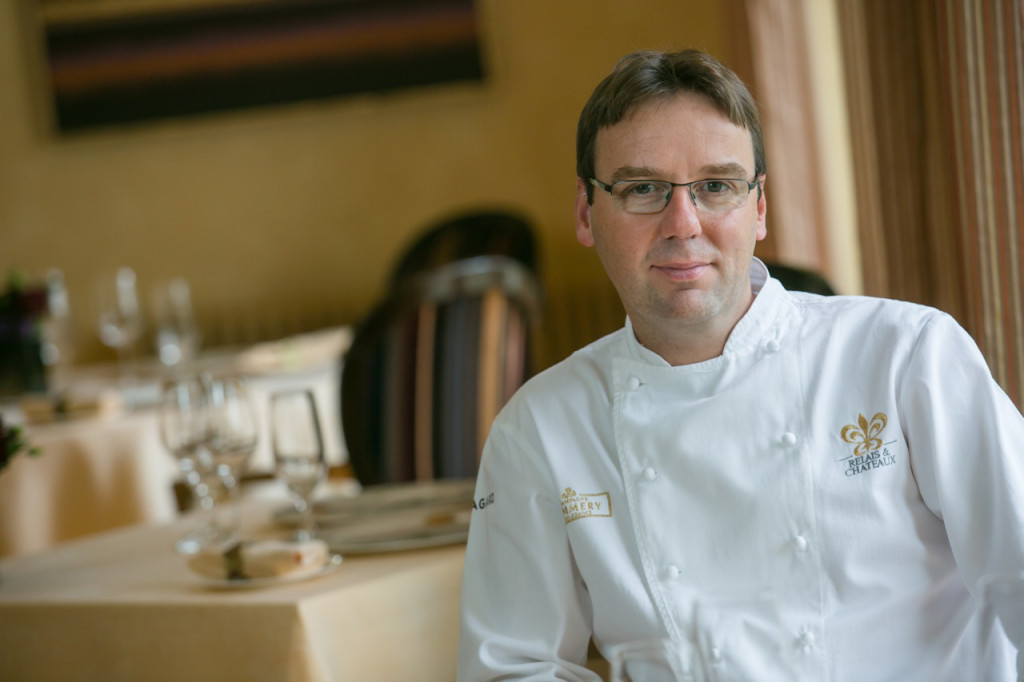 The new gastronomic menus will change frequently to reflect ingredients that are at their best. Examples featured on the tasting menus include 'Hand dived scallop, pan fried, served with lightly warm smoked salmon, pickled cockles and walnut cream'; 'Quail breasts, pan fried, dressed with its legs boned and farced, served with Morteau sausage, deep fried quail eggs rolled in chicken crumb'; 'Young Brillat-Savarin and truffle ravioli served with compressed apple and baby leeks' (vegetarian); 'White chocolate sphere, filled with a pistachio kirsch mousse and compote of cherries' and 'Chicory mousse layered with bitter coffee and mascarpone cream'.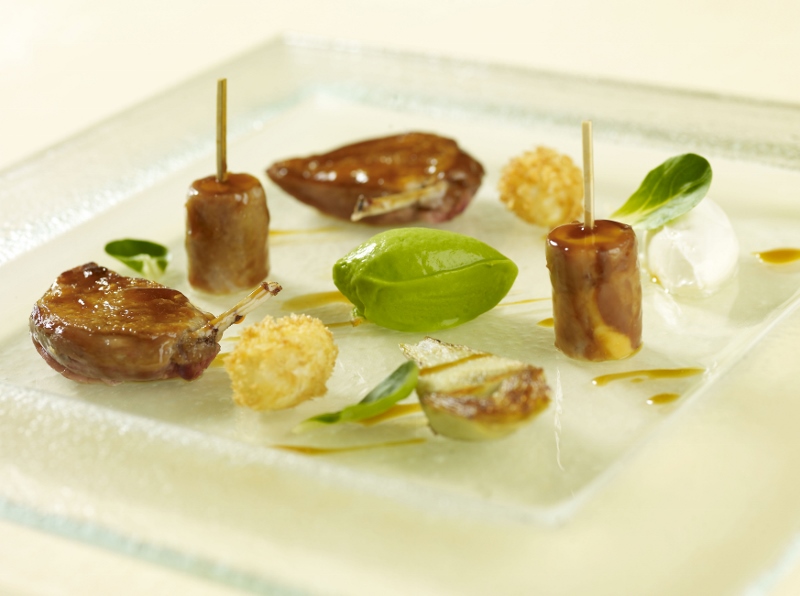 Turning our attention away from food for a moment (an almost impossible task for foodies such as myself and Red) we headed off to the spa. Aquarias Spa at Whatley Manor Hotel and Spa is a place to restore and revive.
Set in the courtyard of the honey coloured Cotswold manor house hotel, the award winning spa offers a tempting and luxurious selection of spa experiences with the aim of restoring both body and mind to new levels of relaxation.  The European style spa is arranged into a series of thermal cabins, treatment rooms, stylish hydrotherapy pool and VIP Suite, as well as having a gym and work-out studio.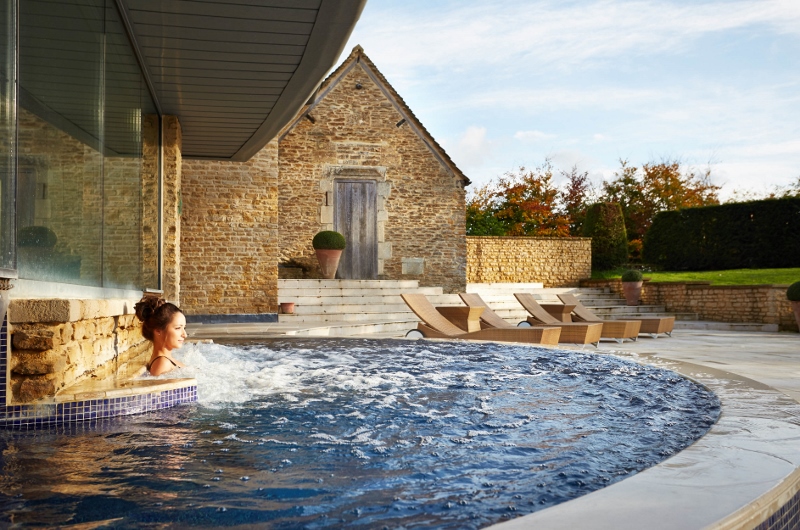 I partook in a Kundalini treatment, read the Sloan Loves blog for more details on this and other treatments that Whatley Manor and Spa offer.
After a blissful treatment it was time to head to the drawing room and bar. On arrival we were offered some aperitifs. Red choose a Whisky Sour with a heavily peated 16 year old Lagavulin with sugar and fresh lemon juice. The bartender's choice for myself was made from passion fruit liqueur, apricot brandy, rum and pineapple juice.
The bar staff were knowledgeable and as such were flexible enough to produce cocktails off menu and create their own just from overhearing my ponderings with Red about what to order. Whilst we drank our cocktails we were brought some canopies which included, poached quails egg, smoked eel and kipper foam and thyme and Parmesan cream cheese. Also included was foie gras with teriaki jelly and sesame seed.
As we sat down to dinner the dance of a restaurant deserving its Michelin Stars began. Two gentlemen attended to our chairs simultaneously, removing the napkin rings from the napkins and placing them on our respective laps in unison. If these men where my rowers I would be a happy lady as there timing was impeccable. Our sommelier was delightful and extremely knowledgeable about wine and life. We took a few snaps of the food for you to see, although given the fact it was a romantically lit restaurant we refrained from using the flash and this obviously does not do justice to the 2 Michelin Star food. But we just had to share the concept with you as the culinary artistry and service was out of this world.
The hand dived scallop was presented in a manner that made us feel that it had been picked especially with this dish in mind.
Lying there so seductively on the plate, the creamy concoction of flavours was poured for us over this sumptuous seafood dish.
Getting every last drop on to the plate.
Ok… I sneakily used the flash here when no one was looking, but that beef was too divine to miss.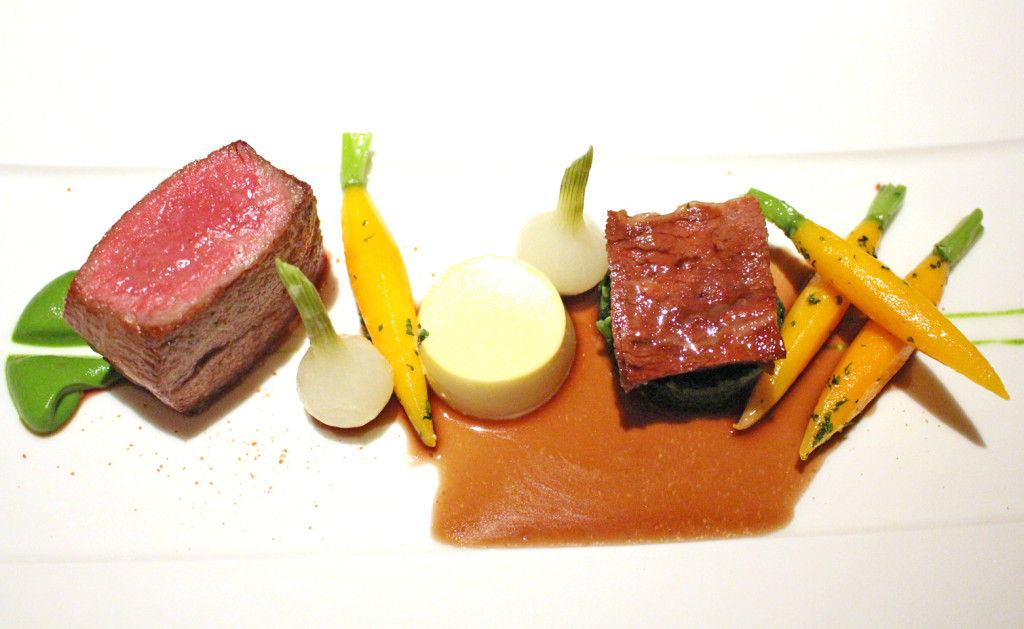 The lamb was genius. The layer on top of the lamb looks like fat but is in fact a mousse that compliments this dish in a way that makes you feel like you were whisked away to North Africa with every bite.
The seven course menu was a never ending surprise of sheer genius…
…and the service just took the whole evening to another level. Just to point out Michael Jackson's white glove was not attending our table but this level of detail really does set the whole evening off with the style and ceremony that such food deserves.
My lemon chartreuse granite now had just the right amount of strawberry yumminess delectably dancing on top of it now.
Red chose the Raspberry, Pistachio and White Chocolate Sphere which was also presented in show stopping style…
Here comes the raspberry sorbet…

Placed so attentively in its home…
Ready to be devoured…
The culinary delights didn't stop there…
If you like the look of these petit fours you can taste them along with afternoon tea served from 3.00pm to 5.30pm daily. Interestingly head pastry chef Lee Bamforth has been creating a tempting selection of new pastries for this occasion. New additions include tangy and crispy lemon macaroon with lemon curd filling, a decadent blackcurrant mousse with a white chocolate pistachio crispy base and a slice of tasty Battenberg cake. The afternoon tea is served with a choice of tea or coffee, a selection of finger sandwiches, freshly baked scones with clotted cream and homemade strawberry jam all for £25 per person. After a fabulous night we retired to our room feeling pleasantly full.
The next morning we were awoken by the sound of our door and my favourite kind of wake up call, one that includes scrambled eggs and smoked salmon!

Red was feeling like the true epicurean he is so he pushed the boat out with an extra sausage!

To burn some of those calories consumed last night we took to the gardens which are divided into 26 distinct areas or 'garden rooms', each one leading to another and providing guests with a series of quiet areas to take in the peaceful Wiltshire countryside.
Each 'garden room' has its own theme, whether based on colour, scent or style. I went exploring and Red couldn't keep up!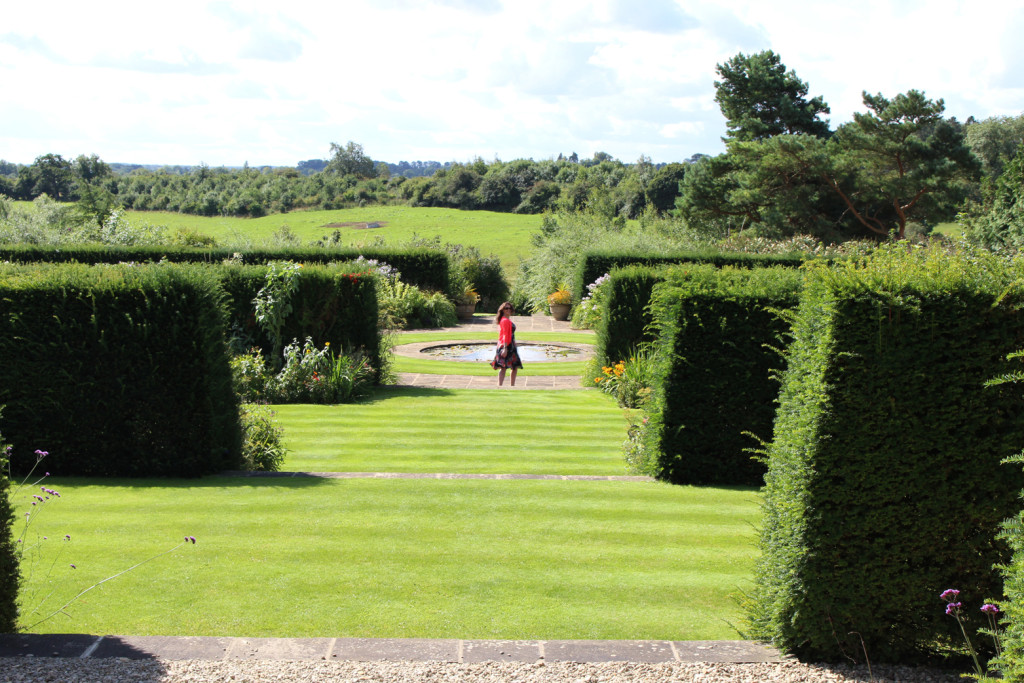 There is an herbaceous garden, an enclosed rose garden with a fountain and gazebo, a loggia garden where there is a specially commissioned sculpture by Simon Allison, a kitchen terrace with fragrant herbs and vegetables used in the hotel's kitchens, and a lower terrace leading onto a meadow walk.
The views are stunning…

That too so close to the house, in one direction we have the view above then turning around you can still see Whatley Manor behind you.
You can get lost for hours in in beauty like this…

Whatley Manor and Spa is a fabulous place to stay for all occasions. Our choice would be for a romantic occasion. For those wishing to escape for a romantic stay away it is the perfect place to ignite the candle. Upon arrival you will be shown to your room where a beautiful bouquet of fresh flowers and a bottle of Ruinart Blanc de Blanc Champagne will be waiting. During the day you can have full use of the Aquarias Spa and enjoy a sixty-minute spa treatment and/or explore the beautiful gardens. In the evening you can enjoy a romantic meal in the Michelin two-starred 'The Dining Room' coupled with wines perfectly matched by the in house sommelier.
Alternatively if you want something a little more hands on, if you want to cook food to wow your social circle at dinners, then you can join their cookery masterclass with Michelin two-starred chef Martin Burge. These masterclasses will increase your confidence when using ingredients and kitchen equipment, whether you are a seasoned cook or a beginner. The masterclass content for the day includes, Goats cheese pithiviers, Bouillabaisse fish stew and Valhrona chocolate torte. Here is a little gallery of our food choices for those who want to see a little more of what you could be inspired to create after your class.
Whatley Manor Hotel & Spa
Easton Grey, Malmesbury, Wiltshire SN16 0RB
Tel: 01666 822888
www.whatleymanor.com