With summer feeling like a distant memory and the colder months of winter begin to set in, it is important to remember to look after your lips during these seasonal changes. Despite the decreasing hours of sunlight during the winter months, there is still the need to protect the delicate lip area from environmental damage.
We already know that in winter it is cold. It gets windier, wetter and the nights longer. However, these changes in our environment can, as Dr. Marie-Louise Daly, Consultant Dermatologist at the Harley Street Dermatology Clinic explains, "bring about lip inflammation, dehydration and sun damage''.
It may be cold outside but the drastic temperature variations caused by central heating systems can also contribute to problems. Inside the air is a lot drier and heating up the rooms only exacerbates the dryness, increasing the likelihood of chapped lips. When starting to heat our houses, Dr Daly recommends that we ''counteract these changes with regular application of a lip therapy such as Prevasore, when our lips become depleted in moisture (dehydrated) they become scaly, fissured/chapped''.
Winter holidays such as skiing trips can also wreak havoc on both the health and appearance of our lips. Up in the mountains where the temperature is prone to plummeting, Dr Daly advises that ''one of the best ways of avoiding dry lips is to ensure that any lost moisture is replaced with application of an emollient to protect it from environmental irritants'' like the wind, freezing temperatures and dry mountain air, leaving you to concentrate on enjoying yourself.
As well as the pain and discomfort associated with wintery chapped lips, the health implications invisible to the naked eye can be cause for concern.  The skin on our lips forms a protective layer, helping to prevent viruses and bacteria entering our bodies. When this defensive barrier is broken, it is a lot easier for viruses to get in.
Dr Daly explains that the cold sore virus is more commonly contracted during the winter months, this is because ''well hydrated lips are less likely to have fissures and cracks which in turn reduces the risk of transmission of the cold sore virus''.  However, the harsher weather conditions in winter mean lips are often not fully hydrated and so it is very important to hydrate the skin, to prevent cracks appearing which leaves the skin sore and vulnerable.

Prevasore had been developed specifically by a company with 50 years' experience in dermatology to condition the lips, hydrate them and ensure they are in as healthy a condition as possible. This helps prevent environmental-stress induced outbreaks if you have the cold sore virus. By keeping your lips in good condition and helping to reduce the number of outbreaks, this inevitably will reduce the likelihood of passing the virus on.
If cold sores do develop, do not fear. Prevasore's unique formulation is also designed to soothe and calm your outbreak with its moisturising and water-retaining ingredients, suspended in a gel base.
Prevasore is available for £6.95 on www.prevasore.co.uk with free 1st Class delivery.
About Dr Marie-Louise Daly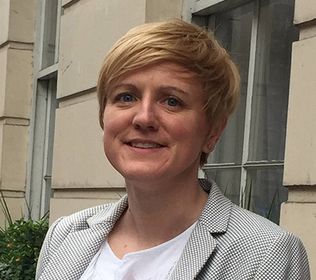 Dr Marie-Louise Daly is a UK-trained Dermatologist who studied medicine and completed postgraduate research at Cambridge University.  She has worked at many teaching hospitals including Addenbrooke's, King's College and Guy's and St. Thomas' and has recently published a Dermatology handbook for trainee doctors and GPs. During her specialist training she won the prestigious St. John's Society Registrar prize and was a co-investigator in clinical research trials at Guy's and St. Thomas' hospital.
As well as being a consultant dermatologist at The Harley Street Dermatology Clinic, Dr Marie-Louise Daly also holds a Consultant post at the NHS Lewisham and Greenwich Trust in South London where she is the head of teaching for undergraduate medical students and is jointly running the department's biologic clinic for treatment of severe psoriasis.
Dr Daly consults on all aspects of skin disease in both adults and children, and will treat conditions such as acne, eczema, allergy and psoriasis. Her special interests include acne and rosacea, infections, emergency dermatology, skin cancer, moles and the use of biologics in psoriasis.