We all know that activity tracking helps you move more, feel better, and sleep better — but only if the tracker doesn't get in the way of your life. Withings Activité Steel award-winning activity tracker was conceived to be with you for the long haul. You can run, walk, swim, or dance the night away without your phone. There's no charging and no button to press — Activité Steel automatically tracks everything via its patented Connected Movement™ Technology and syncs the info to your app to give you in-depth metrics, personal coaching and more.

Activité Steel features a bold, sophisticated design with a stainless steel case, chrome hands, smooth silicone straps and a tachometre-inspired sub-dial that appears to be taken directly from a high performance sports car. The Activité Steel features two hand dials, one showing the time and a sub-dial showing the percentage of daily activity goal achieved.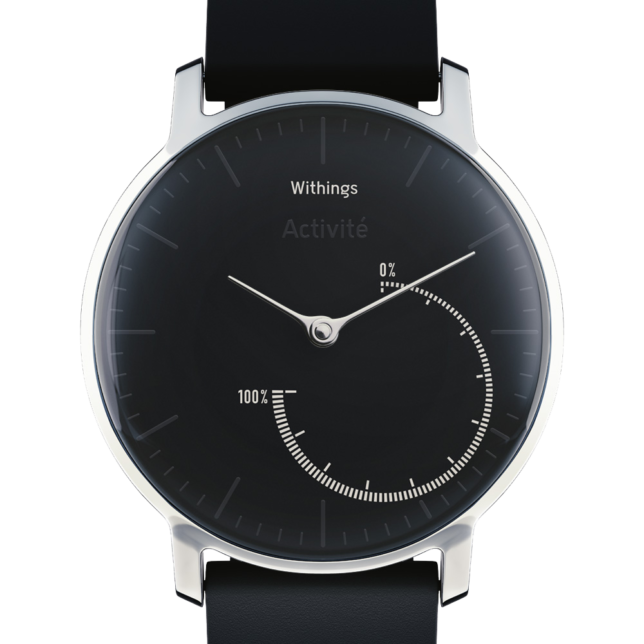 Activité Steel automatically synchronizes with the free Withings Health Mate app (available on iOS and Android) which is used to set your activity goals. The tracker then keeps you up to date on your progress at a glance anf the app gives you a detailed picture of your days and nights via clear color-coded graphs that show all your moves — from sleep cycle analysis to calories burned.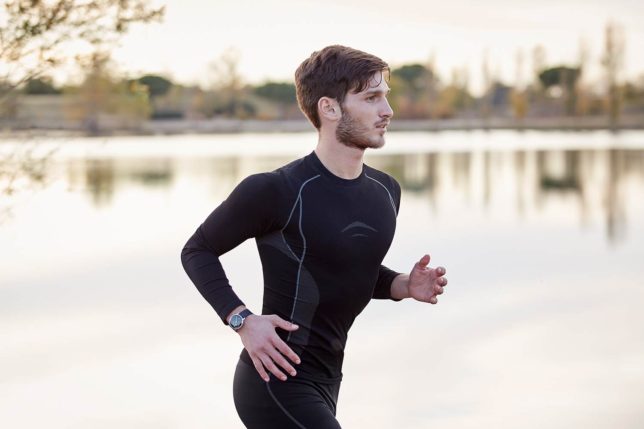 The highly-rated Health Mate app is the ultimate coach which rewards achievements, offers advice and lets you challenge friends to help keep you motivated and push you further. With automatic activity recognition from the pool to the track to the boardroom, Activité Steel is ready to go wherever life takes you so there is no need to change gear in your life.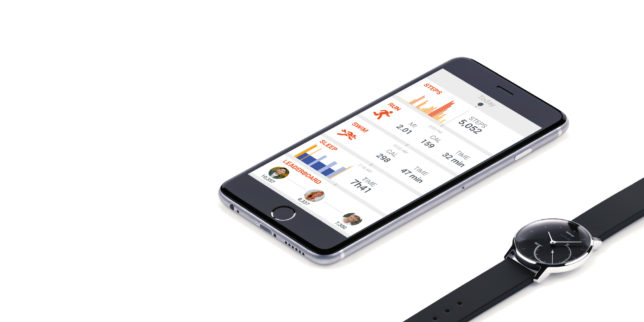 The minimalist design of the Activité Steel underlies maximum style with a 316L stainless steel case, chrome hands and double-domed glass, Activité Steel offers strength, clarity and a timeless look. It automatically detects activities (such as running and swimming) and seamlessly transitions to monitor sleep when worn at night. Powered by a standard watch battery that lasts up to 8 months, there is no need for regular charging and the device is water-resistant up to 50 metres.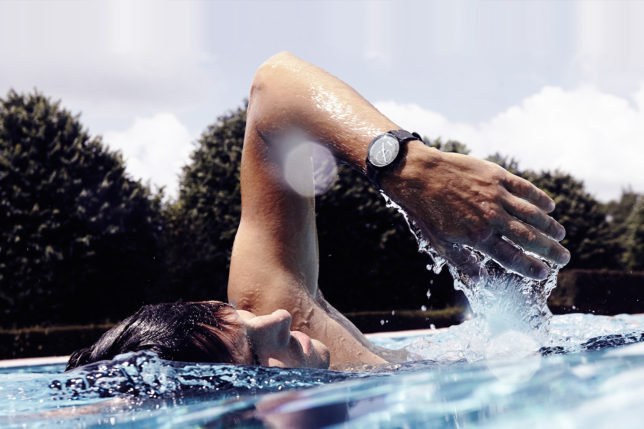 Activité Steel helps you get fit with a look that fits your personality. Features a soft silicone sport strap and 9 different colors for ultimate comfort and versatility. The silicone strap is available in a range of colours including Evergreen, Khaki, Raspberry, Yellow, Mocha, Mineral and of course Black and also White. From bold and bright to understated and elegant, Activité Steel is the techcessory that's ready to go wherever life takes you. Our favourite strap is White for understated elegance paired with the white watch face design for the ultimate in style and function.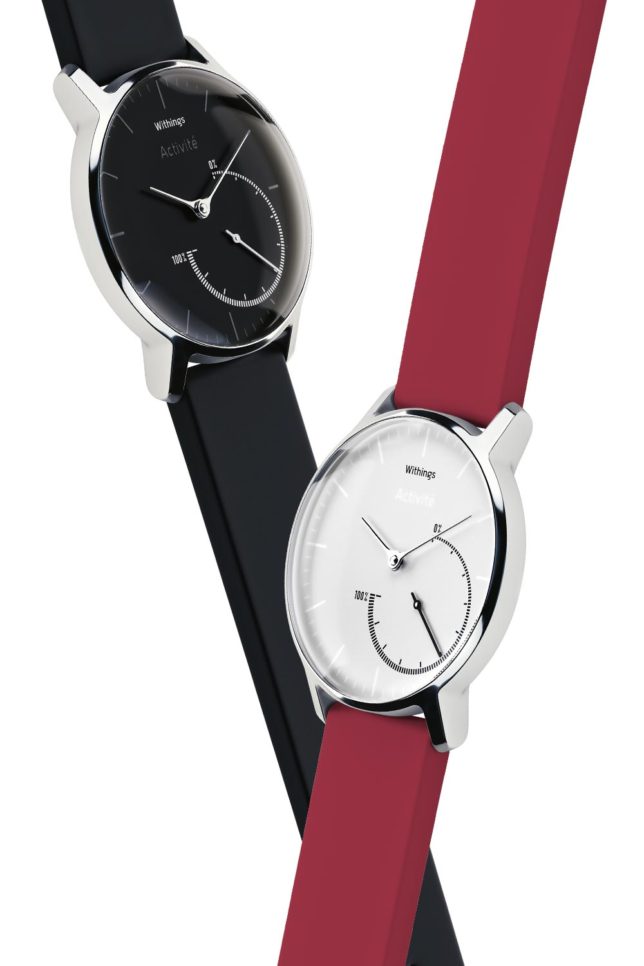 For those with a jet-set lifestyle or simply travelling from one time zone to another, there is no need to fiddle around with settings on the Activité Steel as it will automatically set itself to the correct local time thanks to its connection to your smartphone. And when its time for bed… or just a nap… Activité Steel automatically detects when you're asleep and delivers a complete picture of your sleep pattern allowing you to view deep and light sleep, wake ups, and sleep duration.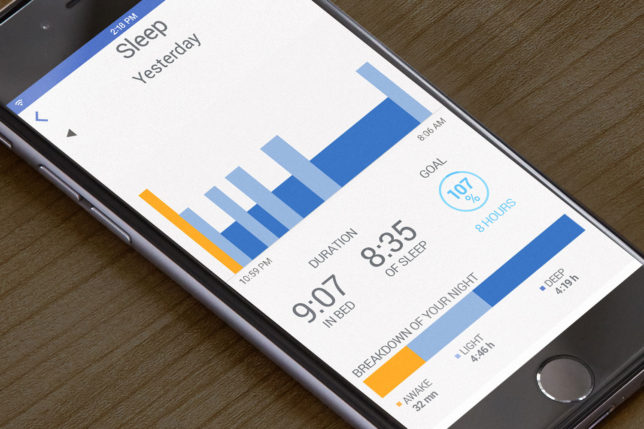 The silent alarm feature can be set from your smartphone and is ready to wake you with a light wrist vibration so you can wake up smoothly and let your partner sleep in. Another great feature allows you to check the alarm time during the day by simply tapping 3 times on the glass which moves the hands to the alarm time for a few seconds.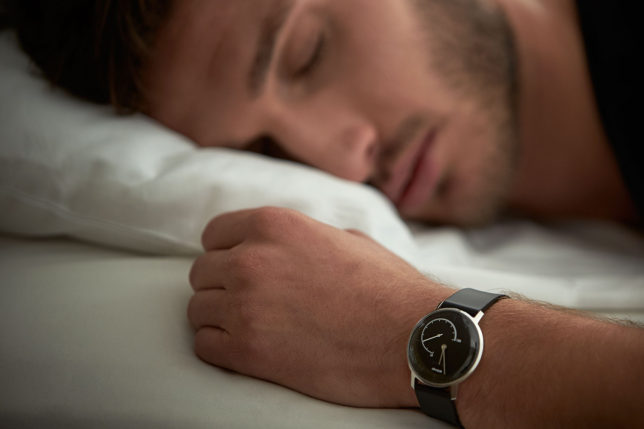 Cédric Hutchings, CEO of Withings told us, "While the tracker market is booming we see growing demand from health conscious people who are not willing to compromise their style. Activité Steel is the perfect Christmas gift for those demanding trendsetters."
Withings is a leader in the connected health revolution and its range of highly stylized activity trackers continues to spearhead the unique category of stunningly designed trackers within fashionable timepieces by pairing a tasteful, high-end luxury feel with fun and versatility. In 2015, Activité Steel  received the CES Innovation Award in the Wearable Tech Category and the following year was awarded the Etoile d'Or at the Observeur du Design 2016.
Withings Activité Steel is available in 9 strap colours with a black or white face and costs €169.95 from www.withings.com