Hailed as the best Italian kitchen in Hackney, WOLF is a popular neighbourhood restaurant on Stoke Newington High Street celebrating authentic Italian food and the Italian way of eating where you can leave the frenetic pace of London at the door.
Using the finest local produce as well as specialty Italian ingredients, owner Antony Difrancesco and Head Chef Karla Knowles, create seasonal, regional dishes inspired by Italy's culinary heritage.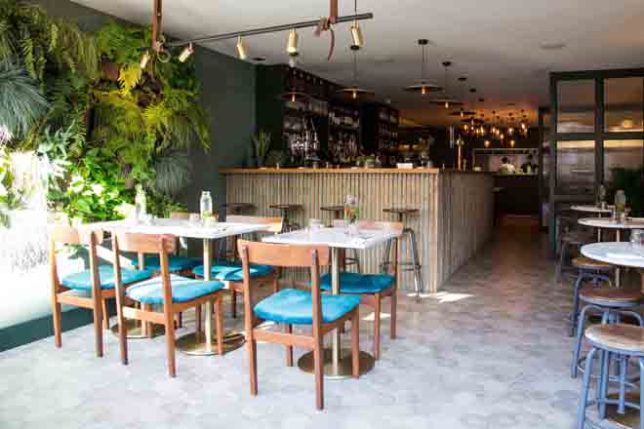 WOLF has just launched a brand new weekend brunch menu, created by Head Chef, Karla Knowles, and available on Saturdays and Sundays from 9am to 4pm. Knowles, who was previously at Petersham Nurseries, was heavily influenced by the four corners of Italy when concocting this menu.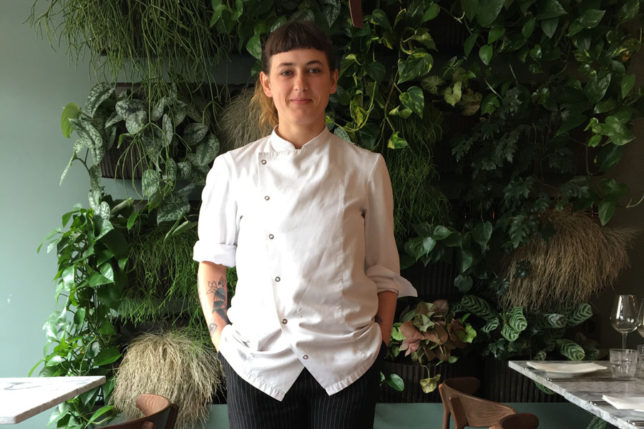 The relaxing weekend brunch vibe is further enhanced by upbeat tunes from the speakers on the bar playing bossa nova tracks by the likes of Rosa Maria and funky afrobeats by musicians like Moussa Doumbia.
The restaurant was designed entirely by KAI Interior Design, the award winning Hackney-based interior design consultancy.  Towards the back of the space is the open kitchen which allows diners to connect with the culinary theatre.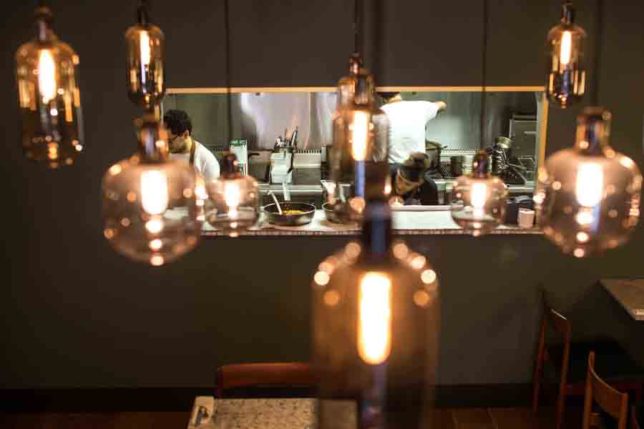 The contemporary design creates a lush backdrop against which diners can relax in light airy interiors amidst a palette of deep green tones, soft brass lighting and cool marble table tops.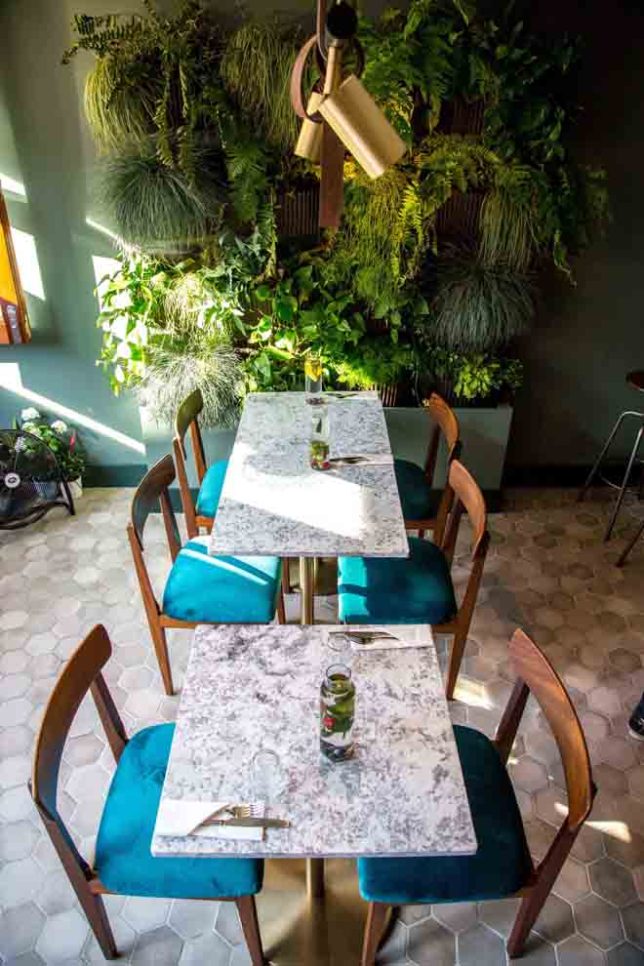 Reflecting Difrancesco's Italian roots and the authenticity of restaurant, KAI have included a living wall and rustic shelving into the interior design, the latter of which is lined with Italian favourites and homemade liquor.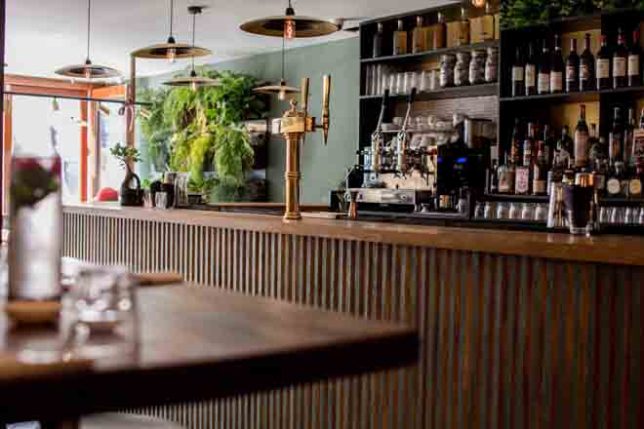 Speaking of homemade, the new brunch menu features Polenta Pancakes with homemade nespole jam & mascarpone. Nespole is the Italian version of the Asian loquat which looks and tastes like a cross between a peach and an apricot.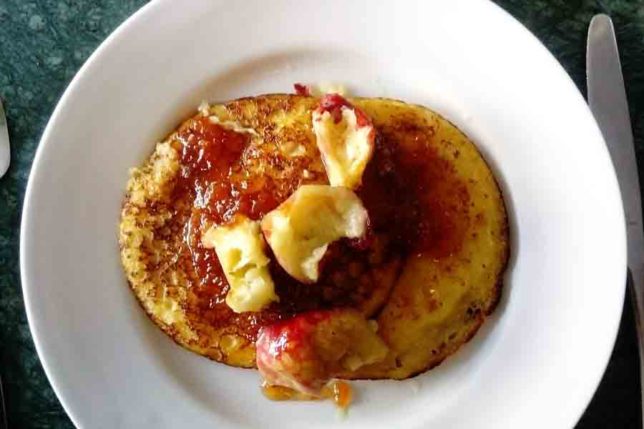 The pancakes are light and tender yet satisfyingly indulgent with an Italian twist from the polenta adding a depth of flavour missing from your typical American pancakes. The Polenta Pancakes were so good that for a moment we were seriously considered relocating to Hackney!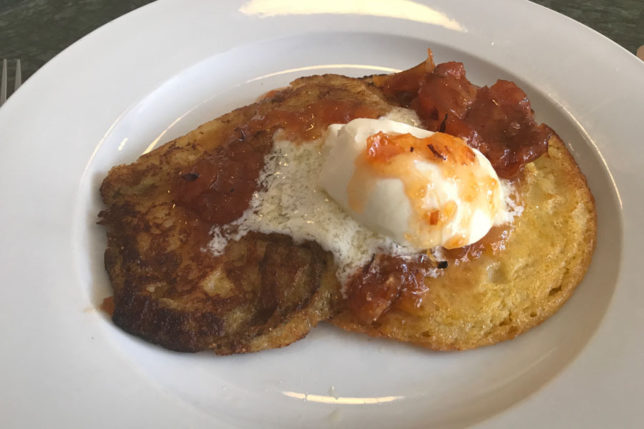 Other lighter brunch options include Oat & Nut Granola served with cherries & orange blossom yoghurt and Ricotta Waffles.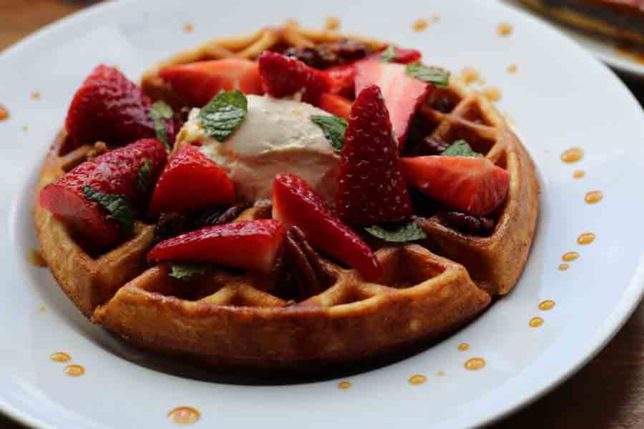 Those craving their morning fix of eggs will be pleased to see a whole egg section featured on the brunch menu with Italian-inspired dishes ranging from Fennel Sausage with deep fried egg, flat gnocchi & caramelised Tropea onions to our personal favourite of Morcilla (Italian blood sausage) with pancetta, blistered Datterino tomatoes, poached eggs & sourdough toast. The creamy yolk of the poached eggs and soft texture of the morcilla contrast nicely with the crispy pancetta and crunchy toast.
For those who fancy something even robust, the brunch menu also includes some hearty main dishes available between 2pm and 4pm, including Grilled Quail with Pomegranate, Wild Fennel, Rocket & Chickpeas and Tonnarelli with Braised Artichoke & Pecorino Toscano. But who can resist a plate of Eggs Florentine.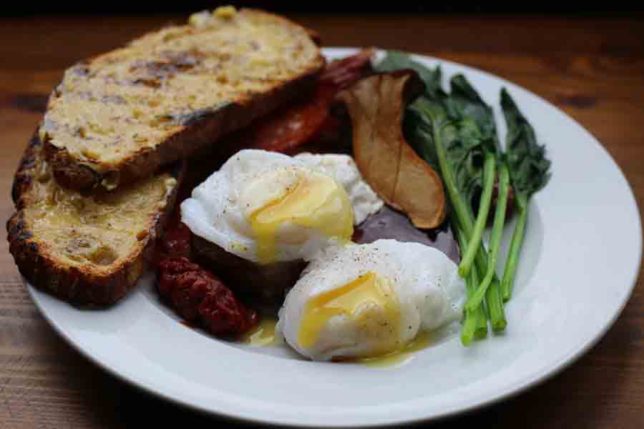 In addition to freshly ground Italian coffee, you can enjoy cocktails made with home-infused spirits and bottomless options in keeping with the trend for bottomless brunches. Diners can select their cocktail of choice and make it flow during the meal.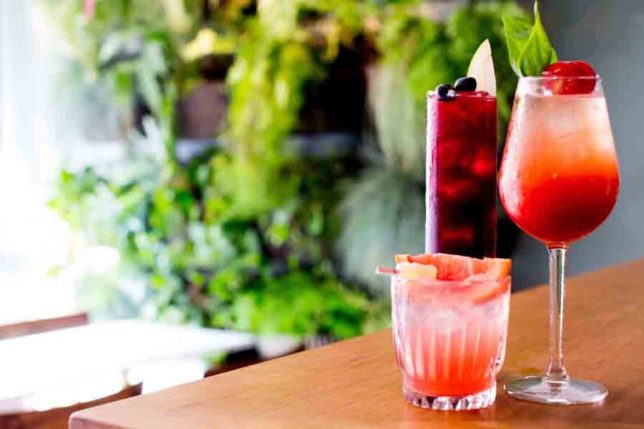 Choose from the Bottomless Bloody Sinola (East London Vodka, Basil, Black Pepper, Salt, Worcestershire Sauce & Tabasco), the Bottomless WOLF Bellini (Peach Puree & Prosecco) or the Bottomless Arrancio e Basilico Spritz (blood orange puree, WOLF's basil infused gin, prosecco and soda.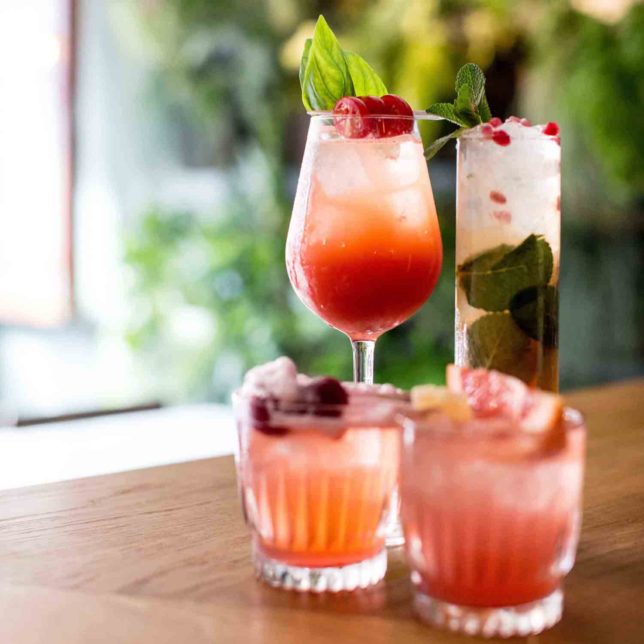 The delightful brunch menu is just one aspect of WOLF that is worth celebrating. The friendly attentive service and comfortable interiors by KAI Interior Design provide a perfect setting for a relaxing weekend brunch. A sanctuary amid the noise & bustle of Stoke Newington, WOLF is a sophisticated Italian kitchen in the heart of Hackney catering for all tastes by delivering a crowd-pleasing choice of contemporary Italian dishes which firmly demonstrate that just as in Italy, food is the king. It's clear Hackney locals love it but we think you will too.
WOLF
110 Stoke Newington High St, London N16 7NY
020 7254 4141
www.wolf-restaurant.co.uk
I: @wolf_restaurant