Worcestershire's leading luxury hotel, The Wood Norton, has appointed young dynamic duo, Aimee White and Josh Perry, as the venue's new Wedding and Events Co-ordinator and Junior Operations Manager.
Aimee, 19, joined The Wood Norton just twelve months ago to undertake an apprenticeship in sales, and as part of this year-long programme, worked hard to support the hotel's dedicated weddings team in selling, planning and co-ordinating over 80 weddings.
On the successful completion of her apprenticeship this August, Miss White was offered a full time position as The Wood Norton's Wedding and Events Co-ordinator, where she now works closely with Weddings Manager, Sandie Griffiths.
Aimee's partner, Josh, first joined The Wood Norton 18 months ago, as a member of the waiting team in the hotel's fine dining restaurant – the Fleur de Lys. Boasting a natural flare for the hospitality sector with many positive reviews, Josh has successfully managed to make a lasting impression on hotel guests, and has now been promoted to Junior Operations Manager – also aged just 19!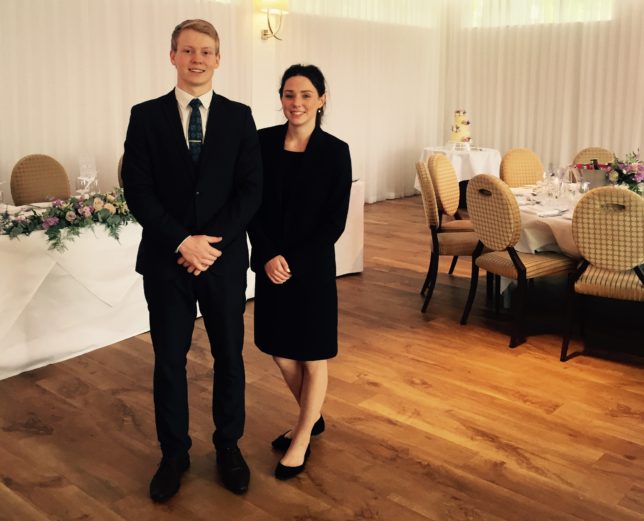 Steve Sweeny, General Manager of The Wood Norton, said: "Aimee and Josh are passionate, dedicated and hardworking individuals who boast genuine enthusiasm for the hospitality sector. Both of them have really impressed the management team over the past year or so, and as a result I am delighted to welcome Aimee on board as a full time member of the team and provide Josh with the promotion he so much deserves."
The Wood Norton re-opened in late 2012 following an extensive £10 million refurbishment programme – with its most recent development being the transformation of its old Kitchen into the 'Fleur de Sel', a new Brasserie come corporate meeting space.
On discussing his new role, Josh confirmed: "I am extremely excited about my new position at The Wood Norton, and feel that my hard work over the past eighteen months has certainly paid off. From ensuring guests enjoy a relaxing break away to helping the Bride and Groom have the wedding of their dreams – no day is the same in hospitality and I am certainly very excited about what the future could bring!"
Aimee finished: "When starting my Apprenticeship in sales, weddings and events always interested me and I am thrilled to have been offered this new position. The hotel boasts a friendly and dedicated team and I am delighted to be part of it."
In four short years The Wood Norton has become an increasingly popular with members of the local community and tourists alike, and is now forecast to host over 100 weddings in 2017.
To find out more about The Wood Norton, click the links below to read our previous features on Worcestershire's leading luxury hotel venue for wedding functions and corporate events.
The Wood Norton Luxury Hotel Review
Morgan Driving Experience at The Wood Norton
The Wood Norton
Worcester Road, Evesham, Worcestershire WR11 4YB
01386 765611
www.woodnorton.com