Worcestershire brides can now say 'I do' within the periodic gardens of historic hotel, The Wood Norton, thanks to the launch of the hotel's new outdoor ceremony location.
Originally built for French Royalty, The Wood Norton is a fine Grade II listed Victorian manor house located in the Vale of Evesham. The hotel is popular with visitors to the Cotswolds wowed by its 19th Century French decorative interiors, luxurious bedroom suites and extensive grounds and formal gardens. Following the launch of its orangery in early 2014, The Wood Norton has become one of Worcestershire's leading wedding venues and establishments for functions and corporate events.
The Wood Norton's new outdoor ceremony location has been designed by local landscapers, Keyscape Landscape Garden Design. It boasts a fully licensed bespoke Wedding Pavilion, fabricated and built by Angelini and Partners in Italy, which includes subtle reminders of Hotel's regal beginnings, including its famous Fleur de Lys.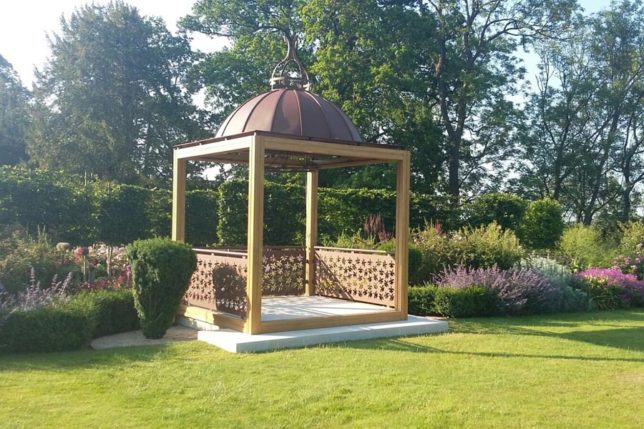 With the official ribbon cutting to take place in just three weeks – the new Ceremony Pavilion will be available for weddings from this summer, with several bookings already in place.
Sandie Griffiths, Wedding Manager of The Wood Norton, confirmed: "Here at The Wood Norton we are extremely fortunate in that the property boasts an unrivalled location overlooking the cascading Worcestershire countryside, so over the years many couples have enquired as to whether they could get married outdoors."
"I am now extremely excited to be able to make this wish come true, with the introduction of the Hotel's new Wedding Pavilion, and feel this will be very popular with couples during peak seasons – particularly as it provides the opportunity for wedding parties to take full advantage of our stunning grounds and gardens."
The official unveiling of The Wood Norton's Wedding Pavilion will take place at its Wedding Open Evening on Thursday 13th July.
With nearly 100 weddings already confirmed for 2017, this is set to be The Wood Norton's most successful year to date.
General Manager, Steve Sweeny confirmed: "I am ecstatic about the launch of The Wood Norton's new outdoor ceremony location, and feel it will be an excellent asset to our wedding offering. Over the last five years, The Wood Norton has become an increasingly popular wedding venue for couples from across Worcestershire and further afield – wowed by the look and feel of the venue, not to mention the dedication of Sandie and the weddings team."
For more information, please visit www.thewoodnorton.com