Diabetes UK, the BHF and Tesco are challenging working families to get active outside after new statistics show they're more likely to be found in front of the TV.
A survey commissioned by the National Charity Partnership, a collaboration between Diabetes UK, the British Heart Foundation (BHF) and Tesco, found that just over three in ten (31 per cent) working parents say they hardly ever walk, cycle, run or play games as a family outside. Instead, nearly three in four (73 per cent) would rather stay indoors watching TV and films.
The National Charity Partnership is concerned that such sedentary lifestyles could be contributing to rising cases of Type 2 diabetes and heart disease.
With physical activity known to reduce people's risk of these conditions, the National Charity Partnership is urging families to get active outdoors this summer and make the most of their local green spaces. It has also developed a free, online eight week challenge to help families improve their lifestyle and long-term health by moving more and eating healthily.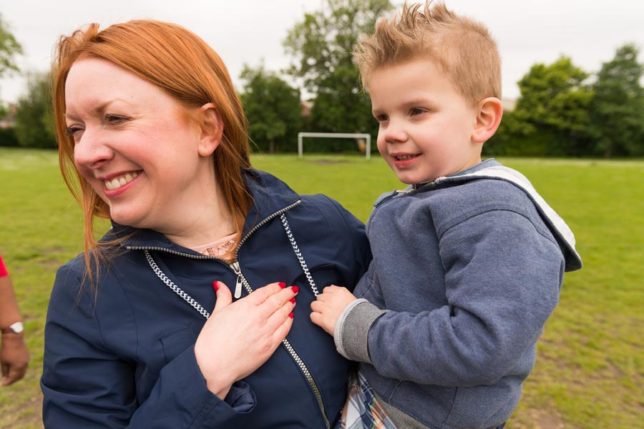 Alex Davis, Head of Prevention for the National Charity Partnership between Diabetes UK, the BHF and Tesco, said: "When you're trying to juggle work with a busy family, it's easy to forego a walk in the park and instead kick off your shoes and settle in on the sofa, but encouraging children to be couch potatoes is a potential health time bomb.
"It's behaviours like this which are linked to a number of health conditions, including Type 2 diabetes and heart and circulatory disease. Both conditions are serious and affect millions of people in the UK, but are largely preventable through lifestyle changes.
"We know that being physically active can reduce the likelihood of people developing these conditions and even a ten minute stroll around the park with your children can help to make a big difference to your health and to the health of your family."
The study, which surveyed more than 1,000 parents about their work-life balance, found that on the days that they work, one in five (20 per cent) spend less than one hour a day with their children.
Despite around three in four respondents (77 per cent) reporting they would like to spend more time with their children, less than two in five (38 per cent) working parents say they go to the park or visit an outdoor play area as a family.
Natalie Walker, 30, from Devon took part in a recent 'Big Bike Ride' event at her local velopark along with her husband and children.
"I love it when we're all out together spending time as a family," said Natalie. "It is a time when we're not checking our mobile phones, but instead we talk to each other- and we're getting exercise.
"It's a kind of play time that we all get to join and enjoy together. We've built a lot of dens together and the kids love to explore, climb trees or whiz round on their bikes."
The partnership is also funding a range of free activities across the UK. Activities currently underway include, small steps to 5k, cycling training and clubs in Castlederg and Derry. A six week Walk, Jog and Run Club in Thanet and the Beat the Street game is currently running in Nottingham until 26 July.
For more information about Let's Do This and to sign up for physical activity programmes in your area, please visit lets-dothis.org.uk.