Launched in December 2014, by the founders of The Crystal Palace Market, The World's End Market concept is simple: to offer only the very best "market fresh" British produce for an all-day dining experience. Located on the King's Road in the iconic building which formerly housed the World's End Pub – originally a tavern during the times of Charles II from which the area gained its name – this Grade 2 listed building took over 20 months for the owners to restore.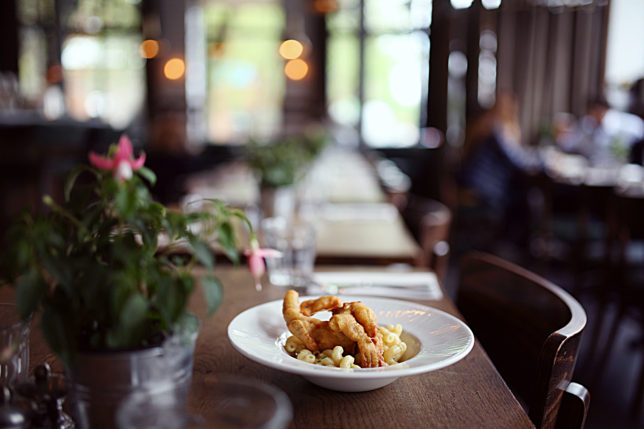 Flooded with natural light the interiors feature reclaimed wooden crates which have been reworked into the walls and bar, while industrial lighting, white butcher tiles and chrome bar stools give the space a 1930s canteen aesthetic.
As a nod to its 'market' inspiration there is an impressive meat selection housed in a giant glass refrigerator and a raw fish counter adjacent to the open kitchen.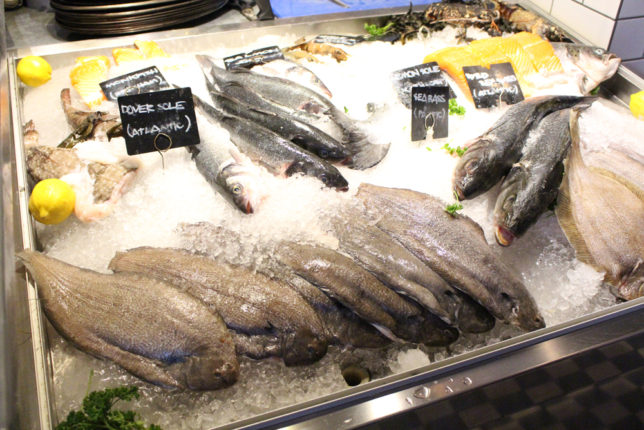 The 70-seat restaurant offers seasonal and locally sourced food with an ever changing menu to reflect this philosophy. With this concept in mind the World's End Market commissioned British Chef Keith Goddard to develop a new menu offering a selection of seasonal and healthy dining options. Trained at the French Culinary Institute, Keith Goddard is the executive chef and owner behind Keith Goddard Catering and has worked under Tom Aikens and in the kitchens of Gordan Ramsay, The River Café and Zuma.
Those seeking the true "market experience" at lunch or dinner can order from the daily changing menu. On the evening of our visit, Head Chef Dariusz Palasz was on hand to welcome us to the restaurant and prepare a dish of the freshest Madagascan tiger prawns straight from the fish counter…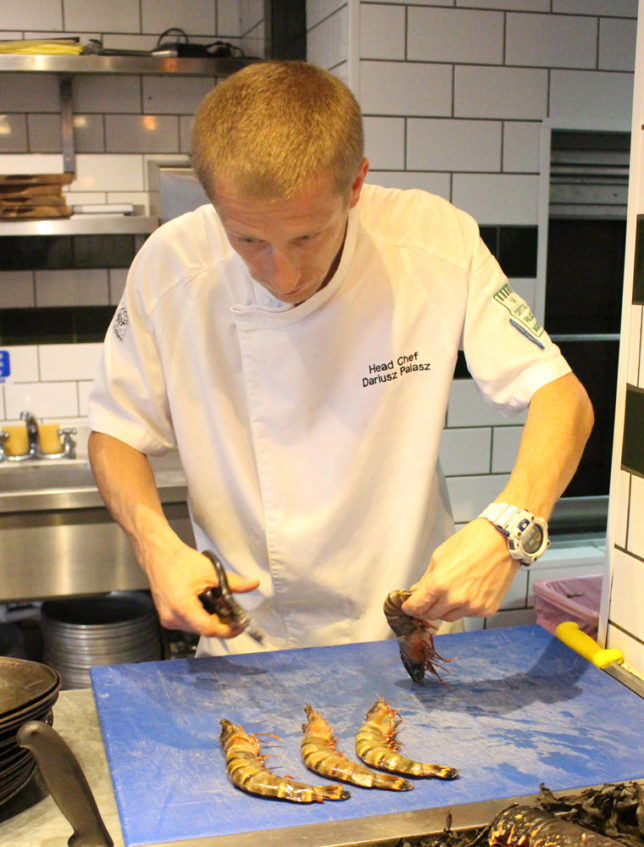 You can also choose from the resplendent freshly caught fish on display for the main courses, including Brixham Cuttlefish or Plaice, Scottish Langoustine and Monk fish, Skate Wings from Bidford Bay and whole Wild Sea bass from Anglesey. Check out the beautiful presentation by Chef Dariusz… even before the prawns are cooked.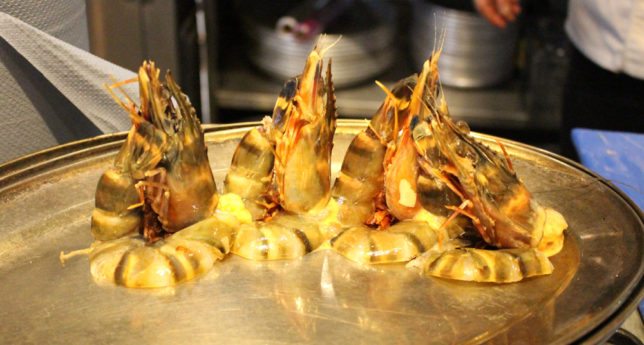 You can almost taste the succulence just by looking at them…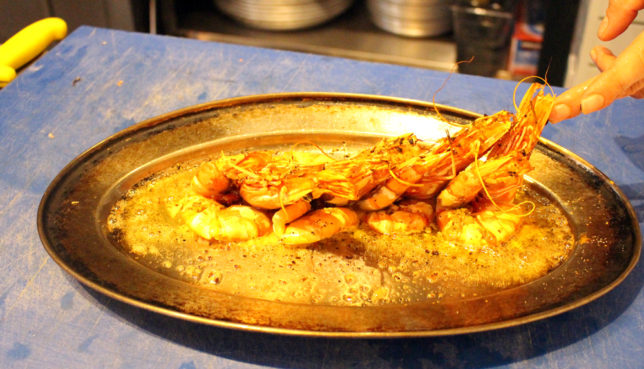 Chef Dariusz can certainly be proud of his culinary creations from the freshest seasonal ingredients…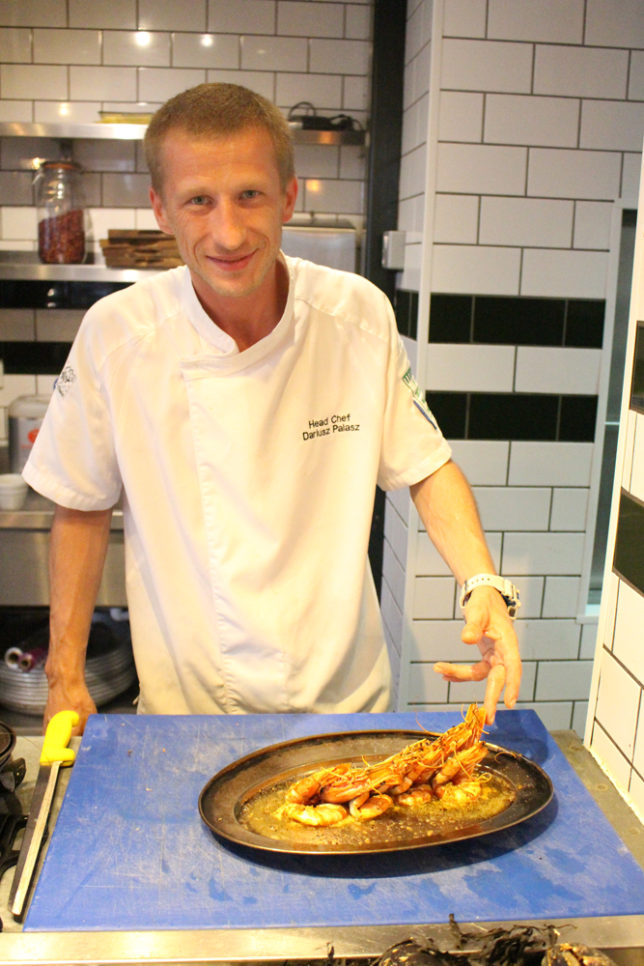 After the theatre of Chef Dariusz in the kitchen, it was time to take our seats in the restaurant and begin our gastronomic adventure. Starters include a variety of raw fish such as Brixham Monkfish, Hampshire Rainbow Trout or vegetarian dishes such as white asparagus, shitake mushrooms and poached egg and Parmesan. We decided to start with some beautiful Colchester Rock Oysters freshly shucked and served with market sauce, tomato salsa and lemon on a bed of chipped ice.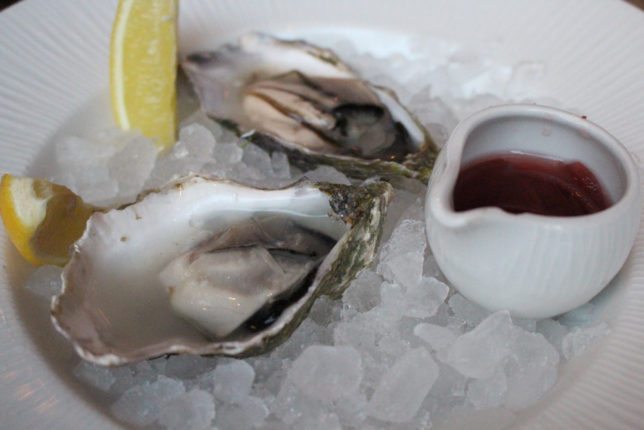 Check out the fresh artisan bread… and check out my Weird Fish Pursan shirt. It's the perfect shirt for the hotter days this season, keeping you cool, comfortable and stylish with a laid back, relaxed look. Available from www.weirdfish.co.uk for £25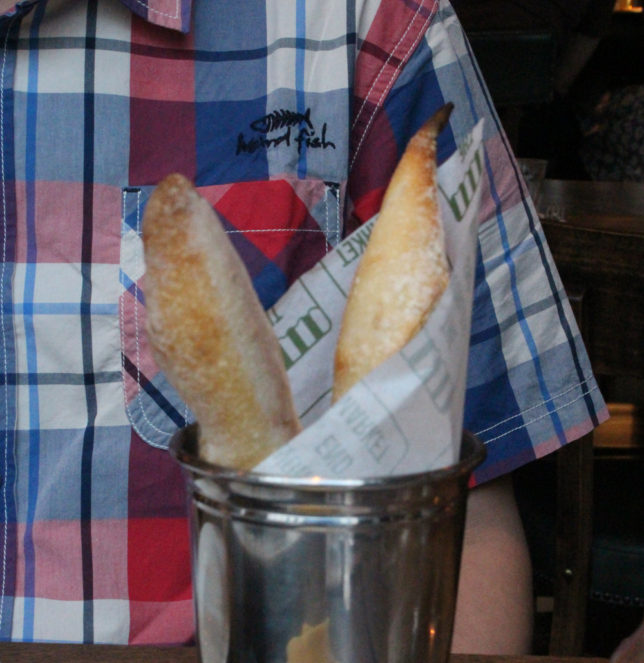 Following on from those fabulous oysters, I chose the Charred Octopus as my starter. Served with eggplant puree, chorizo oil and creamy feta cheese, it is the ideal choice for anyone who appreciates the soft tender flesh of expertly cooked octopus.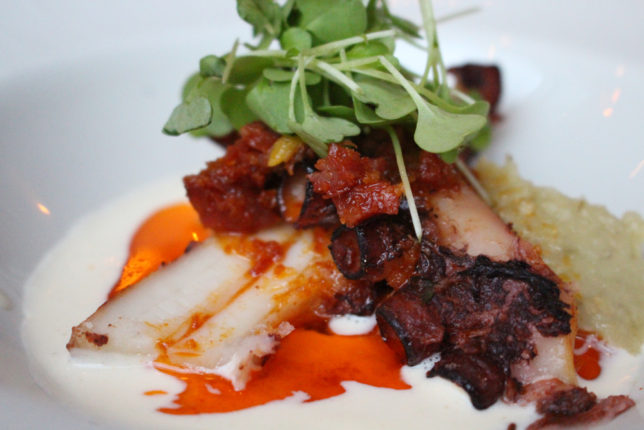 My dining companion chose the Goat's Cheese Croquette with pickled beetroot & honey truffle dressing. These croquettes were moreish mouthfuls that made him wish for a fifth!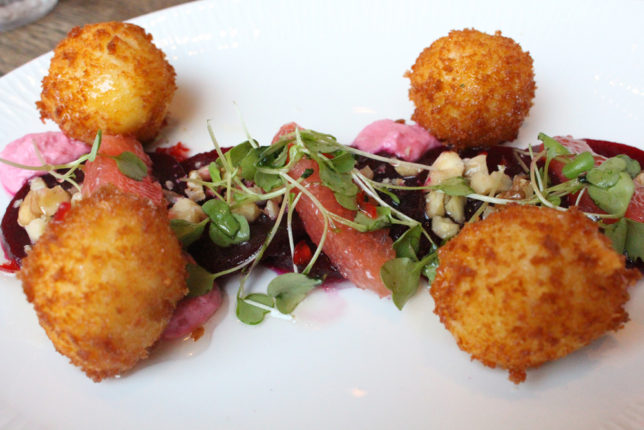 For the mains, seafood lovers are in seventh heaven with the amazing choice of fresh fish and crustacea… who could resist the sensational grilled tiger prawns all the way from Madagascar… we certainly couldn't!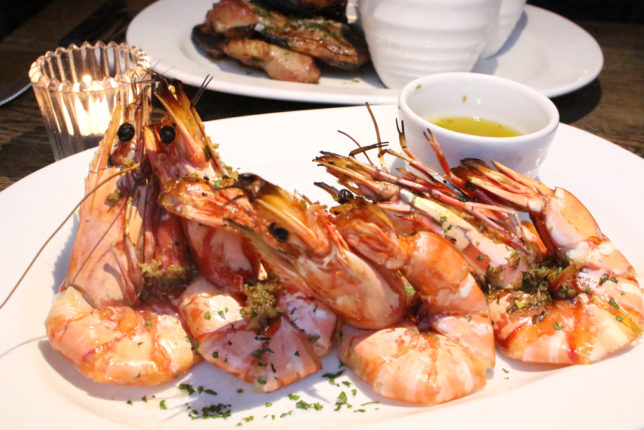 For Carnivores, the impressive burger section offers handmade by their own butchers minced Beef from Guilford and a choice of toppings including Classic, Hot, Blue Cheese or the Luxurious Truffle Burger and unique Crayfish Roll Burger. Meat lovers can also indulge in British T bone, Rib eye or Sirloin steak. All the main courses are served with French Fries and a house salad. Forget Smelly Vision… check out Juicy Cam… the succulence of the meat jumps out at you… not only pleasing to the eye but also very pleasing to the palate!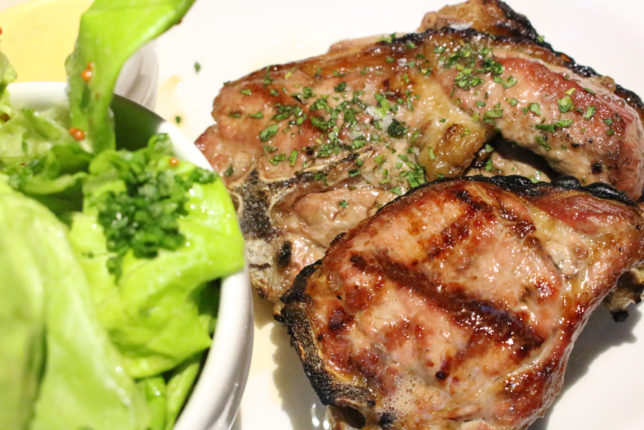 The menu contains a choice of delicious sides from Truffle Mash to Broccoli Rabe but we could help but indulge in a side of Truffle & Parmesan Fries which paired perfectly with the meat and fish dishes.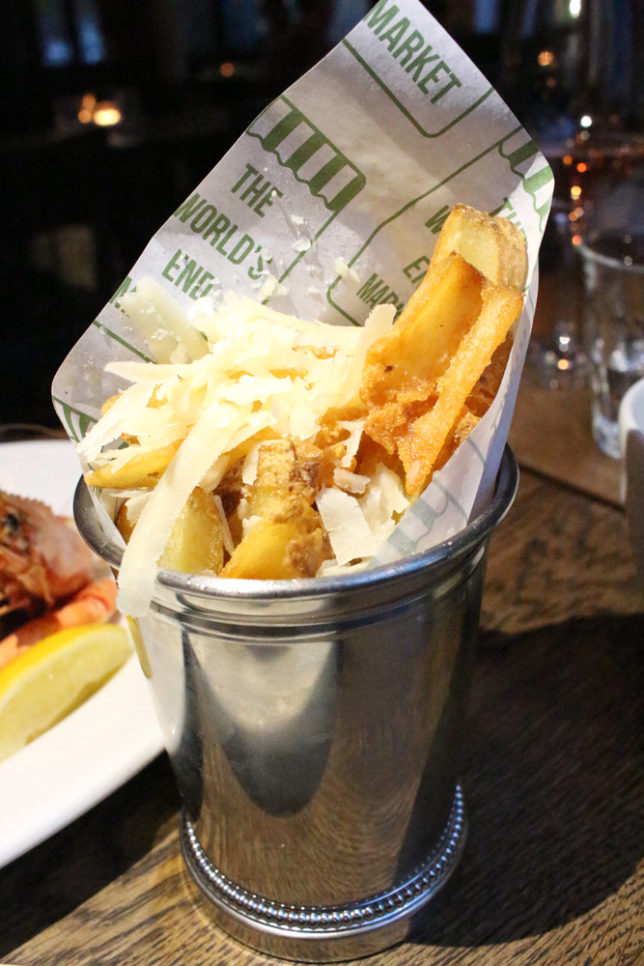 After such a delicious savoury selection, our appetites were almost sated… but every restaurant reviwer lives by the motto "There's always room for dessert"  so I chose a dark chocolate dessert served with my two favourite ice cream flavours this season… passion fruit and coconut… absolutely fabulous!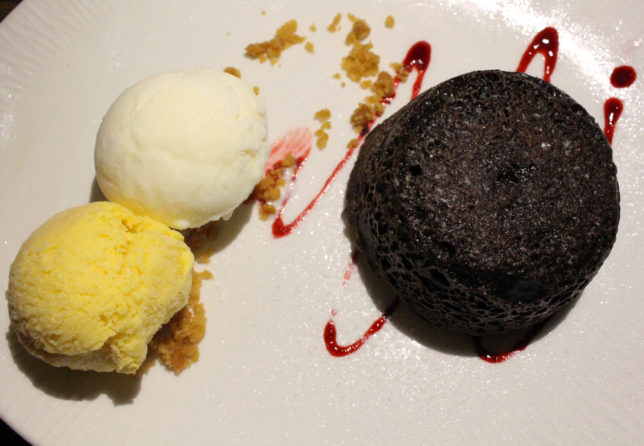 My dining companion indulged himself with the Hazelnut & Caramel Cheesecake which consisted of a buttery biscuit base topped with a rich creamy soft cheese filling and finished with a silky caramel studded with roasted hazelnuts. What a divinely decadent dessert!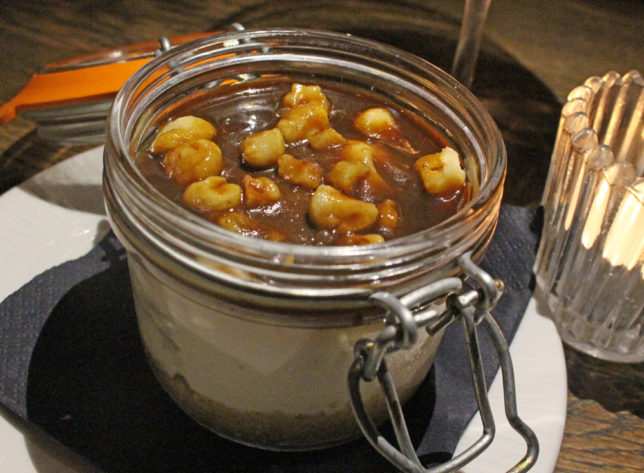 If you're looking for pre-dinner drinks or a night cap after a sumptuous meal, upstairs above the restaurant customers can enjoy a relaxed drink in the newly launched 'Old Fashioned Bar' – open from Wednesday to Saturday from 6pm to 1am and all day Sundays from 12pm to 11pm. The seriously knowledgeable bar staff can whip up anything to your liking, but the real highlight of this old fashioned bar concept is the newly launched cocktail menu that puts a World's End spin on cocktails reinventing them with interesting flavour combinations and handcrafted alcohol infusions. The 'Old Fashioned Bar' is also available for private hire and cocktail receptions.
Whether you fancy lunch with friends or dinner with that special someone, The World's End Market offers market fresh dishes that delight the senses as well as the palate. Highly recommended!
The World's End Market
495 King's Road London SW10 0LR
0207 352 2150
www.theworldsendmarket.com