Japanese style gastropubs, known as izakayas, are giving a serious twist to UK pub culture, the latest launch coming from Yumi Izakaya in London's West End. An unassuming hidden den of grown-up booze (bottomless prosecco every day of the week!) and nibbles in the form of Japanese bar food tucked onto Shaftesbury Avenue and open until half past midnight seven days a week.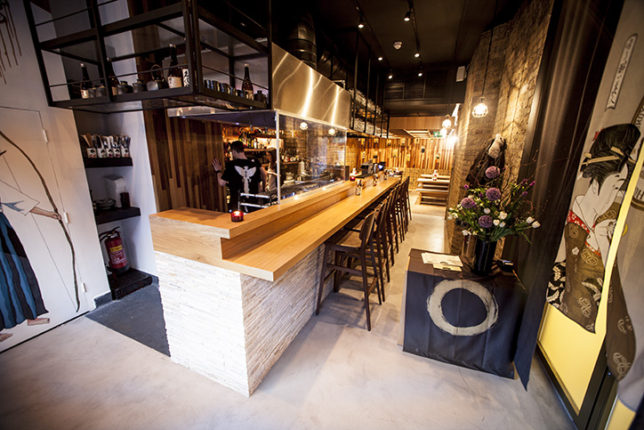 Yumi Izakaya started life in the Cambodian capital of Phnom Penh in 2009 when Londoner Caspar von Hofmannsthal opened up a restaurant in a converted garage which soon became popular with ex-pats and attracted international attention. Drawing on his experience and entrepreneurial spirit Caspar made the decision move the success of Yumi back to his hometown of London, with the help of Tom and Ed Martin of ETM Group.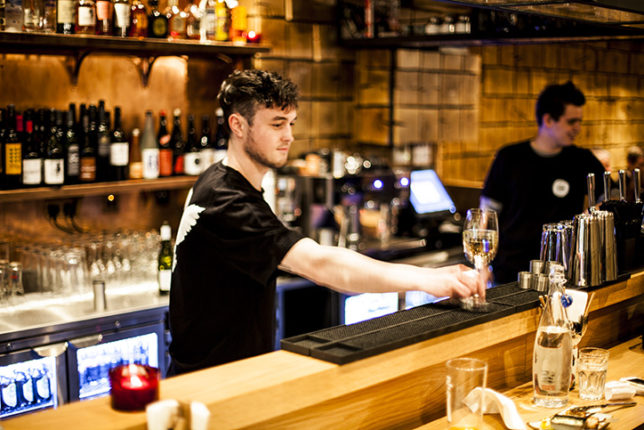 We left bustling Shaftesbury Avenue behind crossing the threshold into Yumi's understated surroundings, created by Tonik Associates to echo the intimate neighbourhood feel of a backstreet izakaya in Tokyo. Exposed brick, textured teak walls and natural stone give the space a raw feel, lifted by glimmers of steel and copper along the bar. Lighting is kept low with hanging filament bulbs positioned throughout the 38-cover space and splashes of colour are introduced through original wall art depicting a female samurai holding a yumi bow, from which the restaurant takes its name, created especially for the space by artist Josh Healy.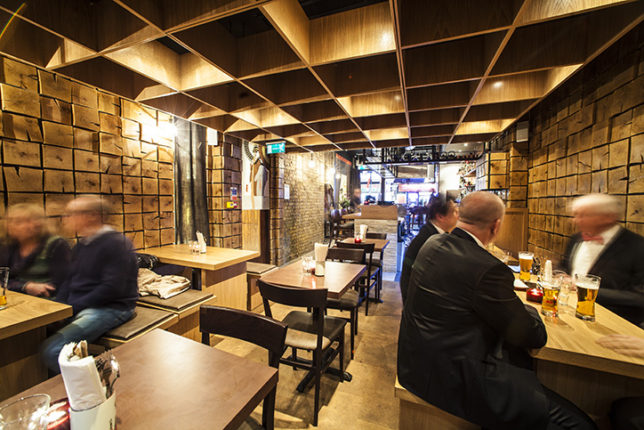 Traditional Japanese izakayas are about drinking and eating. In that order. Yumi's bar stretches across more than half the space of the venue and is packed with an array of interesting options including the Yumi Dry house brew, Kirin Ichiban Japanese Hitachino bottled beer and eight different sake including the sparkling Fukuju Awasaki. There is also a selection of rare Japanese whiskey including Yamazaki 12 year and the rich Nikka Coffey Grain.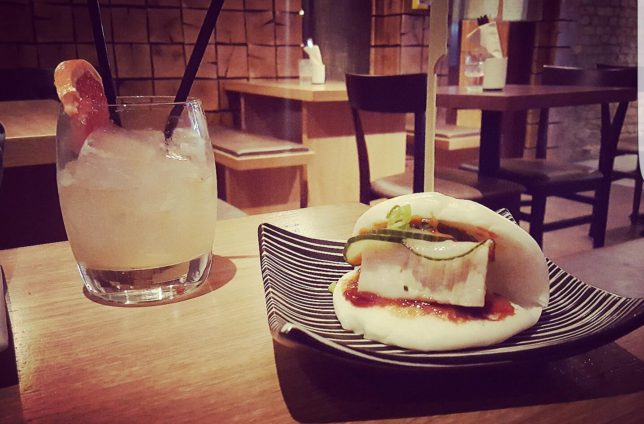 The open robata grill is a natural focal point, with an adjoining bar and stool seating by the large front window that's perfectly placed for people watching. We were led on through to the relaxed back section perfect for cosying up for date night or hanging out with friends.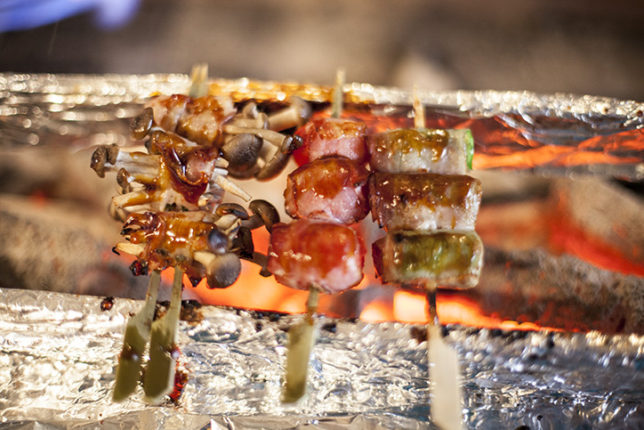 Fast, fresh and phenomenally finger food is what we found on Yumi Izakaya's daily-changing menu which mixes up traditional izakaya small plates with more unusual umami-filled options. A selection of small sharing dishes from £4, little bites of Japanese Heaven packed with flavour like chilli fried cauliflower with yuzu and gochujang, sweetcorn tempura, pork and ginger gyoza, and panko day boat fish, fresh from Cornwall and served up with a simple chilli garlic mayo.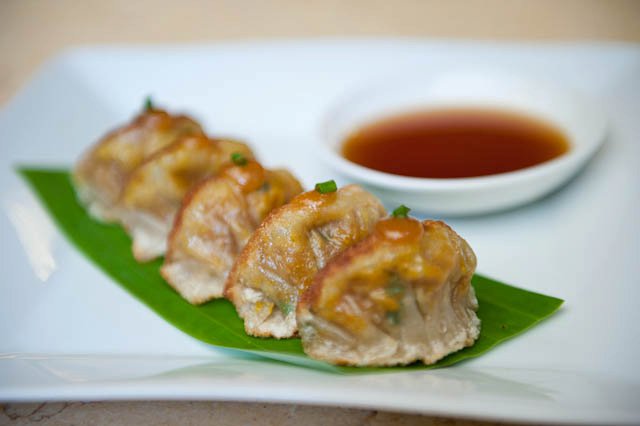 Turn your attention to the open robata grill where we find a choice of skewers using various cuts and parts of the free range herb fed chickens from Philmoor Grange Farm, Yorkshire. Wings (with sea salt and shichimi), liver (with tare sticky soy glaze and sansho pepper), breast (with tare and lemon) or thigh (with tare and spring onions). Meatball skewers come in the sticky soy tare with a raw egg yolk, and tender beef ribeye has a spicy miso sauce.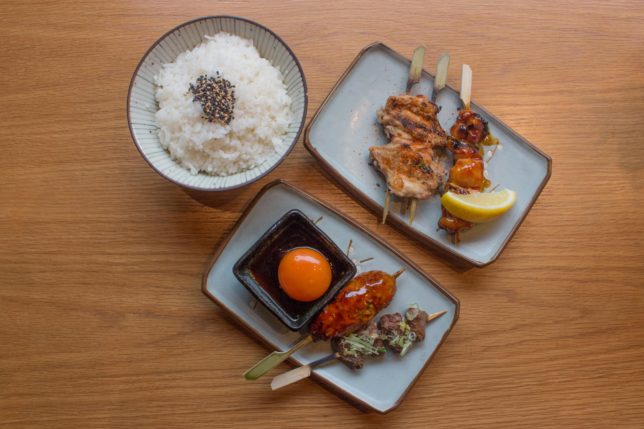 For those looking for that salty pub grub hit to pair with their Japanese beer, look no further than the selection of bacon-wrapped vegetable skewers either, including asparagus and shimeji mushroom. If you're hungry and want something more substantial, Yumi Izakaya also do larger dishes including caramelised pork belly with a tempura'ed egg and Okonomiyaki Osaka style (a Japanese pancake with cabbage, eggs, pancetta and okonomiyaki sauce). For the gluten intolerants out there, be reassured that there is an entirely gluten free menu also available.
Yumi Izakaya is all about drinking and eating. Refreshing cocktails combine favoured classics with the occasional Asian kick.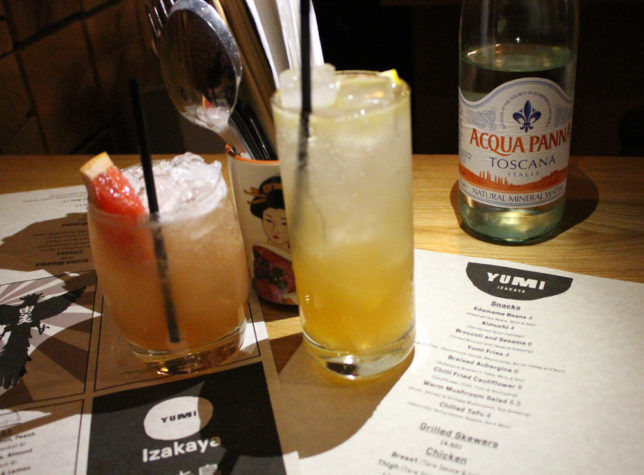 A regular on the menu is the flavourful Braised Aubergine in Sake, Mirin and Soy…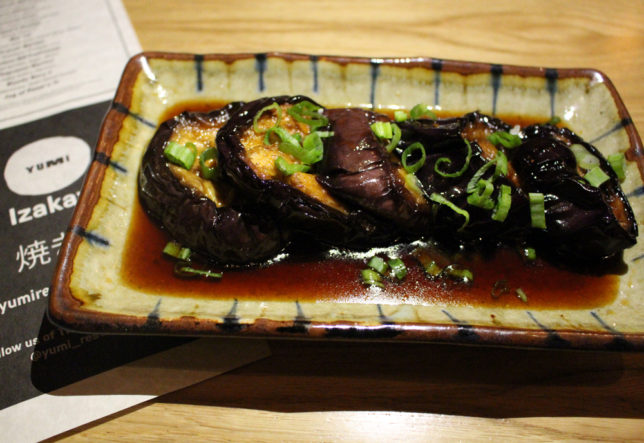 Check out these juicy chicken thigh skewers…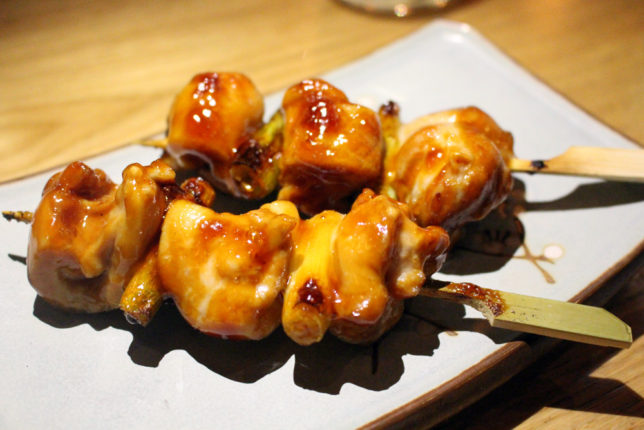 Followed by sticky bites of bacon wrapped asparagus…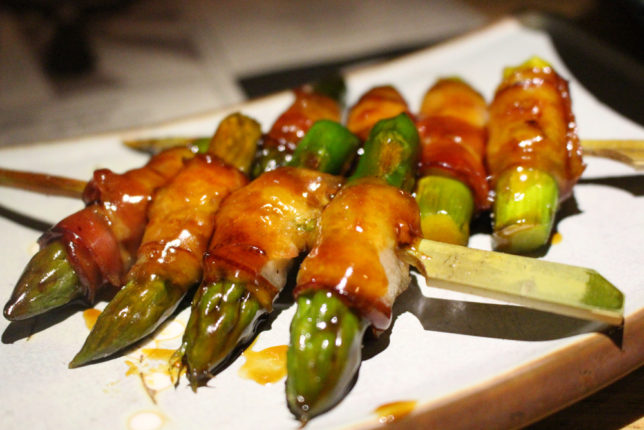 And succulent bites of chicken liver – Yumi is yummy!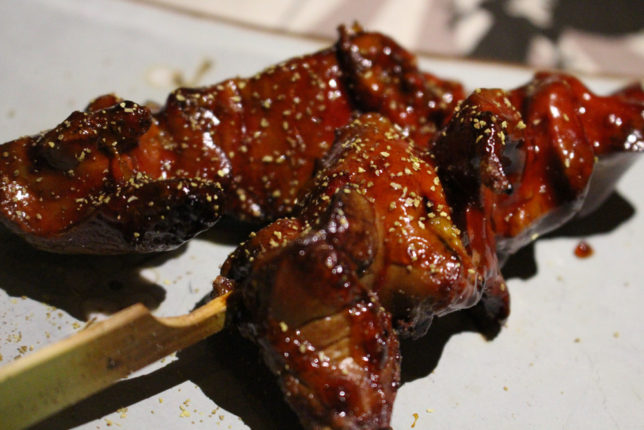 This was the perfect bite-sized feast to accompany the refreshing drinks…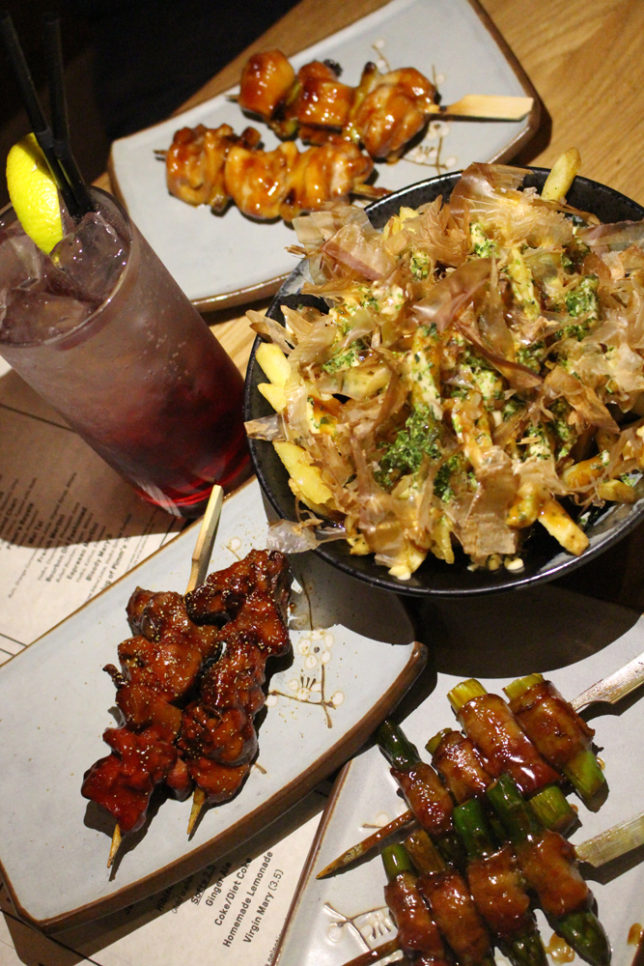 Not forgetting the tender steak…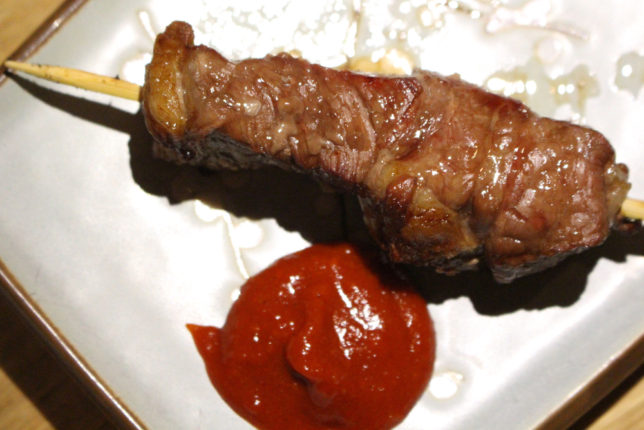 And what could be more cute than these little balls of sesame coated ice cream for dessert!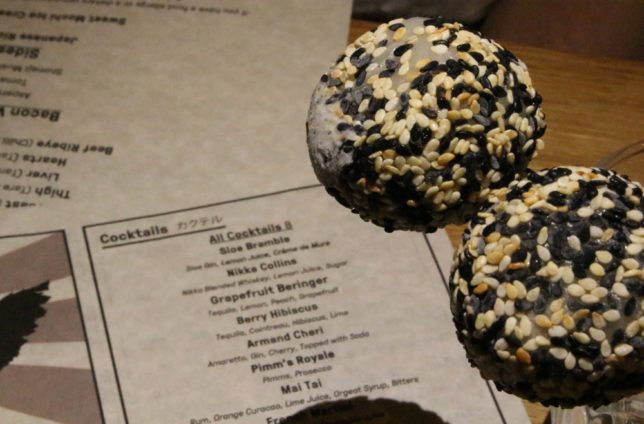 Yumi introduces true izakaya philosophy, hot off the grill – come here for a boisterous night with the lads or an animated date night for those you love to let loose. Visit Yumi… it's yummy!
Yumi Izakaya
67 Shaftesbury Avenue, London W1D 6EX
www.yumirestaurants.com
@Yumi_Izakaya